Last updated on October 28th, 2023 at 08:23 am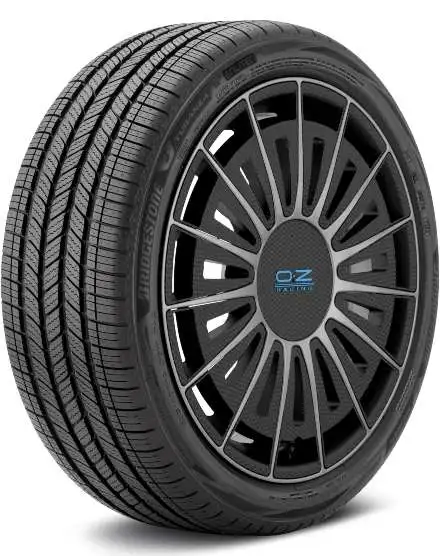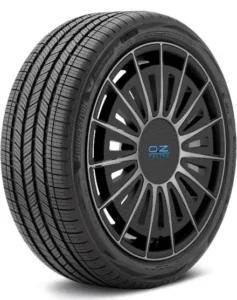 Bridgestone Turanza EV
Grand Touring All-season Tire
This Bridgestone Turanza EV tire is made to assist the quality rides of Electric vehicles. The tire improves the drive comfort, sound quality, and all-over performance of the EV. unlike traditional grand touring tires, the focus of this Turanza EV is to maximize the value EVs and BEVs are expected to provide.
Handling & Road Feedback
80%
---
Table of Contents
Quick highlights
| | |
| --- | --- |
| Tire type | Grand Touring Tire |
| Price range | $285-$320 |
| Tread Warranty | 50,000 |
| Run-flat | No |
| Vehicles type | Electric Vehicles |
| Driving conditions | Dry, Wet, and Snow |
Electric vehicles now have been around for several years, and since Tesla revolutionized the game of EVs, brands like Ford, Mercedez, and Toyota are also getting success in EVs.
And with the growth of the electric car market, the need and resources to fulfill those needs are taking place. In the start, the charging stations were built all around the US, then accessories and other extensions were launched for EVs, and now separate tires are also made for tackling the special needs of electric vehicles.
Bridgestone came up with this Turana EV tire with the focus on delivering the most comfortable and quietest ride, which is the primary purpose of this tire. However just comfort and noiseless ride won't be enough if the tire only drives for a few hundred miles.
That is why durability is another factor that Bridgestone Tire has worked on this tire. Although the tread durability might not be appreciated by some drivers, it is still more than satisfactory especially when combined with the performance this tire provides.
In my opinion, the number one benefit of EVs is their impact on the environment, unlike traditional cars, gas and exhaust particles made by engine, is not effective on the environment due to the electric motor instead of combustion engine.
And as you might not know, the tires are sometimes more effective to climate, than the vehicle itself. That is why Bridgestone also produces this tire with sustainable and recyclable materials, to benefit the environment as much as they can.
With all that being said, let's move on to the tire built, some details, and the real-world performance of this tire because, with good deeds, a tire should also be well-performing, otherwise it will be a complete waste.
Pros
Quiet and comfortable peaceful rides
Less energy consuming due to low rolling resistance
All season, dry, wet, and light snow safer rides
Sustainable materials for recycling purposes
Durable and reliable tire
Cons
Available in limited sizes
Lack responsiveness compared to regular grand touring tires
---
Tread Rubber and Compound
The tire tread is in a symmetrical pattern which helps in easy tire rotation and the continuous ribs of this tire design also assure proper contact and passage for rocks, mud, and snow. Externally the tire features ENLITEN technology and the compound of the tire is made with alternative materials, which is a moto of Bridgestone for sometimes, to make the tire as sustainable as possible.
All the great performance is possible due to the Turanza EV computerized tread design. The tire features full-depth 3D sipes, which not only help in dry road conditions but are also individually responsible for stable rides on snow terrains.
With that, the circumferential grooves, lateral notches, and open shoulders are helpful in resisting hydroplaning and achieving safe and proper rides in wet conditions.
The continuous ribs, and contact area of this tire help in delivering responsive and quiet rides all year round.
Specification Metrics
| | |
| --- | --- |
| Speed rating | W (168)MPH |
| Load Index | 96(1565 lbs) – 104(1984 lbs) |
| Manufactured in | United States |
| Wheel diameter | 19-20" |
| Ply rating | 4 ply rated |
| Treadwear, Traction, Temperature | 500, A, A |
| Noise Reduction | Yes |
This is a new tire so there are not many variants on sizes, speed ratings, and load indexes are available, however as many of them are available they are properly compatible with the tire and EVs.
The 500 treadwear rating is also great, although it is not equivalent to touring tires' 800 ratings, still performance, reliability, and sustainability of this tire are by far better than any other touring tire.
Performance of Bridgestone Turanza EV
Wet Traction and Hydroplaning Results
This tire has everything that supports ride in wet conditions. From deep grooves to open shoulders, everything combined creates a proper driving experience in rain and wet conditions.
When it comes to fast drive on normal to slow rains, the tire grips properly and brakes quickly as well. Although the response was not perfect, it was not anything close to unstable or dangerous as some tires perform in wet conditions.
When it comes to deep standing water, the hydroplaning resistance was also great, it didn't slip or lose steering control at all.
The traction, handling, cornering, and every other thing was great when we drove this tire on wet tracks. With full-depth sipes and deep grooves, this tire might not possibly perform badly even after 2 to 3 years as well.
Dry Cornering and Highway Rides
The wider contact and continuous ribs are the reason for this tire's smooth performance in warm and dry road conditions.
The most important factor of everyday dry road rides is the tire's stability and response on the road, and this tire is great in both of these factors. However, it totally depends on the driving style, because some drivers prefer sporty responses and some drivers don't care about any sporty feel as long as the car moves properly on command.
Similarly, this tire is made for the latter mentioned drivers, it achieves proper traction, grip, and cornering at a fast pace without losing command.
With that, on highways, faster rides are achieved with the most comfortable and quietest ride that you could imagine.
You will feel like you are driving a different EV especially if you haven't changed tires from OEM tires.
On both dry and wet conditions, the comfort of this tire is exceptional which sometimes haunts drivers due to its less durable treadwear.
Light and Deep Snow Grip
There are many grand touring tires that come with a 3PMSF certificate which makes them more prone to drive in any wintery season.
Unfortunately, this is not the case with this tire, and that is why this Turanza EV does not perform properly on snow.
As far as it is low to medium snowy roads, the tire will achieve safe and reliable rides at slow speed, however at fast speed, you slowly feel a lack of response and control.
Similarly, on deep and extreme winter terrains, the tire is not something that you should trust your vehicle with, if you face an extreme winter situation, you should rather buy grand touring tires with a 3PMSF certificate and tradeoff on comfort, or you should buy separate winter tires, which is a better option as well.
Overall in Florida, and other southern states, where the winter season does not go extreme this tire will be more than enough to move your vehicle through any road,
Handling Response and Brakes
Overall the handling, response, control, and balance of this tire are adequate. that is not as good as high-performance tires, but not so bad as winter or off-terrain tires.
You can achieve proper rides on highways, city streets, and other pavements without worrying about losing control or imbalance at high speed.
However, the smooth response as you might find with performance tires is not achievable with this tire, also on track cornering, this tire might also lose grip.
Similarly, the brakes, acceleration, and stability of this tire are also great, it takes 95 feet to stop at 50MPH speed, so it's fine, not the best still it is a great result.
Wear Life and Warranty
So far we can not say anything about this tire's long-term durability other than that this tire comes with a 50K miles treadwear warranty. So you should not worry about the bad treadwear.
A friend of mine I contacted has so far driven 10K miles on these tires, and they have not seen any change in the performance, other than the tire is not as quiet as it used to be, but still, it is peaceful with Tesla Model 3.
With a 500 treadwear rating, we don't think that there is any chance that this tire will not reach the warranty period, and the 10/32 tread depth is also something that hints at this tire's long-term durable performance.
Comparison with Pirelli P Zero All-Season Plus Elect
| | |
| --- | --- |
| Dry Conditions | Pirelli P Zero All Season Plus Elect |
| Steering Response & Feedback | 0.00% |
| Cornering Stability on Curves | 12% |
| Dry Traction & Grip | 5.68% |
| Shortest Dry Brakes | -10.71 |
| Results | 6.97% |
| | |
| Wet Conditions | |
| Steering Response & Feedback | 12% |
| Cornering Stability on Curves | 20% |
| Wet Traction & Grip | 3.37% |
| Shortest Wet Brakes | 25% |
| Results | 60.37% |
| | |
| Winter Conditions | |
| Deep Snow Traction | -2.27% |
| Light Snow Traction | -2.15% |
| Thick Ice Traction | -4.44% |
| Results | -8.87% |
| | |
| Ride Quality | |
| Cabin Comfort | -2.11% |
| Road Noise | -11.76% |
| Results | -13.87% |
| | |
| 235/40R19 (96V) | |
| Price | -4.91% |
| | |
The test results are based on subjective views, customer reviews, and test results, it might be different based on your style or preferences.
The Pirelli P Zero All Season Plus Elect is an all-season high-performance tire made for EVs. although both of these tires are made for EVs they have different targets to meet,
As you can see in the test results, the Pirelli tire is better when it comes to dry and wet brakes and grips and has a more responsive ride overall.
On the other hand, the Bridgestone tire is better for winter-season rides and a better choice for peaceful and comfortable all-season rides.
Both of these tires have the same warranty and tread life, with just a little bit of difference in price. The Bridgestone tire is a newer one, which is why the price of this tire is higher than Pirelli's.
Final words
The demand for EV tires has been increasing due to the increasing number of electric vehicles and drivers. This Bridgestone Turanza EV is an excellent innovation by Bridgestone that is not only exceptional for all-season smother rides, has durable tread, and delivers a comfortable experience but it is also made with alternative materials for recycling purposes to promote sustainable practices. All of these things make this tire an excellent choice for drivers of EVs to drive in 2024.