Last updated on May 30th, 2023 at 12:18 pm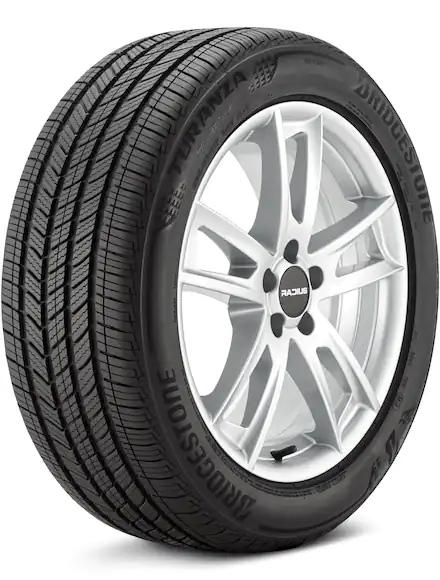 Turanza QuietTrack
Grand Touring All-season Tire
Tired of a noisy and uncomfortable ride in your expensive car, then replace your tires with this new Bridgestone Turanza QuietTrack tire. It will be your one-time solution to all your noise, comfort, and all-season traction problems. So say goodbye to all your problems with these brand-new Bridgestone tires.
---
Table of Contents
Bridgestone Turanza Quiettrack quick highlights
| | |
| --- | --- |
| Tire category | Grand touring all-season tire |
| Price range | $178-$310 |
| Ply rating | 4 ply |
| Run-flat tire | No |
| Terrain support | Wet, Dry, and light snow |
Not every cheap tire is capable of performing as well as premium tires; that is why it is recommended to invest one time in expensive tires to get the best performance for your luxury and expensive vehicle. This Bridgestone Turanza Quiettract is one of the best grand touring tires to use with a performance vehicle if you want a comfortable and quiet all-season all-year-round performance.
If you are a driver who drives to work or rides daily on highways and wants all-year-round performance, then this tire should be on top of your wishlist. Because it will give the most performance that you ever wanted with your car.
Bridgestone Turanza Quiettrack pros & cons
---
Bridgestone Turanza Quiettrack Features
The main feature that drives the customer to buy this tire continuously is that it is one of the most comfortable tires that deliver and quiet and smooth all-season ride. Installing this tire improves the performance of your performance-oriented vehicles.
Along with a comfortable and quiet ride, it gives excellent dry, wet, and light snow traction and grip with smooth handling and cornering. Along with all these features, it is also a durable tire that will keep giving you long-run performance in the long run.
Basic characteristics of the tire
With all those features regarding its performance, safety, and durability, it is also a tire that has more traits when it comes to on-road driving. The hydroplaning resistance and rolling resistance is an excellent feature to deal with rainy weather and watery roads.
Along with them, it provides better fuel mileage and two polyester steel belts that keep the tire protected from damaging materials. And the tread blocks are capable of handling light snow terrains and deliver confident traction and grip in wet, dry, and light snow conditions.
Tread pattern and design
The design of the tread and its pattern plays an important role in differentiating ordinary tires from expensive premium tires. This Bridgestone Turanza QuietTrack tire has an asymmetrical tread pattern which is easier to rotate tires on your own. Also, in-grooves, quiet track, and optimized pitch sequencing provide a quieter and smoother all-season ride.
The round footprint and round contact patch decrease the vibration and bubbling of the car while channeling water and slushing away from the tire. For snow, it has 3D sipes that provide extra biting edges to deal with light snow conditions.
Assurance and warranty
If a buyer is going to buy that expensive tire, then there has to be some sort of security that it will be good enough for as many miles. The warranty makes the buyer satisfied with their purchase and makes them calm. This Bridgestone Turanza QuietTrack has a 5 years and 80000 miles treadwear warranty which is a very good mile that only premium brands provide. This warranty and performance make it a proper tire to buy for all-year-round all-season performance.
Bridgestone Turanza Quiettrack Specification
depending on the size
| | |
| --- | --- |
| Speed rating | H-V / 130-149Mph |
| Load Index | 87-104/ 1201lbs – 1984lbs |
| Tread depth | 9-10 |
| Max. PSI | 44-51 psi |
| Tire inch | 15"-20" |
Just like other features and traits, the specs of the tires are important to notice when buying new tires. This Bridgestone Turanza Quiettrack has a good loading index and speed rating for all-season drives. With these things, it is rated A, A in traction and temperature tests which is a good achievement. Also, the 800 index treadwear rating is an excellent rank to stand on.
Bridgestone Turanza Quiettrack Performance
The performance of the tire depends on the performance it delivers on the specific terrain it is meant for. Being an all-season tire, this Bridgestone Turanza QuietTrack should be good in wet, dry, and light snow conditions. Failing in these conditions will be considered as a bad tire which is not the case with this tire.
It delivers excellent traction, grip, and cornering in dry conditions of highways and city streets. Along with dry conditions, it is also an excellent tire for wet road conditions; due to its hydroplaning resistance, the tire delivers confident traction and grip without making any st making any slippery at high-speed driving.
When it comes to snow rides, this tire also delivers in that terrain too. In light snow conditions, due to the 3d sipes, it resists snow and delivers great traction. All of that performance comes with a comfortable and quiet all-season long-run durable ride.
Bridgestone Turanza QuietTrack VS Continental PureContact LS
| | |
| --- | --- |
| Dry Conditions | Continental PureContact LS |
| Steering Response & Feedback | 6.87% |
| Cornering Stability on Curves | 3.19% |
| Dry Traction & Grip | -1.06% |
| Shortest Dry Brakes | 5.72% |
| Results | 14.71% |
| | |
| Wet Conditions | |
| Steering Response & Feedback | 18.42% |
| Cornering Stability on Curves | 24.47% |
| Wet Traction & Grip | -1.11% |
| Shortest Wet Brakes | 19.50% |
| Results | 61.28% |
| | |
| Winter Conditions | |
| Deep Snow Traction | -2.67% |
| Light Snow Traction | 0.00% |
| Thick Ice Traction | -1.41% |
| Results | -4.08% |
| | |
| Ride Quality | |
| Cabin Comfort | -1.59% |
| Road Noise | -2.82% |
| Results | -4.40% |
| | |
| 175/65R15 (84H) | |
| Price | -17.13% |
The results are based on test results and subjective views, it could differ based on different cars, conditions, and driver's preferences.
This Bridgestone Turanza QuietTrack is quite an older tire compared to Continental Purecontact LS which has recently launched. The Continental tire is equipped with the latest technologies and advanced tread design which makes it indestructible in performance compared to any old tires.
That is why the Bridgestone tire is failing so badly in all-season performance to this Continental tire. however the impressive thing is that the Bridgestone tire still provides better snow performance and more quality rides, which is why ion 2023, it is still a great option for drivers to buy for their passenger cars.
Why not to buy Bridgestone Turanza Quiettrack
Just like any other tire, this Bridgestone tire is not a perfect tire to drive in any road and terrain conditions. Like if you want a tire to drive just in winter or off-terrain conditions, then it won't be the perfect choice for you. Even it won't give as close performance as cheap off-terrain tires would.
Also, if you want a speed cornering and a tire for your performance car that lets you win the track race, then again, this Bridgestone tire should not be the option for you. Because it is not a good track and racing tire for that purpose, you should go after a maximum-performance or ultra-high-performance tire.
Final words
The Bridgestone Turanze QuietTrack is an excellent all-season tire that gives you all year-round city roads and highway performance without any fuss. Due to its quiet and comfortable along with its durability, we would recommend you always consider this tire if you want a grand touring all-season tire.