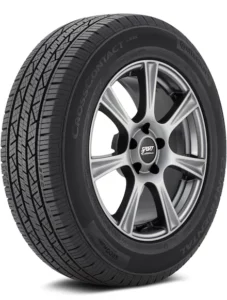 CrossContact LX25
All-season Tire
The Continental CrossContact LX25 is a type of tire to drive for uncountable miles year and year in all-season conditions. It handles different weather proficiently while providing comfort, response, and safe ride all year round.
Handling & Road Feedback
80%
---
Table of Contents
Quick highlights
| | |
| --- | --- |
| Tire type | Standard Touring All-Season |
| Price range | $170-$285 |
| Tread Warranty | 70000 Miles |
| Run-flat | No |
| Vehicles type | Crossover, SUV, and Light truck |
| Driving conditions | Dry, Wet, and Snow |
The most popular nowadays CrossContact LX25 is getting more and more recognition with time, as it is a newly launched tire, as the drivers are experiencing its drive, the positive feedback pushing other drivers to try this tire.
Continental Tires have always been into quality tires, and this tire is another example of it. Compared to Michelin Tires, their tires come at a lower price range with a very close difference in performance sometimes better performance than Michelin Tires.
This tire is among the top tire especially if the driver's requirements are related to durability and smooth all-season rides.
Unlike other all-season tires, without having a 3PMSF certificate it flourishes on deep and light snow terrains while providing comfortable rides all year round.
Dry and wet performance is also exceptional, it grips properly in any weather and conditions without damaging treadwear, which makes it a more loveable tire by inclement weather drivers.
So if it's as good of a tire, why you should consider different tires at all?
This and many questions like that will be answered in the below content so keep reading this review till to end to find the best fit for your car by analyzing test results and real-world performance of this tire.
Pros
A comfortable ride in dry wet and snow conditions all year round
Drive forever in any weather due to the durable tread
Heavyweight carrying tire to drive through highways while carrying a load
Responsive and safe drive on fast speed and imbalanced roads
Even contact and proper wear for stable handling and on-road feedback
Proper traction, grip, cornering, and brakes in all-season conditions
Cons
Tread noise will annoy EV or low-noise vehicle drivers
Hydroplane at a fast pace on very deep standing water
Low fuel economy
---
Tread design and improvements
Next Generation Eco+ technology compound is great for human-friendly drives with symmetrical patterns and optimized contact for stable and smooth rides all year round.
Lateral and diagonal sipes on the tread and shoulder provide proper traction on dry and extra-biting edges on snow terrains.
Wide circumferential grooves and tread notches channel the water for proper traction and grip while resisting hydroplaning on standing water.
Comfort ride technology inside the tread reduces cabin noise and vibration without compromising on responsive rides all season.
The durable tread life is achievable through even contact and eco-plus technology compound.
Specifications & Features
| | |
| --- | --- |
| Speed rating | T-V(118-149)MPH |
| Load Index | 95(1521 lbs) – 114(2601 lbs) |
| Manufactured in | United States and Portugal |
| Wheel diameter | 16-22" |
| Ply rating | 4 ply rated |
| Treadwear, Traction, Temperature | 740, A, A |
| Noise Reduction | Yes |
From load to speed ratings, all specs of this tire are great, it can carry high weight without compromising on comfort or wear while running at a fast pace.
The 740 treadwear rating is another signal that this is a durable tire to drive for many years in all-season conditions. And with that, the treadwear and temperature high rating also makes it a safe tire to drive all year round.
The US-manufactured tire is a quality tire that you can drive with your SUVs and Crossovers for many years while achieving a smooth and stable driving experience.
Performance of Hankook Kinergy PT H737
Dry City Roads, Pitted Roads, and Pavements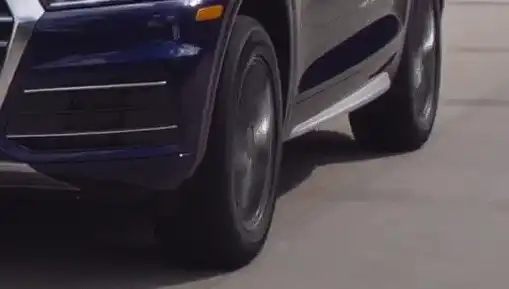 ---
We drive this tire on gravels, pavements, city roads, and construction sites to identify if it is an effective all-season tire that can really handle different road conditions.
On paved highways and city roads, it is just great, a comfortable ride, confident tractions, and grip, with cornering and response, it really satisfied our team.
The brakes and acceleration were great as well. Not for the shortest period, it loses traction at high speed on highways.
On little different conditions of gravels and pitted roads, where comfort distort a little bit, this tire was also fine, the comfort was not as smooth as city roads still it performs far better than most tires that we tested in this category.
The noise was a little bit louder, as we drive it with gas-powered vehicles, it was not much annoying for us, but if you have a hybrid or BEV, you might not like the sound of this tire.
Wet and Rain Experience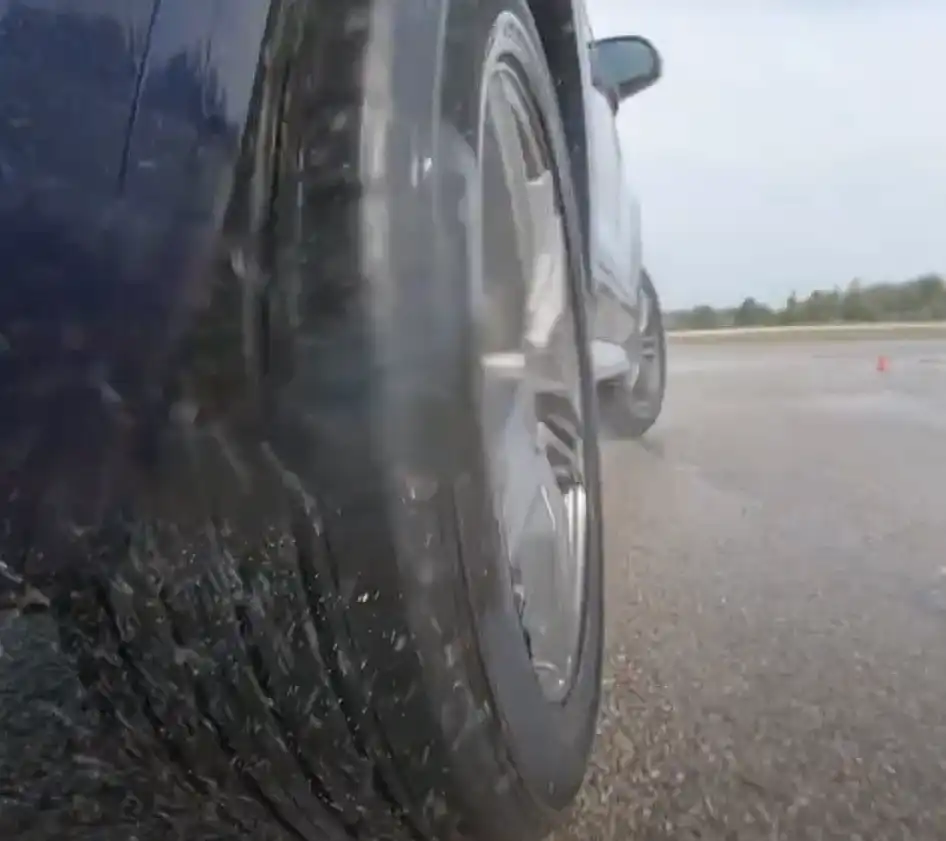 ---
Great performance on wet terrains required stable handling, proper traction, and hydroplaning resistance to achieve a safe and smooth ride in rainy weather.
This tire has all of these things which makes it a great tire to drive in wet conditions, it contacts the ground properly, without losing grip and response, while providing comfortable rides as well.
The circumferential grooves are the main factor why this tire can resist hydroplaning as properly, however at a fast pace, this tire sometimes hydroplanes in deep water.
Other than that, on storms, heavy rainfall, and other water situations, this is a great tire to drive to achieve smooth and comfortable rides on wet terrains.
Overall it is a great all-season tire that can handle both wet and dry conditions properly without compromising on wear performance all year round.
Light Snow, Deep Snow, and Ice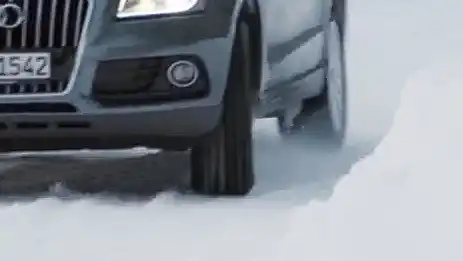 ---
Snow conditions are also part of all seasons, not for everybody but someone still faces snow in a year, and if some tires can stand on the ground in snow terrain with dry and wet conditions, it is a great deal for North American and Canadian drivers.
On light snow, this tire really shines, it grips properly, never loses contact, and the brakes were great as well. It performs far better than our expectations on light snow terrains.
As it is not a 3PMSF-certified tire, we thought it will not perform any good in deep snow terrains, however, it is also a fine tire to achieve a stable ride on deep snow as well. Even though it loses control at a fast pace but if you want to tackle the extreme winter terrains, then a slow drive with this tire won't damage anybody.
On thick ice, it does not grip as properly as in wet conditions, still for fair rides, this tire is fine. It will take you through any winter season though the performance won't be as good as winter terrain tires but one tire with this many features is more than great to have in your car.
Durability and road life
Durability is one of the best features of this tire, the long-lasting performance over its whole tread life is exceptional. Compared to other touring tires, for SUVs and Crossovers, this tire is worth every penny.
The tire is backed by 65-70K miles depending on variants, and some drivers have taken it through more than 85-90K miles just by properly rotating the tire.
Unlike other tires, the performance does not drop as rapidly and stays intact overall its life. This is why this tire is one of the best in this category.
At this price range, this much performance is really great, we would highly recommend this tire if you are after durability and excellent all-season performance in 2023.
Comfort and Responsiveness
It is a comfortable tire to drive as we mentioned several times above in this review, however, on potholes or damaged roads, it loses comfort and provides very tardy rides.
Other than that it is a comfortable tire due to very low cabin vibrations. When it comes to noise and tread sound, the tire might not satisfy at the fullest. It keeps on making noise which is very annoying at a slow pace.
Responsiveness if compared to performance tires is not great, but compared to other tires in this category this tire is greatly responsive. It provides responsive handling, brakes, and accurate feedback but it will not be a great choice to drive on fast tracks or to do drag racing.
Comparison with Michelin CrossClimate SUV
| | |
| --- | --- |
| Dry Conditions | Michelin CrossClimate SUV |
| Steering Response & Feedback | 1.36% |
| Cornering Stability on Curves | 2.79% |
| Dry Traction & Grip | 1.05% |
| Shortest Dry Brakes | 2.85% |
| Results | 8.05% |
| | |
| Wet Conditions | |
| Steering Response & Feedback | 3.86% |
| Cornering Stability on Curves | 2.92% |
| Wet Traction & Grip | 3.26% |
| Shortest Wet Brakes | 8.85% |
| Results | 18.89% |
| | |
| Winter Conditions | |
| Deep Snow Traction | 3.57% |
| Light Snow Traction | 3.37% |
| Thick Ice Traction | 5.00% |
| Results | 11.94% |
| | |
| Ride Quality | |
| Cabin Comfort | 0.00% |
| Road Noise | -4.65% |
| Results | -4.65% |
| | |
| 175/65R15 (84H) | |
| Price | 27.71% |
The results are based on test results and subjective views, it could differ based on different cars, conditions, and driver's preferences.
As the test results show Michelin CrossCimate SUV is a little better in all-season performance compared to Continental CrossContact LX25.
The reason for that is that Michelin tire has edgy tread blocks and 3D sipes which improves traction and grip in wet and dry conditions. The 3PMSF certificate is another reason why this tire performs better in winter terrains as well.
However, the Continental tire is better when it comes to comfort, and also has a far lower price compared to the Michelin tire.
With that, the biggest difference is both of these tires' durability, the Michelin tire is backed by a 50K miles warranty with a 580 treadwear rating compared to the 740 rated CrossContact LX25 which is backed by a 70K miles treadwear warranty.
So decide for yourself which are the factor that is more valued by you and pick the best tire for yourself.
When Continental CrossContact LX25 Is Not Prefered
The CrossContact LX25 will not be preferred in all-year winter terrains, as it is not a 3PMSF-certified tire you should rather go with all-season tires that come with a certificate or choose a separate winter terrain tire for extreme snow.
Similarly, this tire will not be a great option for performance-oriented vehicles or for drivers who are looking for more spirited rides, as it is not made for tracks, and it will not satisfy the drivers who want to race with this tire.
---
Final words
The Continental CrossContact LX25 is overall an excellent all-season touring tire for SUVs, Crossovers, and light trucks. It performs greatly in dry, wet, and snow terrain, without compromising on comfortable rides. The only, major complaint with this tire is about its noise, which can be acceptable by most drivers. Other than that, this durable beast is very efficient to ride in different conditions of 2023.