Last updated on March 24th, 2023 at 10:14 pm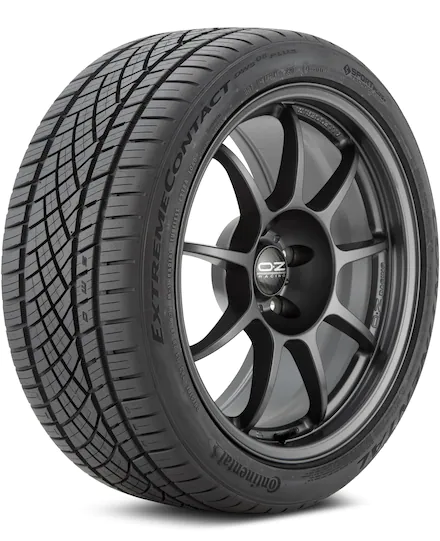 ExtremeContact DWS06 Plus
UHP All-season Tire
The ultra-high performance all-season tire for those who love to drive on high-speed tracks and highways. With quick brakes, a confident grip, and stable contact that gives you the most comfortable ride that you have ever experienced in your life.
---
Continental ExtremeContact DWS 06 Plus quick highlights
| | |
| --- | --- |
| Tire type | ultra-high-performance all-season |
| Price range | $139-$408 |
| Run-flat | no |
| Ply rating | 4-ply rated |
| Vehicles type | Sport coupes, Sedans, and SUVs |
| Terrain support | Dry, wet, and snow terrain |
Continental ExtremeContact DWS 06 plus is a UHP tire for sports cars and performance sedans, and coupes drivers; who are looking for a comfortable ride with quick brakes, responsive handling, and a smooth grip on high-speed tracks and highways. This tire is best in this category but due to its high prices; people choose the cheaper option which is not as good as this tire but still does the job. Along with its performance, the Continental ExtremeContact DWS 06 Plus is also the most durable tire when it comes to the performance tire category; due to its advanced treadwear and robust shoulders which also maximize the cornering.  
This tire model is an advanced and improved version of the previous ExtremeContact DWS 06 model. Although that tire was already fine at that time, they still improved major things like better braking, stability, handling, and gripping; so that buyers get the best result from investing that much money on tires. So if you are someone who wants to achieve maximum performance with a comfortable and durable ride; then this tire is the best choice for your vehicle. 
---
Continental ExtremeContact DWS 06 Plus Features
This continental tire is an extraordinary tire with many features to assist the driver; whether it is related to performance or tread wear. The tire is driveable on wet, dry, and snow terrains; that is why there are letters printed on the sidewalls; DWS reflects if the tire is capable to be driven on that specific terrain. D stands for dry, W stands for wet, and S stands for Snow; so if any one of these letters vanishes from your sidewall it means that the tire tread is not capable of driving on that terrain anymore.
Along with that; the tire has a misalignment indicator which helps and protects the driver from any accident in case the tires are not aligned properly. 
Tread pattern and design
Compared to its previous model; this Continental ExtremeContact DWS 06 Plus has an advanced treadwear pattern with a new design that improvises the overall performance of the tire. The asymmetrical tread design features a sport-plus technology for stable handling on fast tracks while providing a confident grip and cornering. Macroblock and chamfered block edge and high angle circumferential grooves deliver the dry and wet road performance by providing traction, cornering at dry terrain along with hydroplaning resistance and grip on wet conditions.  The 3D sipes and X-sipes improve tire performance in winter conditions by providing extra biting edges while providing stable handling and grip on ice-covered roads. 
Tire specification
| | |
| --- | --- |
| Speed rating | W-Y/168-186Mph |
| Load Index | 84-97/ 1102-1609 lbs |
| Origin of | Denmark |
| Max. PSI | 51 psi |
| Tire inch | 16"-22" |
Just like other features, it is also important to at least once taking a look at the specifications of the tire. Because these specs give you an idea of the tire's performance, its treadwear, and speed and weight-carrying ability. This continental tire has an excellent speed rating while it lacks on load index due to low weighted tires for high speed. Along with the tire has a 560 treadwear rating which is good for UHP tires. The tire is rated A, and A in traction, and temperature ranks for excellent traction on every temperature. 
Assurance and warranty
Most of the performance and UHP tires have no warranty due to the driving style and terrain at which these tires are driven; however, this tire is backed by a 50K miles treadwear warranty which is huge for any performance car driver. The main reason for that is that the tire is rated very high in treadwear rating and it has high-quality rubber and shoulders which are good enough to handle the severe conditions of the terrain while providing a stable ride along with confident cornering on tracks and highways. 
Continental ExtremeContact DWS 06 Plus Performance
Dry performance
Most of the performance tires are driven in dry terrains of the summer; that is why this Continental ExtremeContact has an excellent dry terrain performance. Due to its tread pattern, it provides a stable ride with a confident traction grip and cornering on fast tracks and city roads. As it is an all-season tire, the anti-heating technology won't let the temperature of the tire go above the limit, which also improves the durability and performance of the tire. 
Wet performance
Just like a dry road ride; this Continental tire has an excellent wet terrain ride due to its circumferential grooves and 3D sipes which provide gripping and hydroplaning resistance in the rainy season and on wet roads. Along with that, the tire provides stable handling and contact with the ground for a smooth, comfortable, and durable ride in all-season conditions. 
Snow Performance
Although the tire does not have a 3PMSF symbol to it, it provides good performance on snow terrains. Due to 3D sipes on treadwear; the tire provides extra biting edges on snow and wet terrains which makes a contact with the ground in a manner to resist hydroplaning and provides confident traction and stable grip while providing a comfortable and quiet ride on snow terrains. 
Handling and cornering
No matter what weather or terrain you ride with this Continental ExtremeContact tire; it will provide stable handling and cornering even at a high-speed drive. Due to its all-season tread compound and sport plus technology, the tire delivers excellent control over a car which also improves the traction and gripping ability of the tire in all-season conditions and snow. 
Comfort and noise
The noise reduction technology of continental tires; this Continental ExtremeContact DWS 06 Plus also utilizes it and delivers one of the most comfortable and quietest rides in the ultra-high-performance tires category. The equal contact of the tread gives the car a stable ride along with comfort and peace while driving on high-speed tracks and highway roads. 
When not to consider Continental ExtremeContact DWS 06 Plus
Considering touring tires, performance, and UHP tires are exchangeable with them when it comes to all-season rides; however, there might be a difference in comfort and speed between these two categories. On the other hand, if you want a tire for driving off terrains then this continental tire should not be your choice at all. Because off terrains require heavy tires with robust sidewalls for gripping and to hold the damage from sharp materials of the terrain because performance tires are manufactured for different purposes that is why it won't be a wise choice for you to take it into off-terrain roads. 
Final words
Continental ExtremeContact DWS 06 Plus is an exceptional ultra-high-performance tire for sports cars and performance sedans drivers who want to achieve maximum performance on tracks and high-speed terrains. Along with performance; it is also a quiet and comfortable tire that gives a smooth and stable ride on any terrain. All of that comes with durable treadwear and shoulders that improve the performance of the tire while giving a durable ride all year long.