Last updated on June 21st, 2023 at 11:13 am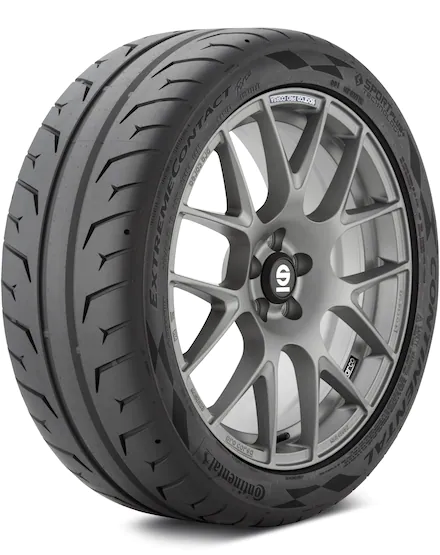 ExtremeContact force
Extreme Performance Summer tire
Want to achieve the maximum performance of your sports cars? Then try this Continental ExtremeContact Force tire with your performance sedans and sports cars; to get unbelievable track performance with confident handling and cornering, even at the maximum speed, along with a smooth and comfortable ride on normal city roads.
---
Table of Contents
Continental ExtremeContact Force quick highlights
| | |
| --- | --- |
| Tire category | Extreme performance summer tire |
| Price range | $171-$524 |
| Ply rating | 4 ply |
| Run-flat tire | no |
| Terrain support | Wet And Dry |
Every enthusiast driver of sports cars desires to achieve the maximum performance of their performance vehicles. To fulfill your desire, Continental Tires come up with a brand new tire to specifically performs in tracks so that every passionate driver can enjoy the ride they dream of.
The Continental ExtremeContact Force improves the sports car's performance by providing proper handling, cornering, grip, and traction in wet and dry conditions. It is also a good choice for everyday road driving so that drivers don't confine themselves to the tracks only. The new design and advanced structure of the tire make it one of the finest and perfect-performance tires for new sports cars in 2023.  
Continental ExtremeContact Force pros & cons
---
Continental ExtremeContact Force Features
The feature that buyers expect from extreme performance tires is that they should deliver the best track performance and moderate performance on terrains. And if the tire has extra features of wet/dry traction, hydroplaning resistance, and others, just like Continental ExtremeContact Force has, it becomes a better tire that not only satisfies the demand of the buyers but also delights them.
Basic characteristics of the tire
The difference between other extreme-performance summer tires and Continental ExtremeContact Force is that it is a more advanced and improvised tire that was launched just a year ago. The better materials and more advanced technology of this year make it better on tracks while being more durable.
Along with all that, it is a better-performing tire on terrains due to the outboard shoulder, improves its steering response, and provides straight handling with a hydroplaning resistance due to the circumferential grooves attached to the treads of the tires. 
Tread pattern and design
The design of the tread and its placement of sipes, shoulder blocks, and grooves play an important role when it comes to the performance of extreme-performance tires. Because these are the only parts that contact the ground and determine the performance of the tire.
The Continental ExtremeContact Force has an endurance focus tread compound with wide low void compound shoulders; for consistent handling and grip at wet and dry tracks. Along with the tread depth pin and circumferential grooves that evacuate water from the outboard shoulder and provide hydroplaning resistance in wet and rainy conditions.
Assurance and warranty
As it is common in the performance summer tires category; the warranty of any kind is not backed on these tires. Due to the low tread life and low weight, it is not the most durable tire to drive in the common country and city streets. But if the tire is delivered by known brands like Continental, Michelin, and Pirelli, then we would say that it is not that much of a risk. Also, extreme-performance tires are not for durability, the main concern of these tires is to deliver excellent high-speed performance as long as they can be driven. 
Continental ExtremeContact Force Specification
Depending on the size
| | |
| --- | --- |
| Speed rating | V-W/ 149-168 Mph |
| Load index | 89-109/ 1279 lbs – 2271 lbs |
| Load Index | Germany |
| Max. PSI | 51 psi |
| Tire inch | 15"-19" |
It is essential to look at the specs of the tire, especially when you are buying performance tires. Because the speed rating, load index, and treadwear can give you a better understanding that whether you should buy this tire or not. Also, these are the factors that differentiate an extreme-performing tire from ordinary performance tires.
Continental ExtremeContact Force has a low treadwear rating due to its category, and most of the tires in this category lie between 200-250 treadwear rating, but when it comes to its traction, temperature, speed, and load rating, it scored really well in these metrics.
Continental ExtremeContact Force Performance
The main focus area of extreme performance tires is racing and fast track, where high-speed performance is accountable for the tire's performance. Similarly, Continental ExtremeContact Force has to perform in tracks to deserve its place in the extreme performance category. 
Without a doubt, it performs phenomenally in tracks by providing excellent traction and grip in dry conditions while providing a confident ride, control, and hydroplaning resistance in wet conditions of the tracks.
Not only it performs in tracks, but it is also a good choice for street driving. It would be better if you save this tire from off-terrain and snow conditions. Other than that, it can handle on-road conditions without causing any impact on your drive.
Why not buy Continental ExtremeContact Force
As mentioned above that these tires will not be a great choice for winter and off-terrain conditions. Due to the slight tread depth and weak and light sidewalls that could burst in harsh conditions of those terrains.
Also, if you desire a summer on-road drive; then still, there are better options to fulfill your demand for a comfortable summer ride. You can either go with performance summer tires or touring summer tires. Because extreme performance tires are not exactly built to serve for the comfortable on-road drive but to give an extreme performance at tracks where high-speed performance is required.
Final words
Continental ExtremeContact Force is an excellent tire for sports and performance sedans to get extreme performance at racing and fast tracks. So if you are after high-speed performance, then this tire is perfect for you. Other than that reason, buying this tire will not be efficient due to its low tread life and zero warranty.
That is it from our side, now. If you want to add anything, then you can participate through the comment section below. Also, if any of you have experience driving these tires, then you can share your experience with us so that other buyers get more insights into this tire.