Last updated on March 24th, 2023 at 10:42 pm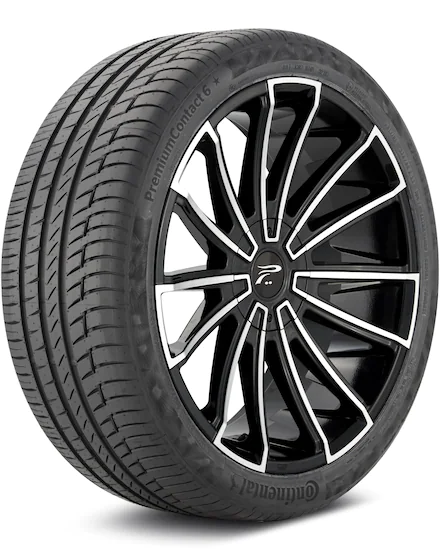 PremiumContact 6
Max Performance Summer Tire
Get the blend of touring tires' comfort and performance tires' grip/handling with this continental PremiumContact 6. The best tire to enjoy the fast rides of tracks without compromising on the comfortable and smooth durable rides.
---
Quick highlights
| | |
| --- | --- |
| Tire type | Max Performance Summer |
| Price range | $185-$522 |
| Run-flat | Yes |
| Ply rating | 4-ply rated |
| Vehicles type | Performance Sedans & Crossovers |
| Terrain support | Dry and wet |
The continental PremiumContact 6 is a successor of two continental tires including PremiumContact 5 and sports contact 5. PremiumContact is a very good and famous tire in the grand touring category while sport contact is in the performance tires category. 
German manufacturer Continental comes up with an idea to merge both of these series into one tire and come up with a tire that delivers both the peace and comfort of on-road with victorious performance on the track. 
This continental PremiumContact 6 delivers a comfortable ride with better fuel mileage on everyday city roads with proper handling and confident traction, grip, and cornering on fast tracks of the wet and dry. All of that is possible due to the advanced technology which continental is very known for with the properly engineered treadwear to give you a durable and long-lasting performance in the long run. 
It is a good tire for all performance-oriented drivers who are looking for a tire that wins both on roads and fast track drives. With run-flat technology; it will be a safe tire to frequently drive without worrying about the pressure of the tire until you reach your destination securely. 
---
Comparison with premiumContact 5
The continental premiumContact 5 is a summer touring tire for everyday comfortable and smooth city road rides. Compared to PremiumContact 6; it is not a good tire for rushing on tracks due to the treadwear and footprint design of treadwear. 
Along with tracks and high-speed performance; PremiumContact 6 is better when it comes to on-road comfort and noise; because of noise reduction technology, PremiumContact 6 is a far quieter and more comfortable tire on roads. With that, the sidewall footprint patterns and treadwear design; the tire delivers excellent performance on fast tracks with better gripping, handling, and cornering without compromising on noise and comfort. 
Low rolling resistance keeps the engine-less engaged which improves fuel mileage with run-flat tread wear which keeps your car moving for 50 miles without changing a tire in between your route. These are some of the improvements that continental has made since PremiumContact 5. 
New features and technology
Continental PremiumContact comes up with some innovative technologies that improve its overall performance with a safe and secure ride all year long. PremiumContact 6 features ContiSeal and ContiSilent technology of continental that keeps the tire rolling even if there is a puncture on the tire with the quietest treadwear performance.
ContiSeal keeps the tire shoulders over car wheels no matter how bad the puncture is, while ContiSilent technology minimizes the noise by featuring a cushion on its inner compound that helps reduce the treadwear noise for a comfortable and safe ride.
The SSR is a run-flat technology of continental that is also available on its previous models. It is a self-supporting reinforced sidewall that keeps the sidewalls of the tire running even after the complete deflation. It obsoletes the need for spare wheels which improves the fuel mileage while also providing you an efficient and safe ride all year round.
Tire specifications
| | |
| --- | --- |
| Speed rating | V-Y/146-186Mph |
| Load Index | 99-108/ 1709-2205 lbs |
| Origin | USA/Germany |
| Max. PSI | 50-51 psi |
| Rim diameter inches | 19"-22" |
The tire has an excellent speed rating for performance cars with moderate weight carrying capability which is enough for any sedan and crossover. Along with that; the tire is rated 280 on the treadwear scale which is not good but usuall in the max performance tires category. Also, the tire has ranked AA and A in traction and temperature test which is perfect to enjoy confident traction without getting your tire heated up by the heat of the terrain
Treadwear design and durability
The continental PremiumContact features a three-grooves channel for water to squish and resist hydroplaning with tread block sipes and sidewalls footprint design to give smooth handling, comfort, and cornering at the fast tracks. 
The symmetrical treadwear contacts the ground evenly to promote stable and responsive handling while also adding extra miles on treadwear. The internal cushions bead with noise reduction technology improves tire comfort by providing a quiet ride in wet and dry conditions of the road.
Compared to grand touring tires, this tire has a bad treadwear rating; however, when compared to performance tires it has average treadwear durability which will make you drive with it for over 20k miles which are good enough for any max performance tires. 
Tire performance factors
Dry grip and handling
When it comes to dry terrains of the summer season; the continental PremiumContact 6 delivers one of the best performances that you cannot match in this category of tires. Due to footprint blocks and tread patterns; the tire gives responsive handling with excellent traction, grip, and cornering even at the highest speed. 
Wet grip and handling
Similarly, the tire provides significant performance in wet conditions on road. Due to its grooves channels; the tire resists aquaplaning while providing grip and fast brakes for a safe and secure ride in the rain. 
Treadwear comfort and noise
Along with performance the PremiumContact 6 has very comfortable treadwear due to internal cushions and belts on the treadwear. Also, the ContiSilent technology reduces the noise of treadwear even when the tire is rolling at high speed so that you can enjoy a smooth, comfortable, and quiet ride all year long. 
Cornering and stability
The symmetrical tread design and footprint sidewalls blocks keep the tire contact evenly with the ground to promote stability while driving with confident cornering at high-speed tracks; while also maintaining responsive handling to handle the situation properly.
Is it a good tire for you
If you are someone who loves to rush on tracks usually while also driving on city roads for work then this tire could be your first priority. It is a good tire for achieving performance on both terrains while improvising the fuel mileage of your car. However, if you are not the type of guy who loves fast rides; then touring tires will be the right option for your driving style. 
If you can compromise with the low tread life, higher price, and restrain from winter rides; then continental PremiumContact can be on your wishlist. But if you can not compromise with any of these things then it would be better for you to choose other category tires that fulfill your driving desires. 
Final words
Continental PremiumContact 6 is a good blend of touring and performance tires; so no matter if it is a wet or dry road of terrain or tracks it will give you a comfortable ride with a confident and safe ride for many miles. With advanced technology, run-flat treadwear, and responsive handling you can achieve the best performance on tracks and roads with the assurance of a safe and secure ride all day long.