Last updated on May 30th, 2023 at 12:27 pm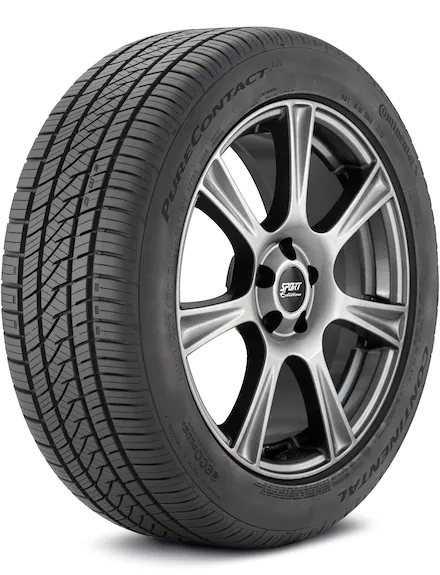 PureContact LS
All-season Tire
Don't take changing conditions for granted, equip this Continental PureContact LS tire to handle all season conditions by achieving a smoother ride. This tire provides, comfortable dry, wet, and light snow conditions drive, with durable treadwear for running thousands of miles.
Handling & Road Feedback
80%
---
Table of Contents
Quick highlights
| | |
| --- | --- |
| Tire type | Grand Touring All-Season Tire |
| Price range | $157-$253 |
| Run-flat | No |
| Vehicles type | Coupes, Sedans, and Crossovers |
| Driving conditions | Dry, Wet, and Snow |
The continental PureConact LS is a grand touring all-season tire for small crossovers and family sedans. The tire is excellent for every driver, living in north america where weather conditions change rapidly. 
It will be a great help for their vehicles to tackle different situations of dry, wet, and light snow while providing comfortable and quiet rides all year round.
The Continental tires are lacking behind in grand touring tires, only a few tires are competitive in the market in the touring tires category.
Continental was more focused on performance tires, where they have gained much experience and appreciation by delivering high-quality tires.
This grand touring tire is something that will move forward continental efforts in working on the touring tires category as well. It is a competitive tire that resembles the Michelin and Bridgestone premium touring tires.
Not only it is great for all-season smooth rides, but it is also a proper tire to achieve sporty rides. The handling response, and fast track cornering are also very fine for this tire, and the continental years of experience in the performance tires category are the result of that.
It may not be as comfortable as Michelin CrossClimate 2, but it will be a better choice for drivers who prefer a little spirited drive and responsive road feedback.
Pros
Proper traction, grip, and cornering in dry and wet conditions.
Extra biting edges provided by sipes make it a stable tire to drive on light snow and ice
The strong sidewalls with dual steel belts make it a durable tire, which wears off uniformly, backed by a 70K miles treadwear warranty
Quick brakes and acceleration for safe high-speed rides
Road feedback through responsive handling makes it a joy to ride on fast tracks and city streets.
Cons
Not a 3PMSF-certified tire to drive in harsh winter conditions
Vibration and low comfort at high-speed highway rides
---
Tread design and improvements
The all-season tread compound features a temperature-activated functional polymer that maintains temperature from hot dry conditions to cold snow conditions to wear off evenly and provide optimized contact for stable rides.
The asymmetrical tread pattern features open tread blocks, lateral notches and cut design for water evacuation, dry traction, and stability all year round.
Open siped shoulder provide proper traction in wet, and confident cornering and curve grip all-season conditions.
Continental +Silane Technology enhances grip and traction in wet and dry conditions
The Sweeping grooves, circumferential grooves, and tread and shoulder sipes improvise wet terrain traction and grip while resisting hydroplaning on standing water. Lastly,
ComfortRide Technology reduces the cabin vibration and noise, with optimized tread contact which improves comfort while making it a durable tire with longer wear life.
Durability and road life
Durability is never in question in the touring tires category, because this category has the most durable tires, and it improves even more if they are all-season tires.
Similarly, this Continental PureContact LS is one of the most durable tires in this category, it can easily take out 7-8 years without replacing any one of the tires.
The reason for that is its durable tread design, and optimized blocks, which are backed by a 70K miles treadwear warranty.
The wear-off period might defer if you drive in extreme conditions of snow, or on fast-track hot conditions, although the tire consists of temperature adaptive technology, it will wear off earlier in harsh conditions.
Not only the tire is great with durable wear, but it is also a proper tire to achieve great performance, all year round.
Specifications & Features
| | |
| --- | --- |
| Speed rating | H-V(130-149)MPH |
| Load Index | 87(1202 lbs) – 102(1874 lbs) |
| Manufactured in | Portugal and Romania |
| Wheel diameter | 16-20" |
| Ply rating | 4 ply rated |
| Treadwear, Traction, Temperature | 700, A, A |
| Noise Reduction | Yes |
Speed rating and load index are fine for this tire, as it is not made for pickup or light trucks, it won't carry high weight. Similarly, the speed rating is great to reach high speeds without disturbing the comfort of the car.
The 700 treadwear rating is another assuring factor that it is a durable tire to drive on all season. With that, the traction A rating and Temperature A ratings are excellent to handle changing temperatures and deliver proper traction all year round.
Performance of Continental PureContact LS
Dry Street Roads Drive
On dry street roads, the tire is just perfect. It provides comfortable rides, smooth contact for stable rides, and tackles the bumps and potholes very smoothly, without losing comfort.
With that, due to low rolling resistance, the tire creates less noise and requires less energy, which improves comfort, while also improving the gas and energy consumption to save some money.
Also, the center rib of the tire, provides proper grip and traction, while the outboard shoulders are designed in a way, which improves cornering on curves, even at relatively high speed.
Although it is not a sports or performance tire, however, while driving fast, we feel somewhat resemblance to a performance tire, due to handling response.
Wet Road Drive
The performance on wet road conditions is great as well. The cornering, traction, and grip all work properly on wet roads and in rainy situations.
The circumferential grooves and sweeping grooves are designed to channel the water away from the tread, which not only improves the grip, it also reduces hydroplaning for confident traction.
The open shoulders also help in cleaning the water, with the help of tread and shoulder sipes, the grip on wet street roads and fast traction improve.
Snow and Ice Drive
The absence of a 3PMSF certificate clarifies one thing it won't be a wise thing to drive this tire on deep snow, and neither did we try to drive and ruin the tread after hearing some bad reviews on deep snow terrain rides.
Zigzag sipes, cutting edges, and shoulder sipes play an important role to handle the extreme winter terrain, which is not available in this tire's tread.
Even though the tire is not perfect on ice conditions, the light snow terrain ride is fine for these tires. The traction, grip, and stability all can be achieved on minimal snow terrains.
The center tread and shoulder sipes provide extra biting edges to deal with the snow, and grooves and tread sipes improve the traction and cornering on light snow conditions
Comfort and Noise
On any road conditions all season rides, one thing is certain the tire has comfortable tread. We drive it on snow, dry fast highways, and wet conditions, the tire provides noiseless comfortable rides.
The reason for that is mostly because of the optimized asymmetrical tread pattern with proper tread design of sipes, deep blocks, and shoulders.
The comfort technology on the tread is something that also reduces cabin noise and vibration, which is great with hybrid or electric vehicles.
Handling Response, Brakes, and Acceleration
Handling response is great on highways, wet, and dry conditions. With that, the road feedback is not similar to high-performance tires but is somewhat enjoyable and better than other touring tires
The tire does not have the shortest brakes, or the fastest acceleration, still, it is average in these things which is something good with touring tires.
Good car with high-power engines, the tire pickups really well, and grips properly when a brake is pushed
Comparison with Bridgestone WeatherPeak
| | |
| --- | --- |
| Dry Conditions | Bridgestone WeatherPeak |
| Steering Response & Feedback | -6.67% |
| Cornering Stability on Curves | -6.90% |
| Dry Traction & Grip | 1.08% |
| Shortest Dry Brakes | -8.84% |
| Results | -21.32% |
| | |
| Wet Conditions | |
| Steering Response & Feedback | -4.00% |
| Cornering Stability on Curves | -11.54% |
| Wet Traction & Grip | 4.49% |
| Shortest Wet Brakes | -11.11% |
| Results | -22.16% |
| | |
| Winter Conditions | |
| Deep Snow Traction | 26.03% |
| Light Snow Traction | 15.85% |
| Thick Ice Traction | 24.29% |
| Results | 66.17% |
| | |
| Ride Quality | |
| Cabin Comfort | 0.00% |
| Road Noise | 6.45% |
| Results | 6.45% |
| | |
| 175/65R15 (84H) | |
| Price | 26.11% |
---
The test is based on our subjective views, it could differ based on different cars, conditions, and driver's preferences.
As you can see both of these tires have some better qualities than each other. The Continental PureContact LS is better when it comes to dry and wet road conditions rides, it has proper traction, grip, cornering, and brakes.
On the other hand, the Bridgestone WeatherPeak is better to drive on snow/winter terrain with a more comfortable ride. In short, the Bridgestone WeatherPeak is a proper all-season tire to drive in every road condition.
However, the high prices and some drivers' sporty preferences can not be questioned, if you think you don't need much winter terrain smooth rides, then Continental PureContact LS will be a better option for you.
When Continental PureContact LS Is Not Prefered
If you want an all-season tire that provides a comfortable and smooth ride in dry, wet, and light snow conditions, then this is the tire for you.
Otherwise, if you want something for a sporty ride in all-season conditions, and are not much of a fan of comfortable rides, then this tire won't be the best option for you. You should go with all-season performance tires.
Similarly, if you want to drive in winter terrains aggressively, and normally on dry and wet conditions, in this case too, this tire won't work for you, you should go with as we mentioned above, Bridgestone weatherPeak or any other all-season tire or winter tire based on your driving conditions. 
Final words
The Continental PureContact LX is a new grand touring all-season tire for small to medium-passenger cars. It is an excellent tire to drive in wet and dry conditions, although it lacks extreme winter conditions, in light snow, it is great. Choose this tire in 2023 if you want a comfortable ride with durable treadwear, that keeps your car moving for many coming years in the future.