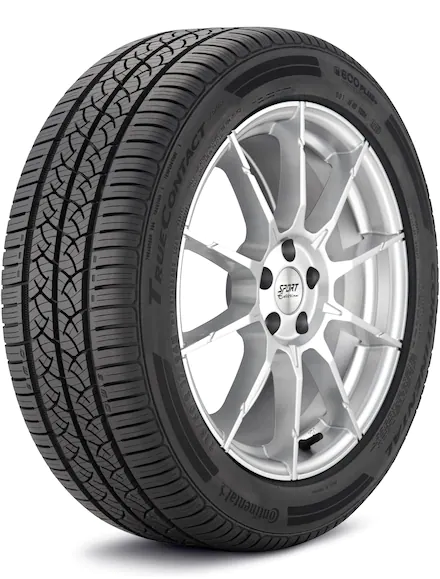 TrueContact Tour
All-season Tire
The Continental TrueContact Tour is a tire for everyday drivers looking for comfortable and smooth rides all year round. This all-season tire will provide a comfortable, stable, and durable ride for many years in the future to your sedans and Small crossovers.
Handling & Road Feedback
75%
---
Table of Contents
Quick highlights
| | |
| --- | --- |
| Tire type | Standard Touring All-Season Tire |
| Price range | $123-$227 |
| Tread Warranty | 80000 (H-T rated) and 70000 (V rated) Miles |
| Run-flat | No |
| Vehicles type | Coupes, Sedans, Minivans |
| Driving conditions | Dry, Wet, and Snow |
If your target is to get a tire for your car that delivers the most comfortable rides and also runs for most miles as possible, then this Continental TrueContact Tour will be the best choice for your vehicle.
It is one of the most durable tires in the standard touring tires category and it provides a very comfortable and smooth ride in all-season conditions. 
Whether it is dry pavements, wet streets, or light snow terrains, the tire performs in all of these situations. The confident traction, grip, and cornering, all make a ride easy and safe to drive in inclement weather as well.
With all that, this tire is equipped with advanced technologies and innovative tread design, which makes it an all-year-round tire for different weather conditions.
So if you are after confident summer rides, stable wet conditions drive, and a confident light snow drive, then this is the tire you should look at. Because with all these performances, you will get a comfortable and durable tread that can achieve more than 100K miles if driven with proper care.
Pros
Optimized tread blocks for proper contact that improves handling and makes it a low rolling resistance tire
Comfortable and quiet ride due to comfort and noise reduction technology equipped inside tread
Proper Traction and grip in wet and dry conditions, with responsive handling and brakes for safe and enjoyable rides
Dense sipes improve snow performance, even at deep snow terrains
Rugged shoulders and deep tread blocks make it a durable tire to drive for many years
Cons
Noisier than top touring tires especially on highways
Loses traction on dry roads sometimes, especially at high speed
Not a 3PMSF-certified tire to handle the extreme winter terrains. 
---
Tread design and improvements
Temperature-activated polymers in all-season compounds enable all-season performance, and with Symmetrical patterns wear off evenly for longer wear
Continental +Silane Additive technology with the help of circumferential grooves improves wet traction while resisting hydroplaning on curves and standing water
Dense center tread sipes with lateral notches and open shoulders create biting edges on snow terrains, and improve wet, snow and slippery conditions ride.
Optimized contact, sequenced tread blocks, and symmetrical pattern increase stable ride and wear while improving fuel efficiency due to low rolling resistance tire.
ComfortRide Technology beneath the tread reduces cabin vibration and noise for comfortable all-season rides
Specifications & Features
| | |
| --- | --- |
| Speed rating | T-V(118-149)MPH |
| Load Index | 84(1102 lbs) – 104(1984 lbs) |
| Manufactured in | Mexico |
| Wheel diameter | 15-19" |
| Ply rating | 4 ply rated |
| Treadwear, Traction, Temperature | 800, A, A |
| Noise Reduction | Yes |
The low-speed-rated tire models have a high treadwear warranty, and the V-rated tires have a 10K less treadwear warranty, either way, you will get one advantage from buying any variant. 
The load index, treadwear rating, and every other spec are fine in this tire, considering it is a touring tire, you don't need W or Y speed-rated tire.
Similarly, it is not made for light or pickup trucks, so a high load index won't be required for the drivers. Everything is just great to achieve smooth and comfortable all-season rides.
Performance of Continental TrueContact Tour
Dry City Roads, Pitted Roads, and Pavements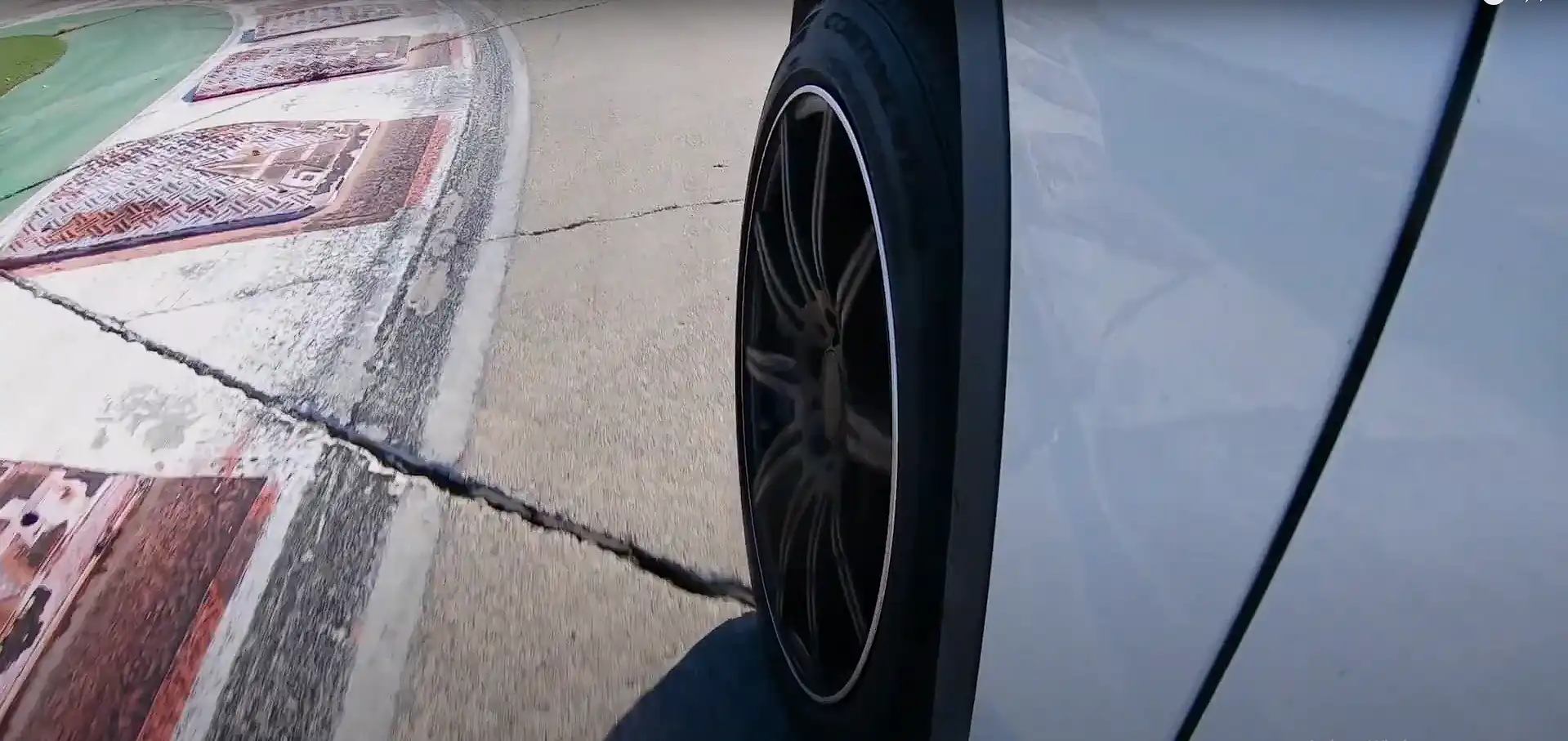 ---
In our personal experience, this tire slips sometimes on dry pavements at high speed, and also we have talked to other drivers, and some of them complain about it as well. That is why it is not a great tire for fast track and spirited dry conditions rides.
With that being said, on straight highway roads, it performs well, and perfectly on city dry roads. The tire is equipped with dense sipes and an all-season compound, which maintain the tire temperature, and provide confident traction and grip in dry conditions.
When it comes to pitted roads or damaged roads, this is a tire that provides very stable rides, without destroying the comfort on potholes.
On gravel terrains, the tire also performs fairly well, however on extreme off-road terrains it is not recommended to drive, due to the less rigged tread design and sidewalls.
Wet Roads and Rain Experience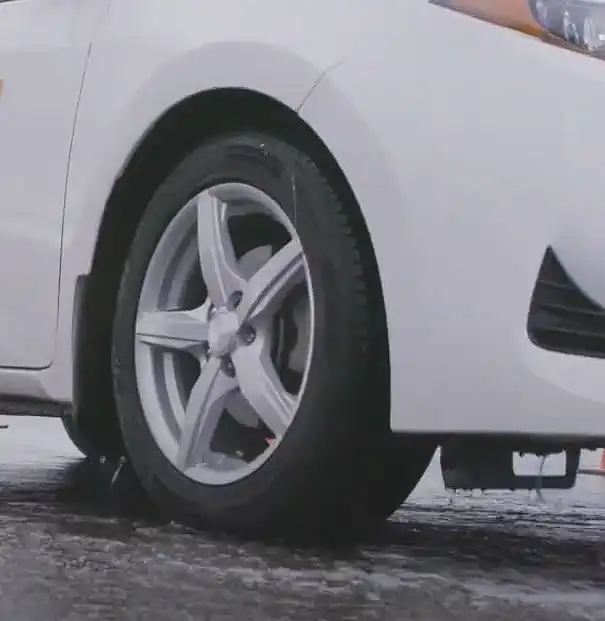 ---
Wet conditions require quick brakes, grip, and steering response, and all of that is achieved by this tire.
On city streets and highways in rain, the tire performs really well, it never loses traction or grip, even at more than 90MPH speed, which was great for any everyday driver.
On high-standing water, due to the open shoulder design and grooves channels, they resist hydroplaning and evacuate water properly to reduce slippery slopes on curves.
With that, the quick brakes make it a safe tire to drive in wet conditions as well, it stops far earlier than top touring tires which was a joy to drive in all-season conditions.
Light Snow, Deep Snow, and Ice
As it is not a 3PMSF-certified tire, we never anticipate it performs any well in deep snow, however, it performs far better than grand touring non-3PMSF-certified tires.
On above 6 inches of snow, it really performs highly and delivers a stable ride at normal speed. It never loses traction once, however, as the speed goes up the steering loses response which could mean it will lose grip after a certain speed on deep snow.
On ice and melted snow, the tire also delivers confident traction and grip, however, the performance was not so stable, and also there are chances that driving this tire more on rough winter terrain could make it wear off earlier than the warranty period.
In light snow conditions, it is a proper tire to achieve a great and comfortable ride. It grips properly and delivers short brakes and is able to drive at high speed as well. Overall on snow terrains, it is a driveable tire and will be great for someone who rarely counters snow season.
Durability and road life
Standard touring tires have to be durable if they want to succeed in this category of tires, and the success of this tire is its durability as well. Even though some drivers face issues with early wear off, most of the drivers including our friends are satisfied with this tire's treadwear performance. 
This tire comes with 6 year and 70K to 80K miles treadwear warranty, and we have known a few people who are left with 4/32 tread depth even after 90K miles, this is how great this tire is when it comes to durability.
However, they maintain a strict routine of tire maintenance, rotation, and other things, which also helps in improving tire life. And you can do that too.
With great performance and smooth rides, the tire also provides durable treadwear, which is why it is one of the top touring tires for passenger cars in this age.
Comfort and Responsiveness
The tire is comfortable to drive, there is no doubt about that. However when it comes to noise, it is not the most optimized, the tire creates sounds at low speed and also at high speed after a few years of driving.
At the start, the tire will be quiet which is why after some 40-50K miles, it starts making loud noises, it is noticeable and annoying at the same time. Although the sound is not as loud as all-terrain tires, still it is far louder than other touring tires.
When it comes to responsiveness, the tire is again not as responsive as a performance tire, however for normal everyday rides, it is fine on any all-season conditions. 
Comparison with Michelin Defender 2
| | |
| --- | --- |
| Dry Conditions | Michelin Defender 2 |
| Steering Response & Feedback | 6.04% |
| Cornering Stability on Curves | -3.85% |
| Dry Traction & Grip | 2.15% |
| Shortest Dry Brakes | 7.84% |
| Results | 12.18% |
| | |
| Wet Conditions | |
| Steering Response & Feedback | 1.96% |
| Cornering Stability on Curves | -11.31% |
| Wet Traction & Grip | 2.27% |
| Shortest Wet Brakes | -14.81% |
| Results | -21.90% |
| | |
| Winter Conditions | |
| Deep Snow Traction | 3.80% |
| Light Snow Traction | 2.35% |
| Thick Ice Traction | 4.05% |
| Results | 10.20% |
| | |
| Ride Quality | |
| Cabin Comfort | 3.85% |
| Road Noise | 5.63% |
| Results | 9.48% |
| | |
| 175/65R15 (84H) | |
| Price | 17.02% |
The results are based on test results and subjective views, it could differ based on different cars, conditions, and driver's preferences.
Both of these tires are new and come with similar treadwear durability. As the test result states, the Continental TrueContact Tour is better in wet conditions overall.
On every other performance test, the Michelin Defender 2 leads by a slight percentage compared to the Continental TrueContact Tour tire. 
The Michelin Defender 2 is better on dry road conditions, winter terrains, and road comfort and noise, as the difference in performance is not so high, that is why both of these are proper tires to drive in all seasons conditions.
As the Continental TrueContact Tour comes in a far low price range and far better-wet road performance, we would consider it as a winner between these two tires. However, Michelin will be a better choice for winter terrain and comfort-oriented drivers.
When Continental TrueContact Tour Is Not Prefered
There are many situations where this tire might not be suitable, especially if they are related to off-terrain driving. Because in off-road, this tire will completely fail, due to non-aggressive tread design, which will easily get punctured on sharp materials.
Similarly, if you are a driver of sport-oriented sedans, and also want sporty and spirited rides, then again this tire will not make sense, due to less responsive handling and feedback. The max performance tire will make more sense in this situation, which will provide sporty rides on streets and tracks as well.
Choosing the tire based on review, without analyzing your driving conditions, and preference is never a good thing to do. You should first identify which type of performance you desire from your tires and then start searching for the tire.
---
Final words
The Continental TrueContact Tour is an excellent all-season touring tire for everyday normal drivers. It performs well in wet, dry, and snow road conditions while delivering comfortable and stable rides. The durable tire makes it an all-year-round tire to drive for more than 7-8 years while achieving smooth rides in all seasons. If you are a small crossover, sedan, coupe, or minivan driver, this tire will be a great voice you would make for your car in 2023.