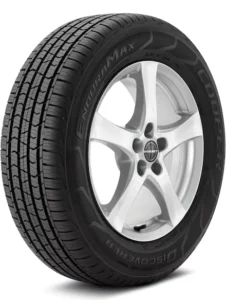 Discoverer EnduraMax
All-season Tire
The Cooper Discoverer EnduraMax tire has it all, it performs in all-season conditions, delivers stable and durable rides, and comes at a very low price. So if you have an SUV, Crossover, Minivan, or light truck, this tire will make a good fit in 2023.
Handling & Road Feedback
80%
---
Table of Contents
Quick highlights
| | |
| --- | --- |
| Tire type | Standard Touring All-Season |
| Price range | $135-$234 |
| Tread Warranty | 60000 Miles |
| Run-flat | No |
| Vehicles type | Crossover, SUV, and Light truck |
| Driving conditions | Dry, Wet, and Snow |
Cooper Tires have been in the tire industry with their high-quality tires at low price ranges. Just like this tire, there are many other examples where Cooper's inexpensive tires are outperforming premium brand tires.
The reason is that they manufactured tires in the united states which makes them a high quality that runs for most miles as well.
This tire is a great example of that, the Cooper Discoverer EnduraMax is a quality touring all-season tire, which performs fairly well, comes at a lower price range, and runs for a very long period.
The all-season traction, brakes, and handling all are great for this tire. With that, the performance on snow makes it a proper tire to drive with SUVs and other big-wheel-diameter cars.
Out of all the tires that we have covered on our site, this tire is one of the best performers for snow terrains in this category, the CrossContact LX25 also lacks performance on snow, which is nowadays the most popular tire in the touring tire category.

With a comfortable ride and stable contact, overall it is a great new tire to drive. To learn all about its performance, the real-world drive, and comparison with other top tires, keep reading this article to clear your thought on whether to buy it or not.
Pros
All-season grip, traction, and response
Confident handling, brakes, and stable ride in wet, dry, and snow conditions.
3PMSF certified for extreme winter terrain rides
Aggressive tread design and shoulder with even wear for durable tread life
Comfortable rides all year round
Hydroplaning resistance in wet conditions
Normal off-road performance with minivans and CUVs.
Cons
Wet traction loses sometimes and tire hydroplanes as well
The loud sound won't be something a luxury car driver will enjoy
---
Tread design and improvements
The symmetrical pattern, chip resistance design, and deep tread make it a durable tire that resists damage on gravel and damaged roads.
Winter Grip Technology along with 3D zigzag sipes creates extra biting edges for proper contact on deep winter terrains.
Open Shoulders, Wide circumferential and lateral grooves channel the water through the tread and resist hydroplaning while improving contact and grip in wet conditions.
Tread and shoulder sipes along with edgy tread blocks improve dry and wet traction with cornering and handling on fast rides
Pitch sequencing for reducing noise and improving cabin comfort without compromising on wear performance
Specifications & Features
| | |
| --- | --- |
| Speed rating | H-V(130-149)MPH |
| Load Index | 94(1477 lbs) – 107(2150 lbs) |
| Manufactured in | United States |
| Wheel diameter | 16-20" |
| Ply rating | 4 ply rated |
| Treadwear, Traction, Temperature | 640, A, A |
| Noise Reduction | No |
Performance of Cooper Discoverer EnduraMax
Dry City Roads, Pitted Roads, and Pavements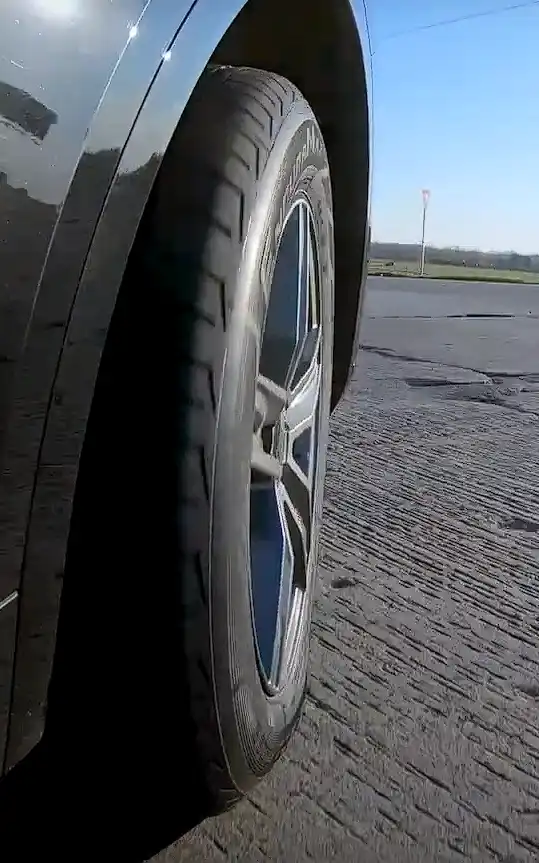 ---
Dry conditions are the favorite of this tire, usually touring tires can not handle off-roads like gravels and hilly roads, but this tire is better than other tires.
On normal city streets, pitted roads, and paved highways, the tire delivers very comfortable rides, however, the noise was there but the lack of vibration and the smooth ride were great.
The temperature control was also great, and speed balance and contact feedback were also fine. It never loses traction at high speed, however on corners, it was not so great.
Other than that, the steering performance was fine as well. If it's only driven in dry conditions with proper care and maintenance, we are pretty sure that it will last more than 10K than its warranty period.
On gravels, construction sites, and upward hills, the tire was not as comfortable but performed well. All the performances were intact, and it crosses properly the harsh road in dry conditions.
Wet and Rain Experience
---
Performance in wet conditions is not as prominent as performance in dry conditions. Above normal speed, the tire loses grip and traction and making it an unsafe tire to drive in rain.
The hydroplaning resistance is great, but again at high speed on high-standing water, it hydroplanes as well.
So when we drive at normal speed between 40-60MPH, the tire performs fairly well, on a storm it does not slips at all, the contact, handling, and response were all great as well.
The brakes were good as well, it is not as slow as other top tires, but they were good as well. Overall on wet conditions, the tire delivers average drive not as bad as BFGoodrich tires though.
Light Snow, Deep Snow, and Ice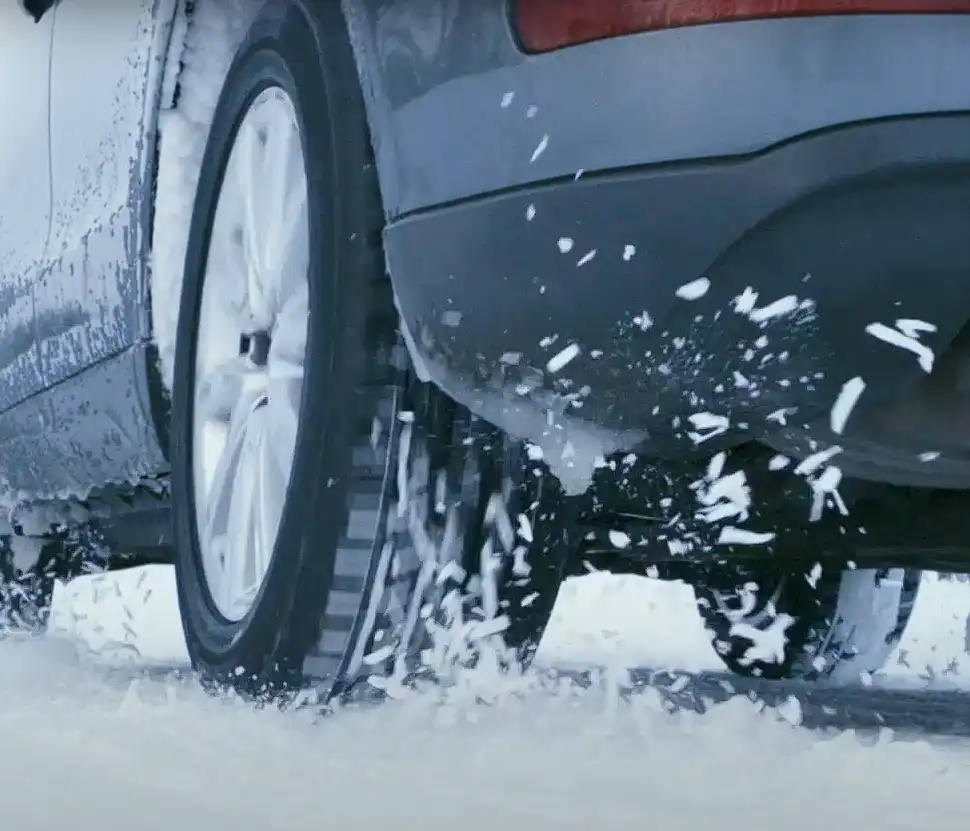 ---
This 3PMSF-certified tire is one of the best performers on winter terrains compared to other SUV touring tires.
On light snow, the tire grip well and delivers proper response with short brakes as well. At first, we thought it won't be a good tire to drive in all slippery conditions, as it lacks on wet roads, but it performs far better than what we expected.
On deep snow and icy conditions, the tire achieves proper rides, increasing speed gradually bringing discomfort and low response but at normal speed it was all great, the 3D sipes also deliver edges o this tire which makes it driveable smoothly on snow above 6 inches.
On the ice, it slips more than deep snow, however, it was manageable, but if you have to face heavy snowfall for more than 2 months, it will be a better option to keep winter terrain tires set in your garage as well.
Durability and road life
Touring tires without durable treadwear is a waste of money. Unlike this tire, some tires have a high treadwear warranty but not so good performance throughout their life.

This tire is more than fine when it comes to treadwear durability, it is backed by a 60K miles treadwear warranty, which is not the ending point of its life.
Most drivers have taken it to the 70K miles before it gets completely bald, and sometimes it still performs after 70K miles.
Overall it is one of the top durable tires to drive and achieve a comfortable and smooth ride in all-season conditions.
Road Responsiveness
Handling response, controlled handling, and brakes, all are fine with this if you are driving on normal everyday roads and highways.
But if you drive this tire on tracks, it might not be the great choice of tire that you would make. It is just not as responsive as a performance tire and also loses grip on corners and might oversteer at a fast pace.
The fast brakes are good to achieve safe and secure ride, with a comfortable and stable ride, as long as you are not overspeeding.
Overall the responsiveness of this tire is fine, as most of the touring tire drivers don't bother much about the response, as long as they deliver comfortable and durable rides all year round.
Comparison with Yokohama Geolandar CV G058
| | |
| --- | --- |
| Dry Conditions | Yokohama Geolandar CV G058 |
| Steering Response & Feedback | 12.00% |
| Cornering Stability on Curves | 13.04% |
| Dry Traction & Grip | -1.07% |
| Shortest Dry Brakes | 0.00% |
| Results | 23.97% |
| | |
| Wet Conditions | |
| Steering Response & Feedback | 22.73% |
| Cornering Stability on Curves | 42.86% |
| Wet Traction & Grip | 2.23% |
| Shortest Wet Brakes | 26.09% |
| Results | 93.91% |
| | |
| Winter Conditions | |
| Deep Snow Traction | -3.45% |
| Light Snow Traction | -2.25% |
| Thick Ice Traction | 0.00% |
| Results | -5.70% |
| | |
| Ride Quality | |
| Cabin Comfort | 3.70% |
| Road Noise | 20.83% |
| Results | 24.54% |
| | |
| 175/65R15 (84H) | |
| Price | 17.14% |
The results are based on test results and subjective views, it could differ based on different cars, conditions, and driver's preferences.
As you can see, the Cooper Discoverer EnduraMax is very underperforming compared to Yokohama Geolandar CV G058 when it comes to wet traction and performance. That is why Yokohama Tire might be a better choice for all-season driving.
However, when it comes to winter terrains, the Cooper tire takes a good lead due to its overall winter terrain performance.
So if you are after an all-season ride with great winter terrain ideas, and also want an affordable tire then cooper tire will make more sense out of these two tires.
---
Final words
The Cooper Discoverer EnduraMax is a great all-season tire to achieve a comfortable and smooth ride in wet, dry, and snow terrains. With great performance, it is also a durable tire to achieve long-lasting performance for years to years. The tire lacks a little bit in performance in wet conditions and also has louder tread noise, so avoid this tire if you can not bear with these things. Otherwise, it is a proper tire to drive in 2023 with SUVs, light trucks, and Crossovers.