Last updated on May 25th, 2023 at 02:11 pm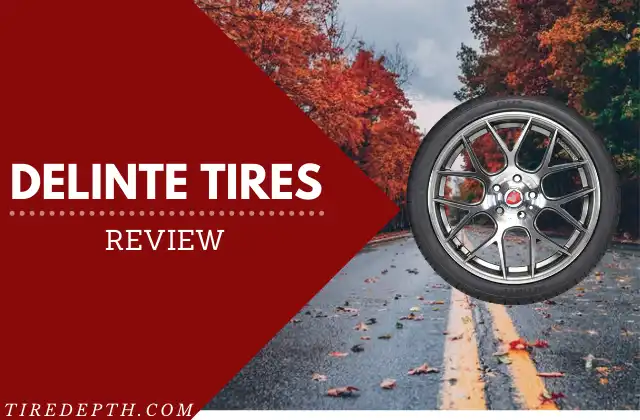 ---
Qingdao Sentury tire co., LTD., is a manufacturer of Delinte tires along with GroundSpeed Landsail, and Pantera tires. Out of all these brands, Delinte tires is known for its stylish design of passenger cars, light trucks, and SUVs tires. They have a target market of younger generations those who prefer looks and quality when buying new tires. They have manufacturing plants in China and Thailand, however, they have opened their center in the United States to serve their American customers. More than 44% of their tires are sold in the USA, which is why it is important to have some facility for their customers in case any problem occurs with their tires.
Table of Contents
Delinte Tires Quick Highlights
| | |
| --- | --- |
| Origin of delinte tires | China |
| Started operations | In 2009 |
| Type of tire manufacture | Passenger cars, light trucks, Trailer tires |
| Tire categories | All-season, all-terrain, summer, and winter |
| Price range | $60 – $302 |
| Ply ratings | 2-10 ply |
| Average distance covers | 30000-40000 Miles |
| Online retailers | Amazon, priority tires, And Walmart |
Delinte tires are one of the best affordable options available when it comes to cheap and affordable tires that last for more than 50k Miles. There are many Chinese brands that have made a bad image of Chinese brands with their low price and low-quality tires, on the other hand, delinte tire is far superior to these cheap brands and provides the best value at very reasonable rates so that anyone can enjoy the ride of their sporty and luxurious cars.
Delinte Tires price
Delinte tires manufacture their tires in china mostly and produce most of the rubber and other parts by themselves with high-quality standards, which is why their price is far less than other brands with durable and reliable tires. Also, the manufacturing cost in china compared to other countries is lower but also you can easily determine the difference between Chinese brands and premium brands tires. There are many retailers who sold tires at different rates, which is why it is better to buy tires from known retailers like Amazon, discount tires, and priority tires so that you get the best price of their tires.
Delinte tires Durability
The rubber for tires and many other parts is manufactured by delinte tires that use to manufacture tires. They have high quality and high standards at their manufacturing plant in Thailand and China and they use fine quality material so that the tire lasts much longer than other brands. Most of their tires have a 50K Miles treadwear warranty which is very impressive if you talk about the affordability and durability of the tire. The strong sidewalls and robust treadwear not only improve its durability but also improvises the performance of the tires.
Delinte Tires Performance
When it comes to performance delinte tires have one of the best performance compared to other Chinese brands tires. However if you'd compare their performance with Michelin and Pirelli tires, it may lack at some points. Compare to premium brands, their tires are noisier and less comfortable when it comes to highway and speed tracks ride. Other than that their tires are very impressive on wet and dry traction and grip with confident steering response and durable treadwear for longer miles. Their all-terrain tires also provide confidence off and on-road rides with bigger and stronger sidewalls for durability and safety.
Delinte tires positive points
Affordable rides
The affordability and quality of delinte tires speak for themselves, these tires provide very good value at this price range. So if you are considering buying these tires then you will get the best performance at a very reasonable rate so that all of you can enjoy your vacations or travel if you have to ride on other terrains for a small period of time.
Confident cornering and handling
Along with affordable rates delinte tires have very strong sidewalls and shoulders that provide confident cornering and stable handling on and off roads. Also, it improvises the contact of the tire with the ground so that your tires last for longer miles and provides a safe and durable ride.
Longer tread wear life
Mostly, all of the delinte tires are baked by a 50K miles treadwear warranty, which is extremely good for budget Chinese brand tires. Due to their high-quality rubber and other parts, their tires run for more miles than other cheap brands and provide a comfortable smooth ride for a longer period of time.
Delinte tires negative points
Noisier and less comfortable
When it comes to noise and comfort, delinte tires are not the best in these areas, if you'd compare the premium brand comfort with their tire's comfort, you can see a viable difference between the two of these tires. however, compared to other Chinese brands their tires are best when it comes to comfort and durability, but if you want something perfect then this tire won't be a good choice for you.
Slower braking distance
Delinte tires have good cornering high speed, and confident handling thought when it comes to brakes the tires are not at their best. They have longer stopping times than other performance tires due to their lower gripping ability. So if you want something good with speed and fast brakes, then you should consider other tires than this one. However, you will still get the best performance at this price range if you go with their high-performance tires.
Moderate traction on snow
Another important thing that you should know about delinte tires is that they are not as good for snow rides, their winter tires get slippery on icy surfaces. Also, their tires don't have a 3PMSF certificate which is another reason that these tires won't be a good choice for winter driving. However, for small and rare rides these tires will work for you if you just want to cross the snow terrain with a safe ride. 
Frequently Asked Questions
Are Delinte Tires Good Or Bad?
Delinte tires are perfect for budget buyers who are looking for durable treadwear life on tires with a comfortable and smooth ride. However, if you are someone who wants the best-performing tires at any price for your car then this might not be the perfect choice for you.
Where Are Delinte tires made?
Delinte tires have one manufacturing plant in China and another one in Thailand, with different tires made in different locations. However Thailand manufactured tires are a little better than Chinese tires, it is not that big of a difference that might discomfort you, but it is better to have Thai-manufactured tires.
Is there any competitor of Delinte tires
Delinte tires have many other competitors who are manufacturing their tires in China and Thailand at a similar cost. Those are lionhart tires, Blackhawk tires, and Otani tires. All of these tires have their ups and downs but all of them are really attracting budget-oriented buyers in the market. 
Do we recommend Delinte tires?
If you want a tire that is good for the short term or some specific terrain tire that you would use for a small journey, then these delinte tires could be your best option. You will get the most out of your journey without costing you too much. But on the other hand, if you're after something that provides you with the best comfort for a longer period of time, then other American and french brands should be your priority.
Final words
Delinte tires have been in the US tire market for a very long time and have made a good name in the market still, buyers choose their tires in 2023 due to their unique and stylish design at affordable rates. Along with style, these tires are very comfy and provide a confident and safe ride for further miles. So if you are someone who is looking for buying these tires, then we hope that this review did help you in understanding the ups and downs of these tires. Still, if you have any queries you can ask us in the comment section, and we will try to solve them as fast as possible.