Last updated on December 7th, 2023 at 09:52 am
| | |
| --- | --- |
| Tire type | Studdable Winter Tire |
| Price range | $120-$198 |
| Tread Warranty | None |
| Run-flat | No |
| Vehicles type | SUVs and Light Trucks |
| Driving conditions | Dry, Wet, and Snow |
Firestone WinterForce 2 UV is a studable winter tire made for light trucks, SUVs, and some Crossovers. It is a new tire, and its low price compared to any top brand's new tire has made it a big deal when it comes to winter tire choice.
In this review, we will examine this tire's performance, compare it with the most prominent tire in this category, and identify whether it is adequate to drive or is just another price bait for struggling deep snow rides.
So, without further ado, let's get into it.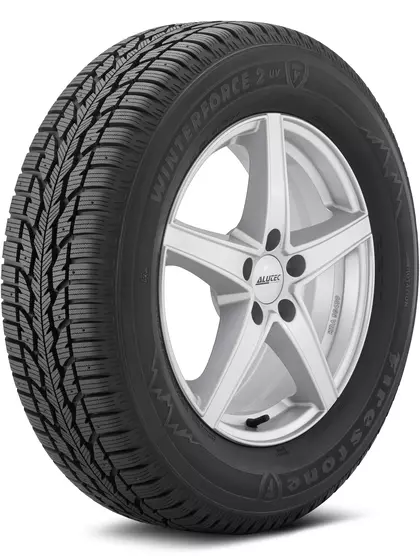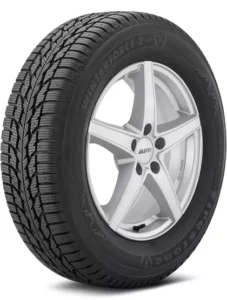 Slash, & Ice Conditions

85%
Comfort & Noise Level

85%
Table of Contents
Test Driving Result
We drove this tire in different conditions; some were artificially created, and some were real. The test results and experience are based on our subjective views and could differ depending on your driving conditions, style, and vehicle.
Snow conditions Performance
Let's start with the winter terrain results, as it is designed to handle snowy situations primarily.
We try to judge any tire's snow performance based on its handling control, traction, and brakes on snow.
By disappointing you, we have to say that this tire is not the finest choice for winter driving in 2024.
We tested it on light snow with studs, and this tire perform below level compared to tires launched in 2015 or 2017. Not only that, but the treadwear's durability on snow terrains is also unreliable.
So, with that in mind, we hit the deep snow conditions, and the results were also disappointing. The tire lost grips above 40MPH speed, no steering control, and unreliable overall ride.
This tire never stuck in one place due to its deep tread levels. However, this won't happen after several thousand miles of driving.
If this would be an all-season tire with a 3PMSF certificate, it would be excellent for snow; however, as a winter tire, it is not at the par levels.
So, if you want the most durable and reliable extreme winter terrain rides, this tire is not for you. But if you want a tire on a budget for normal or low-level snow, this studable tire will be a fair choice in 2024.
Wet Road Drive
This tire's tread design makes it so good in wet conditions. The test criteria of wet condition was to find out whether this tire provided grip in normal to heavy rains and if the tire responds in deep standing waters.
The performance really shocked us, especially when we realized it was a far cheaper tire.
The decisive factor of wet traction is the tread design of this tire. The tire is equipped with open shoulders and deep circumferential grooves for maximum wet and winter performance. Most of the time, these two things are enough to handle wet conditions. However, this tire is also equipped with lateral notches to wipe the water and slush from the tire tread.
Because of that, we were able to speed drive in deep waters and rain. The traction and grip were proper, and the response never lost control through the steering.
So overall, in wet conditions, this tire is far more than other tire promises in this price range.
Comfort and Stability
For comfort, we determine whether this tire is driveable through regular city streets, pavements, and gravel country sites.
When it comes to comfortably dealing with potholes and unstable tracks, this tire is great. With that, the tread noise is not too loud, which usually is the problem with winter terrain tires.
You can not compare the comfort performance with the grand touring tire because there is a vast difference, so don't expect that much from this tire. Compared to a winter tire, it is a comfortable and quiet tire.
When it comes to stability, it is moderately stable due to the thin design of this tire. Wider sidewalls help bring stable cornering and straight-road rides, which is not achievable with narrow tires.
Overall, it is an excellent tire if you are looking for comfortable winter tires.
Dry Road Rides
For dry roads, we examine highway rides warm weather city roads, with traction and cornering.
This tire is equipped with hundreds of deep sipes, which, although helpful in wet conditions, also increase traction in dry road conditions.
The tread sipes improve handling response, and the shoulder sipes enhance cornering stability.
Unlike some winter tires, it is not totally degrading in dry conditions, it is somewhat driveable. However, it might wear off earlier due to the wintery compound.
The performance on fast tracks is not trustable due to the same narrower tire shape; even without considering this, winter tires are never a good option to drive on fast tracks. The chances of early wear and sidewall damage are high.
So, if you want to drive with this tire in dry conditions, it won't matter, and you might not feel any discomfort while driving. However, remember that it will wear off earlier than if it is driven in cold conditions.
Durability and Warranty
By far, we can not say anything about this tire's durability, as we just took a test drive with it. However, after analyzing hundreds of tires, we can estimate whether the tire will be durable or not.
So we talked to drivers who experienced this tire's reliability and also read some real driver's reviews, and we came to the conclusion that you can expect so much with this tire.
First of all, there is no treadwear warranty; almost all tires in the winter tire category have no treadwear warranty, so it is not a big deal.
However, the durability, even on light snow, is not significant. The tire would hardly cover 20K miles if driven with proper care and caution.
Otherwise, you will find the tread wearing off quickly after 15K miles, which would really change the performance of this tire because the deciding factor of this tire is its deep tread design.
However, one good thing with this tire is that you can stud after the tread gets shallow, improving its performance in wintery tracks. Just read the regulations for studded tires. Otherwise, it might get you in trouble.
Comparison With Alternative Tires
All of these tires are top tires in the winter tires category and match the fits with similar vehicles. The Goodyear tire has particular sizes, so you might not find it in your preferred dimensions. Other than that, all tires have a variety of sizes. We compare these tires based on our driving tests and customer reviews, which might contradict your style and conditions.
| | | | |
| --- | --- | --- | --- |
| Driving Perfomance | Michelin X-Ice Snow | Bridgestone Blizzak DM-V2 | Goodyear WinterCommand Suv |
| Overall Winter Performance | 2.27% | 5.68 | 0.00% |
| Overall Wet & Rain | 0.00% | 2.25% | -1.12% |
| Overall Dry Condiitons | -1.14% | 0.00% | -1.14% |
| Comfort & Noise | 6.02% | 6.02% | 2.41% |
| Treadwear Durability | 6.02% | 1.20% | 0.00% |
| Price | 31.54% | 15.38% | -0.77% |
Michelin X-Ice Snow
The Michelin X-Ice Snow has been around for years, and it is one of the best in this category, especially when you talk about durability and all-year performance. Another good thing about Michelin tires is they have the finest and smoothest ride with a comfortable and quiet experience,
When it comes to comparing it with the Firestone WinterForce 2 UV tire, it is better in almost every condition, from winter to wet, from comfort to reliability. Everything about this Michelin tire is better. Also, it is one of the tires in the winter tire category that comes with a treadwear warranty.
So, if you have a high budget and want tires for several winter seasons, we recommend Michelin Tire over Firestone.
Bridgestone Blizzak DM-V2
The Bridgestone Blizzak DM-V2 is our favorite tire when it comes to light and deep snow performance. It is by far the greatest winter tire of this time, especially if you want to achieve aggressive results on harsh snow terrains.
Compared to Firestone WinterForce 2 UV, this tire is also better in almost every performance matric, and similar to Michelin tire, this tire is also more expensive. The reason for this tire's success is its ability to control wintery terrains; this tire is even far better than Michelin in winter conditions.
So, if you estimate that the snow will drop more, compared to the Firestone tire, this Blizzak DM-V2 will bring more favorable and reliable rides in extreme winters.
Goodyear WinterCommand SUV
Now, Goodyear winterCommand Ultra SUV and Firestone WinterForce 2 UV are somewhat similar tires. The price range, performance, and durability all things are mostly similar.
Unlike winterForce 2, this Goodyear tire is more toward winter terrain rides. It might perform a little better in wintery snow and ice, but it won't be a good choice for all-season rides.
The tread design of this Goodyear tire is made to handle extreme wintery terrain but lacks very badly in wet and dry seasons. The loss of traction and grip will be seen if you drive extensively in dry and warm weather.
The durability of this tire is also not too great. However, the price range makes it level. So if you want a tire for a few winter seasons, then you can go with this tire. Otherwise, Firestone Tire will be a better option if the winter is not so extreme.
Pros and Cons
Pros
Very affordable rates compared to any new winter studable tires
Comfortable and quiet driving experience with smooth handling response
Adequate performance in deep wintery terrains
Reliable performance in light snow conditions
Proper ride in wet and dry road conditions
Hydroplaning resistance and snow-cleaning treadwear
3PMSF certified tire
Cons
No treadwear warranty with less durable treadwear
Without stud, performance on winter terrains is not driveable
Narrow shape, bad at cornering and fast speed rides
Conclusion
This winterForce 2 UV tire will be an excellent tire for the 2024 winter season. Its cheap price and smooth performance on city streets and winter terrains make it an affordable and reliable option. There are many tires that are better in performance when it comes to extreme weather. However, no one can compete with this tire when it comes to price and performance in this price range.
So, if you want to save some money and want winter tires for shorter periods, then this Firestone tire will be an excellent companion to your SUVs, crossovers, and light trucks.