Last updated on May 15th, 2023 at 12:49 pm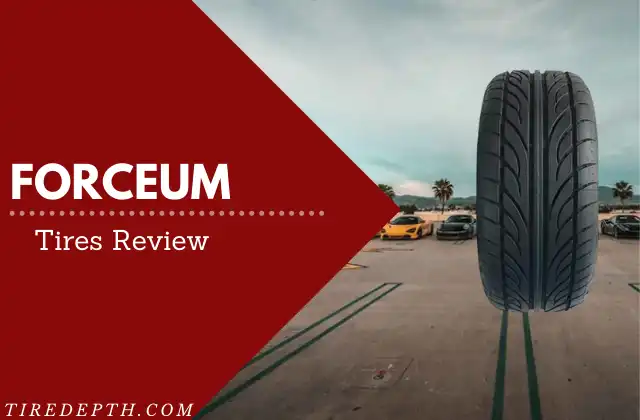 ---
There are different qualities, different features, and different price ranges of tires, those who stand on each of these things can only make their name in the tire industry. Forceum tires have been serving their customers since 1996 in more than 90 countries due to their unique size and features, car modifiers, and budget-friendly buyers really appreciate the value these tires provide. Forceum Tires operate from Indonesia and are known to produce quality rubbers and other tire parts. Since they started their business, the main motto of their brand is providing quality and safe tires according to the demand and preferences of their customers, and they are truly following their path to satisfy and delight their customers.  
Table of Contents
Forceum Tires quick highlights
| | |
| --- | --- |
| Origin of Forceum tires | Indonesia |
| Started operations | In 1996 |
| Type of tire manufacture | Passenger, light trucks, and modified tires |
| Tire categories | Summer, All-season, and Mud Terrain tires |
| Price range | $59 – $171 |
| Ply ratings | 2-10 ply |
| Average distance covers | 30000-40000 Miles |
| Online retailers | Priority tires, Amazon And Walmart |
Forceum Tires are involved in manufacturing passenger car tires, light truck tires, and 4×4 applications. However, they are famously known for their unique tire sizes, and wheel fits for modified car drivers. They have launched different categories of tires, but their strength and more famous tires are high-performance summer and all-season tires, and mud-terrain tires. Buyers prefer forceum tires for their quality tires at very affordable prices that you can not match with any other tires in the market. That is the reason they have gained a good reputation in the US market, which is the most important point for tire business companies.  
Forceum tires manufacturer and origin
The manufacturing and assembling of forceum tires are operated from Indonesia, and from there, they export their tires to more than 90 countries around the world. Many big and small retailers, online and physical stores stock their tires for their good name and service. Walmart and Amazon are some of the biggest retailers that forceum is working with, and due to their worldwide online business appearance, forceum reached different countries' markets and served its customers by satisfying their needs and demands. Operating from Indonesia also helped them at maintaining a lower cost, which is a very important point if a brand like forceum is competing in the international market.
Forceum tires price
The price of the forceum is known to have one of the most affordable rates in the US market because all of their tires are manufactured in Indonesia, and compared to the united states, Indonesia is a lot cheaper country. That is the main reason forceum tires are able to produce high-quality tires at a minimum cost. However, if you'd compare premium French and German tires with the forceum tire performance, then you can feel the difference while riding when it comes to comfort and noise.
Still, forceum tires are the best bang for the buck due to their tire quality at this price range. If you want a tire that is affordable and provides a high level of performance, then these are the tire that you should consider.
Forceum tires performance
All-Season Perfromance
95%
All-Terrain Perfromance
90%
The performance ratings are based on the top tires that forceum has launched in the market, as it is so clear that forceum tires provide excellent all-season and mud-terrain performance with responsive brakes and traction at high speed. However, the noise and treadwear of the forceum tires are not as impressive as they could be. Because there are brands like Michelin and Pirelli, who deliver the best comfort and noiseless tires that no one else could until they increase their cost.
Different brands follow different strategies, and premium brands like Michelin and Goodyear follow a responsive and focused strategy, on the other hand, forceum uses a cost-effective strategy and tries to give the best tires at the lowest cost possible. 
Forceum Tires Treadwear
Forceum Tires have thrived to design their tire's treadwear in a way that performs in different conditions without wearing off quickly. Their unique tread pattern provides a long run smooth ride with strong sidewalls and shoulders that handle the harsh conditions of the terrain while maintaining stable and responsive control of the steering. Forceum also provides a warranty with their tire for the surety and satisfaction of the customers; their tires, on average, run smoothly for 35-40K Miles before their tread wears off. This is why people prefer these tires due to their long-life treadwear along with confident high-performance rides at very reasonable price rates. 
Forceum top-performing tires
Throughout their journey, forceum tires have launched very fine tires since their start, and all of their tires have made good fortune in their time. However, the top three tires that outperform in the market with highly praised customer reviews and still flourishing in 2023 are: 
FORCEUM Octa High-Performance
Tire specification
| | |
| --- | --- |
| Tire category | All-Season high-performance tire |
| Speed and Load Range | W, XL |
| Run-flat | No |
| UTQG | 400AAA |
This high-performance forceum octa all-season tire is excellent for wet and dry road traction and grip. The inner and outer layer of treadwear improves tire stability on dry and wet roads while providing hydroplaning resistance to deal with the water and slush of the road. Also, the three center ribs make the tire more responsive by shortening the distance. The extra biting edge provides speed ride confidence by providing safe and secure driving on high-speed roads and tracks. Along with that, the tire has durable treadwear that runs for years so that you can enjoy noiseless and comfortable all-season high-performance rides. 
---
Forceum Hena High-Performance
Tire specification
| | |
| --- | --- |
| Tire category | All-Season High-Performance tire |
| Speed and Load Range | W, XL |
| Run-flat | No |
| UTQG | 400AA |
Another high-performance all-season tire for speed lovers, this forceum henna has a directional tread pattern that contacts with the ground evenly to improve its life and road stability even at high speed. Along with treadwear, the tire has stronger shoulder ribs that balance the tire and provide stable cornering while making a turn and provide traction and grip for speedy turns. Along with that, the tire provides smooth wet and dry road drive by providing traction in humid season and hydroplaning resistance in rainy and wet conditions. All of that with a comfortable and noiseless ride with durable treadwear for a long-high-performance drive. 
---
Forceum M/T 08 Mud-Terrain
Tire specification
| | |
| --- | --- |
| Tire category | All-Season Mud-Terrain |
| Speed and Load Range | Q, C |
| Run-flat | No |
| UTQG | 500AA |
Forceum M/T 08 is an all-seasons mud terrain tire that performs extremely well on mud and snow. The deeper tread grooves and center ribs allow it to stop mud and snow from sitting on treadwear while allowing it to give stable and confident steering responsiveness. Strong sidewalls and shoulders make it a safer tire to handle the severe mud and harsh off-road conditions to give you the confidence of a secure and burst-free ride. Also, the wide tread grooves improve its all-season performance by providing hydroplaning resistance from water and slush and preventing them from disturbing its traction on snow and watery surfaces.
All of that comes with durable treadwear so that you can enjoy the long-lasting comfort and thrilling ride of the mud terrain.
---
Forceum Hexa-R High-Performance
Tire specification
| | |
| --- | --- |
| Tire category | All-Season High-Performance |
| Speed and Load Range | Y, XL |
| Run-flat | No |
| UTQG | 400AA |
This high-Performance Hexa R All-season tire is made for drivers who love high-speed and track driving. With a unique tread design, the tire weighs lighter than other tires, which improves its speed, and its tread compound improves stability and contact with the ground evenly so that the treadwear won't wear off quickly and roughly. The V-shaped tread pattern makes it a perfect all-season tire by providing traction and grip in wet and dry conditions with hydroplaning resistance for channeling the water away from the tire. Also, the shoulder blocks improve high-speed cornering and steering confidence when driving on tracks and high-speed roads. All of that comes with high-quality treadwear for durable, comfortable, and noiseless rides. 
---
Frequently Asked Questions On Forceum Tires Review
Are forceum tires any good?
Forceum tires are one of the best bang-for-the-buck tires with excellent all-conditions performance along with comfort and durable long-run ride. Also, their tires improve the fuel efficiency of your car with confident and stable handling while driving at high-speed tracks. 
Which country are Forceum tires made in?
The operations and manufacturing of forceum tires are conducted in Indonesia because it is a less costly country than America. Their tires cost far less than other brands that operate in the United States.
How long do forceum tires run for?
On the basis of top tires, their tires average covering 40k Miles before their tread wear off. However, you have to take good care of these if you want to exceed the life of the tires. Otherwise, the tires might not be able to reach the maximum life they could be. 
Do we recommend buying forceum tires?
If you want to enjoy the ride of mud terrain or speed tracks at affordable rates, then these forceum tires could be a good choice to fulfill your desires. They will not only give a high-performance all-season ride, but they will also save your fuel and improve mileage while running for longer miles.
Final Words
Forceum tires are some of those tires that deliver performance at very affordable rates without compromising on the durability of the tire. Other tires that provide low-cost tires have issues with their treadwear and won't reach their limits. However, forceum tires are proven to deliver a safe and durable ride to passenger cars and light trucks at the best rates in the market.
We hope that you have learned something new about Forceum tires, and our words did make your mind whether you want these tires or not. But still, if you have any queries unanswered, then leave them in the comment section we will try to answer them as quickly as possible.