Last updated on May 30th, 2023 at 12:30 pm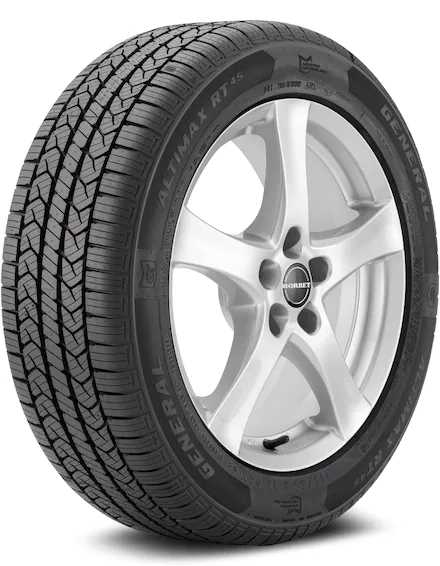 Altimax RT45
All-season Tire
Achieve comfort and longevity in all seasons with this General Altimax RT45 tire. It is a grand touring tire that provides smooth rides, proper traction, and grip in wet, dry, and light snow conditions. All that comes at a very fair price for economical proper rides all year round.
Handling & Road Feedback
75%
---
Table of Contents
Quick highlights
| | |
| --- | --- |
| Tire type | Grand Touring All-Season Tire |
| Price range | $99-$228 |
| Tread Warranty | 75000 Miles |
| Run-flat | No |
| Vehicles type | Coupes, Sedans, and CUVs |
| Driving conditions | Dry, Wet, and Snow |
The General Altimax RT45 is an excellent tire for everyday driving. It will provide smooth rides, proper handling response, saves you money, and keep on running for many years.
It is designed for family sedans and coupes to perform based on these cars' performance. The contact area reduces road noise and improves even wear.
It is great in dry and wet conditions, the confident traction, grip, and handling response make it a proper tire to drive on everyday roads and highways.
Even though it is not a 3PMSF-certified tire, it performs fairly well in light snow conditions, and the tread design and sipes play an important role in achieving winter terrain performance.
This is a new tire and equipped with the latest technology, which is why it performs really well in all seasons and winter terrains while providing comfortable and stable rides.
Overall it is an excellent tire for normal drivers, although the noise may feel uncomfortable to someone, other than that, this tire is great to drive in 2023, especially for those who want to make the most out of their money.
Pros
Proper tire to drive in all season streets that comes in a very good price range
Confident traction, grip, cornering, and response in dry and wet conditions
Hydroplaning resistance and slip resistance in wet and winter conditions
Strong shoulders for durable rides, that are backed by 75K miles treadwear warranty
Quick brakes and even wear for a safe and smooth ride all day long.
Cons
Noisier tire compared to other grand touring tires
The absence of the 3PMSF symbol makes it a less enjoyable tire to ride on winter terrains.
---
Tread design and improvements
All-season tread compound under symmetrical tread pattern that maintains the temperature of tire on different conditions, while providing stable ride and even wear all year round
Interlocking tread blocks features sipes for proper traction and grip in all-season conditions with a responsive ride on snow terrains
Lateral Voids, Circumferential Grooves, and open shoulders all combine to improve wet grip and snow performance by resisting hydroplaning and providing biting edges on snow.
Robust design and optimized contact reduces vibration and improves the durability of wear of this tire.
The visual alignment indicator on shoulder blocks informs the driver about tire alignment while the replacement tire monitor on the center rib indicates when the tire is fully worn.
Specifications & Features
| | |
| --- | --- |
| Speed rating | T-V(113-149)MPH |
| Load Index | 82(1047 lbs) – 107(2150 lbs) |
| Manufactured in | Mexico, Brazil, USA |
| Wheel diameter | 14-20" |
| Ply rating | 4 ply rated |
| Treadwear, Traction, Temperature | 700, A, A |
| Noise Reduction | Yes |
Usually, all-season touring tires do not require the highest speed rating of Y (186MPH) because nobody drives these tires on tracks aggressively, that is the V, or H speed rating is more than enough for this tire.
Similarly, the load index of 120 or 125 won't be effective with this because it is not made for light trucks or pickup trucks that carry heavy loads on their vehicles. That is why this minimal load index is more than enough with this tire as well.
The UTQG rating is also great for this tire, however, there are some variants of this tire that comes with B temperature ratings and 600 treadwear rating with 65K miles treadwear warranty, so keep that in mind and pick the right variant for your car based on your wheel size.
Performance of General Altimax RT45
Dry Road Experience
On dry roads and highways, the tire is great to drive. It provides proper traction and grip even at high speed and on curved roads.
The ride balance is also great on dry roads, when we drive it in our town, it delivers a stable ride, with accurate and responsive handling which is enjoyable to drive.
Although it is not as good as performance tires, for this money and comfort, and durable tread, it is more than enough.
The noise might annoy some drivers especially if they are previous grand touring tires drivers, although the cabin comfort and vibration are not there, but the sound sometimes destroys the whole comfortable driving experience.
The cornering on fast tracks is also good, it may lose grip sometimes due to the high pace, otherwise, at a normal pace, it is a perfect tire to drive on dry any road and in weather situations.
Wet and Rain Experience
The performance in wet conditions is similar to dry conditions performance. The tire provides confident traction and grip even in standing water.
The stable rides, comfortable tread, and quick brakes all improve the wet terrain confidence with this tire.
The hydroplaning resistance is also there for a safe ride with responsive handling to analyze and enjoy the wet and rainy situation drive.
Just like dry conditions, at higher places, the tire might lose grip, especially on standing water at curves, so keep in mind that it is not a performance tire, so slow down on turn to avoid any discomfort while driving.
Light Snow and Deep Snow Performance
Deep snow performance is very disappointing with this tire, first because it is not a 3PMSF tire and second is that it has no zigzag sipes or winter compound which new all-season tires should have.
Other than that, on light snow and ice, the tire performs fairly well, still, it is not as great as other touring tires. The proper traction and grip are achievable with this tire at a slower pace.
The comfort also reduces on snow terrains, as it is not a winter tire, it will not perform like one. The noisy tread is also annoying as well on winter terrains.
The handling response is also not so great in winter conditions, with slow brakes. That is why drive carefully with this tire on winter terrains.
Durability and road life
The treadwear is the most satisfying part of this tire. Although most grand touring tires are durable, it is one of the most durable tires in the market.
Having great treadwear and coming at this price range is what satisfies the consumer of general tires, most of their tires are low in price and provide very competitive performance like expensive brand tires.
The tire is backed by a 75K miles treadwear warranty, with an alignment indicator to reduce the chances of uneven wear due to misalignment.
By rotating these tires and driving only on their recommended terrains, this tire will cover more miles than you expect and provide a reliable and stable ride for a very long time.
Comfort and Responsiveness
As mentioned above, the tire is comfortable to drive in any weather and lacks a little on winter terrains. However, the noise is always there which might ruin the experience of the drive.
For only this reason we would not recommend any buyer to drive your electric vehicles with this tire, which will really make you uncomfortable.
Other than this the responsive handling and road feedback is also fine for this tire, it is not as good as high-performance tires, but still, it does the job and delivers a somewhat enjoyable ride in all-season conditions.
Comparison with Vredestein Hitrac All-Season
| | |
| --- | --- |
| Dry Conditions | vredestein hitrac all season |
| Steering Response & Feedback | -1.89% |
| Cornering Stability on Curves | 9.00% |
| Dry Traction & Grip | 4.44% |
| Shortest Dry Brakes | 9.00% |
| Results | 20.55% |
| | |
| Wet Conditions | |
| Steering Response & Feedback | 8.00% |
| Cornering Stability on Curves | 14.81% |
| Wet Traction & Grip | 3.41% |
| Shortest Wet Brakes | 3.45% |
| Results | 29.67% |
| | |
| Winter Conditions | |
| Deep Snow Traction | -1.27% |
| Light Snow Traction | 6.17% |
| Thick Ice Traction | 0.00% |
| Results | 4.91% |
| | |
| Ride Quality | |
| Cabin Comfort | 9.35% |
| Road Noise | 4.01% |
| Results | 13.36% |
| | |
| 175/65R15 (84H) | |
| Price | -2.68% |
The results are based on test results and subjective views, it could differ based on different cars, conditions, and driver's preferences.
Both of these are grand touring tires, and Vredestein Hitrac All-season is not as popular a tire as General Altimax RT45. the reason for that is its unavailability in big retail shops and online stores. 
Even though it is less popular as you can see in the comparison table, the Vredestein Hitracc All-season is better than General Altimax RT45 in nearly every test result. It is better in dry conditions, wet conditions, winter, and terrains, delivers more comfortable rides, and also comes at a lower price range.
Although the difference in performance is not so huge, still by saving some money and getting all these improvements, the Vredestein tire will make more sense to buy for your vehicle.
The durability is the factor where the General Altimax RT45 takes the lead. The tire comes with a more treadwear warranty and runs for many more miles. So pick your tire based on these factors.
When General Altimax RT45 Is Not Prefered
Whenever you have other desires for your tires other than all-season rides, the General Altimax RT45 will not prefer for your vehicle.
For say if you want to tackle off-road situations with your car, then this all-season tire will get damaged after 5-10K miles which will be a waste of money and it will also provide very bad performance in off-terrain situations.
Similarly to that, if you want to drive in specific conditions like summer or winter terrains only, then rather than buying all-season tires you should go with dedicated tires like summer tires and winter terrain tires. These tires will perform properly in their recommended conditions and provide more stable rides.
Final words
The General Altimax RT45 is a bang-for-buck tire for budget-friendly drivers looking for a durable tire that provides proper performance in all-season conditions. This grand touring tire comes with an optimized tread block which makes it a reliable and enjoyable tire to drive in wet and dry road conditions. The comfort in different situations is great, its the noise that this tire makes annoys slime drivers, so keep that in mind before buying this tire for your sedans and coupes in 2023.