Last updated on August 7th, 2023 at 11:04 am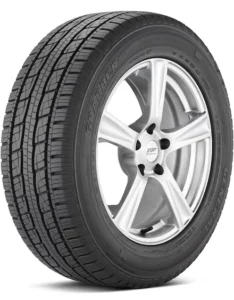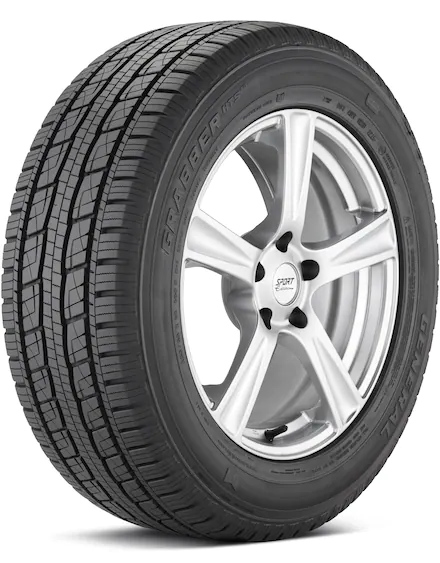 Grabber HTS 60
All-season Tire
The General Grabber HTS 60 is a highway touring tire for SUVs and light truck drivers. It is the most affordable option in this category and one of the most durable options as well. With this tire, any road condition is driveable by achieving a comfortable and peaceful experience all year round.
---
Table of Contents
Quick highlights
| | |
| --- | --- |
| Tire type | Highway Touring All-Season |
| Price range | $154-$260 |
| Tread Warranty | 55000(H Rated) 65000(S and T rated) |
| Run-flat | No |
| Vehicles type | SUVs, Crossovers, and Pickup trucks |
| Driving conditions | Dry, Wet, and Snow |
Drivers who are looking for a heavy load indexed tire that delivers comfortable rides, has higher durability, and also comes on a budget, then this General tire will be the best option for them.
This tire has all these above-mentioned things, it delivers comfortable rides, is cheap in price, has durable treadwear, and also carries high weights when needed to be.
It is a perfect highway touring tire for light trucks, pickup trucks, and SUV drivers, due to its high-quality rides. 
Many drivers who have tied budgets mostly go with General Tire tires, due to the low prices with the premium performance similar to expensive tires, and general tires by this fact keep lowering prices and improving their rubber quality to deliver better and better tires.
And this tire is an example of that, in durability, this tire is equivalent to the Michelin tire's life that comes at a far higher price than this tire.
Although performance might not match with Michelin of this tire, still the amount it saves on tires is never a bad trade with a little lack of performance. Continue reading this review to find out the real-world experience of this tire and comparison with other top tires.
Pros
Durable and affordable tire to achieve smooth and confident rides in all-season conditions
Great tire to drive in winter terrains with light snow conditions
Proper traction and grip in dry and wet conditions
Driveable in off-road situations while delivering a great performance with 4WD
Great weight-carrying ability in LT variants
Sequenced and optimized design for even wear and low noise and a comfortable ride all-year-round
Cons
Lack of traction in extreme mud and snow conditions
Lose handling response, especially in off roads
---
Tread design and improvements
Intermediate tread blocks with continuous center ribs for molded into damage-resistant compound for uniform wear, low noise, and proper contact in all-season conditions.
Chip and cut-resistant tread blocks for superior off-road rides without getting damaged by sharp materials.
Patented DuraGen technology enhances off-road performance with the help of robust tread design and shoulder blocks while carrying heavy weight.
Cushioned absorption layer and sound barrier ribs reduce tread noise for a peaceful cabin comfortable and peaceful experience.
Notched shoulder, circumferential grooves, and dense sipes improve wet and snow terrain traction and grip, with confident drive in inclement weather.
Specifications & Features
| | |
| --- | --- |
| Speed rating | S-H(112-130)MPH |
| Load Index | 100(1764 lbs) – 126(3748 lbs) |
| Manufactured in | United States |
| Wheel diameter | 15-22" |
| Ply rating | 4-10-ply rated |
| Treadwear, Traction, Temperature | 680, A, B and 660, A, A |
| Noise Reduction | No |
Tire variants rated with low-speed ratings come with a high treadwear rating and a warranty on the other hand, the high-speed-rated tires have a low treadwear warranty, so pick the tire based on your need.
Similarly, there are two options in this tire with different UTQG ratings, one comes with a higher treadwear rating and low-temperature rating, and the other comes with a low treadwear rating but proper temperature ratings as well.
Even though this US-manufactured tire has high quality but when you choose the tire pick the tire best fits your situation, otherwise you might not like this tire's performance.
Performance of General Grabber HTS 60
Durability and road life
It is a durable tire not because only it has a high treadwear rating and warranty but because of the shared reviews of drivers.
Even though this tire comes with a 55-65K miles treadwear warranty, it can go above 75-80K miles drive by just doing proper tire rotations.
No matter the driving conditions, this tire achieves higher miles without wearing off unevenly, however, if mostly driven in an extreme off-road situation, the tire will hardly reach the warranty period.
Till it is on the roads, the tire will go above and beyond the warranty period, without impacting so much on lifelong performance.
Mud Terrain and Off Roads
The response in off-road conditions was not great at all. A little turn shook the car totally which also disrupt the comfort on harsh mud terrains.
In sand and rocky roads, the tread is not properly designed to clear the rock and wet mud, which breaks the traction in off-road conditions. The tread full of mud or sand can also get stuck in extreme mud terrains, which can be a hurdle for the driver.
Hitting off-road without weight with this tire is ok, and it will get you out of the bad conditions unless you are driving with 2WD drive. The truck with 2WD drive is not a good option to experience harsh mud terrains, which can result in what we mentioned above.
Overall this tire is durable and all, but in off-road conditions, it is not a great tire. We did not even test this tire with weight because you can already judge what would happen if weight would be put on these tires.
As long as the terrain contains rocks, gravel, and low mud, this tire is fine, however at extreme mud terrains, it is not a safe tire to drive with.
Light Snow, Deep Snow, and Ice
The tire achieve confident rides in light snow conditions, proper grip, traction, and response everything was great. With that, at low speed, very minimal noise was heard while achieving proper cabin comfort.
However as we move a little deeper on snow without weight, the tire performance was not the same. The traction was not proper, it loses control and response, and also the tire achieve a very disturbed ride.
Due to the absence of a 3PMSF certificate, it is already not a tire to drive in harsh winter terrains, however, if you have a 4WD drive, you can achieve better performance in light and deep snow as well.
The chains might help the drivers but it is not a permanent solution for that, so if you have to tackle extreme winter terrain situations, then we would recommend going with the tires that come with a 3PMSF certificate.
Dry City Streets, Pitted Roads, and Pavements
When it comes to on-road dry conditions, this tire is a master in this situation. The most comfortable situation to drive is this condition with this tire.
On city streets and paved highways, the tire achieve smooth rides, while carrying weight the response, balance, and stability all was great. Also, highways are where this tire is mostly driven, and with proper care, highways drivers can take this tire up to more than 80K miles of rides.
On construction sites and potholes, the comfort disrupts a little bit but the response was never gone. The chip resistance compound also stabilizes control without taking much damage from these sites.
The temperatures stay stable for more than a half ride, it never gets heated up and we are never required to stop a car for a cool down.
Overall it is a perfect tire for dry road conditions, due to its performance and improved treadwear life without compromising on responsiveness.
Wet and Rain Experience
Compared to dry conditions, performance in wet conditions is not as great. Even though it s a good tire to achieve a confident and safe ride through storms and standing water, still it sometimes disappoints in some situations.
The new tire with proper tread depth, was never a bad tire for any wet roads with or without weight. However as it wears off, the performance in slippery and wet conditions decreases.
Until it is under 5/32 tread depth, it resists hydroplaning very easily at a high pace, there will never be a lack of response or loss of grip but as the tire wears off to the level of 5/32 tread depth, with the weight it is not a safe tire to drive anymore in wet and snow conditions.
The tire loses grip, takes longer to stop, and the comfort will never be there. So keep that in mind, especially if you are a casual wet road or winter terrain driver.
Comparison with Cooper Discoverer HT3
| | |
| --- | --- |
| Dry Conditions | Cooper Discoverer HT3 |
| Steering Response & Feedback | 0.00% |
| Cornering Stability on Curves | 2.27% |
| Dry Traction & Grip | 1.08% |
| Results | 3.35% |
| | |
| Wet Conditions | |
| Wet Traction & Grip | 2.30% |
| Hydroplaning resistence | 3.45% |
| Results | 5.75% |
| | |
| Off-Road Performance | |
| Dirt Performacne | 4.88% |
| Mud Terrains | 2.60% |
| Gravel Roads | -1.23% |
| Results | 6.24% |
| | |
| Winter Conditions | |
| Deep Snow Traction | 4.05% |
| Light Snow Traction | -3.61% |
| Thick Ice Traction | -11.43% |
| Results | -10.99% |
| | |
| Ride Quality | |
| Cabin Comfort | -1.15% |
| Road Noise | 0.00% |
| Results | -1.15% |
| | |
| 245/75R16 (111T) | |
| Price | 5.58% |
The results are based on test results and subjective views, it could differ based on different cars, conditions, and driver's preferences.
The General Grabber HTS 60 and Cooper Discoverer HT3 both are old tires that come with similar features and specs. However, the copper tire is more toward commercial drivers and comes at a lower treadwear warranty as well.
As the test result shows, the difference between both of these tires' performance is not that big however, the Copper tire delivers a little better performance in wet, dry, and off-road muddy situations.
On the other hand, this General tire performs better in winter terrains, delivers more comfortable rides, and comes at a lower price range.
So if you are after better all-year performance then go with Cooper tire, and if you are after a more durable tire that is more affordable then go with this General tire.
Final words
The General Grabber HTS 60 is a great tire for all-season highway heavy-load rides, with fair off-road rides as well. This tire comes in a variety of sizes to fit with SUVs, Crossovers, and Pickup trucks, the different variants make it a versatile tire for different drivers and for different drives. Other than its below-average performance in mud terrains, it is a proper tire to drive in any road condition by achieving comfortable rides in 2023.