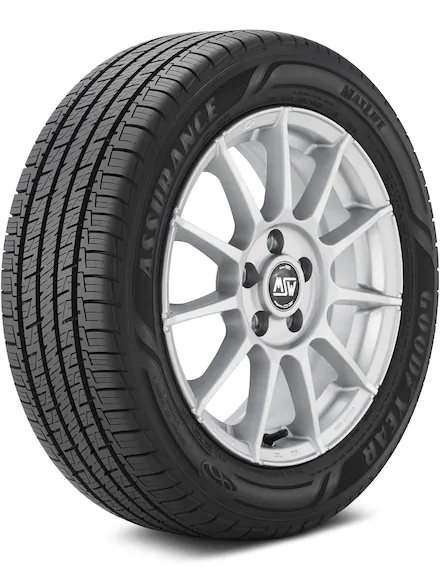 Assurance MaxLife
All-season Tire
Goodyear Assurance MaxLife is the name of the most durable tire. It keeps your car moving for more than a decade while providing all-season comfort. With great snow performance, this is the perfect tire for passenger car drivers to drive in 2023.
Handling & Road Feedback
70%
---
Table of Contents
Quick highlights
| | |
| --- | --- |
| Tire type | Standard Touring All-Season Tire |
| Price range | $136-$242 |
| Tread Warranty | 85000 Miles |
| Run-flat | No |
| Vehicles type | Coupes, Sedans, Minivans |
| Driving conditions | Dry, Wet, and Snow |
Goodyear Tires have a good name when it comes to reliability in tires, being an American brand, they have been producing some high-quality tires, and this Goodyear Assurance Maxlife is an example of it.
The tire is one of the most durable in the touring tires category, and many top brands do not provide that much treadwear warranty. This is the reason why this tire is still in demand after so many years of its launch.
As good as this tire is performing, Goodyear has not yet launched any other tire in the standard touring all-season tire category after this tire, which was launched in 2017. 
This tire is excellent in all-season drives, in dry conditions and wet weather it performs well in both of these situations. However, on snow, it performs great in light snow but fails in deep snow terrains.
With a quiet and comfortable all-season ride, this is the perfect tire to achieve many miles with your small passenger cars in this 2023 season.
Pros
Proper traction, grip, and cornering in all seasons dry and wet roads.
Extremely durable treadwear that provides stable and smooth rides
Even contact wears off uniformly and reduces fuel consumption on highways
Quiet and comfortable rides in light snow and all-season conditions
Responsive handling, durable tread, and quick brakes make it a safe tire to drive in all-season conditions
Cons
Early wearing off on extreme conditions
Hardly average performance on deep snow
---
Tread design and improvements
Goodyears TreadLife Technology to improve treadwear on harsh all-season conditions, while delivering even road contact for responsive rides.
All-season compound molded into a symmetrical pattern that delivers uniform wear and optimized contact improves fuel economy as well.
Wear Gauge on tread ribs indicates drivers about the wear performance of tread to ensure safe rides by identifying if the tread has worn off.
Notched tread ribs with circumferential grooves channel the water, slash, and ice through the tread to avoid hydroplaning and increase wet traction and grip
Semi-closed shoulders with multiple sipes on the tread improve light snow performance and dry traction and cornering with stable rides on highways.
Specifications & Features
| | |
| --- | --- |
| Speed rating | H-V(130-149)MPH |
| Load Index | 87(1202 lbs) – 110(2337 lbs) |
| Manufactured in | United States and Chile |
| Wheel diameter | 15-20" |
| Ply rating | 4 ply rated |
| Treadwear, Traction, Temperature | 820, A, B |
| Noise Reduction | Yes |
We are very satisfied with all the tire specs, the highly rated treadwear of 820 is one of the highest treadwear ratings in this category, which ensures that this tire will run for its life.
Similarly, the speed rating and load index are also satisfactory, no drivers of sedans or crossovers would want heavy-weight tires for carrying loads.
Except for temperature rating, this tire is great in all other aspects, which makes it a great tire to drive in all-season conditions.
Performance of Goodyear Assurance MaxLife
Dry City Roads, Pitted Roads, and Pavements
---
On dry city roads or in warm weather the tire performs well, it does not get heated on highways, and it is great to drive for long routes in dry road conditions.
On gravels and off-road terrains, the tire is not so great in these situations, the comfort really gets distorted in extreme situations, and there are chances to wear off earlier on harsh conditions, that is why we did not take it into the off terrains.
On city-pitted roads, it is also a great tire to take a ride with, it provides comfortable rides, and tackles the potholes very effectively, without distorting the cabin comfort.
Overall the tire is great in dry road conditions, with a proper response and comfortable rides on paved highways and city streets.
Wet Roads and Rain Experience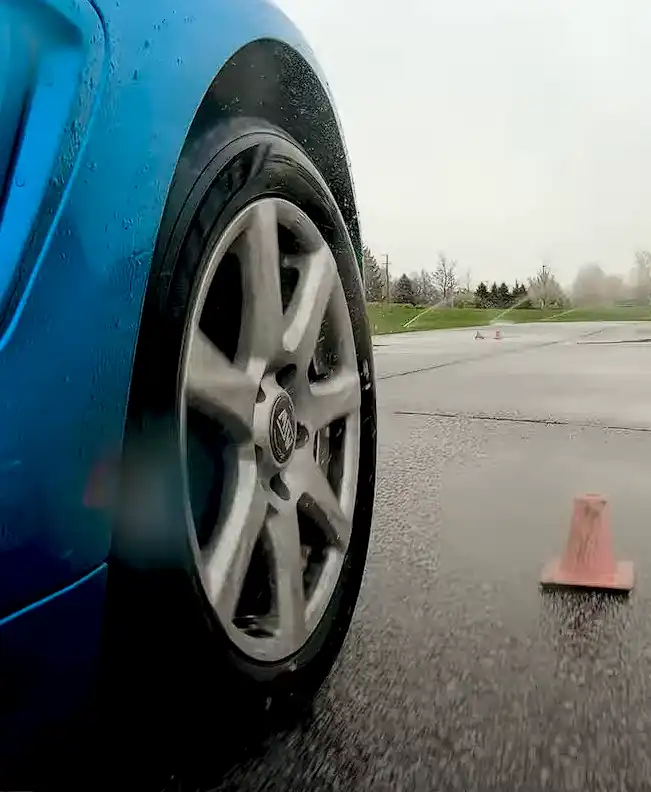 ---
In wet conditions, the tire performs better than what we expected. It resists hydroplaning at very high-standing water and provides responsiveness on steering as well.
In storms and inclement wet weather, we drive on highways and it really shines there, the proper traction and grip make it a safe tire to drive with.
However, some of our readers have complained that it loses grip in wet conditions after reaching more than 40K miles, we can not say anything about that this early thought.
Overall, with the new tread, this tire is great on wet roads, highways, and pitted road conditions, it delivers stable rides in standing water and in rain, which is why it is a great tire for wet road rides as well.
Light Snow, Deep Snow, and Ice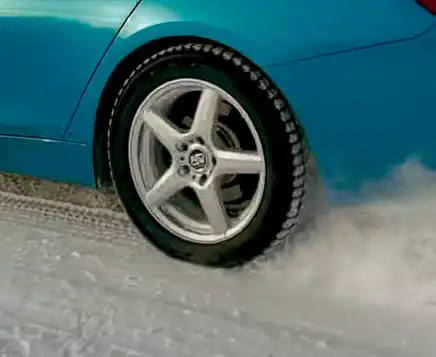 ---
On slow pace at light snow conditions, it performs great, it is a useful tire if unexpectedly weather changes and you are out of winter tires.
It delivers stable rides, proper traction, and grip in powdery snow and light snow conditions. However, as we increase the speed, the performance keeps dropping.
On deep snow and ice, the tire delivers very unsafe and unstable rides, it loses traction and grip at very low speeds as well, it is a below-average tire to drive in harsh winter terrains, due to the absence of a 3PMSF certificate.
Overall on winter terrains, the tire is average to drive with, it won't be a great tire for someone who faces hard snow once a year if they are not using separate winter terrain tires.
Durability and road life
The most important factor about this tire is its treadwear life, the tire is equipped with high-quality rubber and technology which increase wear performance.
This tire is backed by 85K miles and some of the drivers have reached 100K miles and still, they are at 3/32 tread depth.
The dark side of this tire is that some of the drivers have to replace this tire after 40-50K miles, due to the bald tread. There are many reasons why some people can not make the most out of this tire, number one is careless driving and another reason could be a bad tread life.
As most drivers are satisfied with this tire's treadwear, it will surely perform well, if not then you can anytime replace it with new tires, due to the high treadwear warranty.
Comfort and Responsiveness
Although this tire is not as quiet as grand touring tires, it does the job, it provides comfortable and quiet alls season rides, especially on highways.
With that, the responsiveness of handling and feedback is fine but not as good as performance tires thought. And soft rubber is somewhat enjoyable to ride your car with.
The low vibration and low cabin noise make it a great tire to achieve a smooth and comfortable ride all year round, with durable treadwear for longer life.
Comparison with Yokohama Avid Ascend LX
| | |
| --- | --- |
| Dry Conditions | Yokohama Avid Ascend LX |
| Steering Response & Feedback | -11.11% |
| Cornering Stability on Curves | -7.69% |
| Dry Traction & Grip | 1.09% |
| Shortest Dry Brakes | -7.69% |
| Results | -25.41% |
| | |
| Wet Conditions | |
| Steering Response & Feedback | -8.33% |
| Cornering Stability on Curves | -24.00% |
| Wet Traction & Grip | 2.33% |
| Shortest Wet Brakes | -17.39% |
| Results | -47.40% |
| | |
| Winter Conditions | |
| Deep Snow Traction | 8.22% |
| Light Snow Traction | 1.20% |
| Thick Ice Traction | 4.23% |
| Results | 13.65% |
| | |
| Ride Quality | |
| Cabin Comfort | 19.23% |
| Road Noise | 0.00% |
| Results | 19.23% |
| | |
| 175/65R15 (84H) | |
| Price | -6.08% |
The results are based on test results and subjective views, it could differ based on different cars, conditions, and driver's preferences.
Both of these tires are new and come with similar treadwear durability. As the test result states, the Goodyear Assurance MaxLife is better in wet and dry conditions overall. 
As we mentioned above, this Goodyear Assurance MaxLife is not so great in winter terrains, the test results explain it as well. Compared to Yokohama Avid Ascend LX it performs badly on winter terrains and also comes at a high price range.
However, the performance on dry and wet all-season conditions is far better of Goodyear Assurance MaxLife's compared to Yokohama Avid Ascend LX. That is why it is a better all-season tire in our opinion.
However, if you want to handle the winter terrain more properly, then the Yokohama tire will make more sense in your situation.
When Goodyear Assurance MaxLife Is Not Prefered
If you have read this review carefully you must understand that it is not a great tire for winter terrains, so avoid this tire if you face snow once or twice a year during extreme winter seasons, because it will wear off far earlier than the warranty when you drive it in harsh winter terrains. 
Similarly, if you want to achieve sporty rides with your sedans or coupes, then you should go with performance tires, rather than this Goodyear tire. The treadwear warranty might be low with performance tires, however, the joy you achieve from driving performance tires on tracks is not comparable with the performance of this tire.
That is why choose the tire based on your driving style, preferences, and conditions, rather than picking a tire as someone ranked it high in their reviews. Making a decision on your own will always satisfy you in the future.
---
Final words
The Goodyear Assurance MaxLife is a perfect all-season touring tire to drive in wet, dry, and light snow conditions. It does not perform as well as other touring tires in harsh winter terrains, other than that it is a proper tire than any touring tire. Due to its high treadwear life, it is one of the most durable tires in this category which keep on running for hundreds of thousands of miles while providing a comfortable and smooth ride all year round.