Last updated on April 21st, 2023 at 12:40 am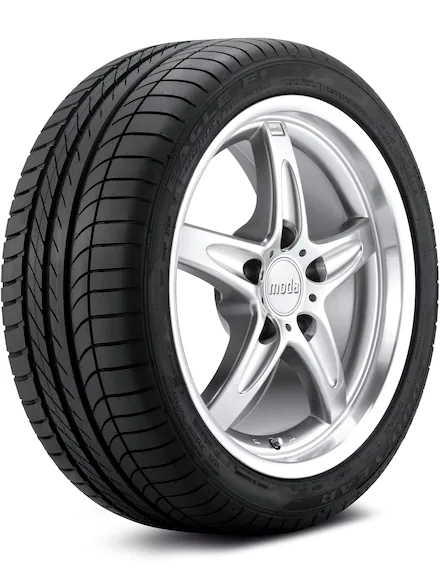 Eagle F1 Asymmetric 6
UHP Summer Tire
Want to get the best track performance in summer conditions then this Goodyear Eagle F1 Asymmetric 6 should be on your top priorities. You get to enjoy responsive handling under your control on fast tracks with confident traction, gripping, and a comfortable ride.
---
Table of Contents
Quick Highlights
| | |
| --- | --- |
| Tire type | Ultra-high performance |
| Price range | $250-$500 |
| Run-flat | No |
| Ply rating | 4-ply rated |
| Vehicles type | Performance Sedans & Crossovers |
| Terrain support | Dry and wet |
The Goodyear Eagle F1 Asymmetric 6 is a UHP tire for fast tracks summer rides. It is a new tire in the F1 asymmetric series and this tire replaced the Eagle F1 Asymmetric 5. Due to the increasing competition in the performance tire category and the near launch of Pilot Sport 5, Goodyear comes up with the very best tire for high performance on fast tracks and terrains.
Eagle F1 Asymmetric 6 is made solely focusing on-track performance. The tire has the finest handling response with wet and dry quick brakes. Along with that, the tire features advanced technology to lower the rolling resistance for better fuel mileage with quiet performance even at the maximum speed. 
Goodyear and Michelin have been closely competing in the UHP tires category, to hold their position both of these brands introduced the fine quality tire by utilizing the latest technology to come up with the most advanced tires. By following that Goodyear keeps on improving and bringing the most outstanding and evolved tires to be the best manufacturer of performance tires.
Improvements since Eagle F1 Asymmetric 5
Goodyear Eagle F1 asymmetric 5 was launched in 2020, and from the very start, it has captured a good amount of audiences who prefer a more sporty kind of tire for tracks. This Goodyear series from the start is keen to provide car drivers who prefer more control and grip over comfort in the performance tire category. 
Similarly, by following the same rules, Asymmetric 6 is the best tire in 2023 to give your sporty cars and electric vehicle the ride they deserve. Asymmetric 5 requires some improvements in the areas of its wet and dry brakes, more responsive handling, more comfort, and better fuel mileage; Goodyear analyzes all these areas and implements new technologies to bring the most iconic tire in the performance tires category. 
Now, the Goodyear Eagle F1 Asymmetric 6 has far better handling, grip, and brakes in wet and dry conditions, With better fuel mileage and lower rolling resistance. Although there is not a bigger difference in treadwear rating, it becomes more durable for completing more than 30k miles. 
Michelin Pilot Sport 5 vs Goodyear Eagle F1 Asymmetric 6
Michelin and Goodyear have been near perfect when it comes to the performance tire category and that healthy competition keeps them innovating which is good for buyers. Both of these tires are our favorite in the UHP category, and the reason for that is that they are perfect in their different areas of performance.
The Michelin pilot sport 5 is more toward comfort and peaceful ride with excellent track performance. On the other hand, Goodyear Eagle F1 Asymmetric 6 is more like an aggressive track tire that provides more control through handling.
Pilot Sport 5 is overall an excellent tire for aggressive track rides and comfortable city road rides, while Goodyear Eagle F1 Asymmetric 6 is better when it comes to responsive fast track handling, dry, and wet brakes but lacks in comfort and terrain performance. That is why they are good for different types of buyers, it depends on your preference whether you want more aggressive tires for tracks or a tire for comfortable track and terrain performance. 
Goodyear Eagle F1 Asymmetric 6
Michelin Pilot Sport 5
1. Better dry handling and brakes.
2. Wet handling and brakes.
3. More sporty feel.
4. More durable treadwear.
1. Better aquaplaning.
2. Better fuel mileage.
3. More comfortable and quiet tire.
4. Far better-looking tire.
Treadwear and durability
The treadwear design and pattern of Goodyear Eagle F1 Asymmetric 6 are similar to its previous versions however improvements have been made in the internal and the technology of the tire. The treadwear consists of 4 groove channels for hydroplaning and better-wet performance with asymmetric treadwear and sidewall sipe for better dry performance
The new Goodyear Eagle F1 Asymmetric 6 features dry contact plus and wet braking pro technology for better brakes, handling, and grip in wet and dry conditions. It also features noise reduction technology and by reducing the energy of tire flex it delivers a very quiet and economical ride even at high-speed tracks. 
Tire specifications
| | |
| --- | --- |
| Speed rating | W-Y/168-186Mph |
| Load index | 90-107/ 1323-2150 lbs |
| Origin | USA |
| Max. PSI | 50 psi |
| Rim diameter inches | 17"-22" |
Most of these specifications are relatively similar to the Asymmetric 5 it has the same load indexing and speed rating with treadwear, traction, and temperature indexing. However, the tire feels different if you drive it with an asymmetric 5 simultaneously. In the initial phases, it is expected that Goodyear will launch tires in only 17-18 inches tires but with the passage of time, they have planned to stretch that number to 22 inches to cover most of the performance tires wheels. 
Eagle F1 Assemetrical performance
Fuel mileage/rolling resistance
90%
Dry grip and brakes
The tire is known for its performance in dry conditions. By introducing dry contact plus technology; the tire made stable contact with the ground which improves handling brakes and grip on tracks in dry conditions. It also improves the durability of the treadwear by making even contact with the ground. 
Wet hydroplaning and brakes
Similar to the dry conditions, it has the best performance in wet conditions too. Goodyear Eagle F1 Asymmetric 6 delivers excellent hydroplaning due to its four grooves that channel the water for better grip and brakes in wet conditions. 
Handling and cornering
This tire delivers the best response over handling through which you get complete control of your car. The controlled handling gives the sporty feel with very confident cornering on wet and dry fast tracks. The tire grip very well while turning with a grippy steering response.
Comfort and noise
Goodyear Eagle F1 Asymmetric 6 is utilizing noise reduction technology to achieve a comfortable ride with your electric and performance cars. It is possible due to the tread design and internal structure which also improve rolling resistance and make your ride more economical. 
Do We Recommend This Tire
If you want some tires for track performance rides; then we would highly recommend these tires. Not just because of their performance on track but also because of their durability and comfort on the track. With advanced technology and high-quality material; you will get both durable and the best dry and wet condition performance all year round.
However, if you are looking for tires that give you the most comfortable ride along with a durability of 80-100k miles; then sadly, we would not recommend these tires to you. In that case, touring or standard performance tires will be a better option due to those tires' comfort and durable treadwear that is at least runs for 5 -7 years. 
Final words
Goodyear Eagle F1 Asymmetric 6 is an excellent summer UHP tire mostly recommended for electric vehicles. Due to its quality features and latest technology; it delivers the best wet and dry handling, brakes, and grip compared to any other UHP tire available in 2023. The tire has recently launched in the united states and Canada. It will be available in 17-22 inches tires to cover the most variety of wheel sizes. Just like its previous model; it will give the most advanced performance that you can compare with any other tire in the market.