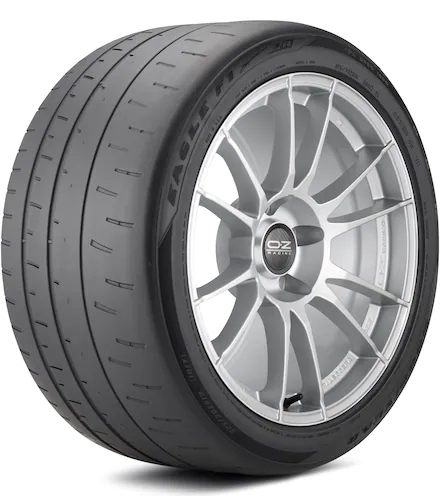 Eagle F1 Supercar 3R
Street & Track Performance Tire
The tire for winning track races and street minimal driving, the Goodyear Eagle F1 Supercar 3R is a tire that is made for drivers looking for fast and smooth track performance while driving with the same tires on everyday streets.
---
Table of Contents
Quick highlights
| | |
| --- | --- |
| Tire type | Street & Track Performance Tire |
| Price range | $255-$552 |
| Run-flat | No |
| Vehicles type | Chevy Camaro ZL1 |
| Driving conditions | Dry and Wet |
Goodyear's Eagle series is famous worldwide due to its track performance and participation in racing events. Goodyear Eagle is a partner with NASCAR cars, and racers appreciate the tire due to its sporty performance on tracks. Most tire manufacturers don't get involved in this tire category, one because not many drivers buy these street/track performance tires, and second these tires require much experience, that only experienced manufacturers have. 
This Goodyear Eagle F1 Supercar 3R is a very good tire for drivers looking to compete in track racing or street racing, even though, the tire is 10 years old, it still performs. As these tracks-performing tires don't require much change on their tread design, the slicker the tire the better, that is why manufacturers like Pirelli and Goodyear still produce these old-designed tires, which perform just like most performing tires. 
It delivers a strong performance ride on the street with proper cornering and brakes. The handling response is also great so the driver can feel and enjoy the feedback a track provides. Along with that, the low rolling resistance, and wet traction is something this tire is also great at. Lastly, with track performance, you can drive this tire on everyday streets so you don't require different sets of tires for streets and for tracks. 
Pros
Perfect tire for track drivers looking to win races and achieve the best performance they ever did with other performance tires
Excellent traction, grip, cornering with quick brakes, acceleration, and handling the response to achieve safe and spirited performance at the same time
Improves in performance once gets warm, so after two or three laps on tracks, the performance gradually increases
Even contact for low rolling resistance, even wear, and a proper handling
Glued grip, cornering grip, and a drag grip, all can be achieved by this tire to win races at the top levels
Cons
No treadwear warranty and a very low tread life
Noisy tires with less comfortable rides
Not the best in standing water
---
Tread design and improvements
The summer track or even summer performance tires have a slicker tread design, which helps in increasing road performance while reducing handling stiffness for a sportier ride in the summer seasons. Similarly, this Goodyear Eagle F1 Supercar 3R has an asymmetrical slick tread design of 6/32 tread depth, which will surely wear off earlier than 11/32 tread depth tires. 
Along with that, the tread compound features polymer and resins that only uses in racing tires, to deliver the performance just like race tires produce. The low void outboard shoulder with a slick design provides a sticky cornering grip even at high speed. With that, the rigid center ribs feature circumferential grooves and notch sipes that provide steering response center grip and a great performance in wet conditions as well. 
Durability and road life
The one and only reason why drivers hesitate to buy these performance tires is due to their low treadwear life. Because performance and durability are counterparts one can not be achieved together, because the tire depth increases, the performance will get low, and durability increases, and vice versa. 
Similarly, to deliver aggressive track performance the tire features a slick design with fewer sipes, that improves grips and reduces tread life. This tire is not good for everyday drivers looking for a durable and comfortable ride. However compared to Pirelli performance tires, this Goodyear Eagle F1 Supercar 3R is more durable, the tire can be driven on highways and fast tracks for more than 10K miles with proper rotation and care. 
Specifications & Features
| | |
| --- | --- |
| Speed rating | Y(186)MPH |
| Load Index | 91(1356 lbs) – 103(1929 lbs) |
| Origin of | United States |
| Wheel diameter | 15-20" |
| Ply rating | 4 ply rated |
| Treadwear, Traction, Temperature | 100, AA, A |
| Noise Reduction | No |
The 100 treadwear rating is the reason why you can just by looking at it say that it is not a durable tire. Other than that every other spec tells that this Goodyear Eagle F1 Supercar 3R is excellent for tracks and street rides. The AA traction rating is perfect for achieving traction and grip, similarly, the fast speed rating tires, are great for proper acceleration and achieving max speed with your sports cars and Chevy Camaro ZL1.
Performance of Goodyear Eagle F1 Supercar 3R
Dry Track & Street Performance
This Goodyear Eagle F1 Supercar 3R is made for dry conditions, which is why drive it only in dry conditions unless you have got somewhere important to go. The tire grips properly on dry tracks and streets, and the traction, and cornering are just on the mark if you talk about the dry and warm conditions ride. Also, the tire keeps improving its performance as hot as it gets, which is why after a few minutes of the ride, the tire shows its real capability. 
Wet Track & Street Performance
The tire is not at all driveable in snow or winter terrains, just keep that in mind. Other than that, in wet conditions, the performance is average. The tire loses traction and grip at a fast speed if the water is standing on the road. The brakes and acceleration are fine in wet conditions, however, the loose grip makes it uncomfortable and unsafe to drive in wet conditions
Brakes & Acceleration
The tire delivers short brakes and quick acceleration anywhere in dry and wet conditions. Because there are two important things if you want to win the race, that is why the tire provides it. Also, this Y-rated tire is great to achieve maximum speed with your sports cars. 
Handling Response & Comfort
The noise and comfort are something that will annoy the touring tires drivers, however, the road noise is a joy for sports car drivers. As most sports cars have their own high noise, the tire noise doesn't matter to them. With that, the great handling response makes this tire more enjoyable to reach the maximum height of performance on tracks. 
Comparison with Michelin Pilot Sport Cup 2 ZP
Michelin, Pirelli, and Goodyear are the top players in producing track performance and racing tires in the market. The Michelin Pilot Sport Cup 2 ZP is one of the best tires in this street/ track tires category, due to its drive-on dry conditions. The tire provides the most grippier cornering and traction is at its best. That is why compared to this Goodyear Eagle F1 Supercar 3R, this Michelin tire is better for achieving sportier drive and a more comfortable ride.
However, the performance in wet conditions, the Goodyear Eagle F1 Supercar 3R is a little better. The difference is not as big, that is we would recommend if you are not a driver of a Chevy Camaro ZL1, and you find the right size tires in Michelin. Then go with Michelin Pilot Sport Cup 2 ZP, which will deliver more spirited rides on summer tracks and comfortable rides on streets.
When Goodyear Eagle F1 Supercar 3R Is Not Prefered
The tire is not preferred for every other driver than the track drivers. Because in comfort, the touring summer tires will be better, in on-road performance, high performance or UHP tires will be better, and for most spirited rides, max performance tires will be a better option. And all of these tires will be more comfortable, more durable, and more economical. That is why this Goodyear Eagle F1 Supercar 3R will only be a great option if you have plans to drive your cars on track. 
Other than that, if you are looking for track performance tires and your requirement is to drive on wet tracks as well, for that wet track performance will be better. Just like that, there are drag racing tires and only track tires with their benefits and driving conditions, so choose the tire best fits your driving conditions and delivers the performance you desire from your vehicle. 
Final words
Goodyear Eagle F1 Supercar 3R is an excellent tire for street and track hybrid performance. The tire delivers proper handling response, traction, grip, and cornering, with quick brakes and handling, which makes it a proper tire to drive on fast tracks and win races. The wet traction of this Goodyear Eagle F1 Supercar 3R is not at its fines, but at a normal pace, you can easily drive the car. This DOT-rated tire is a safe and proper tire to drive and achieve the results you always wanted from your sports cars.