Last updated on August 4th, 2023 at 02:13 pm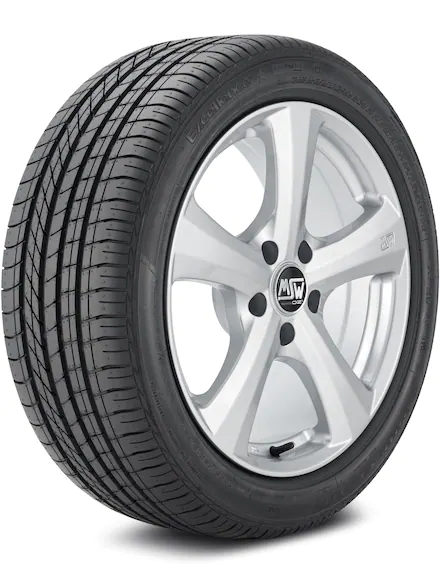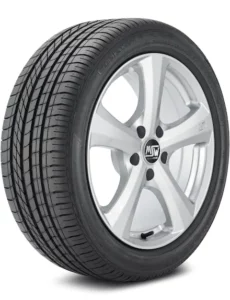 Excellence
Summer Tire
The Goodyear Excellence is a summer grand touring tire made for Luxury and performance sedans and SUVs. it comes as an original equipment tire with premium cars due to its stable and comfortable rides in summer seasons.
---
Table of Contents
Quick highlights
| | |
| --- | --- |
| Tire type | Summer Grand Touring Tire |
| Price range | $360-$584 |
| Tread Warranty | None |
| Run-flat | Yes |
| Vehicles type | Sedans and coupes |
| Driving conditions | Dry and Wet |
Goodyear Tire is an American brand that has been manufacturing high-quality tires for more than 100 years. The advancement in the quality of tires makes it a car brand favorite to use as an OE tire with their cars.
Similarly, this high-quality Goodyear Excellence tire comes as original equipment with some of the biggest cars. Even though it is an expensive tire, car manufacturers still use this tire for its proper performance in the summer seasons.
This Goodyear Excellence is an amazing tire to achieve comfortable rides in wet and dry road conditions, due to its sequenced ribs, the tire delivers a confident and comfortable experience inside a luxurious vehicle cabin.
With as many benefits, there are many flows with this tire as well, which we will discuss when we talk about the real-world performance of this tire.
So make sure to read this review till the end to find out whether this tire is worthy of your investment in 2023.
Pros
Stable rides in dry seasons
Confident grip in wet conditions
Smooth and comfortable experience in summer seasons
Proper traction and temperature control
Cons
Expensive and less durable tire
Slips in deep waters
Gets noisy after a little wear off
No treadwear warranty
---
Tread design and improvements
The asymmetrical pattern features a summer compound for dealing with high temperatures while delivering stable rides due to separate tread blocks.
Optimized sequencing and even contact improve wear performance while reducing noise and improving comfort in wet and dry conditions.
Tread notches and center ribs provide proper grip and traction on fast tracks at high-speed driving.
Circumferential grooves with the help of open shoulders channel the water and resist hydroplaning for confident rides in rain and wet conditions.
Specifications & Features
| | |
| --- | --- |
| Speed rating | W-Y(168-186)MPH |
| Load Index | 96(1565 lbs) – 102(1874 lbs) |
| Manufactured in | Germany |
| Wheel diameter | 19-20" |
| Ply rating | 4 ply rated |
| Treadwear, Traction, Temperature | 240, A, A |
| Noise Reduction | Yes |
The German-manufactured tire has a fine treadwear rating, which is the standard in the summer touring tires category, with proper traction and temperature ratings, it is a safe and proper tire drive in changing warm and cold weather.
The high-speed rated tire is more than enough to achieve proper acceleration on fast tracks without losing comfort and traction. The low weight makes it an easygoing tire with fast brakes for safe and confident rides in the summer seasons.
Performance of Goodyear Excellence
Treadwear Durability
Usually summer tires have far less durable treadwear compared to all-season or all-terrain tires, the reason for that is they have less tread depth and slick design which improves handling response, contact, and proper traction in dry conditions. 
If summer tires won't have a slick design, they might have longer wear but they won't be as responsive as other summer tires. Similar to that, this Goodyear Excellence tire has low tread depth which makes it a less durable tire as well.
The tire is not backed by any treadwear warranty which is common in this category, however, compared to other summer tires, it has far less reliable wear performance.
Usually, summer tires have a life between 30-50K miles but this tire is not great and safe to drive after 20K miles due to its low performance in wet conditions after wearing off.
That is why when it comes to treadwear durability and reliability this tire is poorly rated and if you are after durability, then this is not the tire for your vehicle.
Handling Response and Brakes
The response on the fast track with this tire is fine, but it is not as good as summer performance tires or neither as good as touring summer tires, the lack of response might be because of the noncontinuous ribs on the tread.
It is still driveable on fast highways, however, the joy of a responsive tire won't be achievable with this tire. It might not bother everyday users, but if you are a previous high-performance summer tire driver, you will want to replace this tire as soon as possible.
Brakes and acceleration are fine, it takes a very short time to stop the tire at very high speed as well. The acceleration is great as well due to the low-weight tires, it exceeds speeds quickly.
Overall if you are a track driver and want a proper handling grip and control, then this tire won't do any good to you due to its loose grip on the steering which shakes the car on small turns.
Rainy Seasons
At the beginning of a new tire, it grips properly in wet and rainy conditions. However as the tread slowly goes off, the performance goes with it too.
After 10k, or somewhat miles, the tire does not perform as properly as it does at the start. The grip and traction start to feel going off and the control is not as stable as it use to be.
The new tire performs properly, and the confident ride is achievable but as this tire has low treadwear performance the performance drops in every aspect after a few thousand miles.
Similarly, the hydroplaning resistance was there at the start even at a fast pace, however as we tested a little worn tire, the performance was totally different, and lack of traction, stability, and hydroplaning turned this tire into a nonsafe tire to drive after 10K miles in wet conditions.
Dry Conditions
The performance on dry and warm weather was great, the stability, control, balance, and traction all was properly aligned with the tire.
The comfort was there as well, and the high-speed performance was fine as well, just a little tension on cornering at a fast pace, other than that, it was all great.
Similar to wet conditions, after wearing off a little, the performance drops rapidly as well. First, of all, the tire loses traction, and fast cornering was impossible to achieve with this tire.
Also, the traction control and balance were not as great as they used to be. Even though the performance does not drop as badly as it did in wet conditions but still it was quite noticeable which makes it a less likable tire in this category.
Comparison with Bridgestone Turanza T005
| | |
| --- | --- |
| Dry Conditions | Bridgestone Turanza t005 |
| Steering Response & Feedback | 12.99% |
| Cornering Stability on Curves | 8.86% |
| Dry Traction & Grip | 0.00% |
| Results | 21.85% |
| | |
| | |
| Wet Conditions | |
| Hydroplaning Resistance | 2.53% |
| Wet Traction & Grip | 6.58% |
| Results | 9.11% |
| | |
| Ride Quality | |
| Cabin Comfort | -13.25% |
| Road Noise | -6.49% |
| Results | -19.75% |
| | |
| 195/55R16 (87V) | |
| Price | 52.94% |
The results are based on test results and subjective views, it could differ based on different cars, conditions, and driver's preferences.
The Bridgestone Turanza T005 compared to Goodyear excellence is better in almost every performance metric except ride quality.
The Bridgestone tire is a far better performer in dry and wet conditions overall, and it has more durable treadwear with more responsive rides.
However, Goodyear Excellence is better when it comes to comfortable and quiet rides. Both of these tires are run-flat, however, the price difference might be the deciding factor for some of the drivers.
The Bridgestone Turnza T005 is 50% more expensive than the Goodyear tire which is far higher compared to very less increase in performance.
---
Final words
The Goodyear Excellence is a grand touring summer tire for SUVs, and sedans drivers looking for comfortable and smooth dry and wet conditions ride. This tire is great to achieve more rides in the summer seasons. However, the low treadwear performance makes it not the best choice in this category. Compared to other run-flat tires, the performance is not as bad however the price difference makes it a fine option in 2023.