Last updated on May 2nd, 2023 at 05:54 pm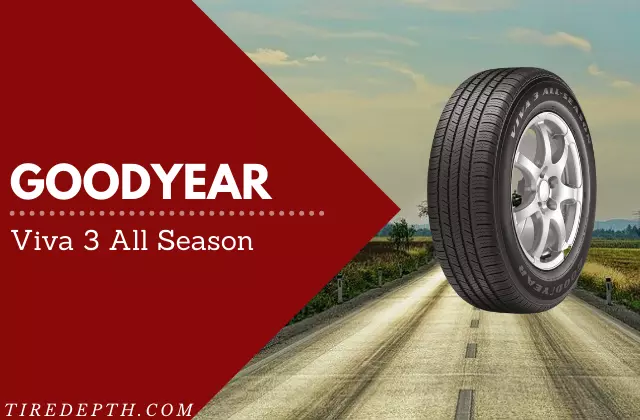 ---
Goodyear viva 3 quick highlights
| | |
| --- | --- |
| Tire category | Touring Tire |
| Price range | $53-$150 |
| Product of | USA |
| Ply rating | 4 Ply Rated |
| Vehicle type | Passenger Cars |
| Terrain support | All Season and snow |
Goodyear is one of the most loveable and reputed brands of tires in the United States. Due to its continuous development, it has set its place as one of the fastest-growing tire brands globally. The Goodyear Viva 3 has grabbed the market share since its launch due to its performance in all-season conditions and a very affordable price compared to other competing brands that offer similar features with a difference of more than $100. Being produced in America and still offering this price is an excellent achievement of this Goodyear tire.
---
Goodyear Viva 3 features
The feature that matters the most and buyers look into is ratings of speed, with a tread pattern and warranty. We will describe each feature in a separate heading to give you the built insights into its technology and engineering. We will also describe this tire's performance in different conditions. Stick with us to get all the information about this tire and decide whether you should buy or avoid it.  
Goodyear Viva 3 may be cheap in price, but it is not cheap in performance at all. It is manufactured with Goodyear's proven technology and by professional engineers. The tire with T-rated speed and SL-rated load range make it a solid and fast tire; it is also a 4 Ply-rated tire, making it safe, strong, and durable for all-season driving. 
Goodyear's excellence in tire development is expressed in this Viva 3 model because of its all-season performance with a comfortable drive and the least expensive tires in the market. The tire has a very classy look that enhances your car's appearance with its driving experience too.    
Tread pattern and design
The tread pattern of a tire makes the tire more unique and different from other tires. The Goodyear Viva 3 has not been changing its tread design because it is working significantly well and it's a more durable design. The tire consists of circumferential and zig-zag grooves to handle water by providing hydroplaning resistance with quiet and comfortable handling.
Also, the enhanced tread pattern contact with the ground in a large and equal footprint to keep the tire's treadwear durability sound. The tread pattern of this tire has been appreciated by buyers, and it provides great traction and grip with smooth handling in all-season conditions.
Assurance and warranty
Goodyear tires have been appreciated by their buyers due to their tire durability with a company warranty at a very affordable price. Goodyear Viva 3 comes with 60000 miles treadwear warranty that makes it a durable tire that will work more than enough at this price range. The customer criticized the company due to their weak sidewall tires, but now they improve the sidewalls too. However, some reviews still note the same complaint about sidewalls, but the Goodyear Viva 3 has improved a lot since its last model. 
Goodyear Viva 3 specification
It is a touring all-season tire for passenger cars to give all-year-round performance even when driving on highways. Goodyear Viva 3 is a quality tire with a great treadwear rating of A, and B rated for temperature tests. It is also a strong tire with 4-ply rated and rigid sidewalls making it more durable than other tires. Also, it is a fast tire with a T-rated (118Mph), which is enough for a passenger car for all-year-round performance at this economical price.    
Goodyear Viva 3 performance
All-season touring tires are primarily expensive and give all-year driving with comfortable and quiet drive. Being an all-season tire, the Goodyear Viva 3 also gives comfortable handling with smooth brakes and all-year performance on highways and wet and dry conditions. Due to the different tread blocks, it impresses even on mild snow terrains too. 
The circumferential grooves expel water and slush to provide traction and grip on wet terrain; it also improves the brakes and acceleration of the tire. Not only that, a stable shoulder block and multiple sipes improve its handling and steering control on dry terrains and highways, even when driving at the maximum speed. The tread pattern improves the Goodyear Viva 3 even footprint on the surface to give better stability and increase its durability. 
Why you should not buy Goodyear viva 3
Even though the tire can tackle all-season conditions and also being cheap does not mean that you should always buy a Goodyear Viva 3 to deal with every situation. Like if you want to hit off-road, either if it is snow or mud, never consider buying this tire because it won't last 5000 miles in severe conditions due to its built. Also, if you are more toward racing tires with sharp cornering and grip on fast terrains, don't buy Viva 3. There are many sports tires available in the market under this price range that will perform better and longer in this situation.
If you are so convinced with these tires, then buy only to drive in all-season like wet, dry, and highway conditions. Other than that, buy other tires related to the situation. Also, these are not the best touring tires in the market, they may lack comfort and make noise compared to premium tires, but they will also charge you twice compared to the Goodyear Viva 3. 
Final words
Goodyear Viva 3 is a strong tire for excellent performance in all weather and season conditions. The fact Because it is only for passenger cars, it could not compete with other all-season tires that come in various ranges. Still, it is one of the best touring tires for passenger cars with an excellent price range. 
This review is based on research, test results, and customer reviews. So if you don't agree with any of our points, you can tell us in the comment section. Also, if you have any queries regarding Goodyear Viva 3 you can ask us anytime. We will solve your quarry as soon as possible.