Last updated on October 24th, 2023 at 11:38 am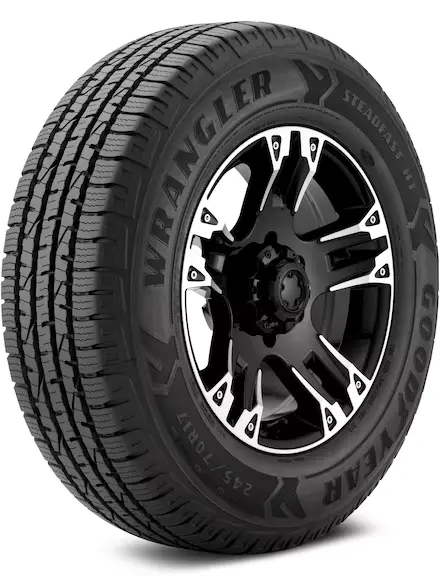 Wrangler SteadFast HT
Highways All-season Tire
Looking for all-season tires, that really work in all-season conditions, check out this Goodyear Wrangler SteadFast HT tire. This is a highway all-season tire made for SUVs and trucks to fulfill the demand of buyers to drive in wet, dry, snow, and mud terrains.
Fuel mileage/Low rolling resistance
75%
---
Table of Contents
Quick highlights
| | |
| --- | --- |
| Tire type | Highway Touring All-Season |
| Price range | $203-$298 |
| Run-flat | No |
| Vehicles type | CUVs, SUVs, Pickup, and Light trucks |
| Driving conditions | Dry, Wet, Mud, and Snow |
The Goodyear Wrangler SteadFast HT is an upgraded version of a Goodyear Wrangler Fortitude HT. This successor tire has improved a lot from its predecessor, it grips better in wet and dry conditions, the tire durability increased by far, and the driving capability in off-road conditions has also improved a lot. This newer tire is a better option for drivers looking for on and off-road compatible tires for their large vehicles.
Goodyear tires have been there for more than a century and they are coming up with the improvement and innovation in their new tires, and this Goodyear Wrangler SteadFast HT is an example of that. The tire has utilized technology to design its tread and compound, which is a major reason for its durability and performance. With that, the sequencing of pitches with the help of technology reduces the tread noise and also makes it a comfortable tire to drive all year round.
For pickup truck drivers, this Goodyear tire has great capability to carry weight and deliver smooth rides on highways. Other than that, this tire is also great for light truck drivers looking for a smooth all-season ride, and a casual ride in off terrains. So without changing tires, a driver can drive through any road conditions. If you are looking for any of these situational rides, then this Goodyear Wrangler SteadFast HT will be the perfect tire for your vehicle.
Pros
Proper traction and grip in all season and off-road conditions
Comfortable and smooth ride in dry and wet conditions
A rigid shoulder and durable treadwear backed by 70K miles treadwear warranty
Confident rides in snow conditions as well
High-weight carrying tire while delivering quiet and proper handling response on highways
Cons
No 3PMSF certified for harsh winter conditions
Not as comfortable as touring tires
---
Tread design and improvements
The balance to deep tread wide blocks makes it a properly designed tire for highways, all-season, and off-road rides. The Goodyear Wrangler SteadFast HT features an all-season compound into a symmetrical tread pattern which is great for achieving wet and dry traction and grip without wearing off unevenly. The shoulder blocks feature numerous sipes and rigid sidewalls for protecting tires off-roads while delivering proper grip, brakes, and handling in extreme conditions
Wide circumferential grooves and lateral notches are there to improve wet and snow road rides, the circumferential grooves channel the water when going through wet conditions and resist hydroplaning and sipes provide extra biting edges on snow terrains, which improve snow conditions grip and improve brakes in winter seasons as well.
Durability and road life
Along with its versatile performance, the tire has a very durable tread. The most important thing about touring tires is their comfort and tread life, and this tire is good in both of these factors. Although the comfort may not be as good as touring tires, however, its ability to drive in off-road conditions is not something other touring tires can achieve.
This Goodyear Wrangler SteadFast HT is backed by a 70K miles treadwear warranty which is great for driving with tif or more than a decade. By properly carrying and rotating it carefully, you can achieve more out of this tire, with balanced performance for all of its tread life.
Specifications & Features
| | |
| --- | --- |
| Speed rating | T-V(118-149)MPH |
| Load Index | 99(1709 lbs) – 116(2756 lbs) |
| Manufactured in | United States and Chile |
| Wheel diameter | 16-22" |
| Ply rating | 4 ply rated |
| Treadwear, Traction, Temperature | 800, A, B |
| Noise Reduction | Yes |
The load index and speed index are great for such a heavy tire, which can carry that much weight. Along with that, the 800 treadwear rating is something that is perfect and also the reason why this tire is so durable. The temperature and traction rating are not at their best, which is why don't go above or below too much on temperature, keep it in moderate conditions to achieve its longevity.
Performance of Goodyear Wrangler SteadFast HT
Dry Traction & Grip
The tire is great in dry conditions and hot weather, as most of the highway roads are dry, this tire delivers perfect traction and grip in dry conditions of highways. Along with that, the tire delivers proper handling and brakes, even when carrying a heavy weight, so that the pickup drivers can achieve smooth p[erformance while carrying a heavy load.
Wet Traction & Grip
The performance in wet conditions is good as well. This tire due to circumferential and lateral grooves, grip properly and resist hydroplaning in standing water. The tire doesn't lose traction in the rain, even with a heavy load, and delivers a quiet and comfortable ride on wet highway conditions as well.
Snow Performance
The performance on snow terrains is not optimal, this Goodyear Wrangler SteadFast HT loses traction and grip on high snow conditions, and the absence of a 3PMSF certificate is proof of that as well. However, until you are driving slowly on snow, the tire is good, however at any fast speed, the tire takes longer to stop and delivers an unbalanced ride, which is not good. So if you take this in the snow, just drive at a normal pace.
Mud Terrain Performance
This tire's tread blocks are not as wider as mud terrain tires, which is why in extreme mud terrains, the tire might fail to provide excessive traction, however, in moderate conditions, the tire is great. The talk of comfort is gone, when this tire hits off-road conditions, however, the performance on moderate off-road conditions is great and something that can be utilized all year round with one set of tires.
Comparison with Michelin Defender LTX M/S
The Michelin Defender LTX M/S is an older tire in the highway tires category and it is one of the top tires still in 2023. Although it is an older tire, compared to Goodyear Wrangler SteadFast HT, it is still a better option for drivers looking for versatile all-year-round performance. It has proper handling, and more capability to handle extreme conditions, and also it has a 3PMSF certificate for harsh winter terrains.
However, the only thing that the Michelin tire would lack is noise and price. Being an older tire, the Michelin tire is still more expensive and has louder tread noise due to its older design. Other than that in every other factor, the Michelin defender wins with Goodyear tires.
When Goodyear Wrangler SteadFast HT Is Not Prefered
For drivers who are looking for a tire that could handle extreme conditions on and off terrains, for them this Goodyear Wrangler SteadFast HT might not be the best option. Because all-terrain tires have more capability to handle extreme conditions and run for more miles without wearing off in harsh conditions.
Similarly, if you are looking for all season comfortable ride, and only snow terrain casual rides, then again this tire will not be the greatest, the grand touring tires like Michelin crossclimate 2 will be a better option. Because it won't only deliver more comfortable all-season rides, but it will also drive proper snow terrain performance, and the 3PMSF certification is also assured that.
Final words
The Goodyear Wrangler SteadFast HT is a great tire for heavy-load highway driving with comfortable and durable rides all season. Not only it is great in all-season conditions of highways and roads, but it is also great in off terrains snow, and muddy conditions. With its versatile performance, the durable treadwear makes it a little more impressive that pickup truck and SUV drivers thirst before.