Last updated on November 16th, 2023 at 06:41 am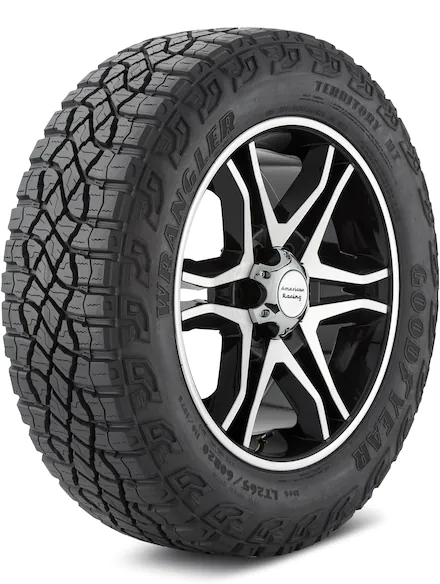 Wrangler Territory MT
Off Road Tire
Explore the off-terrains without any worry with these Goodyear Wrangler Territory MT tires. These are off-road maximum traction tires, that can be driven on mud, sand, gravel, dry, wet, and snow conditions. It is an overall one-tire solution for light truck and jeep drivers.
On-Road traction/Grip
85%
---
Table of Contents
Quick highlights
| | |
| --- | --- |
| Tire type | Off Road Tire |
| Price range | $265-$346 |
| Run-flat | No |
| Vehicles type | Light Trucks |
| Driving conditions | Dry, Wet, and Mud |
The Goodyear Wrangler Territory MT is an excellent tire for someone looking for smooth and confident rides on any road and in weather conditions. With this tire, you can explore off-roads by achieving the finest performance, whether it is terrain or trail, the tire handles the situation properly while allowing the car to keep moving forward in extreme conditions
This is an OE tire for Ford and Chevrolet car models due to its all-terrain performance. Most off-road tires lack performance in on-road conditions, however, this Goodyear Wrangler Territory MT has above-average performance in all-season conditions as well. Also, compared to other off-road tires, this tie is quiet and delivers comfortable rides in dry and wet road conditions.
When it comes to off-road, the tire is capable of handling different conditions, such as sand roads, muddy terrains, and off-road trails, so whichever conditions come across, the tire will be able to handle it properly. Along with that, in the winter season, even with the absence of 3PMSF, the tire delivers a proper ride without wearing off unevenly, so you can drive with this tire for many more miles.
Pros
Maximum traction, grip, and cornering in off-terrain, and on-terrain situations
Proper handling response and short brakes for safe rides
High load carrying ability to carry weight, and with weight, perform quite well as well.
Aggressive sidewalls, and chip resistance tread blocks for absorbing the damage from rocks without getting punctured
Sequenced pitch pattern on both sides reduces tire noise and improves comfort in off and on-road conditions
Cons
No treadwear warranty, and uneven wear off
Not the greatest tire in all-season conditions
Loses grip in harsh winter conditions, which is why it does not get a 3PMSF certificate
---
Tread design and improvements
The Goodyear off-road compound features a symmetrical tread pattern with deep individual tread blocks that provide a stable ride without storing rocks and mud on the tread. Shoulder lugs and center tread of the tire bite the mud and snow to provide proper traction and grip in off-road conditions. with that the open tread blocks and tread block sipes reduces instability, and provide proper handling response and traction in any road conditions.
The tread grooves and sequenced pitch tread deliver hydroplaning resistance in wet conditions while providing quiet and comfortable rides in dry and wet conditions. This Goodyear Wrangler Terittory MT is a perfect tire with a great tread design and pattern which comes after the research and experience of Goodyear in off terrain tire category.
Durability and road life
The off-terrain tires, like mud and winter tires, are not backed by any treadwear warranty from manufacturers. The reason for that is the unpredictable conditions of the off-roads, which can be tested by the brands, which is why they do not offer any treadwear warranty. However, if you want to insure your tires, the retailer provides a warranty that can be bought by the buyers, to get repayment or replacement in case the tire wears off early or unevenly.
Similar to other off-road tires, this Goodyear Wrangler Territory MT is not backed by any treadwear warranty, however, it is a durable tire if you drive with care and rotate them periodically. This Goodyear Wrangler Territory MT tire can be driven for more than 35K miles if only driven on highways and in normal off-road conditions, in extreme situations, the tire is capable of covering more than 20 to 25K miles which is great for off-road drivers.
Specifications & Features
| | |
| --- | --- |
| Speed rating | Q-S(100-112)MPH |
| Load Index | 110(2337 lbs) – 126(3748 lbs) |
| Origin of | United States |
| Wheel diameter | 17-20" |
| Ply rating | 6 ply rated |
| Treadwear, Traction, Temperature | N/A |
| Noise Reduction | No |
Just like treadwear warranty, off-road tires are not tested to rank on UTQG, and the reason for that is the same. Other than that, the tire has a fine speed rating, and a great load index, to carry more weight on light trucks. This 6-ply rated tire is strong and capable of carrying more weight while providing a confident and safe ride all year round.
Performance of Goodyear Wrangler Territory MT
Mud and Sand Terrains
The off-road tires are mostly great in sand and mudd terrains, and this Goodyear Wrangler Territory MT is one of them. The tire grip on extreme off-road muddy conditions, whether it is dry mud or wet mud, the tread design and pattern of this tire won't let it stick to the tread which improves the traction performance of the tire. Along with that, the cornering and handling response on mud and san conditions is great as well.
Snow and Wet Conditions
In snow terrains, this tire is better compared to all-terrain tires, however not as good as winter tires. The reason is obviously, the absence of the 3PMSF certificate. Even though the tire grips well in winter conditions, however after a few thousand miles, the tire is not so great and loses traction and grip in snow and winter terrains. At extreme winter conditions, this tire is only fine unless there is low weight and driving at a slower pace, otherwise, it loses grip as well.
Similarly in wet conditions, the tire delivers proper traction and grip even in standing water. The Hydroplaning is not therewith this tire, however sometimes, the tire loses grip when the speed is high, so drive slowly with this tire on slippery roads
Treadwear and Comfort
Comfort is not something that is most valued by off-terrain tire drivers, it is the performance that is great about this tire. The comfort is not at its finest, compared to grand touring tires, it is nothing, however, compared to other off-road tires, this tire is still good. With sequenced pitch tread blocks, the tire makes low noise and reduces vibration, which improves the peaceful experience of the drivers.
On-Road and Highway Performance
On pavements, highways, and on-road conditions, the tire is good as well. It performs like highway tires, due to its high load-carrying ability, and off-terrain rides, however, the tire lacks in comfortable. Highways are not so extreme, which is why driving only on highways increases its tread life compared to off-terrain rides.
Comparison with Yokohama Geolandar M/T G003
Both of these are off-road maximum traction tires and also they have been launched recently. Although the Yokohama Geolandar M/T G003 is more expensive than the Goodyear Wrangler Territory MT tire, the performance is just as good as well. This Yokohama tire has more durable treadwear, better off and on-road performance, better speed and load ratings, and delivers more comfortable rides, which is why it is the best tire in the off-road tires category.
Compared to this, the Goodyear tire is quite affordable and great for a budget-oriented driver. The performance difference can be felt by the passionate-spirited drivers, however for normal drivers, it won't be a big difference, so if you want to save money then this Goodyear Wrangler Territory MT is also a good option.
When Goodyear Wrangler Territory MT Is Not Prefered
Even though this Goodyear Wrangler Territory MT is capable of driving in any road situation, the tire is not for every other driver. In case you are not a fan of off-terrains and are not usually a driver there, then all-terrain tires will be a better option. One is because all-terrain tires have more durable tread have a lower price, and deliver more comfortable and smooth rides in off and on roads.
Similarly, if you are only on road and highway divers, then touring all-season tires will be great for you. The benefits are similar to all-terrain tires, durability, more comfort, and less expensive tires. That is why pick the tire based on your driving conditions and your driving preferences, to get the best results out of your tires.
Final words
The Goodyear Wrangler Territory MT is an excellent tire for off-terrain drivers looking for maximum traction in off terrain while a smooth ride in all seasons. The tire is great on mud, pavement, sand, snow terrain, and trails, which is why it comes as an OE tire with some of the big car brands and light trucks. Pick this tire if you want a one-time solution for all your driving needs all year round.