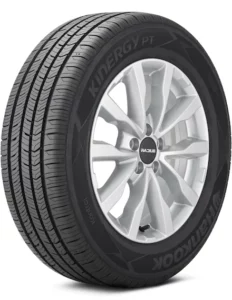 Kinergy PT H737
All-season Tire
The Hankook Kinergy PT H737 is made of a rubber that will keep dragging on the road till its last thread. This is one of the most durable tires for all-season road drivers to achieve reliable and safe rides, with a comfortable experience all year round.
Handling & Road Feedback
75%
---
Table of Contents
Quick highlights
| | |
| --- | --- |
| Tire type | Standard Touring All-Season |
| Price range | $91-$266 |
| Tread Warranty | 90000 Miles |
| Run-flat | No |
| Vehicles type | Coupes, Sedans, Crossovers, and Minivans |
| Driving conditions | Dry, Wet, and Snow |
If you are an economical driver like me, the first thing you would always see is the treadwear life of the tire or the manufacturer's warranty, and I am pretty sure most drivers finalize their tire choice based on this one factor.
It is not wrong, however, it will not always satisfy you in the future. Because some tires even though they have a high treadwear warranty, would stop performing after half of its life, so make sure you make your decision on top of the driver's experience as well.
Let's look at this Hankook Kinergy PT H737 tire, it comes with a very high treadwear warranty, but if there is no proof of that, the tire will be just like other failed tires, that come with an 80 or 85K miles treadwear warranty.
The reason drivers are really trusting this tire is that other drivers have real road experience with it, and it surely stands by its manufacturer's words.
The tire performs properly to its very last tread depths, just like any other tire the performance keeps dropping as the tread comes close to wear, still, there are very few tires in the current market, that would come close to this tire in performance with the same tread reliability.
By reading other reviews, and customer experiences on the internet and in real life, you must have made up your mind till now, that it is a durable tire, but to decide whether it performs according to your need is a real mystery to solve.
To find out keep reading this review till the very end to get all your questions answered and be able to finally make a decision on whether this tire will be a great fit with your sedans, coupes, or crossovers in 2023.
Pros
Durable tread life to achieve more than 6 years of drive
Smooth and comfortable ride, with a quiet and peaceful cabin experience
Excel Dry road traction, wet road grip, and snow terrains smooth rides
Drive through inclement weather all season without compromising on comfort
Responsive rides and short brakes for safe and sound rides
Eco-friendly tires for a safe environment and human-friendly rides
Cons
Gets noisy as the tire starts wearing off
Lose traction in deep and extreme winter terrains
---
Tread design and improvements
Tread design implemented computer technology to improve the performance and durability compared to the previous model
The carbon black compound is abrasion-resistant for eco-friendly rides with low rolling resistance as well.
Optimized contact for noise reduction and even wear for longer miles drive in all-season conditions
Wide circumferential grooves with lateral notches and grooves channel the water and ice for hydroplaning resistance and proper wet traction.
Aqua slant sipes and center rib design helps in providing extra biting edges on snow and confident traction, grip, and brakes on dry roads.
Specifications & Features
| | |
| --- | --- |
| Speed rating | T-V(118-149)MPH |
| Load Index | 84(1102 lbs) – 109(2271 lbs) |
| Manufactured in | United States |
| Wheel diameter | 14-19" |
| Ply rating | 4 ply rated |
| Treadwear, Traction, Temperature | 860, A, A |
| Noise Reduction | Pitch sequencing |
The treadwear rating of 860 is among the highest in standard touring tires, which is why this tire is also one of the most durable tires in the market.
The load index speeds rating, traction, and temperature ranks are also great as well. It is an overall great all-season touring tire for everyday smooth rides.
US manufactured tire is great in quality and with noise reduction design, it is a comfortable tire to drive as well.
Performance of Hankook Kinergy PT H737
Dry City Roads, Pitted Roads, and Pavements
Dry roads are the most touched season by tires, especially if you live in Florida or other southern states. We tested this tire on dry city roads and highways, and it performs fairly well, very competitive with top-rated tires in this category.
Most tires have very irresponsive steering, but this tire has no problem with something like that. However when it comes to gravel roads, the tire is not at its best, the comfort really drops and also the responsive handling is not as responsive as well.
The gravel roads consider as off-road so we can not judge this tire's dry performance based on that. However, pitted roads or broken city roads are somewhere where this tire should be better.
Although the comfortable and quiet ride is there, there is a lack of responsiveness and sometimes loses traction as well on potholes. Overall this tire will be more than satisfactory in dry road conditions for an everyday drive unless you are a track driver.
Wet and Rain Experience
This is the type of tire you would require if you want to tackle the storm and heavy rainfall. Due to grooves and shoulder design, the tire really supports wet traction and grip.
On standing water at a fast pace, hydroplaning is not possible also, it confidently crosses water without losing grip or steering contact.
Comfort and quiet rides are also achievable on wet roads and highways, however, it reduces with time as the tire starts wearing off. We tested a new set of tires and one that had already driven for 45K miles.
The difference in drive is quite significant, it feels like both of these are different tires. This tire performs very well when it is brand-new however after or near half of its life, it loses control in quite every aspect.
Light Snow, Deep Snow, and Ice
In light snow near 4 to 5 inches of snow, the tire can handle snow terrains properly, the traction, grip, brakes, and response all is available. The comfort and smooth ride are also achievable on light snow terrains.
However, as you move beyond that, the performance reduction is quite noticeable one by one, all of the performance metrics that are available in light snow terrains, vanish on deep snow terrains.
First of all the response totally disappear and requires hard touch to control the handling, similarly, the long brakes, and lost traction and grip can be faced by drivers, the reason for that is the absence of a 3PMSF certificate and 3D sipes, which are usually found in top grand touring tires.
The performance on ice is very similar to deep snow performance the lose traction and low responsive rides. Overall it will justify your money if you don't face heavy snowfall in a year unless it will be one of the regretful decisions of your life.
Durability and road life
This tire takes full marks in durable rides, the treadwear is made of high-quality rubber and the tread compound also ensures that it will last until the end of its life.
The tire is backed by 90K miles which are among the highest treadwear warranty in any category of tires, and it really lasts as its treadwear warranty claims.
With proper care and periodic rotations, many drivers are able to take this tire to above 100K miles and replace it before the 2/32 tread depth, so treadwear durability is something that you should not be worried about with this tire.
But there is a big but in it, as the tire progress and starts wearing off, you might see a change in performance, compared to when it was new, keep in mind that you will not achieve similar performance for all of this tire's life.
Comfort and Responsiveness
The durable tread of this tire is quite a blessing, however, it is not the only thing that the tire should have. If the comfort in the drive is not achievable with a certain tire, it won't matter how durable its tread life is, most buyers will still not buy it.
And this tire is equipped with both of these features, the comfort of dry roads, wet streets, and snow terrains is achievable with the tire. With that, the quiet ride, low cabin noise, and vibration are something that is really worth buying this tire.
At the start, it all feels like heaven with this tire, but as time goes on, and its tread comes near 5/32 the performance really shadows, and you will leave with just some ordinary tires. As of this market stats, if the tire performs fairly well for 60K miles is an excellent tire anyways.
The responsiveness if compared to performance tires, is far behind, however, compared to top touring tires, it is great. The handling is good, the brakes are proper and short, and slow-pace cornering is also achievable. But if you want sporty rides, then this is the wrong tire you are reading about.
Comparison with Continental TrueContact Tour
| | |
| --- | --- |
| Dry Conditions | Continental TrueContact Tour |
| Steering Response & Feedback | 5.26% |
| Cornering Stability on Curves | 3.67% |
| Dry Traction & Grip | 3.33% |
| Shortest Dry Brakes | 5.02% |
| Results | 17.28% |
| | |
| Wet Conditions | |
| Steering Response & Feedback | -0.43% |
| Cornering Stability on Curves | -1.94% |
| Wet Traction & Grip | 6.02% |
| Shortest Wet Brakes | -2.38% |
| Results | 1.28% |
| | |
| Winter Conditions | |
| Deep Snow Traction | 5.33% |
| Light Snow Traction | 6.25% |
| Thick Ice Traction | 0.00% |
| Results | 11.58% |
| | |
| Ride Quality | |
| Cabin Comfort | 2.41% |
| Road Noise | 2.03% |
| Results | 4.44% |
| | |
| 175/65R15 (84H) | |
| Price | 11.02% |
The results are based on test results and subjective views, it could differ based on different cars, conditions, and driver's preferences.
The Continental TrueContact Tour as of this date is the best touring tire in all season categories, and the test result between Hankook Kinergy PT H737 and Continental TrueContact Tour also assures that.
The continental tire is better at each and every aspect of performance, whether it is dry, wet, snow, or comfort and ride quality. However, there are possibilities where Hankook tires might fit better for some drivers.
The Hankook Kinergy PT has more durable tread that last 5-10K miles longer, and also this tire comes at a lower price range, so if durability and budget are your basic needs, then Hankook tire will be a better option for you.
Final words
Hankook Kinergy PT H737 is an excellent all-season tire for the most durable rides at budget-friendly rates. The tire delivers performance in dry, wet, and light snow conditions with comfortable and quiet rides all year round. If you are after durability and a smooth ride, then this tire will be the perfect choice for your passenger car in 2023.