Last updated on August 7th, 2023 at 11:05 am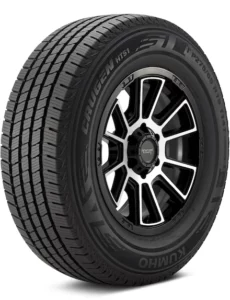 Crugen HT51
All-season Tire
Kumho Crugen HT51 is a name of durability and smooth rides. The tire is driveable for more than its warranty period while being so cheap in price. The all-season performance and off-road premium ride make it a proper tire for SUVs and Pickup trucks to achieve reliable and peaceful rides for many miles.
---
Table of Contents
Quick highlights
| | |
| --- | --- |
| Tire type | Highway Touring All-Season |
| Price range | $130-$282 |
| Tread Warranty | 70000 Miles and 45000 Miles |
| Run-flat | No |
| Vehicles type | SUVs, Crossovers, and Pickup Trucks |
| Driving conditions | Dry, Wet, and Snow |
If you have ever driven with any Kumho tires, you have analyzed that the performance of this brand is very competitive to premium tires with durability and low prices that make it a better option to achieve greater miles.
Kumho tires have been in the industry for years now, and gain much more importance in the last decade, innovation and advancement in technology are the reasons for that.
Similarly, this Kumho Crugen HT51 is one of the finest in this category. Even though it is not a new tire but compared to other highway touring tires it performs better than some of the new options.
The greatest thing about this tire is its low price and durable performance, the treadwear is more than enough to achieve 100K miles with proper care.
Performance in all seasons, off roads, and highways are fine as well. It carries heavy weights without damaging the tread and provides comfortable and smoother rides as well.
The 3PMSF certificate makes it a stronger tire to control harsh winter terrains and reduce unpredictability on snow terrains.
The tire is great for any weather and conditions rides, to learn about its real-world performance, keep reading the review where you will also find a comparison with other top highway touring tires as well.
Pros
Durable tread for many years of peaceful rides
Comfortable and quiet all-season performance
Proper traction and grip in snow and mud terrains
Affordable tire to achieve many miles due to strong rubber
Stable ride on highways while carrying heavy weights
Hydroplaning resistance in wet and ice conditions
Cons
Irresponsive and unbalanced ride
Performance gets worsen as it wears off more than half of its depth
---
Tread design and improvements
All-season tread compound into a symmetrical pattern of individual tread blocks for longer wear and stable rides.
Optimized sequencing of five ribs with dense sipes for improved handling and traction on dry road conditions and off roads.
Wide circumferential grooves and lateral notches create a path for water to channels through the tread to resist hydroplaning
3D zigzag sipes create extra biting edges on snow to deal with deep snow and provide confident traction and grip.
Semi-open shoulders with sipes improve handling response and traction while improving tread life and performance.
Specifications & Features
| | |
| --- | --- |
| Speed rating | Q-H(100-130)MPH |
| Load Index | 92(1389 lbs) – 125(3638 lbs) |
| Manufactured in | Vietnam and the Republic of Korea |
| Wheel diameter | 15-22" |
| Ply rating | 4 and 10-ply rated |
| Treadwear, Traction, Temperature | 720, A, A |
| Noise Reduction | No |
The 720 treadwear rating is another indicator of this tire's treadwear durability. With that, the A and A traction and temperature rating also make it a versatile tire to achieve great confidence in changing weather and temperatures.
The 10-ply rated tire is more than enough to carry a heavy weight on this tire and unlike other tires, this tire while carrying weight does not wear off unevenly due to geometric tread block design.
The P-variant tire comes with a 70K miles treadwear warranty while the LT tire comes with a 45K miles treadwear warranty so make sure to pick the right tire based on your fleet and desires.
Performance of Kumho Crugen HT51
Dry City Streets, Pitted Roads, and Pavements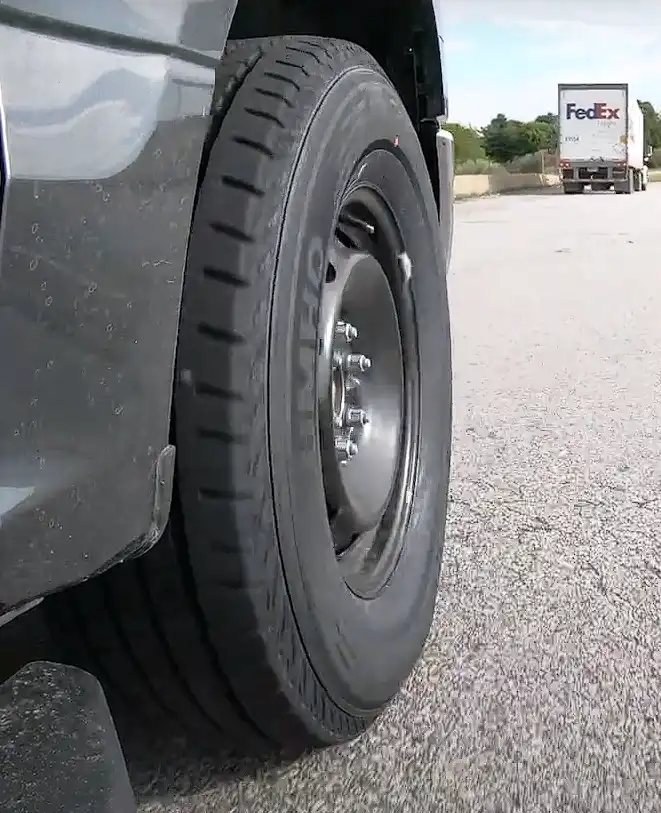 ---
On different dry weather conditions, Kumho Crugen HT51 performs fairly well. Overall the response could be better, handling and brakes, and also the balance and stability lacking in some situations of gravel roads.
Other than that, it is a great tire to drive in warm weather, the traction, grip, and cornering all were great in city streets.
It will be a great choice for highway drivers of pickup trucks who carry weight most of the time. It has fairly great rides on highways at a fast pace while carrying loads, it delivers comfortable rides as well.
On construction sites and pitted city roads, the tire maintains a balance to some extent, but most of the time it was not the greatest tire when it comes to comfort in these situations.
With strong performance without getting too much warm in dry road conditions, this tire is perfect for dry roads of all seasons.
Wet and Rain Experience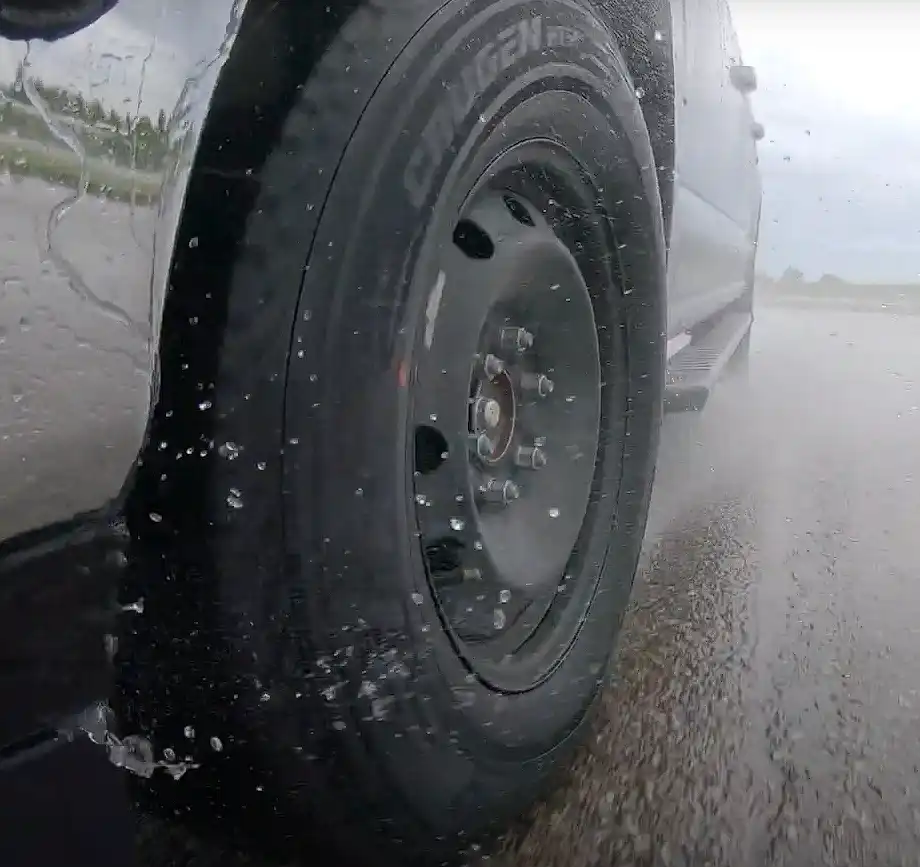 ---
In wet conditions, the traction is not as comparatively great as in dry terrains. The worn Crugen HT51 loses traction in heavy rainfall and deep water. However, the new tire was just pure greatness.
The tire delivers confidence in standing water by resisting hydroplaning and it never loses response at a fast pace due to vertical grooves between ribs.
The stability and comfort in the rain were great as well. The tire grips well in rainy situations and makes it feel like normal day driving due to the immense amount of sipes on the tread and shoulder blocks which improve wet grip and traction.
The handling response was not as great and it loses control sometimes in deep water at a fast pace, other than that, it is a proper tire to drive in wet and dry road conditions.
Mud Terrain and Off Roads
Highway touring tires have the capability to stand off roads with all-season on-road conditions, unlike standard and grand touring tires.
This tire delivers fair performance in off-terrains, although the comfort, stability, and response are badly disturbed, it is more than enough to cross off-terrain situations.
We would not recommend this tire for joyful off-terrain rides, but if you want to cross these bad situations year-round, then this tire will be a great option for your vehicle.
It handles mud, sand, and gravel roads properly, and the treadwear's durability stays intact without compromising on performance which is a great thing about this tire's off-road performance.
Overall it is a great on and off-road tire, mostly preferred to drive on highways, but if the situations get worsen you can always put your trust in these tires.
Light Snow, Deep Snow, and Ice
Overall the performance in light and deep snow is better than new top highway tires. As it is a 3PMSF-certified tire it has an edge over other noncertified tires.
Grip and traction on light snow conditions are great with stability and responsive rides as well. Overall it is a perfect tire to drive in light snow conditions and will be a great choice for someone who faces snow once or twice a month in a year.
With that, the performance in deep and extreme snow conditions is average. It will be just enough to pass through deep winter terrain without sticking at any point, unlike other tires. But to achieve great performance in deep snow, separate winter tires will be needed.
This tire will be a great option for drivers who have to face snow to somewhat extent and the tire will save you money by not forcing you to buy winter terrain tires. Because it can handle any winter terrains, which is a great deal at this price.
Durability and road life
The reliability and tread durability is the reason for this tire's greatness with smooth performance. It just does not fulfill its promise but provides more than it is bound to.
This tire comes with a 70K miles treadwear warranty on P sizes, however, most drivers have been driving with this tire for more than 80K miles with more than 4 or 5/32 tread depth still left.
When it comes to tread durability, this overall category of tire is great, but this tire is one of the most durable tires in this category along with the Defender LTX M/S tire.
The bad thing about this tire is that, the performance drops as the tread starts to wear off. At 5/32 it feels like you are driving with different tires, and most impact comes in wet and wintery situations.
So if you are an on-road highway or city road driver, then 100K miles is very possible with this tire with proper experience and a low price range which is great for budget-oriented drivers.
Comparison with Yokohama Geolandar HT G056
| | |
| --- | --- |
| Dry Conditions | YOKOHAMA GEOLANDAR H/T G056 |
| Steering Response & Feedback | -1.11% |
| Cornering Stability on Curves | -1.11% |
| Dry Traction & Grip | -2.15% |
| Results | -4.37% |
| | |
| Wet Conditions | |
| Wet Traction & Grip | -7.87% |
| Hydroplaning resistence | -5.62% |
| Results | -13.48% |
| | |
| Off-Road Performance | |
| Dirt Performacne | -4.71% |
| Mud Terrains | -11.54% |
| Gravel Roads | -4.94% |
| Results | -21.18% |
| | |
| Winter Conditions | |
| Deep Snow Traction | -20.48% |
| Light Snow Traction | -15.91% |
| Thick Ice Traction | -25.64% |
| Results | -62.03% |
| | |
| Ride Quality | |
| Cabin Comfort | 1.12% |
| Road Noise | 0.00% |
| Results | 1.12% |
| | |
| 245/75R16 (111T) | |
| Price | 0.62% |
The results are based on test results and subjective views, it could differ based on different cars, conditions, and driver's preferences.
The Yokohama Geolandar HT G056 is also an old tire that comes with a similar treadwear rating and warranty as Kumho Crugen HT51.
The price range of both of these tires is also somewhat similar, with the Yokohama tire being a little bit more expensive.
However when it comes to performance, in almost every matrics and condition, the Crugen HT51 provides better results as you can see in the test results. Whether it is dry, wet, snow, or off-road situations, Kumho Tire beat this tire by a very fair margin.
In our opinion, the comfort and noise are not much of a difference between these two tires, both are noisy, which is why Kumho Crugen HT51 is a better choice to buy between these two.
---
Final words
Kumho Crugen HT51 is a reliable and affordable tire that fits greatly with SUVs and Trucks. Its durable and smooth ride makes it a proper tire to compete with top highway tires. Compared to other tires in this category, it is one of the most durable tires in today's market. Even though the performance drops rapidly as the tread goes off, still it is capable to cover more miles than the warranty claims. That is why drivers prefer this old tire for their vehicle compared to the new tires in 2023.