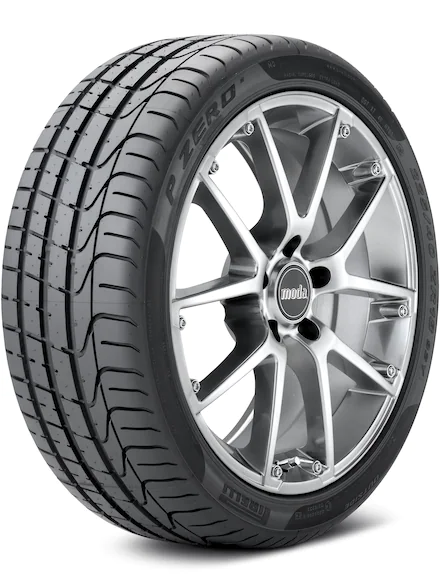 P Zero
Max-Performance Summer
Take your driving skill to the next level with this Pirelli P Zero tire. This max-performance tire will give you the joy of sporty rides in your sports cars on track, and deliver a smooth and stable ride in the street and on-road conditions.
Fuel mileage/rolling resistance
80%
---
Table of Contents
Quick highlights
| | |
| --- | --- |
| Tire type | Max Performance Summer |
| Price range | $166-$1169 |
| Run-flat | No |
| Vehicles type | Sports Coupes and Sedans |
| Driving conditions | Dry and Wet |
If you are into sports car events and racing, then you must have an idea of Pirelli P Zero series tires. The Pirelli P Zero series is famous all around the world for its sportier rides and race-winning tires. Pirelli tires have come so far in the performance tires category that no other tire manufacturer is in the race to compete with Pirelli in the max performance and track tires categories.
Similarly, this Pirelli P Zero tire is one of its kind, the tire has been there for decades and is still in demand by enthusiasts who understand sports performance. The reason behind that is its dry tracks and road performance with sportier handling response that every driver thrust to achieve with their sports vehicles.
Not only drivers, the sports car manufacturers appreciate this tire's performance, and equip this tire with their new sports car. This tire comes as an original equipment tire with sports cars like Audi R8, Maserati Murcielago, Lamborghini Quattroporte Sport GT, and many more. With that, the new seasons of Formula 1 racing are only using Pirelli P zero track tires due to the performance it delivers to win the races.
Pros
Quick acceleration and brakes in wet and dry conditions
Street and track sporty performance to bring the maximum performance of sports cars
Handling response and road feedback at the very best level
Excellent traction and grip on wet and dry roads, with fast tracks and confident cornering
Pirelli noise reduction technology to achieve smooth and comfortable ride all summer season
Cons
No treadwear warranty and a very short tread life
Risky to drive at a fast speed on standing water, moderate speed is fine on water
Not driveable at all in below 45° Fahrenheit
---
Tread design and improvements
High-performance summer tires utilize low silica content with other factors that reduce tread life but improve dry track performance. Unlikely that, this tire, the Pirelli P Zero utilizes high special silica content in a compound that improves dry traction and cornering, with temperature control, and also improves the wet traction and grip in rainy situations.
With that, the asymmetrical tread pattern features lateral and circumferential grooves, that reduce hydroplaning and improves the wet handling and grip in slippery conditions. The strong shoulder design help in achieving proper cornering, and the center rib of the tread improves handling response and even wear at high speed as well.
Durability and road life
Summer performance tires are known to have the least durability on treadwear due to their slick design and soft compound in the tire, which is very crucial for sportier rides on dry tracks. Similarly, this tire has short treadwear life, which could hardly reach 15-20K miles. So if you are after durability, this category is not where you should look for tires
The price of this tire is quite high considering the miles it covers, however, the purpose of max-performance tires is to deliver performance with somewhat comfort and durability. And this tire is known to have the best steering response which is the most important factor of sportier rides. Although durability is not so good for this tire, however, compared to other max-performance tires, this tire is one of the most durable in this category.
Specifications & Features
| | |
| --- | --- |
| Speed rating | V-Y(149-186)MPH |
| Load Index | 84(1102 lbs) – 113(2535 lbs) |
| Manufactured in | Germany, Italy, the UK, the US |
| Wheel diameter | 17-22" |
| Ply rating | 4 ply rated |
| Treadwear, Traction, Temperature | 300, AA, A |
| Noise Reduction | Yes |
The most important thing about summer performance tires is their speed rating, and nowadays, the max any trie can roll at is 186 miles per hour. If the max performance tires are lower than that, the tire won't fulfill the desire of track drivers. Considering that, this Pirelli P Zero comes in the Y variant which can rhea the max speed of any car. With availability in 17 inches to 22 inches tires, any large wheel driver can also use this tire.
Performance of Pirelli P Zero
Dry Track and Roads
The dry conditions are where this Pirelli P Zero tire shines. It handles the dry road and track situation properly without disturbing the driver. The traction and grip on summer seasons are on point. Along with that, on fast track turn, the tire locks on cornering to achieve fast pace confident cornering control for safe and secure track rides.
Wet Tracks and Roads
Due to the high silica content in a compound, the tire is able to handle wet conditions properly. Along with that, the tread grooves play an important role when it comes to confident traction and grip in wet conditions. With that, unlike other max performance tires, this tire can resist hydroplaning for safe fast rides on standing water.
Brakes & Acceleration
Quick acceleration and brakes are very important with max-performance tires. And this tire is right on the mark when it comes to these factors. The tire delivers shorter brakes on wet and dry tracks and street roads, along with that, the quick acceleration makes it a proper tire to win races with.
Handling & Comfort
Although the tire has noise reduction technology, however when it comes to comfort the tire is not as comfortable. Low noise is not equal to comfort, and compared to grand touring comfort, this tire is far low on comfort. However, the handling response of this tire compared to touring tires handling, is far better, and that is the reason why drivers compromise comfort for achieving that sporty handling and road feedback.
Comparison with Pirelli P Zero Nero GT
Both of the Pirelli Max performance tires and both of them are good for certain drivers. The Pirelli P Zero Nero GT is an improved version of the tire for only a few tire sizes. This tire comes in only three tire sizes for very special sports cars. And if the tire size is available for your car, and your vehicle is low profile, then this tire will be a better option compared to Pirelli P Zero.
The reason behind that is Pirelli P Zero Nero GT provides better tracks and street performance, with a better steering response, and cornering on faster tracks. Durability might be lower with P Zero Nero GT, but performance in wet conditions is also greater with this Pirelli P Zero Nero GT. however due to softer sidewalls, this tire is not great for heavy vehicles, for that, Pirelli P Zero is a better option.
When Pirelli P Zero Is Not Prefered
Pirelli P Zero is not preferred for any drivers looking for an affordable and durable tire option. This tire won't only dissatisfy you with durability, and it might cost you more than other far more durable tires. Other than that, if you are looking for a comfortable and quiet ride, then again this tire is not the right option for your car.
This tire should only be bought by those drivers who are looking for spirited driving on tracks and streets, it will satisfy the sportier drivers, however, for any other person, this tire will be a great disappointment. If you want comfortable tires and durable tires, then look for touring tires in the summer or all-season tires category.
Final words
Pirelli P Zero is one of the most popular max-performance tires, that has been in the market for more than a decade. Its sporty rides are something that brings sports car drivers to buy this tire again and again. The tire is good for fast tracks, street, and on-road dry and wet conditions. To achieve this spirited performance, you will have to compromise a little on comfort and a lot more on treadwear's short life, so keep that in mind before making your decision.