Last updated on April 19th, 2023 at 01:34 am
P Zero Winter
Performance Winter Tire
Get a performance of summer tracks with your premium cars in winter conditions with this Pirelli P Zero Winter tire. It delivers extreme performance on snow with maximum grip and traction even at a fast speed on winter terrains.
---
Table of Contents
Quick highlights
| | |
| --- | --- |
| Tire type | Performance winter tire |
| Price range | $228-$862 |
| Run-flat | Yes |
| Vehicles type | Performance, Sedans, Coupes, and SUVs |
| Driving conditions | Dry, wet, and snow |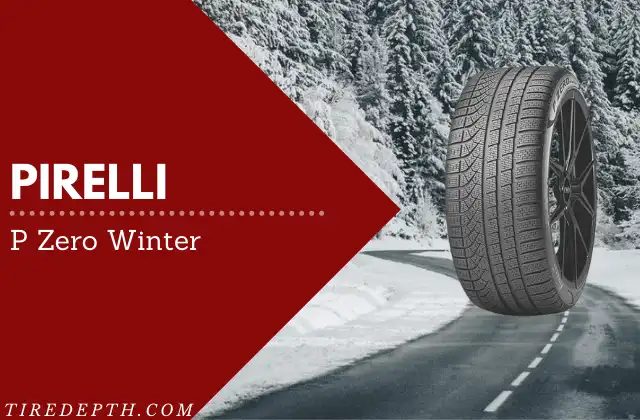 ---
Pirelli P Zero Winter is a high-performance winter tire that utilizes the same technology as Pirelli p zero max performance summer tires. It means that this winter tire will deliver the performance on snow as you get with the max performance tires on summer tracks.
The tire is a new development of Pirelli in the winter tires category, due to its performance on snow, wet and dry roads, the tire is perfect to drive with your performance cars. These are some of the reasons why this tire is so expensive, first because it is a new tire, and second it delivers high-performance rides on winter and snow terrains that you can not find with any other winter tires.
Although this tire is a studless tire, it is perfect for a high level of snow smooth rides. The tire is also available in a run-on-flat version, so if you want a little more reliability, then that would be a better option for you. Both of these versions are quite similar in performance and provide high performance in winter terrains. 
---
Tread design and improvements
The Pirelli p Zero winter comes with a winter performance-tuned tread compound which comes in an asymmetric pattern. The tire features stiffer central blocks for improving stability and handling on snow. The internal and external shoulders of the tire feature high sipe density and high stiffness for confident traction, grip, and cornering in winter and dry conditions of the road. 
For wet and slippery conditions, the tire features longitudinal and crossed grooves to channel the water and snow away from the tire for better gripping and performance on snow. All of that comes with a durable tread, that keeps your performance car running in the wild of the snow.
Durability and road life
Like most performance winter tires, this tire is also not backed by any warranty. It is common that performance tires have low tread life, because of the conditions they have to drive in and the performance they provide. 
This Pirelli P Zero Winter tire is expected to give you a confident and high-performance ride for at least 20k miles, however, it sometimes depends on the conditions of the terrain. Usually, performance tires are not bought for their durability, but for their high performance and handling response that you can not find in any other tire category. 
Specifications & Features
This Italian-manufactured tire comes in a range of 19 inches to 22 inches. It is also equipped as an OEM tire with cars like Audi, McLaren, and Mercedes.  The tire comes in a speed range from V to W with a weight indexing of 90 to 108. So if you want to carry weight on snow terrains, then this tire is also a good option for you.  
Besides its gripping and traction on snow, the tire is perfect for achieving smooth and safe rides in winter and dry seasons. The brakes of this tire are excellent with speed acceleration which is why you can properly enjoy your rides in the winter season just like on summer tracks.
Comparison with Michelin Pilot Alpin PA4
Michelin Pilot Alpin PA4 is one of the most common tires in the winter performance category, however, due to its old technology, the tire is not so suitable in 2023. Besides that, the tire is still famous, due to its durable treadwear with a 30k miles warranty, which Pirelli P Zero Winter lacks. Another competitive point that Michelin Tire provides is its low rolling resistance, which means it is more affordable to cover your rides. 
On the other hand, Pirelli's tire is more focused on performance, which means it has better handling, cornering, and better performance in winter compared to Michelin's tire. With that, the Pirelli tire is better when it comes to quick brakes and acceleration with more weight-carrying ability, which means you will get more satisfied with Pirelli P Zero Winter if you are looking for a performance-oriented tire. Similarly, if you are looking for a more durable and comfortable performance tire, then Michelin Pilot Alpin PA 4 would be a better choice
Performance of Pirelli P Zero Winter
Dry Performance
Although the Pirelli P Zero Winter is a winter terrain tire, it is good on dry terrains as well. It won't be a good thing to drive it always on summer tracks, due to the lack of a cooling system in the rubber compound. However, you can casually drive it in the dry season and you won't get disappointed with its performance even on dry tracks. The tire will provide smooth cornering and traction without losing contact with the ground.
Wet & Snow Performance
Due to the longitudinal and crossed grooves, the tire performs very well in slippery conditions. Whether it is wet snow conditions or wet rainy roads, the tire locks with the ground while braking and provides confident traction and grip. Along with that, the tire contacts the ground evenly for proper handling and brakes so you can enjoy a high-performance ride on snow terrains and wet conditions of the road. With quick acceleration and brakes, you can confidently achieve the max performance of your vehicle.
Handling & Brakes
Due to the center tread blocks, the tire provides a stable ride all year round. The tire also has a similar steering response as you can find in the Pirelli P Zero summer tires. With a proper grip on steering, the handling of this tire gives a full grip on winter terrains. Along with that, the tire has very quick brakes, which is very necessary if you are driving in rough conditions of the winter to get a safe and confident ride.
Final words
The Pirelli P Zero Winter is an excellent tire for performance car drivers who are looking for summertime rides in the winter season. The tire provides excellent traction, grip, and cornering without losing the steering grip and contacts evenly with the ground. Due to its asymmetrical tread design, it also performs well in dry conditions. So if you are someone who wants maximum performance on snow too, then this tire will be the right choice for your performance sedans, coupes, and SUVs.