Last updated on May 10th, 2023 at 05:41 pm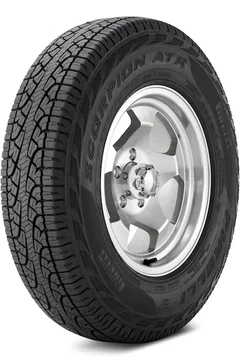 Scorpion ATR
All-terrain tire
Get an all-terrain comfortable ride in your SUVs, crossovers, and light truck with this Pirelli Scorpion ATR tire in all-season driving. With enhanced technology and tread design, it can handle any road and weather conditions while providing smooth handling and brakes to your vehicle.
On-Road traction/Grip
90%
Off-Road Traction/Grip
95%
---
Table of Contents
Pirelli Scorpion ATR quick highlights
| | |
| --- | --- |
| Tire category | Performance tire |
| Price range | $162-$226 |
| Ply rating | 4–6 ply |
| Run-flat tire | No |
| Terrain support | All-terrain and All-season |
As we all know, Pirelli is one of the most popular and oldest tire manufacturers in the industry. From the F1 racing cars to the sedans and crossovers, they manufactured tires for every passenger vehicle available in the industry. This Pirelli Scorpion ATR tire is a one-man show for any road conditions whether you drive it on roads or off roads, it will continuously provide a comfortable drive for a more extended period. With advanced technology and sound engineering of the treads. It provides excellent traction and grip in all-season conditions. while also performing excellently in severe snow and mud conditions. 
---
Pirelli Scorpion ATR Features
The good thing about buying Pirelli Scorpion ATR is that you don't need to change your car's tires when the season changes. Also, suppose you ever wanted to hit the off-road situation. In that case, whether it's snow or mud terrain, you can quickly drive through the harshest conditions of off-terrain. It is all possible due to the symmetrical tread design and wide shoulder blocks that work exceptionally in any road condition. Instead of keeping two sets of tires, one for all seasons and the other for off-road, you can enjoy your comfortable ride with this Pirelli tire.  
basic characteristics of Pirelli Scorpion ATR
The internal structure of a tire makes it a stronger and more durable tire. That is why big tire brands keep focusing on the internal design of the tire. This Pirelli Scorpion ATR includes twin steel belts and a spirally-wrapped nylon cap that controls the tread area and protects it from uneven wear-off. Also, it improves the handling, speed, and brakes of the cars for better all-year-round performance. The performance tire with strong sidewalls and shoulders along with an innovative tread design that all people demand when looking for a comfortable and durable tire in the market. 
Tread pattern and design
Another critical factor of tire performance is tread patterns and designs because this is the only differential point separating each tire category. Well-written treads often perform better and improve tire treadwear for long-term performance.
The Pirelli Scorpion ATR has a premium quality tread block that provides all-season traction and all-terrain grip without compromising on tread life. Virtual center ribs and large shoulder blocks bring the best handling and stability in any road condition with a comfortable drive. The circumferential grooves and lateral shoulder grooves channel the water for hydroplaning resistance in wet conditions. With extra traction and grip in snow and mud terrains due to the extra biting edges provided by central tread blocks. 
Assurance and warranty
Nowadays, the treadwear warranty offered by premium brands is rising like the Fortune 500 stocks price. To compete with these brands, the warranty of the tires really makes the difference. Pirelli offered a 50000 miles tread warranty with this Scorpion ATR tire. This number of miles is more than enough for performance tires that can ride in any road condition. Also, the name of Pirelli is no less than some sort of assurance. Due to their reliability and customer care, many customers don't even notice the warranty before buying their tires. 
Pirelli Scorpion ATR Specification
The speed ratings, load index, and some other stuff matter a lot for some customers if they have specific requirements related to the specifications of the tires. All of these specifications are rated after the tests prepared by automotive departments and the government of the United States to rank each tire on a particular rank based on its performance. Pirelli Scorpion ATR has a speed rating of T-H and a loads index of 109-129 depending on the size of the tire. It is a 4-6 ply-rated tire with an SL-C1 load range. You can find more information related to the tire's diameter and other specifications on the product page.  
Pirelli Scorpion ATR Performance
The beauty of hybrid tires is that they can ride in any road condition without minding the weather and terrain of the roads. Similarly, Scorpian ATR gives an extraordinary performance in all-season and all-terrain by providing a comfortable, smooth, and quiet ride.
The symmetrical tread design performs excellently in wet and dry conditions, either on highways or country. You will get smooth handling, brakes, and brakes in these conditions without getting heated up in the hot conditions. Also, it provides hydroplaning resistance on wet roads with the help of grooves channels.
If we talk about all-terrain rides, it also outclasses in those conditions too. With independent tread blocks and extra biting edges. It provides excellent grip in mud terrain and the ability to dive deep into the snow to make the path for the tire for better handling and comfortable driving in off-road conditions.
When It Is Not Good
If you like this tire so much, then there is nothing that harsh about this tire that would change your mind. Still, we would recommend that if the driver faces specific environments and terrains in the all-year drive; then they should prefer a specific season or terrain tire. If you don't hit off-road as often you should look for all-season tires. Because they will give better performance on roads with more durability and at a lower price.
Also, if you drive only in snow or mud terrains then you should be looking for snow or mud tires. The reason for that is that they were built just to serve the purpose of these terrains' performance. But, if you are impressed with this Pirelli tire, you can grab it in any road condition with no worries.   
Final words
It is good to have a tire that can perform in any road condition weather. If it's bad weather or harsh terrain, you will be guaranteed to drive through there without hurting your tire or its treads. Also, if the tire is made by that known brand, there is no doubt about its reliability and durability. That is why we recommend this tire to most of our readers looking for hybrid performance for all seasons and all-terrain. 
That is it from our side. Now it is your turn to contribute and share your experience if any one of you is using this tire in their cars. That will be helpful for other buyers. Also, if you have any queries related to this Pirelli tire, then you can leave them in the comment section we read and answer comments daily.