Last updated on March 14th, 2023 at 01:10 pm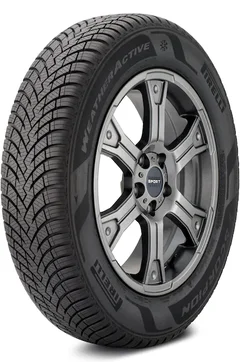 Scorpion WeatherActive
Touring all-weather tire
Pirelli all-weather tire for summer, spring, fall, and winter seasons. This Pirelli Scorpion WeatherActive tire is good for north American drivers who want relief from changing tires every season. With this tire, the weather is not a problem anymore.
---
Quick highlights
| | |
| --- | --- |
| Tire type | All Weather Tire |
| Price range | $236-$323 |
| Run-flat | No |
| Vehicles type | CUVs, SUVs, and Light trucks |
| Driving conditions | Dry, wet, and snow |
On August 2022 Pirelli introduces new tires in all Weather categories. The Weatheractive tire comes in Scorpion and Cinturato versions, one is for SUVs and other big cars, and the other one is for small sedans and passenger cars. After the great success of Scorpion AS plus 3 in all-season conditions, they introduce a tire for all-weather drivers looking for better performance even in harsh snow conditions.
This tire is a somewhat improved version of the previous touring all-season tires of Pirelli. As it is common that all-weather tires are not as great in dry conditions, breaking these myths this Pirelli tire is excellent in dry as well. With the directional pattern, the tire is also great for wet and slippery conditions of the road.
The 3PMSF symbol assures that, this new tire will be a great experience on heavy snow roads. The Pirelli's advanced technology and innovative tread design are also reliable enough to bring joy back on road. With this tire, you can make sure that no matter which condition the terrain brings, you can carry on with your ride all year round.
---
Tread design and compound
The new tread design and innovation are very important to bring a new look and improved performance in new tires. This Pirelli Scorpion weatherActive tire comes with a directional tread pattern and two-ply casing for strength and support. 
The tread pattern has zigzag central grooves and lateral grooves for smooth performance in wet conditions without breaking the performance on dry terrains. The sipes on the shoulder and tread block allow the tire to achieve a quiet and comfortable ride with responsive handling and brakes in all weather conditions. The extra biting edges improve the gripping ability of the tire on heavy snowfalls.
Durability and road life
This Pirelli tire comes with a 60k miles treadwear warranty. Although most of the touring all-season tires that are coming nowadays offer around 80k miles warranty, however, they are not as supportive on snow as these all-weather tires are. After some driving tests and inspections, it comes out that this tire is more responsive to high snow conditions, which is why these new tires from Pirelli are considered as one tire solution for all your weather and season driving requirements.
Specification and features
| | |
| --- | --- |
| Speed rating | H-Y (130-186) |
| Load Index | 106(2094 lbs) – 111(2601 lbs) |
| Origin of | Mexico |
| Wheel diameter | 18-22" |
| Internal ply | 2 Ply polyester and steel cord |
| Treadwear rating | 700 |
| Traction & Temperature | A A |
| Noise reduction | Yes |
Performance metrics
Dry Conditions
Usually, all-weather tires have low performance on dry roads and better performance on snow compared to all-season tires. With this, the issue is not as huge, thisPirelli scorpion WeatherActive tire delivers great performance on dry terrains along with far better performance on other all-weather conditions. It gives superb grip and traction in summer, however, the handling is not as good as summer terrain tires. 
Wet Conditions
With tread design and two different types of grooves channels the water and ice from the tire, which is one of the reasons this tire performs extremely well in wet conditions. The tire grip very well in rain, while resisting hydroplaning and ensuring a quiet, comfortable and safe ride all year round. Again the handling response is not that great, especially on fast tracks.
Winter/Snow Conditions
Deep sipes and biting edges on tread blocks allow this tire to create a path on high snow terrains. With the help of a tread pattern, the tire grips well on snow while providing a stable ride in the winter season. It provides excellent traction and grip while providing a quiet and comfortable ride in any weather conditions on the road. 
Compared to Pirelli Scorpion AS plus 3, this WeatherActive series is not reliable enough. Especially in these initial stages. Scorpion AS Plus 3 has been great and it is one the best tire of this decade in all-season conditions. Also, that tire has more durable treadwear, more miles guaranteed and comes at a lower rate and wider range compared to Pirelli Scorpion WeatherActive tires. 
However, when it comes to performance, both of these tires are quite similar. Pirelli scorpion WeatherActive has better snow performance compared to this, so Plus 3 has better dry performance and more comfort with better handling. Besides all these things, Pirelli Scorpion AS Plus 3 is a more tested and highly reviewed tire and not as old tire while WeatherActive has not yet been reviewed or driven by customers for long. So we would recommend Scorpion AS Plus 3 over Scorpion WeatherActive. However, if you have to drive more often in harsh snow conditions, then you can give Weatheractive a try, which will be great for you because the short-term driving result at our end was great. 
Who Should Not Buy This Tire
If you often drive off terrain or on a specific terrain, then this tire might not be a great fit for your car. Off terrains like mud terrains and winter terrains require wider and strong tires to handle the harshness of the terrains, which this Pirelli scorpion WeatherActive tire could not provide. Similarly, if you are a track driver of summer tracks, then this tire would work for you but for maximum performance, there are better options like Pilot Sport and P Zero.
This tire is especially for those drivers who are looking for all-season tires that also handle somewhat bad conditions of the snow. And no doubt this tire is reasonably great for those drivers so that they get rid of changing tires with the season.
Final words
The Pirelli Scorpion WeatherActive tire is superb for the drivers of SUVs who have to change their tires every time the winter changes. With these tires, they can achieve any weather comfortable ride with durable treadwear that will last for many years. Not only that, but with its quiet tread, you can have a smooth ride in all weather conditions with your luxury vehicle as well. In our opinion, the tire is a good fit for everyone who wants a stable and smooth ride all year round.