Last updated on August 7th, 2023 at 11:03 am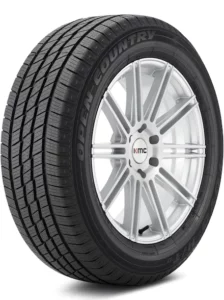 Open Country HT-D
All-season Tire
The Toyo Open Country HT-D is a highway touring tire, which is only available in one size for pickup and light trucks. It is an excellent tire for drivers looking for high-load performance and durable tread both on and off roads.
---
Table of Contents
Quick highlights
| | |
| --- | --- |
| Tire type | Highway Touring All-Season |
| Price range | $233 |
| Tread Warranty | None |
| Run-flat | No |
| Vehicles type | Pickup and Light Trucks |
| Driving conditions | Dry, Wet, and Snow |
Toyo Tires have been doing great in the industry due to their quality tires at low rates. This is the reason why Toyo is becoming a car manufacturer's favorite and the reason for OEM tires in new cars.
The Toyo Open Country HT-D is an OEM tire that comes with pickup and light trucks nowadays. As different truck drivers required on and off-road performance with heavy load drive, this tire has all of these things.
This tire can carry heavy weights without impacting tread durability. With that, the performance on different roads is great as well, which makes it a perfect all-season tire.
The grip and response in dry and wet conditions with this tire are great, it never loses control, even though at a high pace, it might feel like a little unbalance tire, but at normal speed with weight, this tire is a great companion to your fleet.
With on-road, all season, this tire is capable to handle off-road and snow terrain situations. It is an overall versatile tire that can control different situations and conditions while carrying weight and maintaining uniform wear.
To learn all about Open Country HT-D's real-world performance and comparison with other top tires, keep reading this review to get more insight on this tire.
Pros
Stable ride in off-road and on-road conditions
High load carrying tire for pickup trucks
Low tread noise for a peaceful experience
Confident handling response all year
Reliable and confident performance in off-terrains as well.
Cons
Lose performance in wet and rainy situations
Uncomfortable rides
No treadwear warranty
---
Tread design and improvements
The high-quality compound features a symmetrical pattern with separate tread blocks for proper contact, stability, and uniform wear.
Open shoulders, circumferential grooves, and lateral notches channels the water and ice for hydroplaning resistance in wet conditions.
Intermediate tread ribs feature zigzag sipes to achieve proper traction and grip in wet and winter terrains.
Center tread rib increases on-road dry and wet grip with off-road confident handling and response while maintaining treadwear level.
Specifications & Features
| | |
| --- | --- |
| Speed rating | H (130)MPH |
| Load Index | 113(2535 lbs) |
| Manufactured in | United States |
| Wheel diameter | 15-20" |
| Ply rating | 4 ply rated |
| Treadwear, Traction, Temperature | 300, A, A |
| Noise Reduction | No |
The reader might be concerned about this tire's low treadwear rating but there is nothing to be worried about because it is as durable tire as other high-rated treadwear tires.
The 4-ply rating is also not great compared to the 10-ply rated tires that Cooper and Michelin tires. As there is only one variant and one size of this tire is available, if your preferences can not match, then it is better to choose another tire.
Performance of Toyo Open Country HT-D
Rain Performance
In rain and storms the tire provides ok drive, it is not as great as other touring tires. The tire sometimes at fast speed loses traction and grip while always being uncomfortable.
The response was also not secure and it can be dangerous going above 70MPH in wet conditions. Although hydroplaning resisting was fine, it still sometimes feels like this Open Country HT-D tire is lacking something.
At normal speed everything was great except comfort, the tire is capable of handling wet conditions properly as long as you go slow.
Overall this tire lacks in wet conditions, the bad handling is the most annoying and unsafe thing about this tire. So make sure if you are driving this tire, go at below 50 speed.
Light Snow, Deep Snow, and Ice
Snow terrains are also slippery and this tire also struggles a bit in these situations as well. The tire loses control at a fast pace, and the same lack of responsiveness and unstable driving experience.
As long as the snow is not deep, the tire grips properly in light snow conditions. The response was good as well. However, as the snow gets deeper the response grip and comfort all goes with it.
Especially if the speed is above 50MPH. Similarly, on melting and freezing ice the tire performs badly.
So if you have to tackle winter conditions for more than 2-3 months, this tire won't do a good job with your vehicle, because there is no chance of towing in winter terrains.
Durability and Treadwear
This tire has a 300 treadwear rating which is way below the average highway touring tires come with, however, it is better than other highway tires, which did not even get ratings.
No matter what rating this tire has, it is a durable tire for at least achieving more than 50K miles. With proper care and not driving too much in extreme conditions, this tire can go above 80K miles.
The new tire we drove was great with or without weight, but we can not tell how long it will last because we just use it for testing.
However, the drivers who have experienced this tire might not be satisfied with this tire's snow performance, however, they will not say anything bad about this tire's durability.
So if you are looking for a durable and affordable tire, then this Cooper tire can be a great option for you.
Dry City Streets and Highways
On dry city roads and paved highways, the tire is a proper thing to take a drive with. The grip, traction, cornering, brakes, and response all was great.
However, the tire is not as great as touring tires when it comes to balance and stable rides. It shakes sometimes especially if the speed is high on highways.
Other than that, it is a little less comfortable tire as well. Even though it is a durable and affordable option but compared to other options like Kumho and General, this tire does not perform as great as theirs.
This tire delivers average performance overall in on-road conditions, but because of its durable tread and high load indexing, this tire is still not a bad option in 2023.
Mud Terrain Conditions
Surprisingly, this tire is a great tire for mud terrain conditions compared to other highway tires. It performs better in muddy conditions than top tires in this category.
The comfort and stability were low as usual, however, the grip, traction, and response were far better in the harsh mud conditions.
Unlike other tires, the tire did not lose control once in wet mud, and sandy situations. Even though the performance was not as great as all-terrain tires but it was still great considering it is an all-season tire.
Comparison with Continental TerrainContact HT
| | |
| --- | --- |
| Dry Conditions | Continental TerrainContact HT |
| Steering Response & Feedback | 2.25% |
| Cornering Stability on Curves | 4.55% |
| Dry Traction & Grip | 2.17% |
| Results | 8.97% |
| | |
| Wet Conditions | |
| Wet Traction & Grip | 10.71% |
| Hydroplaning resistence | 9.52% |
| Results | 20.24% |
| | |
| Off-Road Performance | |
| Dirt Performacne | -3.45% |
| Mud Terrains | -1.27% |
| Gravel Roads | 1.22% |
| Results | -3.49% |
| | |
| Winter Conditions | |
| Deep Snow Traction | -1.20% |
| Light Snow Traction | 3.61% |
| Thick Ice Traction | -3.61% |
| Results | -1.20% |
| | |
| Ride Quality | |
| Cabin Comfort | 7.14% |
| Road Noise | 4.60% |
| Results | 11.74% |
| | |
| 245/75R16 (111T) | |
| Price | 5.41% |
The results are based on test results and subjective views, it could differ based on different cars, conditions, and driver's preferences.
Continental TerainContact HT is among the top tires in this category and compared to Toyo Open Country HT-D, it is a more preferred one as well.
As the test result show, this Continental tire is better on roads, and there is a very low difference in off-road conditions as well. The price difference is also not so huge.
With that, the continental tire compared to Open Country HT-D is more comfortable and comes with a higher treadwear warranty and rating.
That is why we recommend Continental over this Toyo tire for dealing with any road conditions, however, you should make up your own mind based on your preference and style of driving.
Final word
The Toyo Open Country HT-D is a highway touring all-season tire made for commercial uses as well due to its high load indexing. The tire achieves proper performance in on-road and off-road situations, however, it struggles with slippery conditions of wet and snow. With its durable tread, you can drive through the country with a heavy load without impacting too much on treadwear. As it comes in only one size, so if it matches your car, then this tire will be a great choice for your vehicle in 2023.