Last updated on May 30th, 2023 at 12:41 pm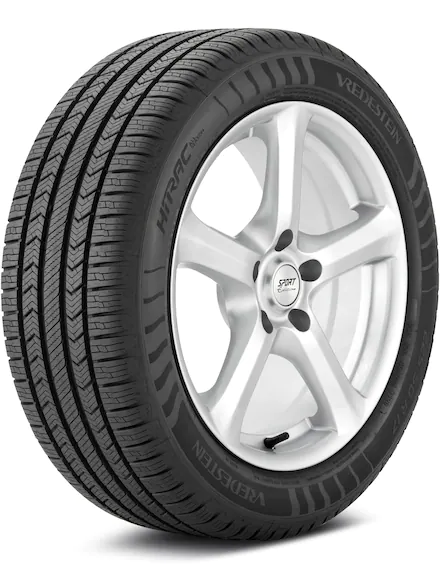 HiTrac All-Season
All-season Tire
Changing weather won't bother you anymore with this Vredestein HiTrac All-Season tire. It is a tire made for sedans and SUVs which provides confident rides in dry, wet, and light snow conditions. With all this, a comfortable ride and durable treadwear make this tire more worthy of buying.
Handling & Road Feedback
80%
---
Table of Contents
Quick highlights
| | |
| --- | --- |
| Tire type | Grand Touring All-Season Tire |
| Price range | $109-$221 |
| Tread Warranty | 70000 Miles |
| Run-flat | No |
| Vehicles type | Coupes, Sedans, and SUVs |
| Driving conditions | Dry, Wet, and Snow |
Vredestein Hitrac All-Season is another impressive tire produced by Vredestein Tires. You might not have heard about this tire brand too much, however, they have been in the tire market for many years. Vredestein Tires started operating more than 100 years ago and manufactured its first tire in 1909, the dutch company has expanded its operations worldwide in this century.
Just like Vredestein HiTrac All-Season Tire, they have high-quality tires in each category like Vredestein quaTrac Pro and Vredestein WintRac Pro which compete with premium brand tires.
This tire is also one of the top tires in grand touring all-season tires, not because it has a lower price, but due to its performance, comfort, and durable treadwear that satisfies customers for the money they spend on this tire. 
It is great in dry roads, wet conditions, and even light snow conditions. If you want to achieve all these things and want to save some money on touring tires, then this tire will be the best option for your sedans, crossovers, and SUVs in 2023.
Pros
Excellent tire to achieve comfortable all-season rides on pavements, gravel, and pitted roads
Durable treadwear for driving in all seasons for longer periods.
Confident traction, grip, and cornering in dry and wet conditions
Proper performance in light snow conditions, however not so great in an extreme situation
Quick brakes and stable rides for a safe driving experience all year round.
Cons
Wear off earlier than the warranty period especially if driven in extreme conditions
Not the quietest tire in all season
The absence of a 3PMSF certificate can be seen in deep snow conditions.
---
Tread design and improvements
The all-season compound features a symmetrical pattern with individual tread blocks for versatility in changing conditions and stable handling on highways and fast tracks.
3D Sipes on the center tread rib provide extra biting edges on winter terrains for proper rides, with confident traction and grip in wet and snow conditions.
Pitched sequencing with optimized tread blocks aid in even contact for uniform wear while reducing cabin noise and improving comfort on the road.
Open shoulder blocks feature lateral grooves which with the aid of wide circumferential grooves channel the water, slash, and ice for proper traction and grip in wet and wintery conditions. Also, they help in resisting hydroplaning on standing water in rain or wet roads.
Specifications & Features
| | |
| --- | --- |
| Speed rating | H-V(130-149)MPH |
| Load Index | 84(1102 lbs) – 117(2833 lbs) |
| Manufactured in | Hungary |
| Wheel diameter | 15-20" |
| Ply rating | 4 ply rated |
| Treadwear, Traction, Temperature | 700, A, A |
| Noise Reduction | Sequencing pitch |
The load index and speed rating of this tire are great, it can drive at high speed while carrying heavy weight. The tire variant that comes in big sizes has a high load index because SUV drivers usually carry a heavy load over their vehicles.
This Hungarian tire has fine treadwear and other UTQG ratings, with a 700 treadwear rating it assures that the tire will run for many miles. Similarly, the temperature and Traction rating also identifies its performance in changing conditions while delivering proper traction.
As this tire is not equipped with any internal noise reduction technology, pitch sequencing helps in reducing noise, however, it does not make a massive difference while competing with Michelin noiseless tires. 
Performance of Vredestein HiTrac All-Season
Dry Roads and pavements
The tire grips properly on dry roads while providing confident traction and cornering on turns and fast roads. It is also a joy to drive on dry roads due to responsive handling and brakes.
With dry roads, the performance on paved highways and gravels is good as well. The tire grips well in these conditions and provides a safe ride on fast highways as well. It is a perfect tire to drive on pitted roads to achieve comfortable rides in all seasons.
Although the tire is noisy in dry conditions, it does not matter if there is a comfortable cabin experience, however, if you have an electric or hybrid vehicle then this tire might annoy you.
Overall the tire is one of the best grand touring tires to drive on dry roads, due to its stable and confident rides on dry roads and pavements, however, on tracks it might not be the vice choice to drive with it.
Wet and Rain Experience
The performance in wet conditions is somewhat similar to dry road conditions, the grip, traction, and comfortable rides are all there as well in wet and rainy situations.
The sipes and shoulder blocks also aid in hydroplaning resistance which makes the driving experience safer and more enjoyable especially in standing water.
With that, the tire is good at high speed as well, we drove above 100 miles in heavy rain, and it performs really well in these situations, just in turn, it loses grip, which is why we have to slow down a little bit on curved roads.
Overall this is a great all-season tire that works smoothly in dry and wet road conditions, and due to its good temperature rating, it maintains tread temperature and does not wear off easily in changing situation, and keep providing reliable performance all year round.
Light Snow, Deep Snow, and Ice
On light snow, like after a snowfall or when the temperature starts to get normal, in this situation, the tire is great to take a ride with. It will be great for drivers who face a minimal winter in their town in a year.
The tire provides extra biting edges on snow terrains to adapt well to snow and provide a confident grip on light snow terrains.
Other than that, on deep snow and harsh winter terrains, this tire might not be the wise choice to take a ride with, because it is not a 3PMSF tire, which is only attained if the tire is driveable at harsh winter terrains, and secondly, it will wear off earlier than its warranty on extreme winter terrains.
Similarly, on ice, where the temperature is below 20 Fahrenheit, the tire is not a good option to drive. Because it will lose grip at a low pace and provide very untidy performance while wearing off unevenly. That is why if you want a tire for winter terrains, go with the grand touring tires that come with 3PMSF.
Durability and road life
On paper it is a durable tire, however, we noticed that it wears off very early even when the driving is not so extreme. Also, many buyers have similar problems with this tire.
The tire is backed by a 70K miles treadwear warranty which is great for any all-season tire, however, the tire must at least reach near that number, this tire sometimes, wear off below 50K miles, and sometimes near 35-40K miles ride.
For sure, the treadwear depends on the driving conditions and manners, people who drive in the same situations and conditions with other grand touring tires, achieve far fewer miles with this tire.
With timely rotation and care you can increase its treadwear life, but it will hardly be the case when you achieve a similar performance after 40K miles with this tire.
Comfort and Responsiveness
This is a comfortable tire to drive in dry, wet, and light snow conditions. The cabin vibration is very low and the stable ride also improves the all-season driving experience.
However, when it comes to sound and tread noise, this tire fails at these things. It makes continuous noise even at normal paces, which annoys the driver because grand touring tires are made for quiet and comfortable rides.
Similarly, the handling response is fair with this tire. It is not as great as performance tires and not as bad as winter tires. The tire provides on-road feedback, and due to its smoother sidewalls, the driving experience is great, however, the steering feel is not as great as max performance tires.
Comparison with BFGoodrich Advantage Control
| | |
| --- | --- |
| Dry Conditions | BFGoodRich Advantage Control |
| Steering Response & Feedback | -11.11% |
| Cornering Stability on Curves | -14.81% |
| Dry Traction & Grip | 0.00% |
| Shortest Dry Brakes | -18.09% |
| Results | -44.01% |
| | |
| Wet Conditions | |
| Steering Response & Feedback | -11.11% |
| Cornering Stability on Curves | -20.90% |
| Wet Traction & Grip | -1.10% |
| Shortest Wet Brakes | -20.00% |
| Results | -53.11% |
| | |
| Winter Conditions | |
| Deep Snow Traction | 10.26% |
| Light Snow Traction | 4.65% |
| Thick Ice Traction | 14.67% |
| Results | 29.57% |
| | |
| Ride Quality | |
| Cabin Comfort | -13.79% |
| Road Noise | -14.29% |
| Results | -28.08% |
| | |
| 175/65R15 (84H) | |
| Price | 9.17% |
The results are based on test results and subjective views, it could differ based on different cars, conditions, and driver's preferences.
Both of these are grand touring all-season tires that are new and perform well in all-season dry, wet, and snow conditions. The decision to make between these two tires is quite simple based on the test results.
The BFGoodrich Advantage Control is a far better tire to drive in overall winter terrains, due to the 3PMSF certificate. It will provide more stable rides, and even driveable at harsh winter terrains. 
As it is clear in every matric other than winter terrain, the Vredestein HiTrac All-Season is a better tire to drive in all-season conditions. It provides more comfortable rides, performs well in wet conditions, and provides better traction and response in dry conditions as well.
The treadwear durability is also similar in both of these tires and as this Vredestein comes at a cheaper price, it would be a better choice for all-season rides, however, if you want to drive in winter terrains, then BFGoodrich will be a better option out of these two tires.
When Vredestein HiTrac All-Season Is Not Prefered
The Vredestein HiTrac All-Season is not a good option to drive in extreme winter terrains, so if you have planned to do that, you should not go with these tires. As mentioned above BFGoodrich will be a better choice for winter terrains.
Similarly, if you want to drive on faster tracks or achieve spirited rides, then this tire again won't be a perfect option for your vehicles. As it lacks steering response and road feedback, it won't deliver the sporty rides you can get with max-performance tires.
That is why don't go after this tire without analyzing the situation and conditions in which you will be driving your vehicle. Choose the tire based on your desire and preference to get better results in the future.
---
Final words
The Vredestein HiTrac All-Season is a great all-season tire for sedans to SUVs vehicles. It provides confident road traction and grip with comfortable rides all year round. The tire gets noisy sometimes and performs badly on extreme winter terrains, so keep these things in mind before choosing this tire. Other than that, the tire is perfect for normal everyday drivers looking for an affordable option and achieving a proper driving experience all year round.