Last updated on May 30th, 2023 at 12:46 pm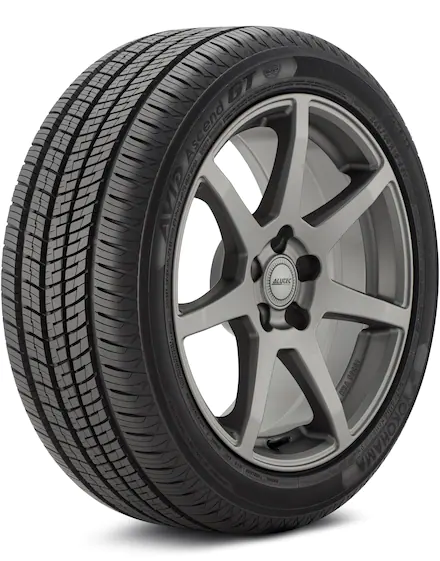 Avid Ascend GT
All-season Tire
Keep moving with this Yokohama Avid Ascend GT tire whatever weather you face. This all-season tire will deliver a comfortable ride in dry, wet, and light snow conditions, without compromising on durable treadwear, and keep running for thousands of miles on the road.
Handling & Road Feedback
80%
---
Table of Contents
Quick highlights
| | |
| --- | --- |
| Tire type | Grand Touring All-Season Tire |
| Price range | $112-$265 |
| Tread Warranty | 65000 Miles |
| Run-flat | No |
| Vehicles type | Coupes, Sedans, Crossovers, and Minivans |
| Driving conditions | Dry, Wet, and Snow |
Yokohama Tires have been in the tire industry for too long, their tires are known for high-quality performance while being cheap in price. Drivers of Yokohama tires have a clear idea that their tires are high in quality and deliver very similar performance as Michelin and Goodyear tires, which is why driver prefers these tires.
This Yokohama Avid Ascend GT is a grand touring all-season tire that is perfect for drivers of small sedans to minivan drivers. It comes at a low price range while delivering quality performance in wet and dry conditions.
It provides proper traction, grip, cornering, brakes, and stable rides all year round. It is somewhat enjoyable to drive due to its smooth steering response for proper road feedback.
With that, it is also a good tire to drive in light snow winter terrains, it provides confident traction and grip with stable rides. However, it lacks deep and extreme snow terrains which we will discuss below in detail.
All of that comes with durable tread and comfortable rides all year round. It will be a great choice for budget-oriented easy-going drivers looking for an all-season tire for smooth and stable rides all year round.
Pros
All-season tire to handle the different weather while providing reliable rides all year round
Excellent dry and wet traction due to the optimized tread blocks, that also reduce fuel mileage
Low cabin vibration due to sequencing pitch also reduces noise to some extent
Proper sidewalls, rigid shoulders, and optimized tread blocks for durable rides, which are backed by a 65K miles treadwear warranty
On light snow, it provides stable rides, and balance grip in winter terrains.
Cons
Not a 3PMSF tire, which is why it fails on deep snow
Wear off earlier than the given period, especially in extreme conditions
Not the quietest tire, continuous humming noise on roads and highways
---
Tread design and improvements
TriBlend Technology in all-season compounds enables performance in weather-changing conditions while maintaining temperature and providing a confident grip.
The asymmetrical tread pattern features individual notched tread blocks that improve traction and grip, with optimized contact area for equal wear.
Yokohama's BlueEarth symbol for environment-friendly tires, that release low gas emissions while improving fuel mileage on the road
Pitch optimizations for uniform wear and low noise and more comfortable rides in all-season conditions.
Notched shoulders with circumferential grooves for proper wet and snow traction, with hydroplaning resistance on standing water as well.
Specifications & Features
| | |
| --- | --- |
| Speed rating | H-V(130-149)MPH |
| Load Index | 82(1047 lbs) – 107(2150 lbs) |
| Manufactured in | Philippines |
| Wheel diameter | 15-20" |
| Ply rating | 4 ply rated |
| Treadwear, Traction, Temperature | 740, A, A |
| Noise Reduction | Sequencing pitch |
Usually, all-season tires come at similar speed ratings and load index with ups and downs of a few ranges. As this is a tire for passenger cars, the tire doesn't require heavy tires to carry high weight, which is why the 2150 lbs will be more than enough for even minivan drivers to carry weight over their vehicles.
Similarly, the vehicles that drive with this tire do not require max speed ratings of Y or W, 149MPH is more than enough for any highway to drive with these tires.
740 treadwear rating is also great which ensures its durability, along with proper traction and temperature ratings that provide confident traction and grip in inclement weather.
Performance of Yokohama Avid Ascend GT
Dry Roads and pavements
For dry conditions, it is a great tire. It performs well on pavements and pitted roads while providing comfortable rides as well. Most all-season tires fail when it comes to handling potholes and damaged roads, however, it is great in these situations as well.
Fast drives on highways and straight roads, it also performs well. The proper traction and grip allowed us to handle the face pace while ensuring a safe drive. However, the sound and continuous noise that comes from its tread are sometimes too much to distract from.
Other than that, the cornering was fine, not so great thought, it loses grip at fast turns and oversteer sometimes. That is why it won't be a good choice on tracks.
Similarly, the steering response is not so great as well. It is good for all seasons on road rides, and on fast tracks, it is smooth and doesn't provide soft steering, which is not enjoyable for past-performance tire drivers
Wet and Rain Experience
In wet and rainy situations, this tire is also good. It provides confident traction and grip in any wet conditions, whether it is a storm situation or heavy rain, the tire performs well in rain.
It provides stable rides, with proper traction and grip. On slow rain, you can drive through water at a faster pace without worrying about slippage, however on high-standing water, it could be dangerous.
Even though this tire delivers hydroplaning resistances and channels the water properly, still it is never a wise choice to drive all-season tires at a faster pace, because it could slip at any time, and neither did we try to test this tire at a faster pace.
Similarly to dry conditions, the steering response is not great in wet conditions, with annoying noise. Overall the tire is great in all seasons dry and wet conditions, except for the tread noise it made.
Light Snow, Deep Snow, and Ice
This is not a great tire for deep snow and driving on ice. First of all, it provides very unstable rides, with no comfort at all in these situations.
With that, it is not a safe tire to drive as well in extreme winter terrains, because it loses traction and grip in these situations. If you find it working properly in extreme winter terrains, then you will lose treadwear in a very short period and after that, it won't be able to handle the light snow terrain rides.
On light snow conditions, or on melted ice, the tire is great, but it is not the best thought still it performs its duty by providing stable rides and proper traction and grip at a slow pace.
Overall, the winter performance of this all-season tire is below average or hardly average. There is a reason why this tire did not get a 3PMSF rating, which is its low performance on winter terrains.
Durability and road life
For everyday drivers, it has durable tread wear, also for those who drive easily on stable roads. However, for someone who drives frequently on highways, or winter terrains, this tire might wear off earlier than its warranty.
Make sure you keep rotating tires as per the recommendations to avoid breaching the tread warranty. Because we see some drivers could not get warranty claims because they stop rotating tires after a few years.
This tire is backed by a 65K miles treadwear warranty which seems great, however, it might not cover that many miles and get below 2/32 tread depth. As all-season tires are known to have durable rides in different weather, that is why this tire should also be durable in different conditions of driving.
It is not a good thing to confine to one weather or road conditions, because it destroys the main reason for buying all-season tires. That is why, if you want the maximum results from treadwear life, go with Michelin or Bridgestone tires that are more durable compared to this tire.
Comfort and Responsiveness
Overall the tire is comfortable when it comes to vibration, performance on unbalanced roads, and dealing with different conditions. However, total comfort is not achievable when there is a treadwear noise, that ruins the whole experience.
The tread noise is very annoying for this tire especially if you drive on highways. It won't be a great choice with electric or hybrid vehicles.
When it comes to road feedback and responsiveness, it is fine., not as good as performance tires thought, still, it is an average tire to ride to enjoy a smooth ride on fast trucks with comfortable rides.
Comparison with Goodyear Assurance WeatherReady
| | |
| --- | --- |
| Dry Conditions | Goodyear Assurance WeatherReady |
| Steering Response & Feedback | -6.47% |
| Cornering Stability on Curves | -7.12% |
| Dry Traction & Grip | 1.08% |
| Shortest Dry Brakes | -5.52% |
| Results | -18.04% |
| | |
| Wet Conditions | |
| Steering Response & Feedback | -17.82% |
| Cornering Stability on Curves | -25.90% |
| Wet Traction & Grip | 1.11% |
| Shortest Wet Brakes | -20.68% |
| Results | -63.29% |
| | |
| Winter Conditions | |
| Deep Snow Traction | 2.44% |
| Light Snow Traction | 21.92% |
| Thick Ice Traction | 14.29% |
| Results | 38.64% |
| | |
| Ride Quality | |
| Cabin Comfort | -5.54% |
| Road Noise | -3.64% |
| Results | -9.18% |
| | |
| 175/65R15 (84H) | |
| Price | 25.00% |
The results are based on test results and subjective views, it could differ based on different cars, conditions, and driver's preferences.
Goodyear Assurance WeateherReady is another famous tire in the grand touring all-season tire category. Both of these tires are quite old and have similar on-road durability. 
As the test results suggest, the Yokohama Avid Ascend GT is a better tire to drive on wet and dry all-season conditions, due to its proper handling, brakes, and traction.
On the other hand, the Goodyear Assurance WeatherReady is a better tire to drive when it comes to winter terrains, and the reason is that it is a 3PMSF-certified tire.
As Yokohama Avid Ascend GT comes at a lower price range and provides better all-season performance, in our opinion it is a better tire to drive in all seasons. However, if you want to drive in winter terrains or want more comfortable tires, then Goodyear Tire will be a better choice for your vehicle.
When Yokohama Avid Ascend GT Is Not Prefered
As we mentioned several times, it is not so great in extreme winter terrains, then it is not a great tire to drive on snow and winter terrains.
Other than that, if the only purpose of buying an all-season tire is to achieve the most comfortable rides in all seasons, then this tire again won't be the perfect choice for your car, there are tires like Bridgestone weatherPeak and Goodyear Assurance ComfortDrive that will provide a more comfortable ride.
Also if you want a tire to only drive in wet and dry road conditions, and never visit winter terrains, then summer touring tires will be a better category to pick your tires from. They will provide more responsive rides, with more comfortable tread for a proper all-year-round drive.
---
Final words
Yokohama Avid Ascend GT is a great tire for budget-oriented drivers looking for an all-season tire that performs in light snow conditions as well. It will provide comfortable rides all year round, with confidence in traction and grip in changing weather situations. It lacks harsh winter terrains and made a sound that is not appreciated by drivers. Other than that, it is a good tire drive still in 2023 for proper rides all year round.