Last updated on June 21st, 2023 at 02:31 pm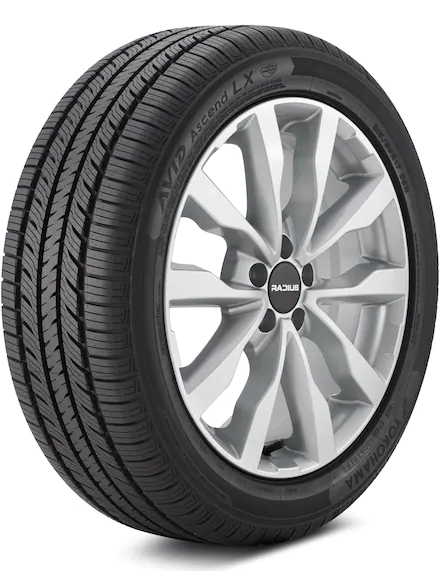 Avid Ascend LX
All-season Tire
The Yokohama Avid Ascend LX is for sedans and SUV drivers looking for comfortable all-season rides, with durability that run for many years in the weather of the USA. With the perfect ride, it saves more than 50% compared to the top touring tires price in the market.
Handling & Road Feedback
75%
---
Table of Contents
Quick highlights
| | |
| --- | --- |
| Tire type | Standard Touring All-Season Tire |
| Price range | $115-$213 |
| Tread Warranty | 85000 Miles |
| Run-flat | No |
| Vehicles type | SUVs, Sedans, Crossovers, and Minivans |
| Driving conditions | Dry, Wet, and Snow |
Some buyers chase performance, some prefer comfort, and some drivers look for the most economical tire, that runs for half a decade, and keep providing adequate performance in all seasons. And this Yokohama tire is for the latter drivers who require long-lasting performance without compromising on safety.
Yokohama tires have been in the market for a long time, and they are competing with brands like Michelin and Bridgestone, and grabbing customers who want budget-friendly tires that work similarly to premium brand tires.
And that is true this Yokohama Avid Ascend LX performs like top-tier tires. It delivers great performance in dry, wet, and light snow conditions, which is what all-season tires are made for.
With that, the durability is there for a safe and reliable ride. It is overall an impressive tire to drive in 2023, due to its high-quality performance and cheap price that is a win-win for both ends.
With all of these features and very impressive stats, there is a reason why buyers still don't go with this tire. And all of that will clarify if you read this review till the end.
Pros
BlueEarth tire for environmentally and human-friendly rides, by releasing low gas emissions, which also improves fuel efficiency
All year-round drive in inclement weather and winter terrains
Durable treadwear for city, country, highways, and different weather and road rides
Safe and secure rides are achievable by quick brake and advanced compound
Two sets of this tire price are equivalent to one set of Michelin touring tires, a huge money-saving tire
Cons
Poor wet traction and the grip feel so lousy in the rain
Soft steering is not great for spirited drivers.
---
Tread design and improvements
Yokohama L-2 All-season compound features polymer blends to improve wear performance, and delivers stable ride and even contact for smooth rides
Circumferential and lateral grooves with the help of open shoulder design channels water and ice for proper traction and grip while reducing the chances of hydroplaning on standing water
Sequenced pitching to reduce cabin noise and vibration for a quiet and comfortable ride all season
Tread notches and 3D sipes on the shoulder provide extra biting edges on light snow and deep snow terrains
Cut tread design with tread sipes and notches delivers proper grip on dry roads, and with the help of soft shoulders, somewhat smooth cornering is achievable as well.
Specifications & Features
| | |
| --- | --- |
| Speed rating | T-V(118-149)MPH |
| Load Index | 84(1102 lbs) – 104(1984 lbs) |
| Manufactured in | United States |
| Wheel diameter | 15-18" |
| Ply rating | 4 ply rated |
| Treadwear, Traction, Temperature | 800, A, A |
| Noise Reduction | Pitch sequencing |
800 treadwear rating is what excites the durability freak like me, with that, A and A ranking on traction and temperature, is all that an all-season driver ever asked for. And this Yokohama tire is right on the mark.
Durability is not the only good factor of the tire, high speed and heavy load index carrying is also achievable. As the tire is not made for light truck tires, the 104 load index is more than enough for any sedan or coupe driver.
Good specs are the direct indicators of tire performance, however, making your decision based only on tire specs might not be most helpful. Further in this review, we will explain how these specs align with the real-world performance of this tire.
Performance of Yokohama Avid Ascend LX
Dry City Roads, Pitted Roads, and Pavements
Moving on from basic tire information, let's talk about how this tire really performs in different situations.
Let's talk about dry and hot weather, where most drivers spend most of their time driving, all-season tire that performs poorly in dry conditions does not deserve to be called an all-season tire.
Unlikely to that, this tire is great in dry road conditions, traction, grip, and cornering all are achievable on dry city roads and highways, with the response and quick brakes as well.
On pitted roads or on potholes, comfort is necessary, but with tires, you should have good suspensions installed in your vehicles as well. This tire was very comfortable on unbalanced roads, the steering did not go off in extreme situations as well.
On dry tracks, we would not recommend these tires, one because they are not made for fast tracks, and second, they won't be safe to exit turn at a fast pace, because of non sporty sidewalls that might lose traction on turns.
Overall in most dry road situations, this tire is great, satisfies the drivers, and delivers safe and secure rides all year round.
Wet and Rain Experience
Dry road conditions and wet roads are totally different situations where all-season compound and tread design shine if they are properly embedded. And this tire you can say have fouls in its tread design.
The absence of 3D sipes on the tread, and the continuous tread ribs, reduce its wet performance, and the tire loses grip on standing water, even at flat water at high speed.
It is not a proper tire to drive in wet rainy conditions, and sometimes not even safe to drive with it. For normal rides, it might work, however, for someone who has to handle wet road conditions on highways and other long routes for longer periods, then this tire will really hard to balance.
And as our test results elaborate, the Defender T+H really outclass this tire on wet performance, not because the Michelin tire is perfect in wet, but due to this tire's bad performance in wet and rainy situations.
It won't be good for everyday wet drivers, but for someone who doesn't usually face storms or heavy rainfall, this tire will be great for all-year rides.
Light Snow, Deep Snow, and Ice
Winter terrain is the reason why these top-brand tires are really appreciated by drivers because they not only outclass low-quality tires in all-season dry and wet roads, but they are far ahead in performance in winter terrains.
However, this Yokohama tire is not like some cheap brand tires, it is just as compatible tire as the top tire in winter terrains. This tire performs well in light snow situations of around 6 inches, above that, any all-season tire will wobble and provide unstable rides.
On light snow terrains, this tire provides comfort and response to the drivers, we did not able to test it on extreme winter terrains, as it is not most common in Florida.
This tire will definitely won't be great in deep snow terrains, not because it lacks a 3PMSF certificate, but due to the non-wintery tread design. If a tread would be a little wider, and a winter compound will be equipped in it, then this tire might be worth a try in deep snow terrains.
As performance drops in wet conditions, there is no chance that it will be suitable in icy conditions, and on top of that, many drivers have also felt a lack of responsiveness on ice.
That is why it will be a great choice unless you are planning to visit extreme winter terrains, where this tire will completely ruin your ride.
Durability and road life
Let's talk about something most of you are buying this tire for, treadwear durability. The tread life is in question since the first tire was launched, even if manufacturers are able to make a tire with infinite tread life, they won't do it, because they have to run their business, and keeps customers engaged in replacing tires.
Let's come to business and talk about this tire's durability, first of all, this tire comes with 85K miles treadwear warranty and an 800 treadwear rating, these things have nothing to do with its real-life durability.
A few tires that come with 820 treadwear ratings can not even go above 50K miles, however, this tire is better than other tires.
If you drive highways, and normal city roads, with proper care and rotations, chances are this tire will reach upto 70K miles, because there are very few people who took their tires till they are left with 2/32 tread depth due to the performance drop after 4/32 tread depth.
Overall, this is one of the top tires when it comes to durability, the long-lasting performance stays intact after wearing off and is left with little tread depth. If the primary feature you required from your tires is its tread life, then this tire won't disappoint you at all.
Comfort and Responsiveness
The feeling of comfort can be very different with different drivers and vehicles, old car drivers might not need the most luxurious rides, as the premium car drivers who have new cars.
For average comfortable rides, this tire will be great, it won't make vibration, drive with very low sound and provide stable rides. However the annoyed type of drivers, who need the most peaceful ride, in their electric soundless car, this tire might annoy them a little more.
A faint noise in gas-powered cars will be very clearly heard in hybrid or battery vehicle cars.
When it comes to steering response, handling, and brakes, all of that is required for a sporty ride, this tire is a great disappointment. This tire takes quite longer to stop compared to touring tires, and no comparison with performance tires.
Similarly, the lack of steering response and road feedback is there, and soft handling is never appreciable by the drivers, but with this tire, you have to compromise on that as well.
Comparison with Michelin Defender T+H
| | |
| --- | --- |
| Dry Conditions | Michelin Defender T+H |
| Steering Response & Feedback | 20.83% |
| Cornering Stability on Curves | 0.00% |
| Dry Traction & Grip | 1.08% |
| Shortest Dry Brakes | 4.17% |
| Results | 26.08% |
| | |
| Wet Conditions | |
| Steering Response & Feedback | 18.18% |
| Cornering Stability on Curves | 20.14% |
| Wet Traction & Grip | 0.00% |
| Shortest Wet Brakes | 10.53% |
| Results | 48.85% |
| | |
| Winter Conditions | |
| Deep Snow Traction | -8.86% |
| Light Snow Traction | -4.76% |
| Thick Ice Traction | -8.11% |
| Results | -21.73% |
| | |
| Ride Quality | |
| Cabin Comfort | -11.23% |
| Road Noise | 3.57% |
| Results | -7.65% |
| | |
| 175/65R15 (84H) | |
| Price | 42.98% |
The results are based on test results and subjective views, it could differ based on different cars, conditions, and driver's preferences.
Most of the thing can be judged just by looking at the table above, however, as Yokohama Avid Ascend LX feel so bad in all-season conditions it is not that much bad.
It would be bad for someone driving on fast tracks because it fails badly when it comes to cornering, steering response, and brakes, otherwise on traction and grip, it is very similar to Michelin Defender T+H.
And as the Michelin Defender T+H even being so much expensive, can not get better results in comfort and winter terrain rides, we ascertain that this Yokohama Tire is really worth the hype it is getting in the all-season touring tire category.
When Yokohama Avid Ascend LX Is Not Prefered
There could be many possibilities where we would say you should rather pick any other tire than this one. As we mentioned several times, it lacks wet traction and grip, and if you face storms and heavy rainfall quite often, there are many other tires, that might be more relevant in your situation.
Similarly, this is a very poor tire for spirited drivers, looking for sporty rides, enthusiast drivers might throw them out of their car after two laps if they survive the course. So if you planned to do a track drift or rally rides, go with high-performance tires.
---
Final words
The Yokohama Avid Ascend LX is a perfect all-season touring tire for everyday drivers looking for comfortable and durable treadwear performance. With an 85K miles treadwear warranty, you won't have to visit any retail shop for more than half a decade.
Don't get lost in its amusing positive feature, without noticing it flows, the tire might not be the greatest tire in wet conditions and deep snow terrains, so consider these things as well before buying this new tire in 2023.