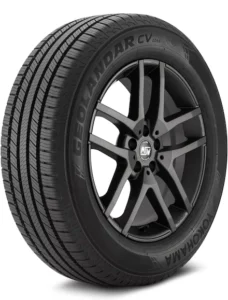 Geolandar CV G058
All-season Tire
The Yokohama Geolandar CV G058 has it all, the low price, high-quality rubber that lasts for many years, quality all-season performance, and a responsive ride. This tire will be a great option for small SUVs and crossover drivers to drive in 2023.
Handling & Road Feedback
85%
---
Table of Contents
Quick highlights
| | |
| --- | --- |
| Tire type | Standard Touring All-Season |
| Price range | $157-$248 |
| Tread Warranty | 65000 Miles |
| Run-flat | No |
| Vehicles type | Crossovers, SUVs, and Minivans |
| Driving conditions | Dry, Wet, and Snow |
Every day normal drivers look out for two things usually when buying new tires, number one is that the tire is of low price and saves money and the second thing is that the tire should have high-quality performance with durable treadwear.

Yokohama Tire has been targeting these types of drivers for years. Yokohama tires come at a low price range compared to market rates, and also they have very similar, sometimes better performance than premium brand tires like Michelin and Bridgestone.

This tire is another example of that, the tire is cheap in price, has a very similar performance to the high-quality touring tire, which you will see below in the comparison chart, and also it has one of the top treadwear durability.
Customer reviews matter a lot to make a tire bigger than others, and the drivers of this tire have shared very positive reviews about its overall performance and reliability in different weather. It is a great tire to drive in inclement weather and achieve a smooth and comfortable ride all year round.
The tire has a few discomforting issues, which many other touring tires also have and they are not big of a problem, other than that it is a perfect all-season tire to drive.
To learn all about its bad points, good points, comparisons, and real-life experience keep reading this review where we will share our experience and test results to justify its worth so that you can properly make up your mind whether it will be a proper choice for your vehicle or not.
Pros
Affordable al season rides, with a comfortable and smooth driving experience
Confident traction and grip in wet, dry, and light snow conditions
Sequenced tread design for low noise, even wear, and responsive handling
Proper rides on light snow terrains
Hydroplaning resistance in wet conditions
Proper cornering and grip on fast tracks and highways
Cons
Weak sidewalls, damages very easily
Get noisy after a little wear
---
Tread design and improvements
Yokohama's CV-2 compound is molded into a symmetrical tread pattern that features chamfered edges for proper grip and rounded blocks for stable rides
Five ribs design is pitch optimized for low tread noise and even contact on the road for more stable and comfortable rides.
Large circumferential grooves, lateral grooves, and open shoulders combined channel the water, slash, and ice for proper grip on slippery surfaces while resisting hydroplaning in wet conditions.
2D and 3D sipes on shoulder and intermediate ribs allow proper traction and grip in all-season conditions while providing extra biting edges on snow terrains for confident winter terrain rides.
Specifications & Features
| | |
| --- | --- |
| Speed rating | H-V(130-149)MPH |
| Load Index | 96(1565 lbs) – 113(2535 lbs) |
| Manufactured in | Philipines and Thailand |
| Wheel diameter | 16-20" |
| Ply rating | 4 ply rated |
| Treadwear, Traction, Temperature | 740, A, A |
| Noise Reduction | Yes |
The treadwear rating of this tire is equal to the top touring tire in this category which is CrossContact LX25. it assures that the tire will be more than enough to cover more than 60-70K miles without reducing in performance.
The traction, and temperature ratings are fine as well. The high load index and speed ratings are more than enough for a touring tire, it is not like a Michelin touring tire, but as it is not made for trucks, it is more than enough to carry enough weight and achieve high-pace rides.
Tires that are manufactured in the Philippines have better sidewalls and strong materials compared to Thailand-manufactured tires, so if you have two options and size fit then go with a Philippine tire.
Performance of Yokohama Geolandar CV G058
Dry City Streets, Pitted Roads, and Pavements
We drive this tire in different conditions of the dry season, and unsurprisingly, it performs well in all of these conditions.
On city streets and normal everyday roads, the tire delivers the finest performance, a comfortable cabin experience, low noise, responsive handling and brakes, and a confident grip. It never feel unsafe to drive in dry conditions and the experience was really well.
Similarly, on highways, the experience was great, the noise gets a little louder in highways the other things were the same, and the tire delivered a proper ride on highways while carrying a load as well.
On gravel and pitted roads, the ride was quite unsatisfactory, the comfort was disturbed and the noise was annoying as well. As it is not an off-road tire, as long as this tire can go through difficult conditions without damaging the tread it is good enough experience anybody would want from this tire.
Overall it is a great tire to achieve smooth and stable rides in hot and warm weather and road conditions.
Wet and Rain Experience
With proper dry road drives, this tire is great in wet and rainy conditions as well. The tire features circumferential deep grooves that really help in enduring the performance of the tire in wet conditions.
We did not face any hydroplaning at deep-standing water at a fast pace as well. The response was always great, grip, traction, and brakes everything was just above our expectations.
In rain and normal watery surfaces, the comfort and grip were great with low noise as well. Open shoulders and horizontal grooves also play an important role in achieving proper drive in wet conditions.
Overall the tire is perfect for all-season drive, the comfort and noise might not be as of the top touring tire, but still, you won't mind a little compromise on comfort in exchange for a low price and high-quality ride.
Light Snow, Deep Snow, and Ice
You will see in the test result below, that this tire is better in everything except winter terrain performance, the reason is that it is not a 3PMSF-certified tire.
On light snow terrain, it is a proper tire to drive, it delivers a comfortable ride, low noise, response handling, and brakes, and a safe ride even at high speed. But all of these things are achievable as long as the winter is not at its extreme.
As the season gets colder and snow gets deeper, the tire just does not perform as it was before. It loses grip and lacks response. Similarly, in icy conditions, it stops performing as well as in light snow terrains.
As it is not made for deep snow terrains, you won't be able to get proper results in these situations, just for crossing the deep winter terrain, the tire will do the job, however for proper rides, you might not like this tire.
Durability and road life
With great performance, the tire has high-quality rubber and compound which sticks for very long. Unlike other tires, the tire performance does not differ so much from the new tread to a worn tread tire.
This tire is backed by a 65K miles treadwear warranty, with proper care and maintenance, you can take it far beyond this warranty period. Drivers have driven this tire for more than 75K miles just by rotating properly.
The 740 treadwear rating also supports the results of why it is a durable tire. We drive this tire for more than 5K miles, and the tread was just as new.
We have not driven this tire for many miles so we can not make an exact estimate of its performance, but based on customer reviews, this is one of the most durable tires in this category.
Road Responsiveness
The handling response is not much of a concern for a daily driver, especially if they are buying a touring tire.
This tire on city streets and highways is fairly responsive, the handling is not so loose that a little shake would change the direction of the car but not as strong as a performance tire.
It will be more than enough when it comes to responsive rides, if you are an easygoing everyday street driver, however, if you have a spirited soul and push the accelerator till the RPM hits red, then you might not enjoy this tire ride.
It will feel very loose on tracks, the brakes might not be as quick, and also the corners will be dangerous if you drive at this speed. That is why for tracks, it is not a responsive tire to drive your vehicle with.
Comparison with Cooper Discoverer EnduraMax
| | |
| --- | --- |
| Dry Conditions | Cooper Discovere EnduraMax |
| Steering Response & Feedback | -10.71% |
| Cornering Stability on Curves | -11.54% |
| Dry Traction & Grip | 1.08% |
| Shortest Dry Brakes | 0.00% |
| Results | -21.17% |
| | |
| Wet Conditions | |
| Steering Response & Feedback | -18.52% |
| Cornering Stability on Curves | -30.00% |
| Wet Traction & Grip | -2.19% |
| Shortest Wet Brakes | -20.69% |
| Results | -71.39% |
| | |
| Winter Conditions | |
| Deep Snow Traction | 3.57% |
| Light Snow Traction | 2.30% |
| Thick Ice Traction | 0.00% |
| Results | 5.87% |
| | |
| Ride Quality | |
| Cabin Comfort | -3.57% |
| Road Noise | -17.24% |
| Results | -20.81% |
| | |
| 175/65R15 (84H) | |
| Price | -14.63% |
The results are based on test results and subjective views, it could differ based on different cars, conditions, and driver's preferences.
As the test result shows, this less expensive Yokohama Geolandar CV G058 beats Cooper Discoverer Enduramax in almost every condition. The only terrain where Cooper tire takes edge was winter terrains, due to the 3PMSF certificate that the tire comes with.
Other than that, the comfort, all-season performance, durability, and price everything were in favor of this Yokohama tire.
So if you do not face heavy snowfall in your town, then Yokohama Tire will be a far better choice for your fleet.
Final words
The Yokohama Geolandar CV G058 is an old touring tire that still performs like new all-season tires. It has durable treadwear that can run for more than 6 years. The comfortable ride and stable ride make it a stable tire to drive in 2023. The tread noise might sometime annoy the driver, so if you have soft ears then this tire will definitely test your patience on highways.