Last updated on August 7th, 2023 at 11:02 am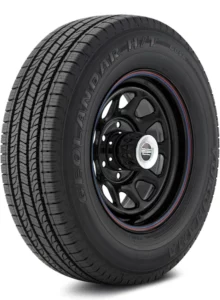 Geolandar H/T G056
All-season Tire
The Yokohama Geolandar H/T G056 is a highway touring tire for drivers looking for comfortable and smooth all-season rides. This is a quality tire that with high performance also delivers the most durable tread that lasts for many years.
---
Table of Contents
Quick highlights
| | |
| --- | --- |
| Tire type | Highway Touring All-Season |
| Price range | $148-$344 |
| Tread Warranty | 50000(P Metric Sizes) 70000(LT Metric) |
| Run-flat | No |
| Vehicles type | SUVs, Full-sized Vans, and Pickup trucks |
| Driving conditions | Dry, Wet, and Snow |
Every brand and tire has a different approach to targeting the buyers, some focus on durability, some focus on low price, and some come up with innovation and advancement for high performance. The different needs and desires of the driver are the reason for that.
The Yokohama Tire focuses on durable tires that also are less expensive compared to the market. And this tire is a great example of that.
This Geolandar H/T G056 is one of the most durable tires in this category of tires, which is not only good for achieving many miles but also achieves a comfortable and quiet experience.
Most tires that come in this price range and that high-quality treadwear does not deliver a smooth experience and also lack performance, unlike this Yokohama tire.
We will talk about the performance and comparison later in this review, in short, this tire is perfect tire dry highways and city roads. However the performance on slippery wet and snowy conditions drops.
Keep reading this review to find out all about this tire and whether you should buy this old tire in 2023.
Pros
Durable tread for longer miles with a comfortable and quiet experience
Great tire to drive on dry pavements for stable and responsive rides
Wide contact area for high-weight lifting while maintaining uniform wear
Proper traction and grip in all-season conditions
An affordable tire with high-quality performance and reliability
Cons
Bad performance in snow and off-road conditions
Sometimes hydroplanes and loses grip at high speed in wet conditions.
---
Tread design and improvements
All-season compound equipped with orange oil technology and micro silica for enhancing wet traction and for uniform treadwear.
Adaptive shoulder blocks assist in cornering, response and longer wear life. With that, the tire noise is also reduced with the help of shoulder ribs.
Circumferential and lateral grooves promote wet traction while resisting hydroplaning in deep water and storms.
Dual body plies, nylon cap ply, and twin steel belts are rugged enough to handle heavy weight without taking any damage or wearing off improperly.
Independent center and intermediate tread blocks promote stability, contact, and proper wear with dry road comfort and traction.
Specifications & Features
| | |
| --- | --- |
| Speed rating | R-V(106-149)MPH |
| Load Index | 104(1984 lbs) – 126(3748 lbs) |
| Manufactured in | Philippines |
| Wheel diameter | 15-22" |
| Ply rating | 4-6 ply rated |
| Treadwear, Traction, Temperature | 720, A, A |
| Noise Reduction | No |
The variance between load index, ply, speed ratings, and sizes make it a tire for drivers with different kinds of needs. So if the driver wants a high-speed rating, they can pick the tire with high-speed ratings, on the other hand, if you want a heavy tire to carry more weight, then you can choose the high-load indexing tire.
The treadwear rating and all the other ratings are great, which makes it a proper tire to drive in all-season conditions. With high traction and temperature ratings, this tire won't put you in any trouble.
Performance of General Grabber HTS 60
Light Snow and Deep Snow Experience
Unfortunately, this Geolander tire model is not any good for winter terrains. It is sometimes rather unsafe to drive if the winter is extreme, that is why without thinking about anything, if you have to face winter terrains, rather buy separate pair of winter tires or avoid this all-season tire, simple is that.
In light snow, the tire is okay enough to take you out of the snow conditions, as long as the snow is below 4 inches and the speed is below 40MPH, this tire will tackle snow, otherwise it will slip off like a marshmallow in snowy conditions.
The less we talk about the deep snow performance the better. The tire stuck on snow above 6 inches with our 2WD, if you have 4WD, it might not stuck in snow still it won't increase winter performance by any means at all.
That is why avoiding this tire in winter terrain is better, otherwise, there are chances that it might wear off earlier than its warranty if driven on extreme winter terrains.
Wet and Rain Experience
The performance in wet conditions is not as bad as winter terrain performance, however, it is not as proper as other highway tires.
The reason why this tire doesn't perform as well as other tires is the absence of tread zigzag sipes, those sipes really help when it comes to grip in slippery conditions.
On normal rainy days, the tire is great, and comfort and the quiet experience were there as well. With that, the response, balance, and control all were great nothing bad about this tire in normal rainy conditions.
However, when we hit the deep standing water, it did not hydroplanes at normal speed but at a fast pace, we experience great hydroplaning. The response was completely goon and for a moment we feel like the car will crash.
That is why driving as slowly as possible in wet conditions will be a better thing to do with this tire.
Mud Terrain and Off Roads
Even though the tire has deep and separate tread blocks the consistency to clean the mud from the tread is not great. The mud stocks at the tread ribs which creates low response and traction in muddy conditions.
On sand and rocky situations, the tire is fine, although the comfort was not there but it happens to get out of these situations professionally.
Overall the performance in off-road conditions was adequate but for proper ride and experience, all-terrain and off-road tires will be preferred, as this tire might get stuck if the weight is towed over it.
Dry City Streets and Highways
This is where Geolandar H/T G056 shines. On dry season and road conditions, the tire grips properly, with confident response and balance.
The stable and comfortable drive is another great thing about this tire. Among other top tires, it is one of the quietest tires to drive in dry road conditions.
Basically, it is the tire made for improving dry highway experience which other highway tires lack. The main focus of this tire is to perform well on dry road conditions and highways with comfortable and smooth rides.
And we would also recommend if you usually drive on dry highways, and don't face other seasons that much, then this will be a perfect tire for you. As it doesn't confine your vehicle to dry conditions like summer tires, you can achieve greater miles, more comfortable rides, and versatility in different weathers.
However, if you usually drive in wet and wintery conditions, then this tire might not be the best choice for your situation.
Treadwear Perfopramcne and Durability
With excellent warm-season performance, this tire has one of the most durable treadwear, especially if driven in hot weather.
The tire is backed by a 70K miles treadwear warranty, however, you can easily take it above 100K miles with proper care, rotation, and driving in its preferred conditions.
Driving it in extreme winter or off-road conditions can get you to lose tread earlier but this tire rarely wears off before its warranty period, so you don't have to worry about that.
Put this tire in your car to achieve comfortable and quiet rides, with a decade's worth of driving in all-season conditions.
Comparison with Firestone Destination LE3
| | |
| --- | --- |
| Dry Conditions | Firestone Destination LE3 |
| Steering Response & Feedback | 3.37% |
| Cornering Stability on Curves | 2.25% |
| Dry Traction & Grip | 3.30% |
| Results | 8.91% |
| | |
| Wet Conditions | |
| Wet Traction & Grip | 9.76% |
| Hydroplaning resistence | 5.95% |
| Results | 15.71% |
| | |
| Off-Road Performance | |
| Dirt Performacne | 4.94% |
| Mud Terrains | 10.14% |
| Gravel Roads | 5.19% |
| Results | 20.28% |
| | |
| Winter Conditions | |
| Deep Snow Traction | 22.73% |
| Light Snow Traction | 16.22% |
| Thick Ice Traction | 31.03% |
| Results | 69.98% |
| | |
| Ride Quality | |
| Cabin Comfort | 1.11% |
| Road Noise | 3.45% |
| Results | 4.56% |
| | |
| 245/75R16 (111T) | |
| Price | -13.33% |
The Firestone Destination LE3 is a better tire compared to Yokohama Geolandar H/T G056 in any way possible.
The Destination LE3 is also a newer tire than the Yokohama tire. This Firestone tire comes at a lower price, has some durability on roads, and also has better performance and comfort in different conditions.
Unlike the Yokohama tire, this tire is also a better performer in wet and snow conditions due to the 3PMSF certificate.
That is why if you find the right size of Firestone Destination LE3, you should any time pick this tire over Yokohama Geolandar H/T G056.
Final words
The Yokohama Geolandar H/T G056 is a great tire to achieve comfortable and smooth rides on dry highways and city roads. It also performs properly in rain, but in storms and heavy snowfalls, the tire gets lousy and loses traction. Other than that, the tire is one of the most durable in this category that keeps on performing for more miles than you can count.