Last updated on May 30th, 2023 at 12:39 pm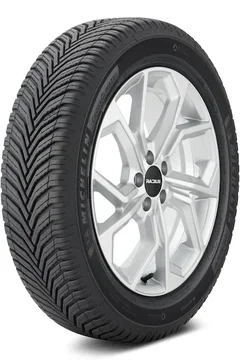 Crossclimate 2
Grand Touring All-season Tire
No weather or season can stop you from getting a comfortable and noiseless ride with this Michelin CrossClimate 2 tire. With the highest quality standards and most advanced features, it provides excellent performance with great traction, grip, and fast brakes in wet, dry, and even harsh snow terrains.
---
Table of Contents
Michelin CrossClimate 2 quick highlights
| | |
| --- | --- |
| Tire category | Premium all-season tire |
| Price range | $148-$420 |
| Ply rating | 4 ply |
| Run-flat tire | no |
| Terrain support | wet, dry, and snow |
Michelin is one of the best manufacturers in the tire industry; with more than a hundred years of experience and research, they always come up with advanced and superior technology for their tries. Crossclimate is a series of tires of Michelin that is available in the CrossClimate + and CrossClimate SUV models. This Michelin crossclimate 2 is the latest and most advanced tire of the series; with the ability to handle any season and weather conditions while providing excellent traction, brakes, grip, cornering, and handling. It is a one-tire solution for all-year-round driving along with a comfortable and smooth ride to enjoy the potential of your car.
Michelin CrossClimate 2 pros & cons
---
Michelin CrossClimate 2 Features
The tire that has been so popular in the all-season category must-have features and traits that lead it to that position. Manufactured by some of the brightest minds and experienced engineers; so that it would not hold back in providing the performance that delighted customers. And all of that is obtained by excellent tread patterns durable and reliable tires, all-season performance, and comfortable and smooth ride. We will discuss in the following heading what makes this tire as good as its buyers are expressing in their reviews.   
Basic characteristics of the tire
Michelin makes its tires with the mission to satisfy buyers so that they can trust Michelin and prefer it over any other brand. And that is not possible without delivering value and pleasing buyers more than they expected.
That is why Michelin crossclimate 2 aims to provide the best all-year-round performance; whether you drive it on dry, wet, or highways with weight; it will deliver a comfortable ride without damaging the tread life. With a 3PMSF certificate; it can deal with the harshest winter conditions and provide the ride that sometimes winters tire lacks behind in. The price is justifiable with the value and quality of the tire, it is a durable tire that will last for a decade of everyday driving and keep on providing the value you deserve.
Tread pattern and design
Tires with a proper tread pattern and design always stand out in that specific category; similarly, Michelin crossclimate 2 has one of the most advanced and well-researched V-design tread patterns that improve ride comfort and connect evenly with the ground for even wear.
The piano noise reduction technology gives the quietest ride that every luxury car driver desires. The shoulder block design also improves cornering and grip in all-season conditions. Grooveless tread design provides excellent traction and grip due to the V shape directional tread design; that connects evenly with the ground for better acceleration, brakes, and handling under any conditions.
It is not only driveable in any on-road conditions, but with the 3PMSF symbol, it is a good tire to drive full-time in harsh winter conditions; 3d sipes technology provides extra biting edges so that it grips better on snow. And it also helps in wet roads for better grip and channels water away from the contact patch to resist hydroplaning. 
Assurance and warranty
Due to Michelin's worldwide reputation and assurance, it is known as one of the most reliable and durable brands when it comes to the tire market. The reason for that is that they include the best rubber materials that last more than any other brand. That is why they offer the highest warranty of any of its competitive brands. The Michelin crossclimate 2 is backed by 60000 miles treadwear warranty and 6 years tire warranty; which is a good offer for any grand touring tire. Also, it won't get dumped after 60000 miles; it just stops performing the way it did, but you can still drive with them until the tread wears off completely.  
Specifications
The tire's specification is important if you have a purpose in mind regarding the weight carriage and speed of the tire. Michelin crossclimate 2 is also a good tire when it comes to rating and indexing; with SL and XL (4 Ply) rated on load index, it is a good tire for carrying weight, and it can carry 2149 lbs on each tire.
When it comes to speed rating, it is a fast tire and reaches up to 149 Mph without making noise or damaging the tire. However, it is rated B in traction. But, not many buyers still complain about its traction due to A's better rating in temperature.
Michelin CrossClimate 2 Performance
All tires' performance factor is measured by the performance it provides in the particular category that it was made for. As Michelin crossclimate 2 is an all-season tire, that is why we will test its performance in wet, dry, and light snow conditions. Because these are the conditions that all-season tires are made for. That won't be fair to compare its performance at off roads with all-terrain tires because that is not the promise this tire made.
The Michelin crossclimate 2 provides excellent traction, grip, and cornering in dry and wet conditions. Due to the V shape tread design, the tire contact evenly with the ground to provide the best handling and comfort in wet and dry conditions. The tire shoulder improves cornering and grip in dry conditions. The steep angle design channels the water away and provides hydroplaning resistance in wet conditions.
Along with that, Michelin crossclimate 2 is an excellent tire for snow terrains. With 3D sipes, it gets thousands of extra biting edges, which improves the grip and contact in harsh snow conditions. And for traction, a V-shaped directional tread design is more than enough in snow conditions.
Comparison With Bridgestone Turanza QuietTrack
| | |
| --- | --- |
| Dry Conditions | Bridgestone turanza quiettrack |
| Steering Response & Feedback | 0.00% |
| Cornering Stability on Curves | -10.34% |
| Dry Traction & Grip | -1.05% |
| Shortest Dry Brakes | -8.54% |
| Results | -19.93% |
| | |
| Wet Conditions | |
| Steering Response & Feedback | -8.55% |
| Cornering Stability on Curves | -8.86% |
| Wet Traction & Grip | -5.26% |
| Shortest Wet Brakes | -11.92% |
| Results | -34.60% |
| | |
| Winter Conditions | |
| Deep Snow Traction | -14.77% |
| Light Snow Traction | -10.87% |
| Thick Ice Traction | -16.47% |
| Results | -42.11% |
| | |
| Ride Quality | |
| Cabin Comfort | -3.08% |
| Road Noise | -4.63% |
| Results | -7.70% |
| | |
| 175/65R15 (84H) | |
| Price | -1.24% |
The results are based on test results and subjective views, it could differ based on different cars, conditions, and driver's preferences.
Other than a small price difference, there is nothing better in Bridgestone Turanza QuietTrack compared to Michelin CrossClimate 2.
The Michelin CrossClimate 2 is far better in every test that we test, its performance in wet and dry conditions, in snow, and on highways, and its comfort, and stability, everything is better with this Michelin tire.
however, if you want a more durable tire, then Bridgestone Turanza QuietTrack will make more sense because it has more durable treadwear and a treadwear warranty. so choose your tire based on your analysis.
When It Is Not Good
As there are different tires for different categories with different support, similarly Michelin crossclimate 2 is an all-season tire. If you are more toward off-road driving, then no one would recommend you to buy this tire because it will not work as well as all-terrain tires that might cost you less in price and provide better performance than all-season tires.
Also, if you only drive in snow and don't encounter dry season, there are better options available in the winter tire category. We are not saying that it won't perform in winter at all, but only for winter driving, we would recommend you to go with winter tires. 
Final words
Michelin crossclimate 2 is an excellent touring tire for all-year-round performance everything about it related to all-season driving is phenomenal. Also, the ability to deal with harsh snow conditions; makes it a more versatile and durable tire in the all-season tire category.
If you have past experience with this tire, you can share them in the comment section; so that other buyers learn from it. Also, if anyone has any queries regarding this tire, then they can leave them in the comment; we will be happy to resolve them.