Last updated on May 25th, 2023 at 02:07 pm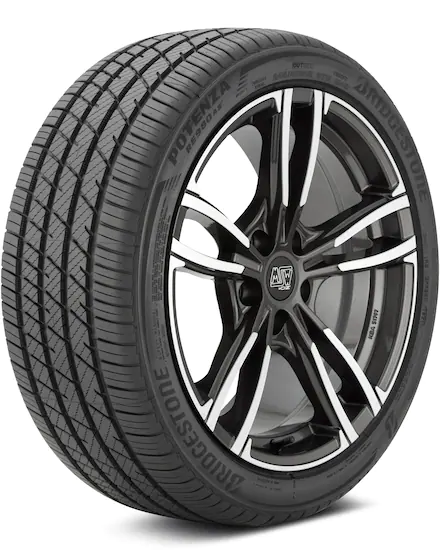 Bridgestone Potenza RE980AS Plus
UHP All-season Tire
Bridgestone Potenza RE980AS Plus is an ultra-high-performance tire for sports coupes and sedans to unlock the most comfortable and quiet ride. It delivers the most sporty grip and handling with durable treadwear in all-season conditions all year round.
---
Table of Contents
Quick highlights
| | |
| --- | --- |
| Tire type | UHP All-season |
| Price range | $155-$361 |
| Run-flat | No |
| Vehicles type | Performance sedans and coupes |
| Driving conditions | Dry, wet, and snow |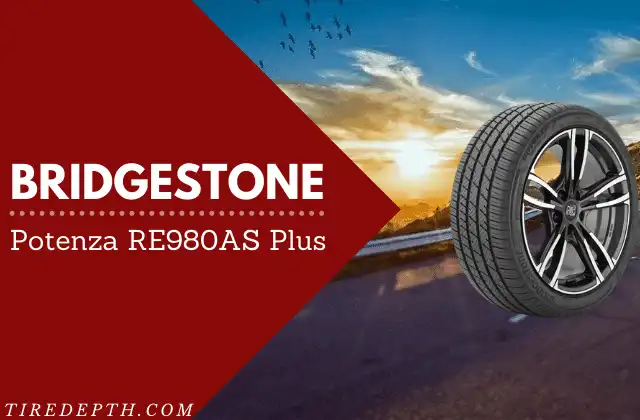 ---
The Bridgestone Potenza RE980AS Plus is an upgraded tire of the Potenza RE980AS. The previous model was also a success however manufacturers have to face some criticisms over its snow performance and durability. Considering that in mind, this tire is manufactured with a new tread compound that has a more durable life with far better performance on snow compared to the older model.
The tire has improved snow performance due to the rework on its tread compound which makes it also a proper tire for snow along with street and fast tracks of dry and wet. The all-season tread compound also improves tire stability by contacting evenly with the ground, which also improves tread life in the long run.
The reason for the success of this series is its wet and dry traction on tracks with responsive handling. Following that, they keep up on that track and maintain the level of performance in dry and wet conditions by working on their previous deficiencies. With that being said, the Bridgestone Potenza RE980AS Plus comes as the very best ultra high-performance tire and competing the Michelin Pilot Sport 4 and Continental ExtremeContact DWS06 Plus tires.
---
Tread design and improvements
The Bridgestone Potenza RE980AS Plus features four circumferential grooves and several lateral grooves to avoid hydroplaning and improves dry and wet brakes and grip. The 3D full-depth sipes and open slots on the shoulders improve tire stability, cornering, grip, and traction with proper and responsive handling on fast tracks.
Although the tread pattern has not improved since its previous model, the tread compound which is internal has changed a lot. The older tire that struggled to drive on 3-4 inches of snow is now able to be driven smoothly on 5-6 inches of snow. Along with that, the tire becomes more responsive while providing a handling response with faster brakes and better acceleration control. All of these improvements make it a proper tire for longer and faster track rides due to its durable treadwear.
Durability and road life
The previous version of this tire is under the radar of low tread life complaints by some customers. By working on it, the newer version of the tire is improved a lot since its predecessor. Although the warranty of 50k miles remains the same, it covers more miles and it is what it is promised. The tire gives comfortable and quiet sporty rides easily to reach 50k miles, with little caution and care, you can keep it for more than 60k miles. Contrary to its predecessor which struggles to even reach the 50K mark.
Specifications & Features
| | |
| --- | --- |
| Speed rating | W (168) |
| Traction & Temperature | 84(1102 lbs) – 106(2094 lbs) |
| Origin of | Mexico |
| Wheel diameter | 16-20" |
| plies | 3 plies sidewalls, 2 plies tread |
| Treadwear rating | 500 |
| Traction & temperature | AA & A |
| Noise reduction | Yes |
Performance test
Dry Traction & Cornering
When we drive it over on dry fast tracks and city roads, the tire performs quite similarly to its previous model. The speed was phenomenal on dry tracks, with confident traction and cornering on turns. Another thing that we like a lot about this tire on dry city roads, is that the tire bumpiness or shakiness has also improved when some obstacle comes across the road.
Wet Traction & Grip
On wet terrains or in rainy seasons, this tire again stays quite similar when it comes to gripping. The tire provides phenomenal gripping and traction even on fast tracks. Due to the circumferential grooves, it resists aquaplaning by channeling water away from the tread. Along with that, the tire does not lose control at average speed while turning in the rain.
Snow Traction & Grip
The major improvement that Bridgestone has made in this Bridgestone Potenza RE980AS Plus tire from its predecessor is its snow performance. The tire was very weak in snow but now it delivers superb performance even at somewhat heavy snowfall. The tire grips well in the snow while providing faster brakes and traction at a faster speed.
Handling & Brakes
The most demanding feature of a performance car driver is the starring response of the tire. This tire allows feeling hard steering control when driving o faster roads. Another important thing that is so crucial for sporty cars is their tire brakes. This Bridgestone Potenza RE980AS Plus tire has improved a little bit since its previous model when it comes to quick brakes. The tire took 86 feet to stop in dry and 127 to stop in wet from 50MPH.
Comfort & Noise
Another reason for this series' success is its comfortable and quiet rides. The tire makes nearly no noise on street road rides while making very minimal noise on faster track rides. Similarly, on snow and wet terrains, the tire is phenomenal when it comes to the comfort and noise level of the tread.
Overall Track & Street Performance
The comfort and noise level on street gives a luxurious ride along with smooth handling of all-season conditions. So if you are looking for those things, then it will be a perfect tire for your car. Also, you can achieve fast track cornering, and confident traction, with fast brakes and handling response. So overall the tire performance is phenomenal and it is able to compete with the most successful tire in the UHP segment market.
Comparison with Michelin Pilot Sport All Season 4
Michelin pilot sport is the best performance tire of its time. It is one of the favorite tires of sports cars driver in America due to its handling response and other performance with comfortable and quiet rides in all-season conditions.
The Bridgestone Potenza RE980AS Plus is somehow giving tough competition in the UHP tire market. Compared to pilot sport 4, this tire is far better when it comes to comfortable and quiet city road rides. However, on tracks the story is different, Michelin Tire is better when it comes to track cornering and sterling responses. Although the track performance of Bridgestone Potenza RE980AS Plus is not bad, compared to Michelin it is left behind in some factors that can make a difference.
The treadwear is another important factor, and Bridgestone is better when it comes to durability. Also, the price of Bridgestone is much cheaper. So choose your tires based on your preferences based on whether you would like the best track performer UHP tire or the most comfortable UHP tire for streets and tracks.
Whether it is track performance, city road comfort, favorable price, or tread durability, in all these matrics this continental ExtremeContact DWS 06 Plus tire has beaten the new Bridgestone Potenza RE980AS Plus tire. Because the continental tire is the best tire in this category, although the Bridgestone tire is very closely competing with this tire with very few points of difference, somehow continental is still at the top in the UHP tire category.
What we recommend
If you are going to buy this Bridgestone Potenza RE980AS Plus then we would highly recommend this tire. Number one because it is the newest tire right now, and number two it is one of the best tires in this category. Although there is a better option in this category, some people just don't like some metrics of other tires. So if you have made up your mind about this tire, then it will not be a bad decision and you won't regret your decision and we are so sure about it.
However, if you are planning to drive in all-season conditions on the city roads only, then it might not be a good choice. Touring tires like Pirelli P7 A/S Plus 3 would be a better choice. Because you won't get as comfortable rides as a touring tire can provide, and secondly, it won't run as far as a touring tire would. For a hybrid of the street, and tracks fast rides, it is perfect, however, only for city road rides, there are better options available.
Final words
Bridgestone Potenza RE980AS Plus is an absolutely perfect tire for track rides. It delivers the finest performance on tracks along with a comfortable and quiet ride all year round. Along with that, the durable treadwear keeps the tire moving while providing a stable ride in all-season conditions even on snow terrains. All that being said this is a perfect tire to buy in 2023 since its new launch, the tire features new technology that would be helpful for attaining a smoother ride for a very long period.