Last updated on May 6th, 2023 at 12:12 pm
Kumho Road Venture AT51 is a great tire for off-road enthusiast truck and SUV drivers looking for a robust tire that delivers smooth on-road comfort and an off-road aggressive ride. the tire comes at a cheap price, with durable treadwear to satisfy the driver's all needs.
Kumho Tire, formally known as Samyang Tire. It is a South Korean brand operating and exporting its tires globally. They have substantial R&D departments in different countries of the world, including the USA. Most of their products are manufactured in South Korea, China, and Vietnam and then export worldwide to reach the international market.
Manufacturing in cheap laboring countries decreases the cost of their tires, so their price is lower than competitive brands. Their entrance into the global market has been given a tough time for most known brands. More than 60 years of experience help them understand customers' needs and how to satisfy different buyers. 
Table of Contents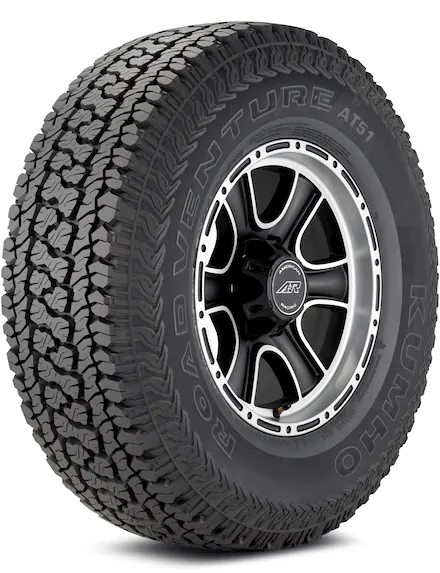 ---
---
Kumho Road Venture AT51 was launched in 2015, and it did not get so much attention in the United States. But after spreading the awareness, it starts getting noticed. It's considered among the best all-terrain tires due to its performance on off-roads and comfortability on roads. Also, the price is lower than Michelin and Hankook tires.
The robust and stunning design attracts light trucks and SUV drivers. With availability in many sizes, it helps customers to choose the right fit for their vehicles. Also, the traction, grip, and smooth, quiet driving can't be ignored with the most outstanding performance in snow, mud, and wet conditions.
In this review of Kumho Road Venture AT51, we will give detailed information about its performance on all terrains with its specifications, pros, cons, and Other knowledge to decide if these are the desired tires you were looking for in your vehicle. So stick till the end to get a total understanding of the Kumho Road Venture AT51.
Tire Description
Kumho Road Venture AT51 was launched back in 2015 to fulfill the demand for extreme off-road drivers with moderate on-road driving. All-terrain tires usually fulfill the purpose of dual terrain conditions for all-year-round performance. Its traction and comfort in off and on-road conditions are phenomenal. The tire company belongs to South Korea, but its manufacturing origin is Vietnam. Due to the cheap labor, it cost less than other competitive brands' tires. The price is favorable for that much value. 
The company provides a 55000Miles treadwear warranty which means that the treadwear will last more than the given miles for sure. But in case of any damage to the tire due to bad road conditions or others, the company will replace the tire if the complaint registers within a year of purchase.
Technology and design
Tread design and technology also play a vital role in tire traction and other performance; well-organized treads and quality materials increase the tire's durability and comfort. Kumho Road Venture AT51 keeps all crucial aspects to give the best quality tires, comfortable and smooth driving. Its tread design and technology give traction off roads and hydroplaning resistance on on-roads. The firm rubber materials keep the tire tread as new for a more extended period.
Tapered tread blocks, deep central grooves, and a dual silicone compound engineered together to give a smooth grip and traction to the tire with self-cleaning features on heavy mud and snow. It also provides a comfortable, quiet drive with protection from damaging sensitive materials. Kumho Road Venture AT51 is a brilliant performance tire with a very affordable price. 
Flows of the Kumho Road Venture AT51
It is not possible that every tire that has ever been produced is perfect for every person. Each has some ups and flows. Kumho Road Venture AT51 is good in off-road conditions. Still, it may not be the perfect tire for you if you only drive on roads because many other substitute tires will prominently fulfill this demand like Pirelli Scorpion AS Plus 3. Another problem you could face with this tire is after a few thousand miles; it might not be the quietest tire and start creating sounds on highways and speed driving. Even though the build of this tire is strong, the speed limit still is relatively low, which is 190Kph/118Mph.
Reason not to buy Kumho Road Venture AT51
For the very first reason, as mentioned above, it is not the best tire for on-road driving; you can drive it full-time off-road but not on roads. So if you are looking to buy on-road tires, it is not the best choice for you. It will work if you hit off-roads once in a while, but if you nevermore visit off-roads then choose other tires, it will save you money and perform better. Also, the tire may not give the best performance on highway speed driving because of the speed limit. You better find a high-performance tire that fits this job.
As Kumho has upgraded this model by launching a new tire in 2022 under the name of Kumho Road Venture AT52, it is better to invest a little more and take benefit of newer technology that will keep your car running smoothly for further miles.
Conclusion
Kumho Road Venture AT51 can compete against any known brand of tire in the all-terrain category the price factor improves its points more. The quality comfort with tread design and technology is right on point to give the best performance in all-terrain conditions. It may lack other things but still in its category, it is the best. 
The company's ways of treating its customers are very attractive because every company gives a treadwear warranty. Still, Kumho also gives the assurance of replacement if something terrible happened to the tire due to the rough conditions of the roads. Also, the timely response delighted the customers and motivate them to connect with them in the future.
So, this is a thorough review of the Kumho Road Venture AT51 based on the research and buyer opinions we have given. Still, if anybody has any queries or wants to give your input, please comment below to have a discussion that would also help other buyers.