Last updated on August 4th, 2023 at 02:11 pm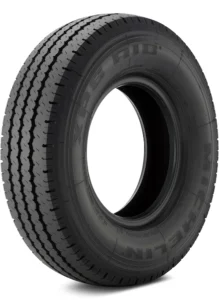 XPS Rib
Summer Commercial Tire
The Michelin XPS Rib as of its name has rigid ribs to control the weight of heavy loads while achieving the most durable miles. It is one of the most durable tires for highway pickup truck drivers looking for lifting heavy loads while achieving confident and comfortable rides in the summer seasons.
---
Table of Contents
Quick highlights
| | |
| --- | --- |
| Tire type | Summer Highway Tire |
| Price range | $295-$353 |
| Tread Warranty | 60,000 |
| Run-flat | No |
| Vehicles type | Pickup trucks and Vans |
| Driving conditions | Dry and Wet |
The highway summer tire category is quite different from touring summer tires. Highway tires are more focused on maintaining balance and achieving as many miles as possible with heavy weights. This category has a low-speed rating but a high load index for perfecting its job on highway terrains. 
This XPS Rib is an example of that, it is the most durable tire in this category, and even far more reliable than grand touring summer tires. With its summer season rides, the tire is also somewhat driveable in winter and mud terrains, due to its rigid sidewalls and design.
Not only it is a reliable and stable tire, but it also achieves a comfortable cabin experience no matter the speed, with that, the quiet treadwear performance makes it a great tire to fit with 2WD trucks for achieving high-quality rides in dry and wet conditions.
Michelin has been there since the first rubber tire was made, and this is the reason why they have the most iconic tires in each category. Their advancement in technology makes them manufacture the most superior tire compared to their competitors.
However, the Michelin tire has been the most expensive one as well, and this tire is also very expensive and also very old. To find out whether it will be the right choice for your trucks in 2023, keep reading this review where you can also read about the real-world performance and comparison with top tires.
Pros
Uncountable miles are achievable with this durable tire
Wear and proper contact for stable and long-lasting rides
Smooth and comfortable rides with heavy weights on highways
Responsive brakes and handling for safe rides
10-ply rated tread for towing heavy loads while maintaining uniform wear
Cons
Low traction in wet conditions
Very expensive price
Low-speed ratings
---
Tread Rubber and Compound
Reinforced rubber compound casing molded into a symmetrical pattern for maintaining uniform wear even with heavy weight on highways.
Sidewall protectors resist damage from terrain to keep on moving without getting punctured which also improves wear durability.
Optimized tread design improves uniform wear and reduces tread noise for comfortable and quiet rides in the summer season. With that, low rolling resistance is achieved for energy and environmental safety.
Steel casing inside the tread makes it a reliable tire to drive on highways with heavy loads while still maintaining its wear level intact.
Circumferential grooves reduce hydroplaning and improve wet traction and grip in rain.
Specification Metrics
| | |
| --- | --- |
| Speed rating | Q (100)MPH |
| Load Index | 115(2679 lbs) – 120(3086 lbs) |
| Manufactured in | Germany |
| Wheel diameter | 16" |
| Ply rating | 10 ply rated |
| Treadwear, Traction, Temperature | N/A |
| Noise Reduction | Yes |
This is not a new tire and its manufacturing is not as rapid as other new tires, that is why it is available in only 16 inches, which might make it hard to find in your preferred size.
But if you find the right size, this will be the best choice if you are a highway pickup truck driver. With high ply ratings and load indexes, it can carry heavy weight with no problems while maintaining wear uniformity.
Just like most commercial tires, this german manufactured tire is also not rated on UTQG ratings, but based on driver experience, if it would rated, it will have the highest ratings among any summer tire in treadwear performance.
Performance of Michelin XPS Rib
Dry Conditions
This XPS Rib tire is designed to achieve proper rides in dry conditions, the continuous ribs, sidewalls, and shoulders all participate to achieve greatness in dry and war, season rides.
The tire contact properly which delivers quiet and comfortable summer reason rides, with that, the strong sidewall design and damage-resistant tread improve driving confidence with heavy weight on highways.
On fast highways, the stable ride contact and response were there, we never feel like the tire is lacking traction at any point. With that, the grip, cornering, and balance all were perfect on dry paved highways.
On construction sites and country roads, the drive was not as stable, other than that, it performs in every dry condition, it even achieves fair rides on mud terrains, which is not a preferred driving condition for this tire.
Wet Traction
Unlike dry road conditions, wet conditions require sipes and open shoulders for proper traction and grip in rain, as this tire lacks both of these things, it sometimes struggles in wet road conditions.
Although it is a proper tire to drive in rainfall and deep water, sometimes it loses traction, especially at a higher pace,
It resists hydroplaning in deep water properly and never loses response as well. With that, a comfortable and quiet ride is also achievable in wet conditions.
So overall it is a great tire to drive on wet roads as well, the proper grip, traction, response, and control make it a perfect tire to achieve comfortable rides in dry and wet conditions of summer seasons.
Wear performance
When it comes to treadwear performance this tire is among the very few tires that can do what it can. The tire comes with a treadwear warranty of 60K miles, which is not even an average for this tire.
This tire on average can easily achieve 70K miles without care, with care, and every day on road rides, you can easily take this tire above the 100K miles mark. That is the reason why the XPS Rib series of Michelin has been so famous among pickup truck drivers.
The tread design and compound are the main factor of the tire's reliability on highways, the tire even with maximum loads, contact properly with the ground and wear off evenly to avoid any damage or puncture on any tire.
It is the most durable option in the summer tires category, so if you are after reliability and durability of tread, and want to save money on fuel consumption, then this is the best option for your truck.
Handling and Brake Response
As this tire is not toward spirited fast track rides, the response considering that is not that great, especially for handling at a fast pace.
The brakes are great for acceleration, the heavy load might take longer to stop a car otherwise on normal weights, it stops quickly and smoothly even in wet conditions.
With that, the handling response is fine as well, it is not as great as performance tires, but it is manageable to achieve safe and sound rides on highways. It might not give accurate feedback of the ground and it won't be as strong, but for normal everyday drivers, it will be hardly noticeable.
That is why if you want to achieve high-performance-spirited rides on fast tracks, then this tire might not be the right fit for you, other than that,m it is a perfect tire to achieve stable rides in 2023.
Comparison with Michelin Primacy 3 ZP
| | |
| --- | --- |
| Dry Conditions | Michelin Primacy HP |
| Steering Response & Feedback | 1.11% |
| Cornering Stability on Curves | -2.20% |
| Dry Traction & Grip | -1.04% |
| Results | -2.13% |
| | |
| | |
| Wet Conditions | |
| Hydroplaning Resistance | 0.00% |
| Wet Traction & Grip | 7.32% |
| Results | 7.32% |
| | |
| Ride Quality | |
| Cabin Comfort | 12.05% |
| Road Noise | 1.09% |
| Results | 13.14% |
| | |
| 195/55R16 (87V) | |
| Price | N/A |
The results are based on test results and subjective views, it could differ based on different cars, conditions, and driver's preferences.
As the test result shows, the Michelin Primacy 3 ZP is a better tire compared to Michelin XPS Rib when it comes to comfortable and proper wet road rides. However, the Michelin XPS Rib is a better tire for dry road traction and response.
With that, the Michelin XPS Rib is 2x more durable and runs for many more miles than Primacy 3 ZP, so if you are after a more comfortable and more responsive ride, then go with Michelin Primacy 3 ZP.
Otherwise for safer, more reliable, and cheaper heavy-weight rides go with Michelin XPS rib.
Final words
The Michelin XPS Rib is a summer highway touring tire made for Pickup, light, towing, and commercial trucks. It has one of the most durable treadwear that can run for 100K miles without affecting comfortable and quiet rides. Even though the tire looks expensive, it achieves the lowest cost per mile with low gas consumption which makes it a cheaper tire in the long run. So if you want to drive through highways with heavy lifting, and want smooth and comfortable rides, then this tire will be a great choice in 2023.