Last updated on August 4th, 2023 at 02:12 pm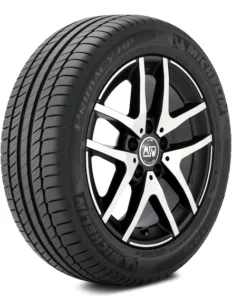 Primacy HP
Summer Tire
The tire is made for durable performance with profound experience in summer seasons, This Michelin Primacy HP might look expensive, but its durable treadwear makes it worth every penny spent on it, with all-year-round performance in summer tracks and city roads.
---
Table of Contents
Quick highlights
| | |
| --- | --- |
| Tire type | Summer Grand Touring Tire |
| Price range | $215-$241 |
| Tread Warranty | 45,000 |
| Run-flat | No |
| Vehicles type | Sedans and coupes |
| Driving conditions | Dry and Wet |
Every tire is different even if its lie in the same tire category, and this tire is an example of that. the Primacy HP is not like any common grand touring summer tire that has a low treadwear warranty and fast highway performance, it has one of the most durable treadwear in this category. 
This category has been avoided by drivers due to the low treadwear performance and reliability on summer tracks, unlike this tire. This Michelin tire has similar wear performance as all-season touring tires, which is very hard to find in this category.
With that, the performance is not so bad also, the tire turns properly, achieving smooth and safe rides all year round.
There are a few problems when it comes to wet traction and grip, the tire loses traction as the speed goes up, which also has some conditions which we will talk about later in this review.,
So if you want to learn everything about this tire from its performance to its life, then continue reading this review to make up your mind about whether it will be a right fit for your car in 2023 or won't.
Pros
Durable treadwear performance with treadwear warranty
Stable on the road and fast-track rides
Improves gas mileage due to low rolling resistance
Smooth tire to drive in wet and dry road conditions
Proper cornering brakes and handling in the summer season
Cons
Lacks wet and dry traction
Not a comfortable tire to drive with a lot of noise
Irresponsive handling
---
Tread Rubber and Compound
New generation tread compound molded into a symmetrical pattern with continuous tread blocks for longer wear by even contact and stable performance in the summer season.
Linked shoulder blocks with intermediate ribs notches and sipes improve traction and grip in wet and dry conditions along with cornering control.
Hydroplaning resistance is possible due to circumferential grooves and open shoulders that channel through water for proper traction as well.
Green X standard inside tires makes it a low rolling resistance tire which saves fuel and the environment by consuming less energy.
Specification Metrics
| | |
| --- | --- |
| Speed rating | W (168)MPH |
| Load Index | 87(1201 lbs) – 91(1356 lbs) |
| Manufactured in | France |
| Wheel diameter | 17" |
| Ply rating | 4 ply rated |
| Treadwear, Traction, Temperature | 240, A, A |
| Noise Reduction | Yes |
This is an old tire and the availability of it in different sizes is hard to get. Nowadays there is only one diameter of this tire in 17 inches available so if you find the right size then it is great, otherwise go with other options within this category.
This tire comes with a W speed rating with a low weight index for quick accelerations and brakes. The tread design also helps in achieving these things as well. The French-made-in tire has 240 treadwear and an A rating in temperature and tractions which is why it performs properly in dry and wet road conditions.
Performance of Michelin Primacy 3 ZP
Wet Traction
Even though all the metrics and reviews might suggest that the tire is great in wet conditions, it was not really the case when we drive with this tire on in minimal and extreme wet conditions.
In deep waters and heavy rainfall situations, the tire is not a great option in any way possible, the traction is not achievable and it hydroplanes at slow speeds sometimes as well. Which makes it an unsafe tire to drive in extremely wet conditions.
We think it might not be the case in light and minimal wet road conditions, however, we get disappointed in normal rains as well. The tire did not grip properly, and with a lack of responsiveness at normal speed, we could not even go above the 40MPH due to this tire's performance in wet conditions.
So if there is a lot of rain in your area year-round, then avoiding this tire might be the better option if you really care about the safety of your ride.
Dry Conditions
Performance compared to wet conditions is a little better in dry conditions but not at the same level as other top summer tires. The problem is still the same, the lack of responsiveness and traction in dry conditions at a fast pace.
Unlike wet conditions, in dry seasons the tire is driveable and safe to drive but the joy of summer tires is not there. A little turn makes it change a complete direction which is not something so common in summer touring tires.
Other than that, the brakes, acceleration, and control are all fine, especially on highways. The best performance this tire can achieve is on highways, which was somewhat satisfying after so much disturbance we see in wet conditions.
For average rides in dry conditions, this tire will be a great idea, however, if you are a spirited driver, then again this tire is not the right choice for you.
Handling Response and Brakes
With below-average dry and wet performance, the handling response was not that impressive as well. The tire lacks response on fast tracks even in dry conditions.
On highways where responsiveness is manageable, this tire can chive proper and stable rides, however, when it comes to quick cornering, the tire lacks responsiveness.
The steering control is not any worse compared to other grand touring tires, but it is not anything better than these tires as well, which does not make sense spending so much money on this tire.
As long as this tire comes as an OE tire, it will be a fine tire to drive, however, separately buying this tire and expecting high performance in summer seasons will really damage your expectation in every case scenario.
Wear performance
This is when this tire is appreciable, the wear performance of this tire is far higher than average grand touring summer tires.
The tire comes with a similar treadwear rating as other tires however, the reliability is far greater than other summer tires.
The tire comes with a 45K miles treadwear warranty which is higher than the average summer tire last, with proper care and maintenance, this tire can easily achieve above 60-65K miles in summer seasons, this is the reason why this tire is still in a demand after so many years of its launch.
So if you can compromise with performance and want to achieve the most reliable treadwear, then this tire will make sense with your fleet.
Comparison with Goodyear Excellence
| | |
| --- | --- |
| Dry Conditions | Michelin Primacy HP |
| Steering Response & Feedback | -3.75% |
| Cornering Stability on Curves | 2.60% |
| Dry Traction & Grip | 12.99% |
| Results | 11.83% |
| | |
| | |
| Wet Conditions | |
| Hydroplaning Resistance | 5.33% |
| Wet Traction & Grip | 8.57% |
| Results | 13.90% |
| | |
| Ride Quality | |
| Cabin Comfort | 12.16% |
| Road Noise | 5.48% |
| Results | 17.64% |
| | |
| 195/55R16 (87V) | |
| Price | N/A |
The results are based on test results and subjective views, it could differ based on different cars, conditions, and driver's preferences.
As we talk previously this Michelin Primacy HP performance is lower than normal grand touring summer tires, which you can also see in this driving test results.
The Michelin Primacy HP gets a lower score in every metric that has been tested compared to Goodyear Excellence. Eventhouhgt Goodyear Excellence is not the best tire in this category, still compared to this Michelin tire it looks like a better choice to buy.
However when it comes to durability, the Primacy HP is 2X more durable than the Goodyear tire, so only if you are after reliable and budget rides, go with this Michelin Primacy HP otherwise Goodyear Excellence is a far better option in performance.
Final words
The Michelin Primacy HP is a grand touring summer tire made for sedans and coupes, as it is an older tire, it is very hard to find in a number of dimensions. The tire performs fair in dry and wet conditions, with some discomfort and fragility due to unoptimized tread and lack of sipes. Other than that, it has the most durable treadwear in the summer tire category, so if you are after a durable tire, then still in 2023, this tire will be a great option for your vehicle.