Last updated on June 21st, 2023 at 11:21 am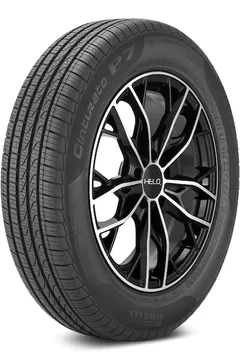 Cinturato P7 All-season
Run-Flat All-season Tire
Get premium comfort, confident handling, and an all-season quiet ride with this Pirelli Cinturato P7 All-Season tire. Built for sports coupes sedans and luxury crossovers to give the convenience of a run-flat tire so that a flat tire can not stop you from touring in any weather in the Americas.
---
Table of Contents
Pirelli Cinturato P7 All-Season quick highlights
| | |
| --- | --- |
| Tire category | Grand touring all season |
| Price range | $96-$389 |
| Ply rating | 4 ply |
| Run-flat tire | yes |
| Terrain support | wet, dry, and light snow |
When it comes to grand touring tires, buyers demand a tire that can work all year round and provide a comfortable and smooth ride in all seasons. And that is why the Pirelli Cinturato P7 All-Season tire offers excellent traction grip and handling in all-season conditions. It provides the perfect driving experience with a comfortable and smooth ride in any weather and season. 
No more worries for small crossovers and sedans drivers who can not fit spare wheels in their vehicles. This tire will work smoothly even after there is a puncture in it. The strong sidewalls and twin-steel belts can handle the worst situation and are driveable for at least 50 miles.
Pirelli Cinturato P7 All-Season pros & cons
---
Pirelli Cinturato P7 All-Season Features
No one can doubt its performance when the tire has every feature from run-flat to better gas mileage. Similarly, the Pirelli Cinturato P7 All-Season tire has every feature that an all-season tire buyer could ask for. That is the reason it is so positively appreciated by users and recommended by other sports and luxury sedan drivers. Due to its performance in all-season conditions and Pirelli's reputation in sports tires; this tire has achieved more than any other competitive tire and is still considered after many years as one of the best all-season tires for small-sized crossovers and sedans.
Basic characteristics of the tire
The run-flat tire is great for cars that are not capable of fitting spare wheels in trunks. Being a run-flat, Pirelli Cinturato P7 All-Season comes in handy when drivers have to deal with punctures and when they are crossing through unfamiliar roads.
The better fuel mileage and low C02 emission make it a surrounding-friendly tire that better impacts the environment and saves money. The hydroplaning resistance, 4-ply rating, and quiet soundproof ride, all of these make it a proper and superior tire to drive in all seasons and weather conditions to achieve the height of high-quality performance.   
Tread pattern and design
The remarkable thing about all-season tires is that they come in a variety of different tread designs and pattern; so every tire look and perform differently. Pirelli Cinturato P7 All-Season tire has an asymmetrical tread design that can freely rotate to any axle of the car so that all tire wears off evenly.
This summer-oriented design features circumferential grooves and solid ribs for better dry and wet traction, grip, and handling. So that you can achieve a confident ride in all-season conditions. Also, the eco-friendly construction improves gas mileage and C02 emission along with four circumferential sipes that channel the water away for hydroplaning resistance. Extra biting edges and sipes improve the stability of the tire on light snow terrains.
Assurance and warranty
As it is very common with run-flat tires that they don't come with a treadwear warranty due to their strong tread design and durability. Similarly, the Pirelli Cinturato P7 All-Season tire is not backed by any treadwear warranty. This is unnecessary if the tire is run-flat and made by that reputed brand. However, it has a 1-year replacement warranty if the tire bursts or wears off early; which is a good gesture to assure buyers that it is a durable tire. As it is not the newest tire, after that many years, not many users have ever complained about its durability and tread wear.
Pirelli Cinturato P7 All-Season Specification
Depending on the size
| | |
| --- | --- |
| Speed rating | H-Y/ 130-186 |
| Load index | 85-105/ 1135 lbs – 2039 |
| Tread depth | 9-11 |
| Max. PSI | 44-51 psi |
| Tire inch | 15"-19" |
Tire specifications are vital when a driver is looking for certain performance. They helped drivers to decide whether the speed range or load index is enough to serve the purpose they want to achieve with the tire. That is why it is important to continually examine the specs of the tire so that you won't regret buying your new set of tires.  
Pirelli Cinturato P7 All-Season Performance
All-season tires have to be good on wet, dry, hot, and highway roads. Snow terrains are not the center of attention for all-season tires because snow is not so commonly drop in most parts of the world. So to be able to get recognition and appreciation, the all-season tire has to deliver in these conditions.
The Pirelli Cinturato P7 All-Season tire delivers excellent performance in dry and wet weather; due to the asymmetrical tread design and circumferential grooves, it improves grip and traction on dry roads and also provides grip and hydroplaning resistance on wet terrains. 
When it comes to light snow; the extra biting edges improve its grip on snow without damaging the tire or its treads. In every season and weather, it provides the most comfortable and quietest ride with a long-term and all-year-round performance for coupes and sports sedans drivers.
Why not to buy Pirelli Cinturato P7 All-Season
There is a reason to divide tires into different categories so that buyers can quickly look for a tire in a specific category. Similarly, Pirelli Cinturato P7 All-Season is seated in the all-season touring category; which means that if you have the desire to drive in winter and off-terrain conditions, then this is not the tire you should go after; you should be better looking for tires in the all-terrain category.
Another thing, if you think the tire has a very high price and you don't really impress by the run-flat feature, then you can also go with the grand touring non-run-flat tires that will cost you less with similar performance.
Final words
There are many brands like Michelin and Continental Tires that are in the grand touring category; but with outclass performance and Pirelli's names; This tire has one of the best in this category with very positive customer reviews. That is why we would also recommend buyers to try this tire who are confused about whether they should buy it or not. 
That is it from our side now if any of you have any experience with this Pirelli Cinturato P7 All-Season tire, please share it in a comment so that other buyers can relate to it and gain more knowledge about this tire.