Last updated on August 4th, 2023 at 02:14 pm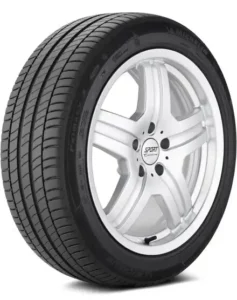 Primacy 3 ZP
Summer Tire
The Michelin Primacy 3 ZP is a grand touring summer tire made for luxury sedans and coupes to deliver high-quality rides with performance in the summer seasons. The tire is the best option in 2023 for expensive car drivers looking for comfortable, quiet, and responsive rides in dry and wet conditions.
---
Table of Contents
Quick highlights
| | |
| --- | --- |
| Tire type | Summer Grand Touring Tire |
| Price range | $198-$413 |
| Tread Warranty | 30,000 |
| Run-flat | Yes |
| Vehicles type | Sedans and coupes |
| Driving conditions | Dry and Wet |
Summer Touring tires are usually made for performance or luxury vehicles due to the performance these vehicles require from tires. As these vehicles have to achieve comfort and quiet rides, these tires made the perfect companion for that. 
When the summer tires come with run-flat technology, it makes it more likable to attract luxury car drivers, one because it has a smooth driving experience and second you don't have to stop after a sudden blow of air from the tires.
That is why Michelin designed this tire to fulfill every need of this market. This Michelin Primacy 3 ZP is one of the most comfortable tires in its category which also come with a treadwear warranty that not many tires come with in this summer touring tire category.
With that, the tire is responsive and achieves proper rides in wet and dry road conditions during the summer season. That is why nowadays, this tire is a go-to tire for the most expensive car drivers.
Even though it is a very expensive tire that does not cover as many miles as all-season tires, still due to its overall performance people prefer this tire. To learn all about this tire's real-world performance and features, keep reading this review till the end so that you can decide whether this tire is also good for your car or not.
Pros
Quietest ride and comfortable cabin experience for luxury vehicles
Responsive handling and brakes on fast tracks in dry conditions
Confident traction and control in rainy seasons
Zero Pressure tire to keep running even after a puncture
Safe tire to drive on highways and city summer roads
Cons
Very expensive tire
Barely reaches its treadwear warranty period
---
Tread design and improvements
Abrasion Resistant Compound molded into symmetrical tread pattern with optimized design for longer wear by even contact and reduce noise while driving.
Auto-blocking siping technology improves wet and dry traction with proper handling response and brakes due to the center and intermediate ribs.
The comfort control technology is equipped inside the tire to achieve more comfortable rides and low noise on the cabin due to optimized tread design.
Circumferential grooves and open shoulders channel water which improve rainy season rides and deep standing water response.
Specifications & Features
| | |
| --- | --- |
| Speed rating | W-Y(168-186)MPH |
| Load Index | 88(1235 lbs) – 102(1874 lbs) |
| Manufactured in | Italy |
| Wheel diameter | 17-19" |
| Ply rating | 4 ply rated |
| Treadwear, Traction, Temperature | 240, A, A |
| Noise Reduction | Yes |
High-speed rating and low tire weight make it a proper summer tire to achieve greatness on fast tracks and highways due to quick acceleration, brakes, and response.
With that, this Italian tire has great traction and temperature ratings which make it an unstoppable tire in extremely warm weather or during rainfalls.
With 240 treadwear ratings and a treadwear warranty, it is also a great tire when it comes to the durability of tread, so drive this tire in whichever way you want, and you will achieve confident and safe rides all year round.
Performance of Michelin Primacy 3 ZP
Treadwear Durability
Usually, summer tires have low treadwear durability because of their slick design and larger contact but it is necessary to achieve high performance as summer tires provide.
Similarly to that, this Michelin tire has a low treadwear rating, 9/32 tread depth, and a low treadwear warranty.
This tire is backed by a 30K miles treadwear warranty which mostly no other summer tires provide, usually, these tires come with no treadwear warranty.
Even though it has a high treadwear warranty it does not necessarily cover as many miles, most drivers have complained about this tire early wearing off usually at 25K miles.
So if you are looking for duality and not high performance then this might not fit in your descriptions, it will be a better thing to choose your tires from all season categories due to their low performance and higher durability.
Wet and Rain Experience
Although it is not the most durable tire in this category, however when it comes to performance, it is among the very few high-performance tires.
The tire performs perfectly in wet conditions, due to notches and grooves, the traction and grip in rain and standing water are not a problem with this tire.
At heavy rainfalls, this tire still satisfies the driver and provides confident rides. We drove at a high speed in deep water and this tire is able to achieve proper response and traction while resisting hydroplaning ing at the same time.
So when it comes to wet road and highway conditions, you can confidently and safely drive your luxury vehicle with this tire without worrying about anything.
Dry Conditions
Usually, summer tires are driven on highways and city roads in dry seasons, and this tire never dissatisfies in both of these conditions.
On highways, the grip, response, and comfort were so great that no other tire that we have tested delivered this kind of overall performance.
The brakes, traction, cornering, with quiet experience all, make it a proper tire to smoothly drive on highways without worrying about speed.
Similarly, on city roads, this tire achieves greatness while achieving safe and sound rides for longer miles. Overall it is a proper summer tire to drive in wet and dry road conditions while achieving a quiet and comfortable driving experience.
Handling Response and Brakes
With proper performance, it has a proper response as well no matter which weather you drive. With the comfort of a touring tire, this tire has a handling of performance tire which makes it an excellent summer tire for tracks and roads.
The handling is not soft of this tire due to the strong sidewalls, the steering feels sharp and in control when driving at high speed on highways.
The balance between turn and steering movement is proportionate which makes it a responsive and safe tire to drive in the summer season. While achieving comfortable and quiet rides as well.
Comparison with Vredestein Sprint Classic
| | |
| --- | --- |
| Dry Conditions | Vredestein Sprint Classic |
| Steering Response & Feedback | -1.10% |
| Cornering Stability on Curves | 0.00% |
| Dry Traction & Grip | -5.26% |
| Results | -6.36% |
| | |
| | |
| Wet Conditions | |
| Hydroplaning Resistance | 0.00% |
| Wet Traction & Grip | -4.55% |
| Results | -4.55% |
| | |
| Ride Quality | |
| Cabin Comfort | -2.15% |
| Road Noise | -3.23% |
| Results | -5.38% |
| | |
| 195/55R16 (87V) | |
| Price | N/A |
The results are based on test results and subjective views, it could differ based on different cars, conditions, and driver's preferences.
As the test results show, the Michelin Primacy 3 ZP is better in every metric compared to the Vredestein Sprint Classic tire.
Whether it is about wet drive, dry conditions, comfort, or durability,l this tire is better in each and every metric. However, as both of these tires are made for different vehicles there might not be a situation where a driver might have to choose between these two tires.
That is why we could compare the price range because they do not come in the same sizes. However, if you have a vehicle that can equip either of these tires, then based on the results, you should go with Michelin Tire.
Final words
The Michelin Primacy 3 ZP is an excellent grand touring summer tire for luxurious vehicles to achieve high-performance rides with a comfortable and quiet cabin experience. The tire also comes with a treadwear warranty which is not very common in this category, which makes it the best tire in this category to drive in 2023.