Last updated on June 13th, 2023 at 11:48 am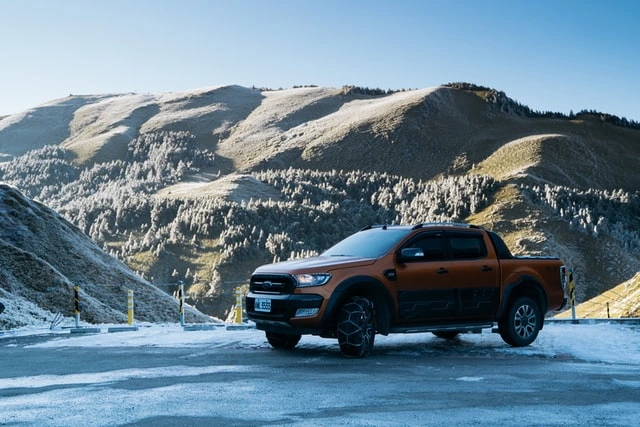 ---
If you are a driver of a Ford Ranger then you already know that the best tires for the Ranger have to be in the all-terrain category. Because this car has the ability to be driven on any road and in all weather conditions even by carrying a heavyweight over it. To avoid changing tires in specific conditions, people prefer all-terrain tires to handle any situation with one set of tires.
That is why we have gathered some of the best all-terrain tires for Ford Ranger that are new and provide better performance compared to OEM tires. We have categorized tires according to Ford Ranger models and wheel configurations. 
As there is always one tire that has a better performance compared to other tires. We have listed the best all-terrain tire for Ford Ranger that will provide better performance compared to any other tire in the market. For any reason, if you can not buy this tire then there are also other options from which you can choose the right tire based on your car model.
The best tire for Any Model of Ford Ranger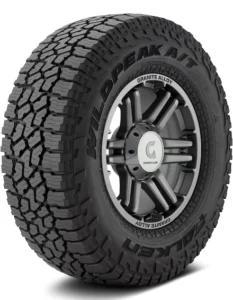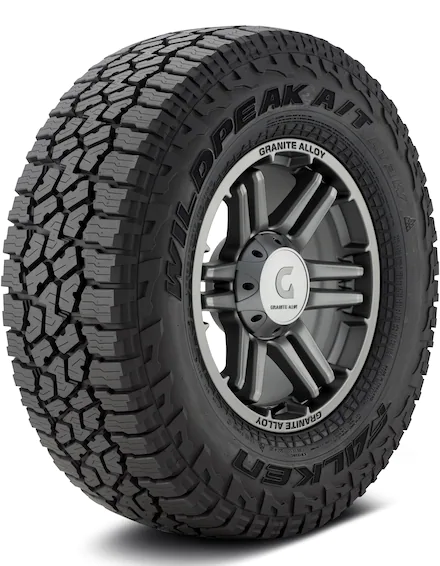 This new all-terrain tire of Falken is the best on/off-road tire that you can find in the current market. This tire is better than all of the other tires that can run with the Ford Ranger. It delivers excellent performance in dry and wet conditions, along with superb performance on snow and mud-covered roads. The robust sidewalls and shoulder are perfect for handling harsh conditions of off terrains even by loading a carriage.
The reason for choosing this tire as the best compared to other all-terrain tires is due to its performance in every condition and situation of the terrain. It delivers better handling response shorter lap time and brakes with confident traction and grip in on/off-road conditions. 
---
Ford Ranger 4×2 Supercab
Toyo open country A/T 3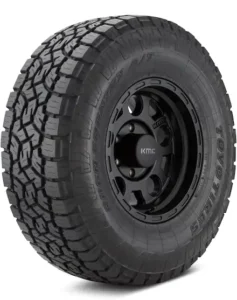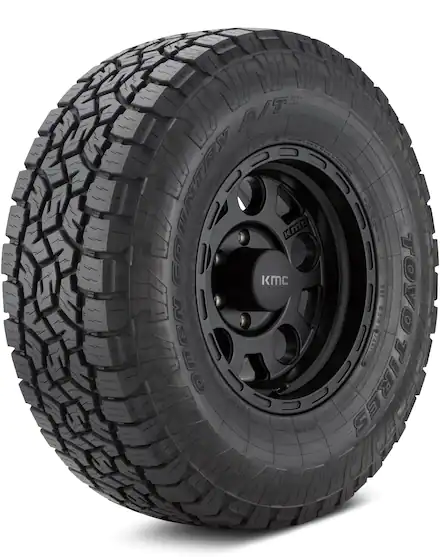 An excellent tire for loading weight while driving in bad and unbalanced conditions of the terrain. The Toyo Open country A/T3 is perfect for your ford ranger 4×2 Supercab models to achieve comfortable and smooth rides on roads and highways with the most aggressive performance on off terrains. 
It delivers confident traction and grip on wet, dry, snow, and mud-covered roads with responsive handling and brakes on all terrains. The tread blocks and sipes on it, contact with the ground evenly to promote a stable and durable ride for proper all-year-round performance.
---
Ford Ranger4x2supercrew
Firestone destination A/T 2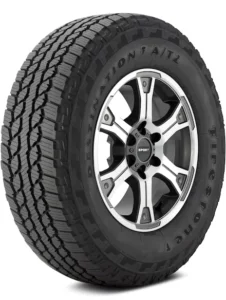 No matter whatever conditions of weather and terrain are, this firestone destination A/T 2 will get your ranger through it. With aggressive shoulder blocks, symmetrical patterns, and circumferential grooves, it delivers perfect traction and grip on and off-road. Along with the hydroplaning renaissance in the rainy and winter seasons. The stone rejector keeps the tire protected from damaging sharp materials off terrains, with stable handling with the help of sipes on the tread block. 
The 4-ply rated tire is capable to carry up to 2833 lbs of weight on each tire. So put a weight over it or don't, the tire will give a smooth ride in any terrain and durable rides with 55k miles treadwear warranty. Nothing can stop this tire, whether it is harsh snow, unbalanced pavement road, or hot highways, it will keep moving your car all year round. 
---
Ford Ranger 4×4 Supercab
General Grabber A/T X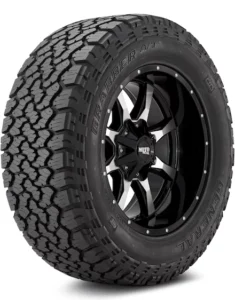 Tackle any situation of the terrain and weather with this General Grabber A/TX tire. It will be a great fit with any of the Ford Ranger models, due to its versatile performance and weight-carrying capability. The tire is made to handle any situation whether it is snow, mud, highways, or unbalanced harsh roads. It will deliver all year round performance with a smooth and comfortable ride. 
Along with performance, this tire is backed by a 60K miles treadwear warranty for durable and long-running performance in the long run. With stone bumpers on the sidewall blocks, the tire ejects stone from sitting on treadwear to improve the contact and durability of the tire. 
---
Ford Ranger 4×4 Supercrew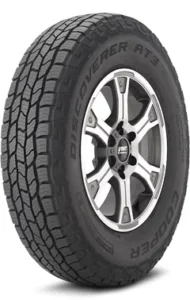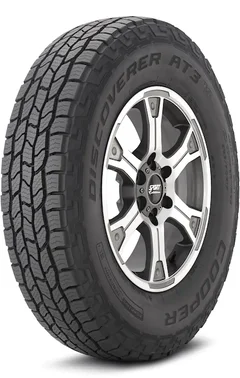 Versatile tire for your all-terrain desires. Whether you want a comfortable on-road ride or desire aggressive performance in mud and off-terrain conditions this Cooper Discoverer AT3 4S tire will get you through any situation. It is one of the most comfortable tires in the all-terrain category along with the most confident traction and grip in off-road conditions.  The steering response and tread contact is other excellent point that improves this tire's overall performance. 
Along with comfort, this tire will keep your Ranger running for 65K miles because of the warranty company provides. All of that comes with robust shoulders, stunning sidewalls, and improvised tread blocks to handle difficult situations while providing a stable and confident ride all year round.
---
Ford Ranger 4×4 w/LT 265/65-17
BFGoodrich All-terrain T/A KO2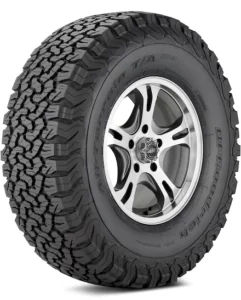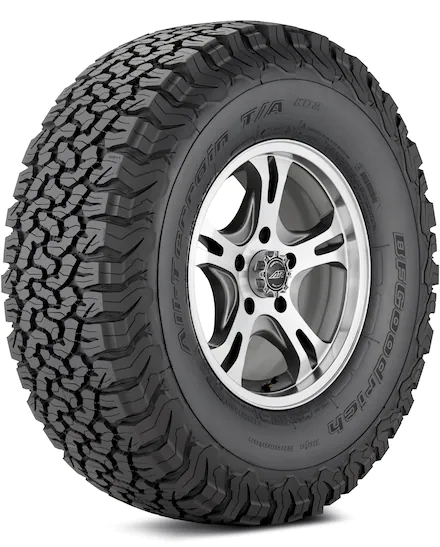 If the driving purpose of your ford ranger is to drive in the harshest conditions of the terrain along with a smooth ride on the road, then this tire is the best option for your car. The very known BFGoodrich All-terrain T/A KO2 is one of the most sold tires in its category. Due to the Baja 1000 race-winning tire technology, and tread compounds, the tire delivers the best performance in snow and mud with proper handling and control over steering. With 20% improved durability and performance over its predecessor, this tire is still one of the best to run with any model of your Ford Ranger in 2023. 
So if you are someone who can compromise a little with comfort on-road, and want the most aggressive performance off terrains, then this tire will do the right job for you. With a 50K miles treadwear warranty, it will let you explore the farthest places of the globe, with proper performance.
---
Best Tires For Ford Ranger Buyer's Guide
To buy the right tire for your truck, you must know how to choose the perfect tire. This could be confusing sometimes because every other tire looks the same and promised to provide the performance. However, it is not the case with every other tire. There are hundreds of bad tires available in the market that could just waste your money and also put you in danger on the road. That is why reading this section will help you find the best fit for your Ranger so that you can enjoy a smooth ride for a longer period.
What to look for in tires before buying?
A few things that are most important in any category of tires are that the tire should have long-running treadwear with a warranty of above 50k miles and they perform well in their specific conditions. You can reassure those things by looking at tire reviews and by reading about customers' experiences.
Another thing that specifically guides in all terrains tire buying is that the tire is good in all the conditions that you are willing for. Also, the tire should not wear off early if driven in extreme conditions of snow or mud terrains. Tire size is another factor that you should always consider before buying new tires. And lastly, the tire should be in the market with competitive pricing, because there are some tires that cost a lot and do not even perform the way that these known brand tires perform. So make sure the tire is made by a well-reputed brand and has some positive reviews.
Tires to avoid for Ford Ranger
In our opinion, all-season tires are not as beneficial for the Ford Ranger. The big reason for that is these tires are not driveable in off-road conditions. On the other hand, all-terrain tires might be less durable and cost a little more, they have the versatility to be driven in every road condition which is the major reason why most people prefer all-terrain tires for this light truck. 
The tire recommended for a different model
If we have mentioned a tire for any different model than yours, it means that that specific tire will also work with any other Ford Ranger model. The reason for distributing these tires for the different models is that they perform well with that specific model. So if you find any of these tires in your wheel diameters, then it will also be a good choice for your vehicle.
The best tire for Ford Ranger
The Falken Wildpeak A/T3 W is what we recommend to our readers for most light trucks. The reason for that is that this tire is new, delivers the best performance in on and off-road conditions, and also has durable treadwear. Although all of these tires are good for Ranger, this tire is better in almost every performance test, which is why we choose this tire over others.
How long does the tire last with this truck?
The good quality tire somewhat lasts between 50-60k miles. Driving conditions and tire care plays an important role. However, the conditions that the tire meets with this truck are so extreme that going above this range is very rare. Also off terrains journey is more about fun for some drivers than just crossing the route, for that, people change their tires after 40k miles because after that the tire just does not perform the way the new tires would.
Final words
All-terrain tires are usually made for Ford Ranger type of light trucks due to their strong build for off-terrain and smooth ride on the road. However, choosing the right all-terrain tire has a total impact on performance. Because everyone rides their trucks in different situations and in a different manner. So choose the tire for your Ford Ranger based on your driving style from these top tires. They will let you achieve proper performance, in the long run, all year round.