Last updated on August 7th, 2023 at 11:09 am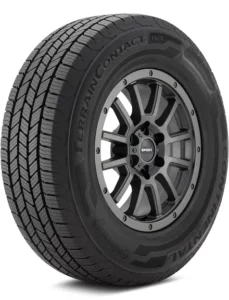 TerrainContact H/T
All-season Tire
The Continental TerrainContact H/T is a need of every big-sized SUV and Jeep driver. It has it all, the off-road performance, highways heavy load rides, and a comfortable city streets ride. All of that comes with durable treadwear that stands for more than 6 years of smooth rides.
---
Table of Contents
Quick highlights
| | |
| --- | --- |
| Tire type | Highway Touring All-Season |
| Price range | $202-$349 |
| Tread Warranty | 70000 Miles |
| Run-flat | No |
| Vehicles type | SUVs, Jeep, and Pickup Trucks |
| Driving conditions | Dry, Wet, and Snow |
Highway touring tires are different than standard touring tires, they can carry more weight, have low-speed ratings, and sometimes properly perform in off-terrains as well. They are more versatile, have similar durability, and lack comfort compare to touring tires.
Drivers usually prefer highway tires just because of their weight-carrying ability and off-road support. And this tire is great in both of these things.
This continental tire has a high load index and stable ride while carrying a load, no imbalancement, and longer wear.
With that, due to the continental experience in all terrains, this tire has great off-road performance as well. It might not be great in extreme situations, but for minimal rides, it is a great all-around tire.
Winter terrain drive is great as well. The confidence is more than enough to achieve smooth snow terrain rides, without damaging the treadwear.
With all that, the on-road performance of this tire is fabulous as well, it grips properly in wet and dry conditions. the comfortable ride makes it a fine substitute for the all-season touring tire, which fails really badly on off-terrain roads.
Pros
Quiet and comfortable all season and off-terrain rides
Responsive handling and brakes
Perfect highways ride while carrying heavy loads
Confident light snow performance
Hydroplaning resistance in wet and rainy conditions
A damage-resistant tire with a long-life performance of more than 6 years
Hybrid tire to drive on normal streets, highways, and off-road conditions
Cons
Not the smoothest tire for harsh winter terrains
Wear off earlier in extreme conditions
---
Tread design and improvements
+Silane Additive compound molded into a symmetrical tread pattern that features individual sharp tread blocks to resist damage while delivering stable rides for a longer period.
Noise blockers between shoulder blocks improve cabin comfort and noise reduction for peaceful highway rides.
Lateral notches and circumferential grooves with the help of +silane technology channel water and slash through tread to resist hydroplaning in wet conditions.
Full-depth interlocking sipes and open shoulders improve dry and wet traction and grip with proper handling and brakes while lifting weights. With that, the snow traction is improved due to the gripping teeth on grooves.
Two-ply polyester and two steel belts in the compound make it a stronger tire to absorb rocks and sharp material without taking damage easily.
Specifications & Features
| | |
| --- | --- |
| Speed rating | S-H(112-130)MPH |
| Load Index | 99(1709 lbs) – 126(3748 lbs) |
| Manufactured in | United States and Mexico |
| Wheel diameter | 16-22" |
| Ply rating | 4 and 10-ply rated |
| Treadwear, Traction, Temperature | 800, A, B and 720, A, A |
| Noise Reduction | No |
Touring tires that come with this much load index have very bad tread life, unlike this tire. This Continental tire carries high weight without affecting tread performance and life. The high load index tire is great for a jeep or pickup truck drivers who commute through highways with heavy loads.
Speed rating is low but it is more than enough to drive at max highway speeds. As driving with load is already dangerous, the low-speed rated tire won't affect that much highway all-season drivers.
With that, there are two variants of this tire, one comes with a 60K miles treadwear warranty and a 720 treadwear rating, and the other one comes with an 800 treadwear rating and higher treadwear warranty, so pick the high-rated tire for more miles to cover.
Performance of Continental TerrainContact H/T
Dry City Streets, Pitted Roads, and Pavements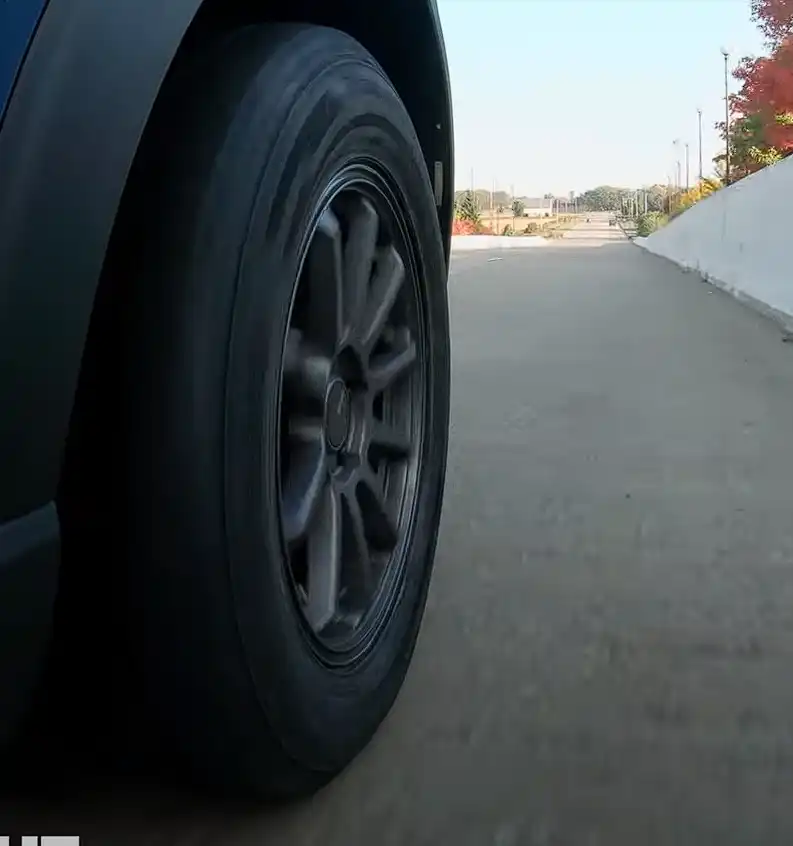 ---
In a year the dry season is what last longer than other seasons, so for the tire to be great in all-season conditions a performance in dry conditions is a must-have. And this Continental TerrainContact H/T did not dissatisfy in dry conditions.
It grips properly on city streets at a fast pace as well. The comfortable and quiet ride makes it a perfect all-season tire to drive every day to work and home.
Similarly, on paved highways, it grips properly, stability on the road was great and the heavyweight drive was great as well. Lack of cabin vibration and noise will really change the experience of your ride with this tire.
On construction sites and pitted roads, the response was not as great but it still satisfy us, as most touring tire loses grip on potholes and deliver very uncomfortable ride, compared to them this tire was far better in these conditions as well.
Overall it is a great tire for hot and warm weather, we tested A temperature-rated tire, so if you want a similar performance then go with this variant of the tire.
Wet and Rain Experience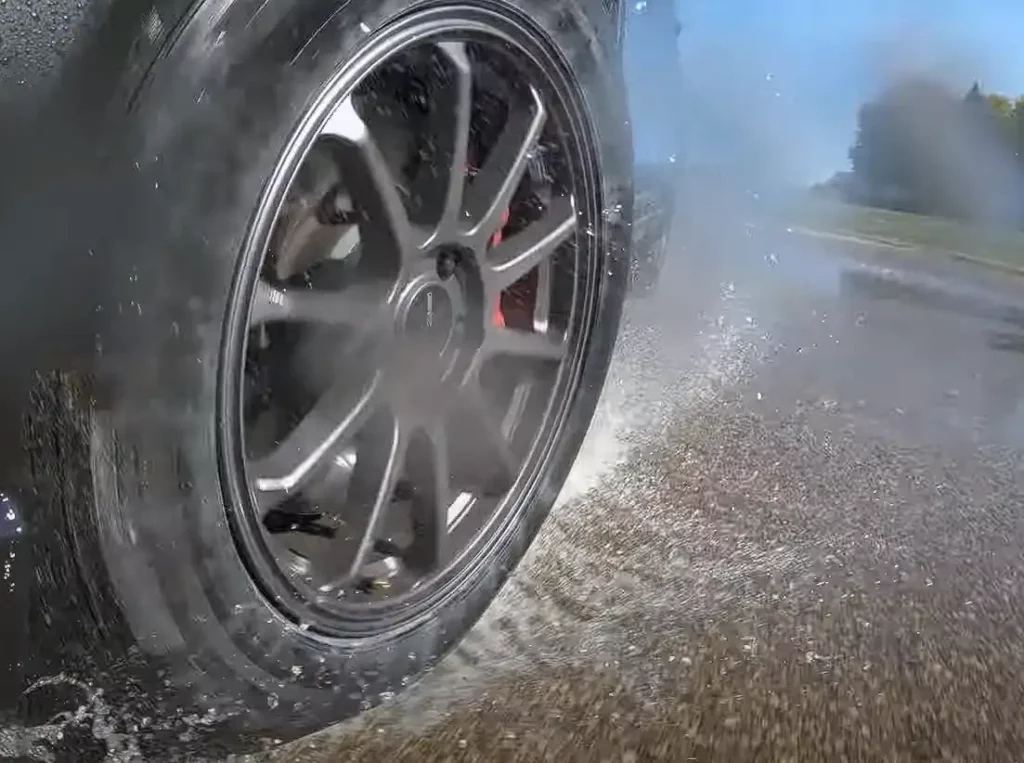 ---
Similar to dry road conditions, on wet terrains, the tire is also great. High-dense sipes, open shoulders, and grooves all are designed in a manner to optimize wet traction and grip.
And all of these computerized features really shine in wet conditions. With confident traction and grip, the responsive ride and comfortable experience make it a proper tire for wet roads as well.
It did not hydroplane at once even at deep-standing water. Neither did the response ever leave at a fast pace.
In rain and heavy storm, the tire delivers a confident ride with stability which makes it a safe and peaceful tire to drive in all-season conditions.
Mud Terrain and Off Roads
Overall in off-roads, the tire performance is average, it sometimes loses response if the conditions are harsh, and also the comfort and stability are not as great as all-terrain or off-road tires.
The lack of response also sometimes feel unsafe to drive in off terrains, however at a slower pace, it is fine. It is a kind of tire that drivers could use if they only want to somehow cross off-road situations.
It is not for someone who is a rally driver and someone who wants a tire to really enjoy the off-terrain drive.
With all-season performance, durability, and comfortable rides, it is always a bonus for any driver if the tire is able to perform fair in off-terrain situations anyways.
Light Snow, Deep Snow, and Ice
As it is not a 3PMSF-certified tire, it does not perform as well as a certified tire in harsh winter terrains. Otherwise, on light snow, this tire is more than enough to enjoy winter terrains as well.
It grips properly if the snow is below 6 inches, the response, comfort, and stability are great as well.
Performance on light snow while carrying a load is also great, the tread does not get damaged due to the weight and is still reliable to cover as many miles as possible.
On ice and thick snow, the performance is not so great, the response loses sometimes, and the brakes are also not so great. Overall if the winter is not at its peak, the tire will do a great job, but as the snow gets deeper it stops performing, and separate winter tires will be needed.
Durability and road life
This high treadwear-rated tire is very durable in real life as well. There are two variants of this Continental TerrainContact H/T tire, one comes with a 60K miles warranty and the other comes with a 70K miles treadwear warranty.
Both of these tires usually cover more than the warranty period if proper care and rotation are maintained. We did not test the worn tire to analyze its performance, but there are complaints that the performance drops after 6/32 of its tread depth.
Other than that, most of the driver who experiences this tire's ride have positive reviews about its durability and drivers also states that the tire is more capable to achieve more miles than the warranty claims.
Comparison with Michelin Defender LTX M/S
| | |
| --- | --- |
| Dry Conditions | Michelin Defender LTX M/S |
| Steering Response & Feedback | 2.20% |
| Cornering Stability on Curves | 1.09% |
| Dry Traction & Grip | 1.06% |
| Results | 4.35% |
| | |
| Wet Conditions | |
| Wet Traction & Grip | -1.08% |
| Hydroplaning resistence | 0.00% |
| Results | -1.08% |
| | |
| Off-Road Performance | |
| Dirt Performacne | 3.57% |
| Mud Terrains | 2.56% |
| Gravel Roads | 2.41% |
| Results | 8.55% |
| | |
| Winter Conditions | |
| Deep Snow Traction | 2.44% |
| Light Snow Traction | 3.49% |
| Thick Ice Traction | -1.25% |
| Results | 4.68% |
| | |
| Ride Quality | |
| Cabin Comfort | 3.33% |
| Road Noise | 0.00% |
| Results | 3.33% |
| | |
| 245/75R16 (111T) | |
| Price | 24.26% |
The results are based on test results and subjective views, it could differ based on different cars, conditions, and driver's preferences.
The Michelin Defender LTX M/S is the best tire in the highway tires category, it has the most durable treadwear, and performance on and off-road is finest as well. As you can justify through customer reviews and these test results.
Compared to this new Continental TerrainContact H/T, this old Michelin Defender LTX M/S is a superior tire in dry, snow, and wet performance, and the Continental tire performs a little better in wet conditions.
Although the difference in performance is not as big, still it is a great achievement of Michelin that their older tire performs better than Continental's new tires.
If you don't have budget issues, then the Michelin tire will be a better option, however, a little compromise on performance will save you a lot with this Continental TerrainContact H/T tire.
---
Final words
The Continental TerrainContact H/T is a highway touring tire for SUVs and Jeeps, it is a great overall tire for off-road smooth rides and comfortable on-road rides. The tire can carry heavy loads on highways and has intact durability as well. It is not as great off-terrain as an all-terrain tire, so if you want to drive excessively in off-road situations, then this tire might not satisfy you. Other than that, it will be a fine choice for all-season drivers to achieve stable rides in 2023.