Last updated on August 7th, 2023 at 11:03 am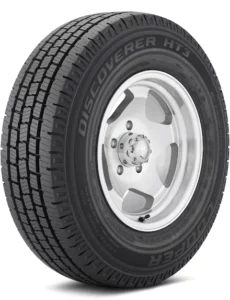 Discoverer HT3
All-season Tire
The Cooper Discoverer HT3 is a tire for passenger cars and commercial trucks, it can carry heavy weights and achieve stable, peaceful, and reliable performance in all-season conditions. It is the kind of tire that is great when it comes to duty and achieves a comfortable experience all year round.
---
Table of Contents
Quick highlights
| | |
| --- | --- |
| Tire type | Highway Touring All-Season |
| Price range | $164-$326 |
| Tread Warranty | 50000 |
| Run-flat | No |
| Vehicles type | SUVs, Crossovers, and Pickup trucks |
| Driving conditions | Dry, Wet, and Snow |
Commercial tire drivers usually complain about the uneven wearing of the tread while carrying weight, to tackle this problem, Cooper tires come up with this Discoverer HT3 tire.
This highway touring tire is capable of carrying heavy weights and tows heavy stuff while being durable all its life. 
It is a durable tire that not only carries weight but also delivers smooth and comfortable all-season rides.
This Cooper tire performs properly in wet and dry road conditions, with that, the light snow performance is also great to tackle winter terrains properly.
With all that, the Discoverer HT3 is capable to be driven in off-road situations and achieving ok rides there as well.
It will be a great tire for your vehicle if you want to attain all these things with your car, keep reading this review to further understands how this tire performs in the real world and how it is in comparison with other top tires.
Pros
Heavy load tire for high weights carriage
Comfortable and quiet rides in all seasons
Rigid sidewalls and compound for improved durability
A stable and responsive ride is achievable due to tread contact
Highway-controlled rides at fast speed with weights
Driveable in different weather and conditions of the terrain
Cons
Lacks wet traction after a little worn
Not great in winter snow and muddy off-road conditions
---
Tread design and improvements
Commercial use-focused high silica compound molded into a symmetrical pattern with individual tread blocks for stability and responsive rides all seasons.
Continuous shoulder ribs feature interlocking 3D micro Gauge sipes for even wear, weight distribution, and proper brakes and cornering in dry highway conditions.
Wide circumferential grooves with lateral notches channels water and ice for proper grip and resist hydroplaning in deep water.
3D sipes on tread blocks provide extra biting edges on snow terrain for reliable and safe snow-condition rides.
Specifications & Features
| | |
| --- | --- |
| Speed rating | R-T(108-118)MPH |
| Load Index | 94(1477 lbs) – 126(3748 lbs) |
| Manufactured in | United States |
| Wheel diameter | 15-20" |
| Ply rating | 6-10-ply rated |
| Treadwear, Traction, Temperature | N/A |
| Noise Reduction | No |
The tire comes in 6 and 10-ply rated variants so if you want to carry heavy weights go with the higher one. Also, it is proven that by inflating 5-10 psi more than the recommended the durability of the tire increases with performance on weights.
With that, the 126 load index is among the highest in this category, so if you find the right size, then it will be very beneficial for pickup truck drivers.
This US-manufactured tire is equipped with high-quality rubber that makes it durable to wear off uniformly no matter how many pounds of weight you put on these tires.
Performance of Cooper Discoverer HT3
Mud Terrain and Off Roads
Even though the Discoverer HT3 has deep and separate tread blocks, the tire performance somehow is not at the same level as other highway tires in off-road conditions, especially compared to Defender LTX M/S.
This Cooper tire is not a proper tire to drive in extreme mud terrains, especially if you want to travel with weights.
As long as the conditions are normal, low sand, dirt, or rocky conditions, this tire can handle the situations, however as you hit the mud terrains with 2WD, there are chances that your truck might stuck into the mud.
So drive this tire with low weight at a slow pace for achieving safer rides in off-road situations.
Overall off terrains ride is fair, it can handle normal off-road conditions, however, it is not a great tire for harsh mud terrains rides.
Light Snow, Deep Snow, and Ice
There is the reason why this tire did not receive a 3PMSF certificate because it can not handle the extreme winter conditions properly.
On light snow conditions, this tire was fine, it achieve stable and responsive rides as long as we go below 50MPH speed, as we go above this speed, the response was losing with stability as well.
In deep snow conditions, this tire is not safe to drive with, especially if you have 2WD. It can not tackle the situation properly, the brakes, handling, and grip all were poor. Also, it did the same in icy conditions.
If you have to deal with the winter season for longer than 1-2 months, then this tire might not be the all-year tire for you due to its unstable performance in deep snow, for that Destination LE3 might be a better choice.
Durability and road life
The treadwear warranty and durability is the reason for this Cooper Discoverer HT3's success in the market. Most commercial tires have low tread life which further reduces if driven with heavy loads.
This is not the case with this tire, the tire comes with a 50K miles treadwear warranty which will keep moving even after that. Someone who carries weight all the time will still be able to achieve more 10-15K miles than its warranty, and those who casually carry weight will see a more reliable treadwear performance.
The performance with the wear does not really change, a little impact comes on wet conditions, other than that, the tire stays stable and keeps performing till 2/32 of tread depth.
With proper care and rotation, this tire is among the top durable tires in the market that comes with this much load index.
Wet and Rain Experience
As we drive with new tires, the performance was great in wet conditions, the high-speed grip, and traction all were safe and the response was great as well.
The tire never hydroplanes at fast speed in deep standing water, the brakes were also fine. With all that the tire was delivering cabin comfortable and quiet experience.
However, there are some drivers who complain that it loses traction after wearing down below 5/32 of tread depth, which we can not second because we did not test it by ourselves.
But this is not that big of a problem because nearly all tires lose performance after wearing off more than half of their depth, so there is nothing to be worried about that. In wet conditions, with or without weight it is a safe and reliable tire to drive with your trucks and SUVs.
Dry City Streets, Pitted Roads, and Pavements
Similar to wet conditions, on dry roads, this tire is a pure gift. We drive this tire at around maximum weight tire limits, and it achieves one of the finest performances in this category with heavy loads.
The grip, comfort, stability, and response, all were great. On city streets and highways, the tire achieves a pure confident ride with a quiet and comfortable experience.
On potholes, the tire was not as great but was far greater than some of the top touring tires. The comfort was not as stable as it was in other conditions still dealing with construction sites and pitted roads, this tire was a proper class.
Unlike off-road rides, in all-season on-road conditions, this Cooper tire is a perfect rubber to fit in your vehicle that can carry weight and present comfortable rides all year round.
Comparison with Goodyear Wrangler WorkHorse HT
| | |
| --- | --- |
| Dry Conditions | Goodyear Wrangler Workhorse ht |
| Steering Response & Feedback | 4.49% |
| Cornering Stability on Curves | 3.33% |
| Dry Traction & Grip | 0.00% |
| Results | 7.83% |
| | |
| Wet Conditions | |
| Wet Traction & Grip | 0.00% |
| Hydroplaning resistence | -3.33% |
| Results | -3.33% |
| | |
| Off-Road Performance | |
| Dirt Performacne | -6.98% |
| Mud Terrains | -13.92% |
| Gravel Roads | -12.50% |
| Results | -33.40% |
| | |
| Winter Conditions | |
| Deep Snow Traction | 5.19% |
| Light Snow Traction | 6.25% |
| Thick Ice Traction | 9.68% |
| Results | 21.12% |
| | |
| Ride Quality | |
| Cabin Comfort | 5.81% |
| Road Noise | 6.98% |
| Results | 12.79% |
| | |
| 245/75R16 (111T) | |
| Price | 2.88% |
The results are based on test results and subjective views, it could differ based on different cars, conditions, and driver's preferences.
The Goodyear Wrangler WorkHorse HT is a new tire that comes with a 10K more treadwear warranty than the Cooper Discoverer HT. however as the test results explain, there is not that much difference in both of these tires' performance.
Both of these tires can carry heavy weight, have durable treadwear, and are manufactured in the US for high quality.
The differentiation factor among both of these tires is that one is better in snow conditions, and the other is better in off-road muddy conditions compared to each other.
So pick the tire based on your preferences and on the conditions where you usually drive more.
Final word
The Cooper Discoverer HT Highway tire is more than enough to deal with your towing need, with its high load index, the tire is great to achieve a comfortable and smooth ride in all-season conditions. The tire lacks in off roads conditions but other than that, it is overall a great tire to drive in 2023 for reliable and safe rides.