Last updated on August 7th, 2023 at 11:05 am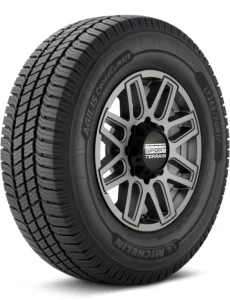 Agilis CrossClimate
All-season Tire
Michelin Agilis CrossClimate is a tire for heavy-duty trucks, towing trucks, and light truck drivers who want stability on highways with heavy loads. It's all-season performance and off-road ride makes it a year-round tire to achieve durable and reliable performance in 2023.
---
Table of Contents
Quick highlights
| | |
| --- | --- |
| Tire type | Highway Touring All-Season |
| Price range | $230-$396 |
| Tread Warranty | No Warranty |
| Run-flat | No |
| Vehicles type | SUVs, light trucks, and delivery vans |
| Driving conditions | Dry, Wet, and Snow |
Michelin is one of the best tire manufacturing brands in all around the world, and their unique and high-quality tires back them up to stay at the top of the market. They have some of the best tires in each category of tires due to the advanced technology, innovations, and high-quality material utilization in manufacturing tires.
Similarly, this US-manufactured tire has its own name in quality, it is a fine tire that delivers high performance in all-season and off-road conditions that also comes with durable rubber.
As it is a highway touring tire, it can carry a heavier weight than other tires while running at normal speed and has stable contact for smooth rides. 
The main reason why drivers prefer this tire is because of its weight lifting and towing capability that other tires can not deliver at the same rate.
This tire has it all, comfortable on-road performance, heavy-load highway rides, and off-road confident rides, which is covered in durable treadwear that keeps this tire moving for many years.
Overall it is a great highway tire, keep reading this review to learn all about its real-world performance and comparison with other top tires and analyze whether this tire will be the right fit for your vehicle this year.
Pros
Comfortable and smooth rides in dry, wet, snow, and mud terrains
Stable rides on highways while carrying heavy loads
Durable tread compound for longer wear life
Confident handling and responsive rides all year round
Hydroplaning resistance on standing water
High-quality tire to achieve great results in winter terrains
Cons
Loses grip in snow and wet conditions after 50% worn tread
The tread noise is too loud to ignore
---
Tread design and improvements
The symmetrical pattern is molded onto the all-season compound which features stabiliBlok for wider contact to resist heat and carry heavy loads without wearing off unevenly and improve stable rides.
Deep wide circumferential and lateral grooves with the help of open shoulders properly channel the water for hydroplaning resistance and proper response in wet conditions.
CurbGuard sidewall protection improves tire reliability in off-road conditions by resisting damage from unwanted materials.
Center tread blocks improve dry traction and grip with the help of sipes and wide contact which also enables cornering on dry highways.
SipeLock technology improves wet and snow performance by delivering extra biting edges on snow to deal with deep snow terrains.
Specifications & Features
| | |
| --- | --- |
| Speed rating | R (106)MPH |
| Load Index | 112(2469 lbs) – 126(3748 lbs) |
| Manufactured in | United States |
| Wheel diameter | 16-20" |
| Ply rating | 10-ply rated |
| Treadwear, Traction, Temperature | N/A |
| Noise Reduction | No |
Nobody drives their commercial vehicle over 100MPH, which is why the speed rating won't be a big problem for someone who wants to carry a load around the season.
Similarly, the load index is high enough to put a good sum of weight on the tire, however, it does not have as great a load index as proper commercial tires have but the performance in all seasons differs a lot too.
Commercial tires are mostly not graded on UTQG similar to this tire. However, based on our and other drivers' experience, on normal days, it handles temperature properly, and never loses traction, and treadwear durability is never in question with this tire as well.
Performance of Michelin Agilis CrossClimate
Dry City Streets, Pitted Roads, and Pavements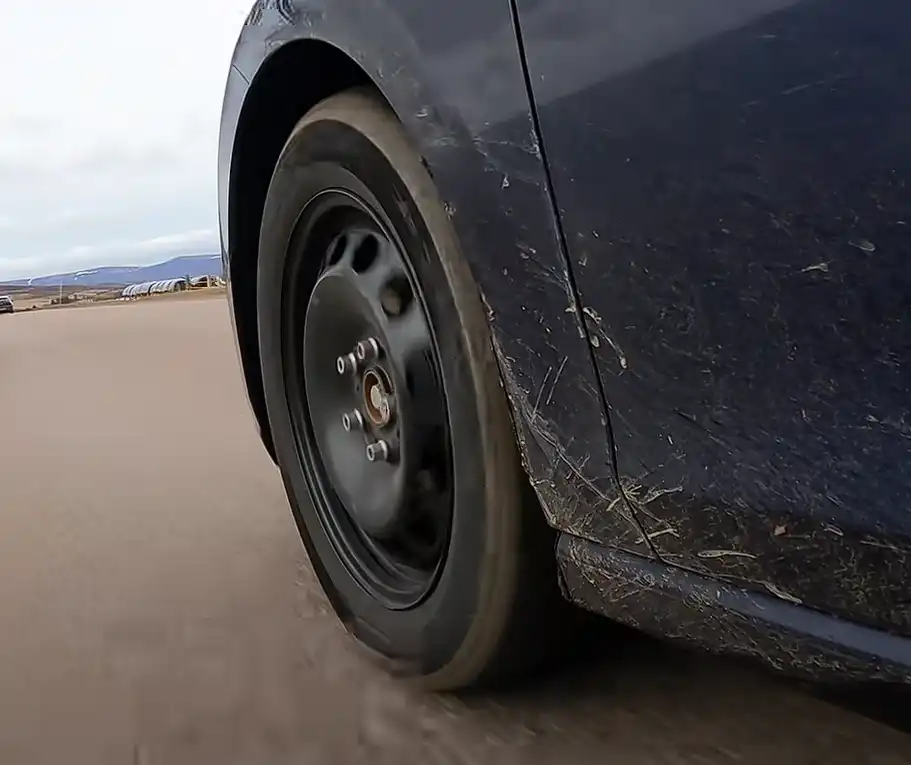 ---
Without weight on dry city streets, this tire performs well. It delivers a stable ride, a comfortable experience, and proper traction and grip. Even though the tread noise was louder than other tires, it did not make much difference as most tires are loud in this category.
With weight or tow, the performance was not as stable, and the grip was not as smooth, however, overall it is a safe experience to drive with this tire by carrying the load. As it provides responsive handling in any dry conditions with heavy loads.
On pitted roads and gravels, the tire was not as comfortable as all-terrain tires, but it tackle the situations properly. The response was quick and accurate without distorting balance. On potholes, the grip was also great.
Overall in dry road conditions, with weight or without weight, the tire was stable and comfortable, and delight us in every moment of our journey. For confident dry and warm season rides, this tire is a perfect choice for trucks.
Wet and Rain Experience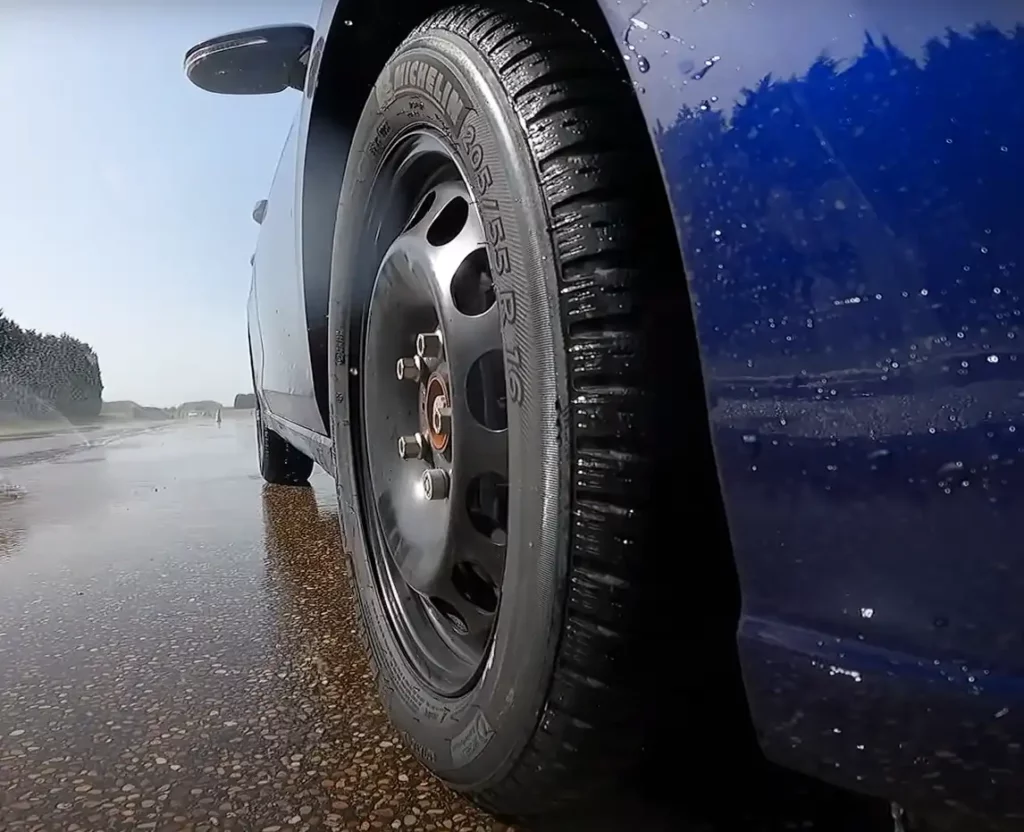 ---
Driving with new tires with 12/32 tread depth, the performance in wet conditions was fabulous with or without stuff putting on the trunk. However, when we drive with half the tread depth of this tire, the performance was immensely changed, which was also complained by other drivers as well.
With new tires, the grip and traction were proper, the response was accurate, and balance and stability were great as well. The hydroplaning was never an issue with the new tires. For around 40K miles this type of performance is expected to achieve with this tire.
But after 6/32 tread depth is gone, the tire performs weirdly in wet and snow conditions. It loses traction when the weight is on the vehicle, and it hydroplanes in the deep-standing water, although it is not usual, it can be dangerous to drive if you are unaware of it.
To avoid this, driving at a slower pace and with low weight can help, but what is the purpose of buying a commercial tire if it can not handle the weight after certain miles?
That is why if you have to face wet conditions more often, then go with Defender LTX M/S or Continental tire, which has better all-season performance.
Mud Terrain and Off Roads
This is not an all-terrain tire, that's why expecting more than a fair ride will dissatisfy you in off-road conditions.
It is a proper tire to drive on mud, dirt, gravel, and rocky roads. It will be more than enough to carry the load and cross any off-road situation without sticking anywhere. Other than that, this tire won't helps you.
If you are looking for responsive rides and aggressive rally rides, then this tire is not something that you should go after.
As it is an all-season tire, being able to handle off-terrain is more than enough which other touring tires can not do. That is why expecting anything more than that is not a fair thing.
Light Snow, Deep Snow, and Ice
Even though it is a 3PMSF-certified tire, the performance compared to other certified tires is not as good.
It handles light snow, deep snow, and ice conditions properly but the stable and safe ride other 3PMSF-certified touring tires provide is better compared to this tire.
In light snow conditions, it performs really well, no doubt about that, it grips properly, the ride is safe and it can carry somewhat weight over its tread as well.
However, the performance drastically reduces as you go above 6 inches of snow, carrying weight can make the tire stuck on snow sometimes, the response is lousy and sometimes loses completely. Without weight, it can deliver average performance on deep snow as well.
Overall it is a fair tire to drive in off-road conditions with weight, without weight it delivers above-average performance.
Durability and road life
The only factor to judge this tire's durability is based on the driver's experience and reviews. And based on that, this tire has durable treadwear.
It is not backed by any treadwear warranty, however, the estimated miles this tire cover is more than 70-75K miles. Which is average and you can easily go beyond this number with proper care and rotation.
In a short period, we can not test this tire to check how long its tread last, but many drivers who have been driving with this tire have not complained about early or uneven wear-off, which makes it a durable and reliable tire to drive.
However, as we mentioned previously, the performance changes as it wears off more than half of its tread depth, the performance you get with the new tire might not be the same after 50K miles, so keep that in mind as well before buying this tire.
Comparison with General Grabber HTS 60
| | |
| --- | --- |
| Dry Conditions | General Grabber HTs60 |
| Steering Response & Feedback | -3.26% |
| Cornering Stability on Curves | -3.30% |
| Dry Traction & Grip | -1.06% |
| Results | -7.62% |
| | |
| Wet Conditions | |
| Wet Traction & Grip | -4.40% |
| Hydroplaning resistence | -4.40% |
| Results | -8.79% |
| | |
| Off-Road Performance | |
| Dirt Performacne | -2.38% |
| Mud Terrains | 2.67% |
| Gravel Roads | -1.22% |
| Results | -0.93% |
| | |
| Winter Conditions | |
| Deep Snow Traction | -10.84% |
| Light Snow Traction | -5.68% |
| Thick Ice Traction | -11.39% |
| Results | -27.92% |
| | |
| Ride Quality | |
| Cabin Comfort | -2.25% |
| Road Noise | -2.27% |
| Results | -4.52% |
| | |
| 245/75R16 (111T) | |
| Price | -17.57% |
The results are based on test results and subjective views, it could differ based on different cars, conditions, and driver's preferences.
The test results show how General Grabber HTS60 is badly beaten by Michelin Agilis CrossClimate in every road condition. Michelin tire is better in dry, wet, snow, and off-road conditions with more comfortable rides.
The only good thing about the General tire is that it comes at a lower price and a treadwear warranty. Even though the general tire is backed by warranty, when it comes to estimated miles, the Michelin tire also beats the general tire in this metric as well.
Unless you have budget issues, for any reason, this Michelin tire will make more sense due to its high load index tire, performance, and reliability.
---
Final words
The Michelin Agilis CrossClimate is an excellent highway touring tire for commercial and truck drivers. It delivers proper all-season performance with fair off-road performance as well. 3PMSF certificate also stabilizes its winter terrain rides. The tire is not backed by any treadwear warranty and has no treadwear rating, which creates hesitation among buyers. Other than that, it is a proper tire to achieve high-load rides on highways by achieving smooth and comfortable rides in 2023.