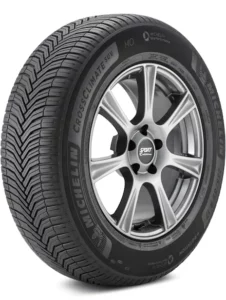 CrossClimate SUV
All-season Tire
The Michelin CrossClimate SUV is the best touring tire when it comes to all-season performance. It does not disappoint in any weather situation and keeps on delivering comfortable rides all year round. The even contact and durable tread make it a long-performing tire as well to drive with SUVs and Crossovers.
Handling & Road Feedback
85%
---
Table of Contents
Quick highlights
| | |
| --- | --- |
| Tire type | Standard Touring All-Season |
| Price range | $179-$318 |
| Tread Warranty | 50000 Miles |
| Run-flat | No |
| Vehicles type | Crossover, SUV, and Light truck |
| Driving conditions | Dry, Wet, and Snow |
Whenever there is talk about comfort and quality performance tires, Michelin comes to the top of the driver's mind. Because Michelin Tires have made its image in the market about its high-quality tires that always outperform other brand tires. 
Taking about this tire, the Michelin CrowssClimate SUV is another high-quality tire that is the best in its category. It performs far better in all-season conditions compared to its substitute tires.
When it comes to performance, there is no doubt that there is any other better tire than this, due to its versatility in different conditions. With all-season conditions, it performs fairly well in off-terrain and snow terrains, which other touring tires might not be so great in. 
But if it is this good, then why should you bother thinking about different tires, and go with this one blindly?

As every driver does not desire similar performance, similarly, you might not be the one that this tire's performance will totally satisfy.
Questions like these and many others will be answered below, so continue reading this review to find out about this tire's benefits, and disadvantages, and then decide whether it will be the right fit for your vehicle or not. 
Pros
Comfortable all-season drive with responsive handling and brakes
Proper driving experience in wet and dry conditions
Hydroplaning resistance in wet conditions
Impressive winter terrain performance
Somewhat proper tire for off-road as well
Durable tread design and shoulders that keeps on moving for many years.
Cons
Gets noisy after a few thousand miles
Not so durable compared to other new touring tires
Most expensive in its category
---
Tread design and improvements
CrossClimate signature directional tread pattern molded onto an all-season compound that brings versatile performance in different weather conditions.
Bevel-edge tread blocks and tread sipes increase stability and grip in dry road conditions.
Lateral grooves with the help of open shoulders channel the water through the tread for hydroplaning resistance in the rain and standing water.
3D self-locking sipes and emerging grooves on the shoulder provide extra biting edges on deep snow for proper traction and grip on winter terrains.
Optimized contact due to the computerized design which wears uniformly even while carrying a heavy load, which also reduces tread noise in all seasons.
Specifications & Features
| | |
| --- | --- |
| Speed rating | H-Y(130-186)MPH |
| Load Index | 100(1764 lbs) – 114(2601 lbs) |
| Manufactured in | France and Hungary |
| Wheel diameter | 16-20" |
| Ply rating | 4 ply rated |
| Treadwear, Traction, Temperature | 580, A, A |
| Noise Reduction | Yes |
Usually touring tires don't come with Y-rated tires, because they are not meant to drive on fast tracks, however, if some tires come with this speed rating, it is a bonus, because now you can drive freely on highways without worrying about reaching the max limits. 
With that, the load index of this tire is also amazing, this tire comes in very few sizes, so if you find the right size with a 114 load index variant, then it will be great for you if you travel around with a lot of weight on your car trunk.
The treadwear rating compared to new touring tires is quite low, the Continental and Cooper tire comes at around 700 or so tread wear rating, and that is also the reason why those tires are more durable than this Michelin tire.
Performance of Cooper Discoverer EnduraMax
Dry City Roads, Pitted Roads, and Pavements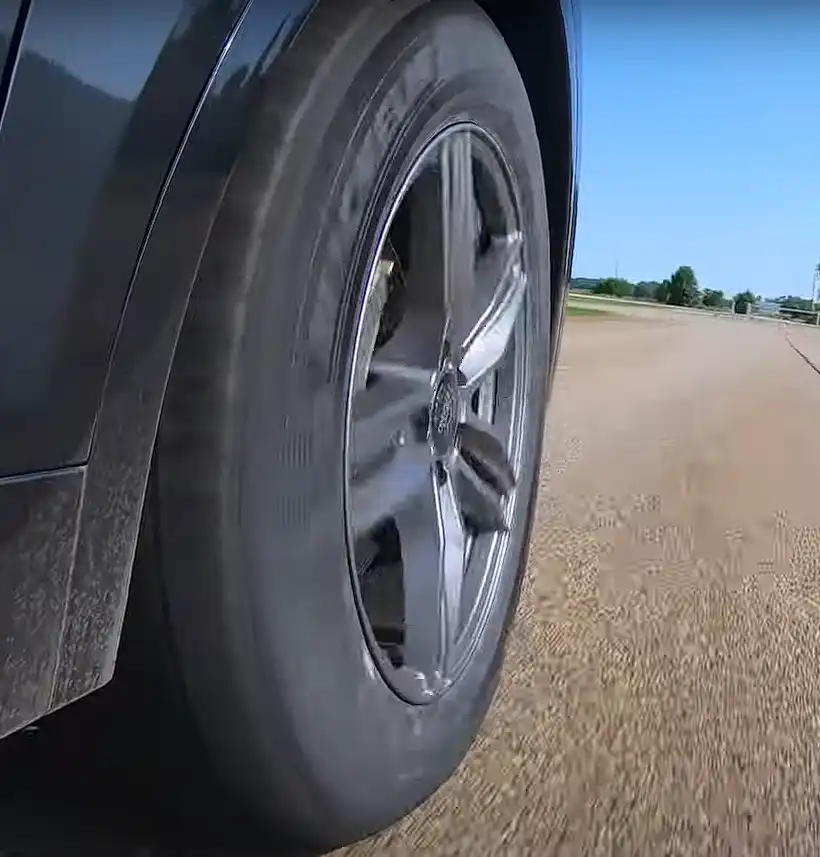 ---
Moving on from basics, let's talk about the tire's real-world performance. In any dry weather conditions, this tire delivers a proper driving experience.
In city streets and paved highways, while carrying weight, the tire drives at a very stable rate, with proper traction and grip. The responsiveness was not so great when it comes to sportier handling however, the overall performance on stable terrain in dry conditions was great.
The low tread noise and comfortable ride make it a proper tire for everyday drivers to achieve a smooth and stable ride in the summer seasons.
With that, on construction sites and little unstable terrains, like gravel and pitted roads, it performs fairly well. Although the comfort was not as great, still the tire's contact and stability were great, and the response was there all the time with confident traction and grip
Overall in dry road conditions, it is one of the greatest tires in its category to drive, due to its comfortable and stable rides in warm weather. 
Wet and Rain Experience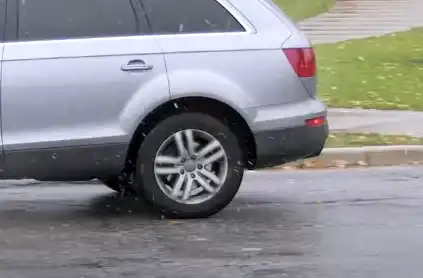 ---
Unlike Cooper and BFGoodrich tires, where driving in wet conditions can be unsafe sometimes, this tire delivers the safest wet weather drives. 
The tire grips properly in wet conditions even without having circumferential grooves. The lateral groove and emerging grooves came into play to deliver confident rides on wet roads.
The tire did not hydroplanes at very high standing water which was very great considering other tires' performance in this category. It balances the situation very properly even at high speed.
The confident grip, low-to-none hydroplaning, and comfortable ride in wet weather make it a perfect all-season tire to drive in inclement weather of all-season conditions.
Light Snow, Deep Snow, and Ice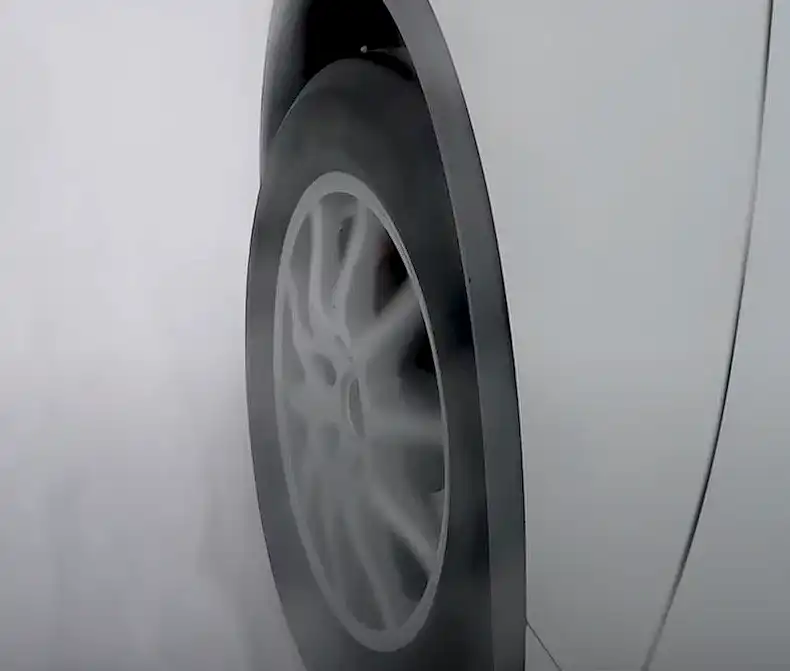 ---
Another achievement of this tire is its performance on winter terrains, as it is a 3PMSF-certified tire, it handles the harsh winter terrains with normal winter conditions properly without affecting treadwear.
On light snow conditions, the tire is a proper joy to drive with, it performs similarly to high-quality winter tires on light snow conditions and provides stability, confidence, and a smooth ride. The tire does not lose grip and traction, the response is there most of the time, and the car is driveable at above-normal speed as well.
On deep snow above 6 inches of snow, the tire does not work that well, although it is more than enough to get the job done, and passes you through extreme winter terrain, however, the lost grip and lack of response are not that enjoyable to drive.
Similarly on ice, the performance was not great but just to do the work. Overall dealing with any sort of winter terrain is something that this tire can do properly. So if you want an all-season tire that can handle most winter terrain situations, then it won't be a bad choice for your vehicle.
Durability and road life
The treadwear durability of this tire is always in question but there is another side of drivers that have driven with this tire more than the treadwear warranty period.

As for our driving experience, we can not say anything about the long-term durability of this tire, what we can say is that it performs fairly well as long as we drive with it. Some drivers complain that it loses performance as it wears off, and so does every tire, it's nothing to complain about in my opinion. 
The tire comes with a 40-50K miles treadwear warranty depending on the variant, as it is an older tire, and now new tires are coming with a 65-70K miles treadwear warranty which is quite shocking that Michelin has not yet launched the new tire with high warranty.
Even though the treadwear's durability is low but the performance compared to new tires is still better, being an older tire. So if you are after the most durable tire, then there are options like continental which we will compare in the below section.
Road Responsiveness
compared to other touring tires in this category, you can not get any tire that is more responsive than this one. It provides accurate feedback, the handling is great and not so soft steering and not as performance tires, and the brakes are also great as well. 
However if you compared it with performance tires, it is not something that we would recommend to drive with on tracks and sporting events. In Corners the tire required low speed and acceleration is not as quick as well.
The less sporty tread makes it low on traction score in dry conditions as well. Overall it is a responsive tire as long as you are an everyday street and highway driver, but if you are a fast track driver, it might not satisfy you in any matrics.
Comparison with Continental CrossContact LX25
| | |
| --- | --- |
| Dry Conditions | Continental CrossContact LX25 |
| Steering Response & Feedback | -1.34% |
| Cornering Stability on Curves | -2.71% |
| Dry Traction & Grip | -1.04% |
| Shortest Dry Brakes | -2.77% |
| Results | -7.87% |
| | |
| Wet Conditions | |
| Steering Response & Feedback | -3.72% |
| Cornering Stability on Curves | -2.83% |
| Wet Traction & Grip | -3.16% |
| Shortest Wet Brakes | -8.13% |
| Results | -17.84% |
| | |
| Winter Conditions | |
| Deep Snow Traction | -3.45% |
| Light Snow Traction | -3.26% |
| Thick Ice Traction | -4.76% |
| Results | -11.47% |
| | |
| Ride Quality | |
| Cabin Comfort | 0.00% |
| Road Noise | 4.87% |
| Results | 4.87% |
| | |
| 175/65R15 (84H) | |
| Price | -21.70% |
The results are based on test results and subjective views, it could differ based on different cars, conditions, and driver's preferences.
The Continental CrossContact LX25 is nowadays the most popular in this category, due to its overall performance, durability, and price. But as the test results show that, the Michelin CrossClimate SUV is far better in all-season performance then why do drivers are going with CrossContact LX25? 
The reason for that is a Continental tire is more durable and saves a lot of money, unlike performance tires drivers, touring tire drivers do not always look for the performance of a tire, their main objective is durability and price sometimes as well, and as Continental tire is newer than Michelin tire drivers lean toward the new Continental tire, rather than better performing Michelin tire. 
still being an old tire Michelin CrossClimate SUV is still the number one priority of drivers looking for an all-season touring tire that performs well in dry, wet, and snow conditions while delivering comfortable and smooth rides all year round. 
---
Final words
The Michelin CrossClimate SUV is a touring all-season tire for SUVs, Crossovers, and light trucks. It is the top touring tire when it comes to dry, wet, and overall snow performance. The 3PMSF certificate makes it a more reliable tire on harsh winter terrains. Being an old tire, it is quite expensive and comes at a lower treadwear warranty, which is also a reason why these new tires are taking over this tire. Overall it is best in the touring tires category if you want a comfortable performance all year round in 2023.