Last updated on May 7th, 2023 at 07:46 am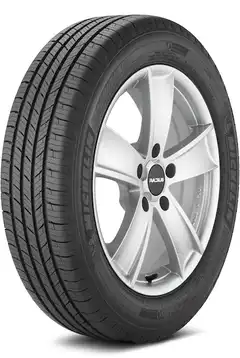 Defender T+H
best all-season tire
Michelin Defender T+H is an all-season tire with excellent grip and traction on wet and dry terrains. It provides a comfortable and smooth driving experience along with 80000 Miles treadwear warranty. The best warranty anyone offers in this category.
---
Table of Contents
Quick Highlights
| | |
| --- | --- |
| Tire type | Touring All-Season |
| Hydroplaning Resistance | Yes |
| Tire Construct | Radial |
| Vehicles type | Minivans, Crossovers, And Sedans |
| Warranty | 80000 |
Michelin Defender T+H is the best tire in the all-season tires category. The tire is comfortable and provides a quality drive for a longer period. It is among the most durable tires in the current market. It is the best package for crossover, sedan, and minivan car drivers.
Michelin Defender T+H is among the top-class premium tire for touring and passenger cars. It launched in 2017, and since then it has been the most demanded tire for all-season terrains. Other competitive brands have also launched tires in this category but none of them is gain as much appreciation as Michelin Defender T+H.
It provides the most comfortable driving experience with the most durable lifetime experience. Being a premium tire the price is quite expensive but compared to the quality and safety it delivers is absolutely admirable. Compared to the cheap brand's tires, it runs for twice the number of miles with a far better driving experience.
It commonly uses original equipment (OE) tires with many known brand's passenger cars. All-year-round performance on highways with a quiet driving experience. Capable to fight the dryness of the terrains and keep the treadwear protected for the longest period. 
---
Michelin Defender T+H Design
Tire design and tread block patterns play an important role in tire performance. Different seasonal tires have different patterns and blocks. The Michelin Defender T+H is manufactured using advanced technology and professional engineering. The comfort control technology provides a comfortable and noiseless driving experience in all-season terrains. Also, with the help of wide longitudinal grooves, the tire performs superbly on wet roads by resisting hydroplaning and stops 31 feet shorter than other tires. Every single shape and design is built with the focus and thought in mind to bring safety and durability along with a comfortable ride. 
Michelin Defender T+H Tread Block 
Tread blocks are built differently for every other terrain. All-season tires are built with a combination of summer tread blocks and winter. Same with Michelin Defender T+H, tread blocks in it are not so deep nor straight, the combination of both involved. The ever-tread compounds increase stability and maintain the tire flat on uneven surfaces. Also, the Intelli sipe technology increases biting edges to give better cornering and traction on wet and dry road conditions. The sidewall compartment is strong enough to face the wilderness of tire-damaging material without harming tire tread wear which is why it runs longer than any other premium tire in the current market.  
Michelin Defender T+H Warranty
Offering warranties is an indicator of the companies' assurance of their product. The Michelin Defender T+H is covered in 80000 Miles treadwear warranty which is far higher than other competing brands' offers. Not only that the tire rarely misses the given miles most of the time it lasts longer than the given period but in case of any damage, Michelin also offers 6 years warranty after the purchase date of the tire. It is one of the most durable tires in the market for passenger cars and minivans also with the most comfortable and quiet drive. 
Reasons To Buy 
Every driver prefers a different driving experience tires for their vehicles. Michelin Defender T+H is an all-season tire for the driver with everyday driving on roads. So if you are a driver looking for a comfortable soundless smooth handling wet and dry traction controlled tire then it will be the best choice for you. Also, the tire is 20% more durable than any other competitor's tire in the market in 2023. Although the price is high but performance wise no one can beat this tire's performance and life. 
Reasons To Avoid This Tire
Just like any other tire, Michelin Defender T+H can not be useful for every kind of driver. First of all, it is not suitable for sports car drivers because sports cars required the thickest sidewalls for better cornering and grip and Michelin is more toward comfort driving.
Also if you are an off-road driver it won't work for you too, Michelin Defender T+H is an all-season tire for on-road drivers with minimal off-road driving, running them off-road will damage tire treads and make its life shorter than its potential life also, the performance won't be as good as off terrain tires will provide. Other than that if you want a long comfortable drive on the roads then it is the perfect option available for you.
 Conclusion
Michelin Defender T+H is a very known tire by a very known brand. The tire is popular still in 2023 which was launched in 2017. Also, the satisfied customer reviews and reviewer appreciation makes it a reliable tire for every driver looking for all-season tires. 
We deliver the review without any biases and consider everybody gets complete knowledge about the tire before buying it. So, if you like this article then please share your thoughts with us it will be helpful for us to grow and it will be helpful for other readers.