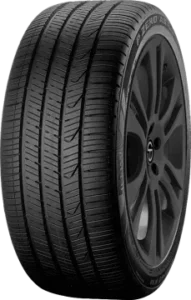 P Zero AS Plus 3
UHP All-season Tire
The new Pirelli P Zero AS Plus 3 is here to change the perspective of sports car drivers. With this tire, now a driver can achieve the most aggressive fast track rides, with the comfort of a touring tire, due to the hybrid of both P Zero and Pirelli Plus series.
Fuel mileage/rolling resistance
85%
---
Table of Contents
Quick highlights
| | |
| --- | --- |
| Tire type | Ultra High-Performance All-Season |
| Price range | $139-$313 |
| Tread Warranty | 50000 Miles |
| Run-flat | No |
| Vehicles type | Luxury Coupes and Sedans |
| Driving conditions | Dry, Wet, and Snow |
Pirelli tires have been the most innovative in the past few years, from performance tires to touring tires, they are leading most categories of tires.
Last year they introduce Scorpion AS Plus 3 which became a great success in the all-season touring tire category, and previously they are leading the way in sports tires with their P Zero Series as well.
Both of these known franchises merged together to manufacture this Pirelli P Zero All Season Plus 3 tire, it has the comfort and compatibility of As Plus 3 tire, and the sports performance and response of the P Zero series.

It launched on 6 June this year when there is low competition in the market in this category. The continental discoverer has been leading in this category for years, but with this new tread design and innovative tire, chances are Pirelli might get the upper hand in this category as well.
This new tire is targeted at north american sports and luxury sedan drivers, who want both comforts with sporty performance as well and this tire delivers both.
So if you are wondering whether you should buy it this summer, then read this review till the end to analyze this tire's performance and then decide if it will be the right fit for your vehicle in 2023.
Pros
Sportiest ride in dry wet, and snow terrains
Quick brakes and acceleration for a more spirited ride
With performance, the comfort of a touring tire
Proper grip, traction, cornering, and response all year round
The superior tread design and even contact for stable and durable rides
Adequate performance in inclement weather in North America
Cons
Not the most remarkable performance on snow terrains
loud tread noise at a fast and slow pace
---
Tread design and improvements
Next generation compound equips forerunners strength that with the help of asymmetrical larger contact, makes the tire durable wear with performance handling and quiet rides all season.
Circumferential and longitudinal grooves improve wet traction and grip while resisting hydroplaning.
3D active deep sipes on shoulder blocks help in fighting snow terrains by providing extra biting edges.
A squared footprint requires less friction which wears off uniformly and reduces fuel consumption
Interlocking sipes on shoulder blocks also improves quick brakes and cornering on fast tracks.
Handling response and road feedback in enhanced due to the tread center and intermediate ribs that contact properly with the ground.
Specifications & Features
| | |
| --- | --- |
| Speed rating | V-Y(149-186)MPH |
| Load Index | 92(1389 lbs) – 107(2150 lbs) |
| Manufactured in | Mexico |
| Wheel diameter | 17-20" |
| Ply rating | 4 ply rated |
| Treadwear, Traction, Temperature | 560, AA, A |
| Noise Reduction | No |
The double-A traction rating is something that makes sure it will be a great tire to achieve responsive rides on fast tracks, with that, the 560 treadwear rating which is also among the highest in this tire category.
The Mexican tire comes with a maximum speed rating as well, so that drivers can fully utilize the speed range of their vehicles with this tire on fast tracks.
With that, the load index is great as well, if you want to tow some weight over your vehicles, with a high load index you can do that too with this tire.
Performance of Pirelli P Zero AS Plus 3
Dry City Roads, Pitted Roads, and Tracks
The dry conditions are where UHP tires shine the most, and based on our analysis this tire really performs in different dry conditions, while providing comfortable rides as well.
When we drive the tire on city streets, it properly grips, and delivers smooth and comfortable rides, it sometimes gets noisy but most of the time there was no problem driving with this tire, the handling, brakes, and response all were great.
On city roads, paved highways, and construction side drives, the performance was intact and the drive was phenomenal with this tire, on potholes, the comfort was not as great as touring tires, but it did not bother that much.
With that, we tested this tire on fast tracks as well to see if it is really driveable in both of these worlds, and the tire does great on tracks as well. The all-season tire did not get too much hot after 10-15 track rounds, which stabilizes its performance throughout our ride.
The handling was great as well, the grippy feel and clear road feedback were something so enjoyable that can be achievable through high-quality high performance tires.
Wet and Rain Experience
With dry terrain rides, the tire also performs in wet conditions as well. It grips properly on corners at a fast pace as well. On normal rainy days, the tire was totally safe to drive, it never loses traction or response and tackle water properly.
The sipes, grooves, and tread design plays an important role to improve wet rides. On standing water the tire did not hydroplane at all at above 80K miles speed which makes us wonder how high the speed could go in wet conditions.
The responsive handling and stable ride also make it an enjoyable tire to drive with, and a perfect deal for luxury cars.
The comfortable tread and smooth ride in wet conditions are also attainable with this tire. Overall in all-season conditions, this is a great tire to drive with.
Light Snow, Deep Snow, and Ice
The performance on snow terrains is not quite as good as other category all-season tires. As long as the snow is minimal and low, the tire can handle it properly, but as the snow gets deeper, it loses traction and makes a ride so uncomfortable and safe to ride in winter terrains.
It grips properly in light snow conditions, and the response, brakes, and handling all is good. Somewhat comfort is also there, as long as it is light snow.
But as you go deeper on snow or the normal fall turns into extreme snowfall, the tire stops performing and delivers a poor experience.
Similarly on ice, it just doesn't work as well as winter terrain tires, which is why if you have to face snow for much more than a month or two, you should go with a different tire than this one.
Durability and road life
This might be too early to decide whether it is really a durable tire or not, as far as it is great but unless few drivers drive it for years or two, nothing can be said about its long-term durability.
On paper, it seems like a durable tire, that comes with a 50K miles treadwear warranty and a 560 treadwear rating, which makes it a durable tire to drive. However, sometimes tire just don't reach their warranty miles and wear off before the time.
Usually, Pirelli tires are great when it comes to treadwear performance, and the tread design, large and optimized contact also support that this tire will definitely work for more than 50K miles in all-season conditions. –
Comfort and Responsiveness
Comfort as we mentioned above is all good compared to other performance tires, the noise is a little bit loud but still better than most of the UHP tires.
Low cabin noise and vibration are the reason why this tire is targeting luxury car drivers who want a peaceful and sporty ride combo.
The handling response and brakes are great as well. The steering is not soft and delivers an enjoyable ride by actively providing road feedback on the fast track and city streets. The cornering, brakes, response, and comfort combine make it a great tire to drive on tracks as well as city streets.
When Pirelli P Zero AS Plus 3 Is Not Prefered
This tire might not be a great deal for drivers who are only looking for comfortable and quiet rides in all-season conditions. Because it is not as good as touring tires especially if we talked about comfort, that is why you will better get off with touring tires that will last longer and provide more comfortable rides as well.
Similarly, if you only want to drive on tracks and not bother much about comfort and tread life, the max-performance tires will be a better option for you. They might last for 10-20K miles, but the performance on tracks and on races will be untouchable by any other performance tires.
Final words
The Pirelli P Zero AS Plus 3 is an excellent UHP all-season tire for sports or luxury sedans and coupes. It has combined the comfort of the touring tire and the performance of a high-performance tire to deliver both comfortable rides on city streets and a spirited drive on fast tracks. So if want to handle different seasons and achieve high-quality rides, then this new tire will be the right fit for your vehicle in 2023.